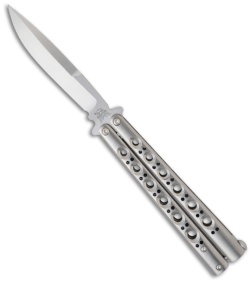 The Benchmade 42 is arguably the most popular balisong ever made. It had a cool design with lightweight, skeletonized titanium handles. It was the perfect size and weight for all of those flipping tricks you could use to impress your friends. Hit girl from Kick-Ass uses one. Pure balisong perfection. Unfortunately, it has been discontinued and the 42 can be notoriously difficult to find (not to mention, expensive).
However, there is good news. While I don't think that any knife will ever completely replace the 42, the Benchmade 51 is slick, and my favorite current production model balisong.
There are a lot of things going for the 51.
It has a nice size, very close to the size of the 42 and larger than the 32, which looks the same but I think is much to small.
Black G-10 handles with blue anodized titanium liners gives the knife a cool look.
It flips well. The 51 is a bit lighter than the 42 (about an ounce lighter).
It's available in both a satin (Benchmade 51) and now with a black blade (Benchmade 51BK). Both are D2 tool steel.