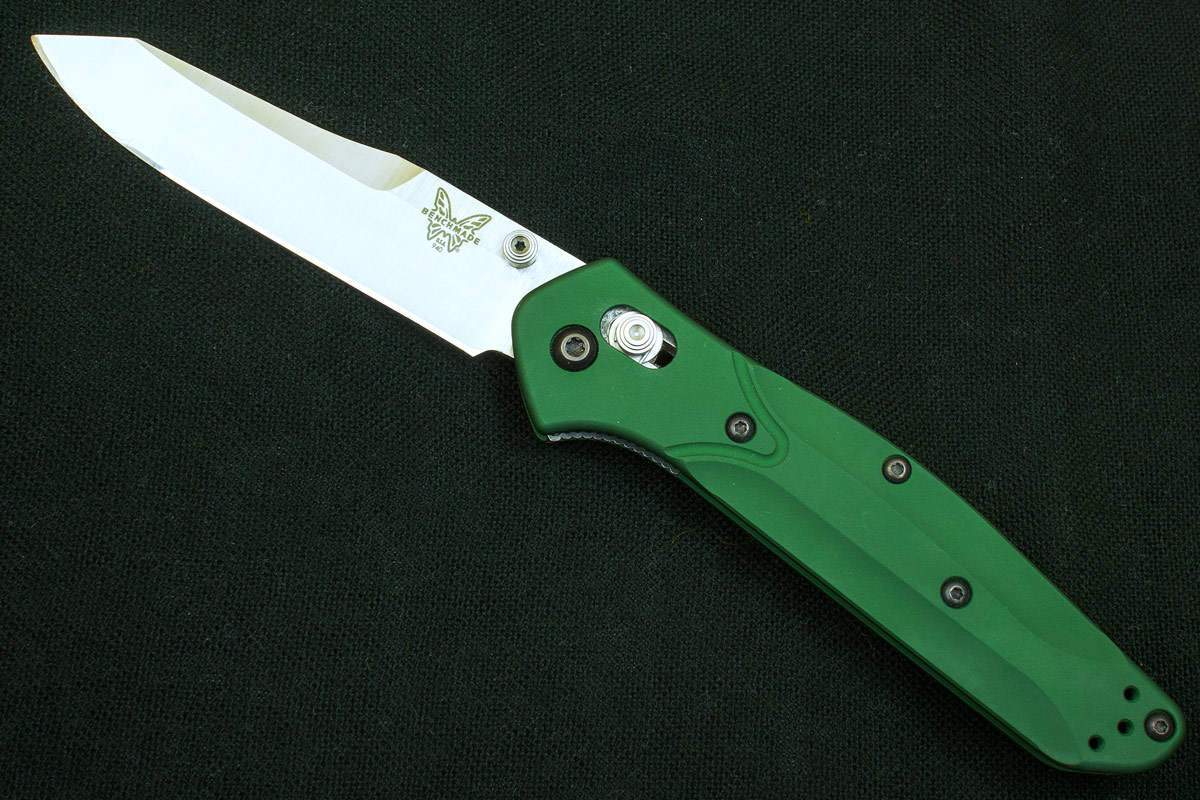 We've all heard the phrase, "Jack of all trades, master of none", but is it true when it comes to pocket knives? A steadfast favorite of knife lovers, I put the Benchmade 940 Osborne through its paces to see if it lives up to its rich reputation. And after testing I will assign it a Knife Life Score. The 940 was first introduced at Blade Show in the year 2000. Now old enough to drive, get a tattoo, and fight for the US military, how has the Osborne aged?
First let's run through the stats.
7.87″ Overall Length
3.40″ Blade Length
Reverse Tanto Flat Grind Blade
CPM-S30V Steel
6061-T6 Aluminum Handle
2.60 oz. Weight
Tip-Up Reversible Pocket Clip
AXIS-Lock
Warren Osborne Design
Made in USA
---
KNIFE LIFE SCORE
Knife Life is all about representing your personality and passion through the knife you carry in your pocket every day. Quality and performance are key. Tasteful design and fancy details are also important. You can be confident carrying any knife with a high Knife Life Score.
---
ERGONOMICS
Score: 10/10

The 940 fits in my large-sized hand perfectly with balance and sufficient traction along the thumb ramp. Lightweight and invisible in the pocket, this knife packs a lot of punch in an unobtrusive form-factor.
I had two of my smaller-handed co-workers try out the 940, and they had no complaints. None of us experienced any significant hot spots or discomfort when doing cut tests. This knife is a prime fit for hands of all sizes.
---
DEPLOYMENT / LOCKUP
Score: 10/10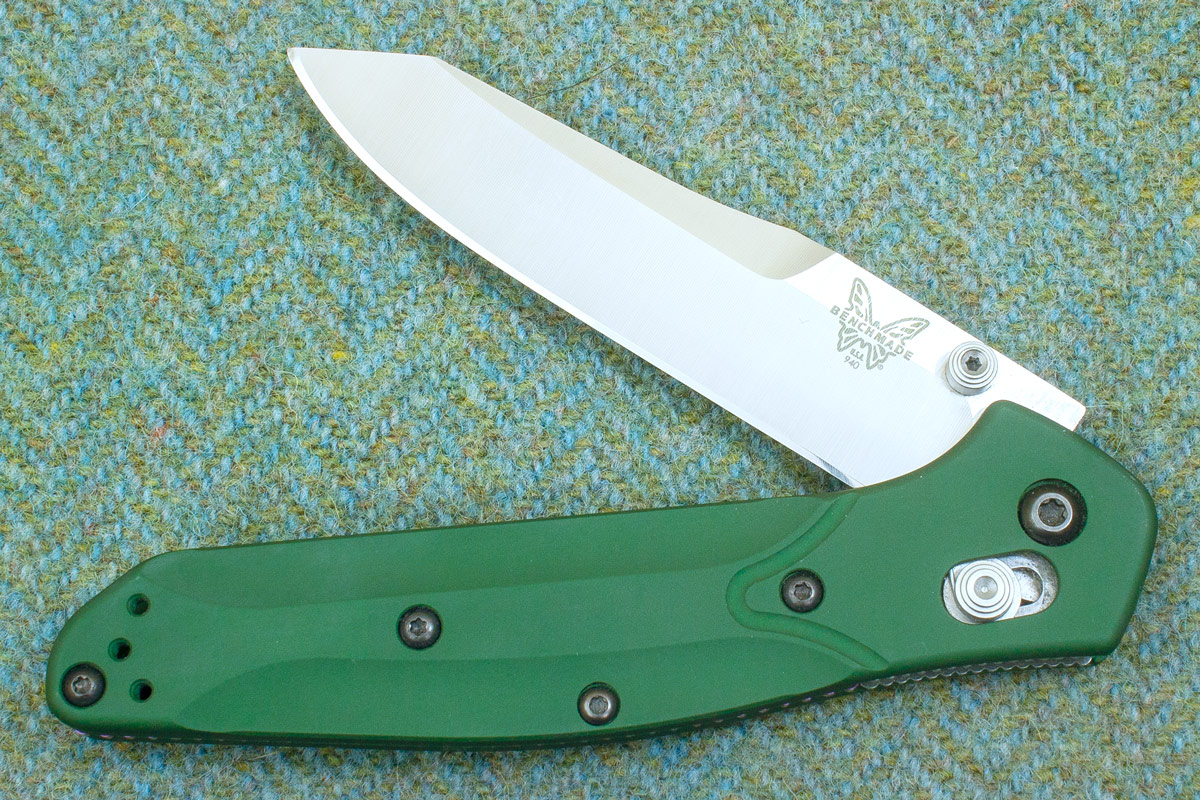 The 940 offers no-nonsense deployment every single time. What more can you ask for? The detent is perfectly balanced, and opening is a breeze even while wearing a thick glove.
I am 100% in on the AXIS-lock. Can every knife come with the AXIS? It keeps your fingers out of the path of the blade, and falls shut faster than any thousand-dollar custom. The AXIS-lock is that great, and Benchmade has built a brand around it.
---
UNIQUENESS / IMPORTANCE
Score: 10/10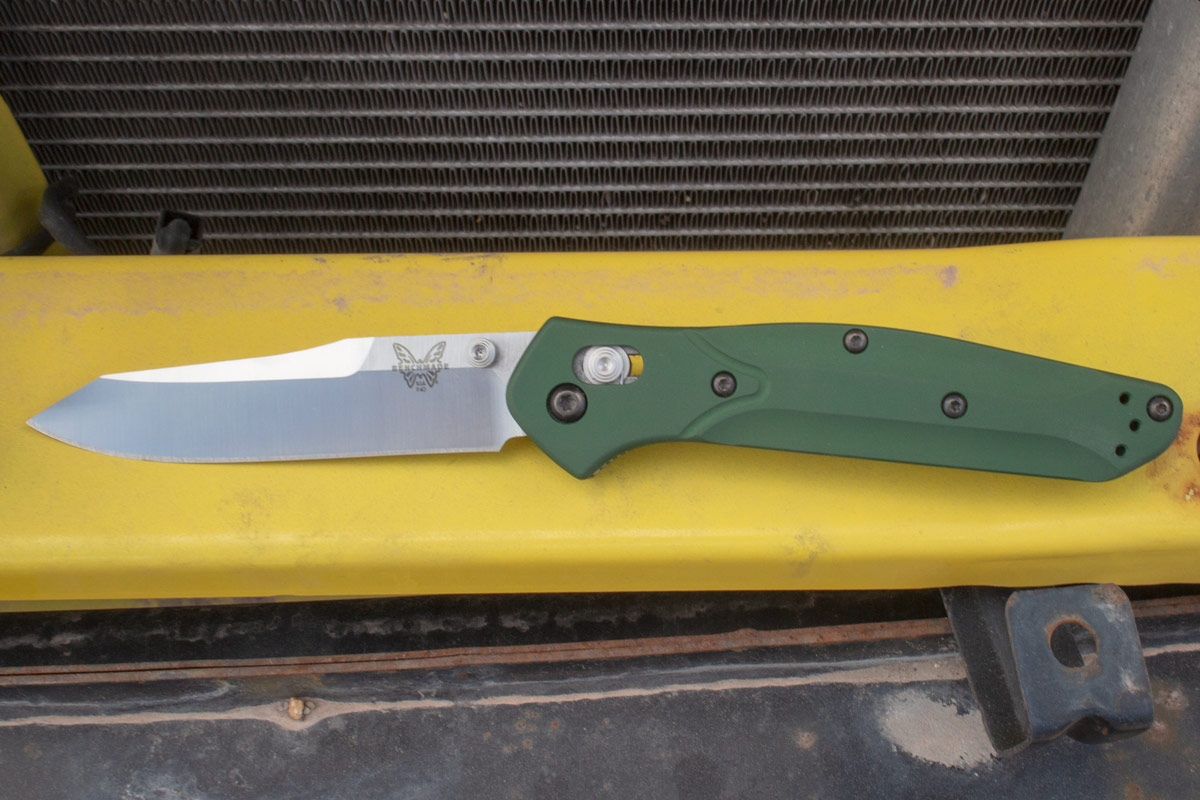 In a world of knives that all look the same, the 940 Osborne is a unique beauty on the marketplace. While many companies discontinue their products on a yearly basis, the 940 has been a fixture on the scene for longer than some knife collectors have even been alive.
---
FIT-AND-FINISH
Score: 9/10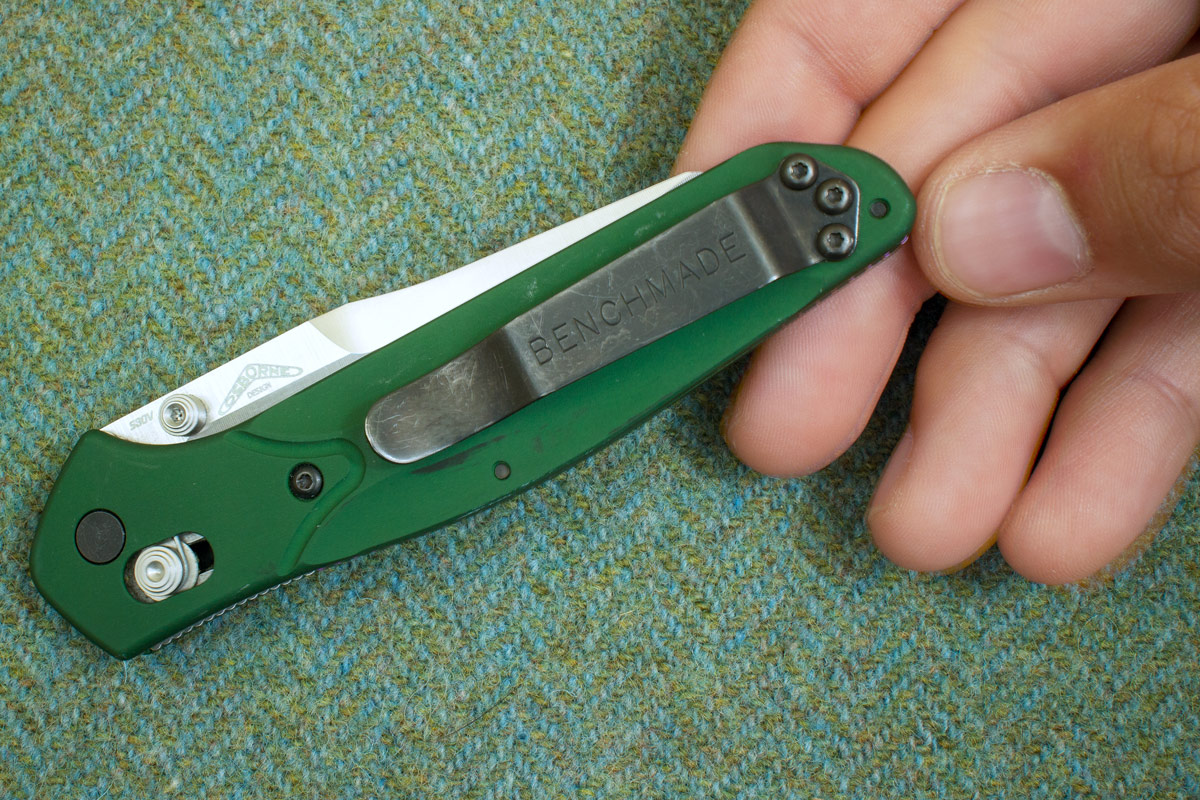 Blade centering, alignment, and lockup were all absolutely dead on with my 940. The blade flew open with a flick of the thumb stud and depressing the AXIS-lock dropped the blade closed. The knife came from Benchmade extremely sharp, but being nitpicky, I am deducting a point because the grind was not 100% even across the entire edge.
---
CUT TESTS
Score: 8/10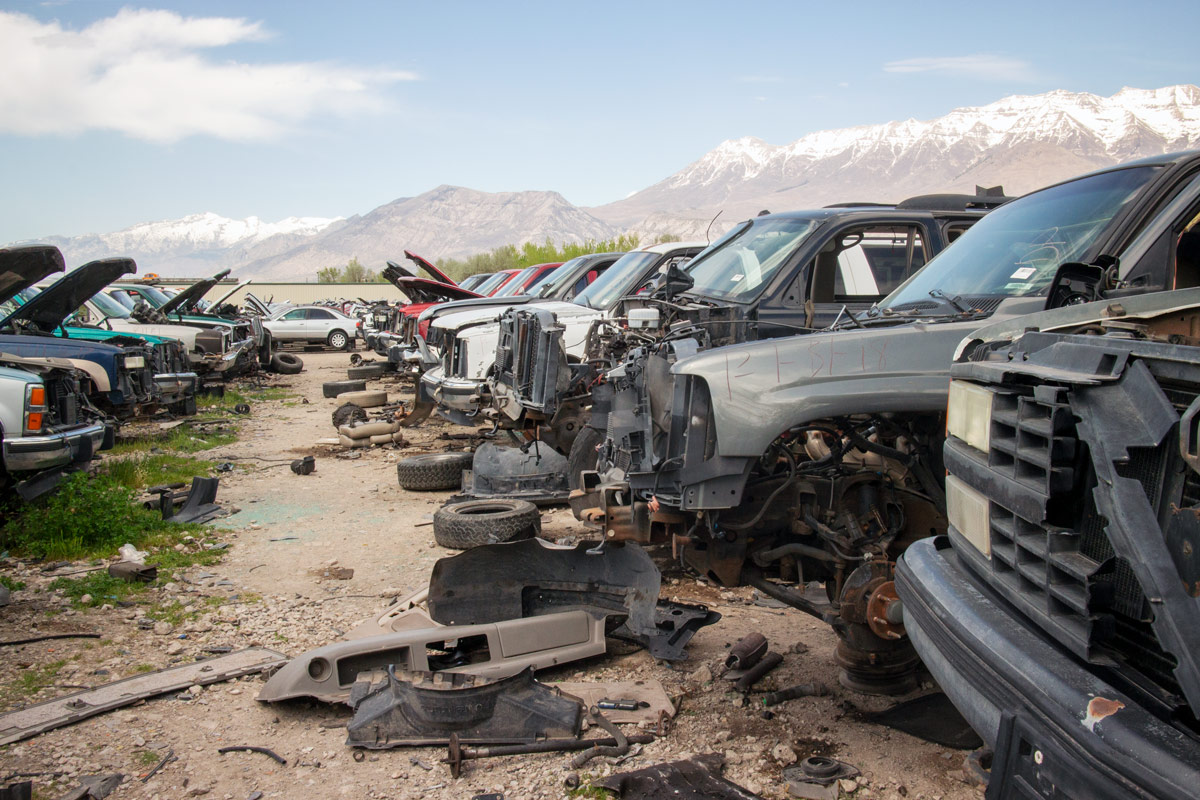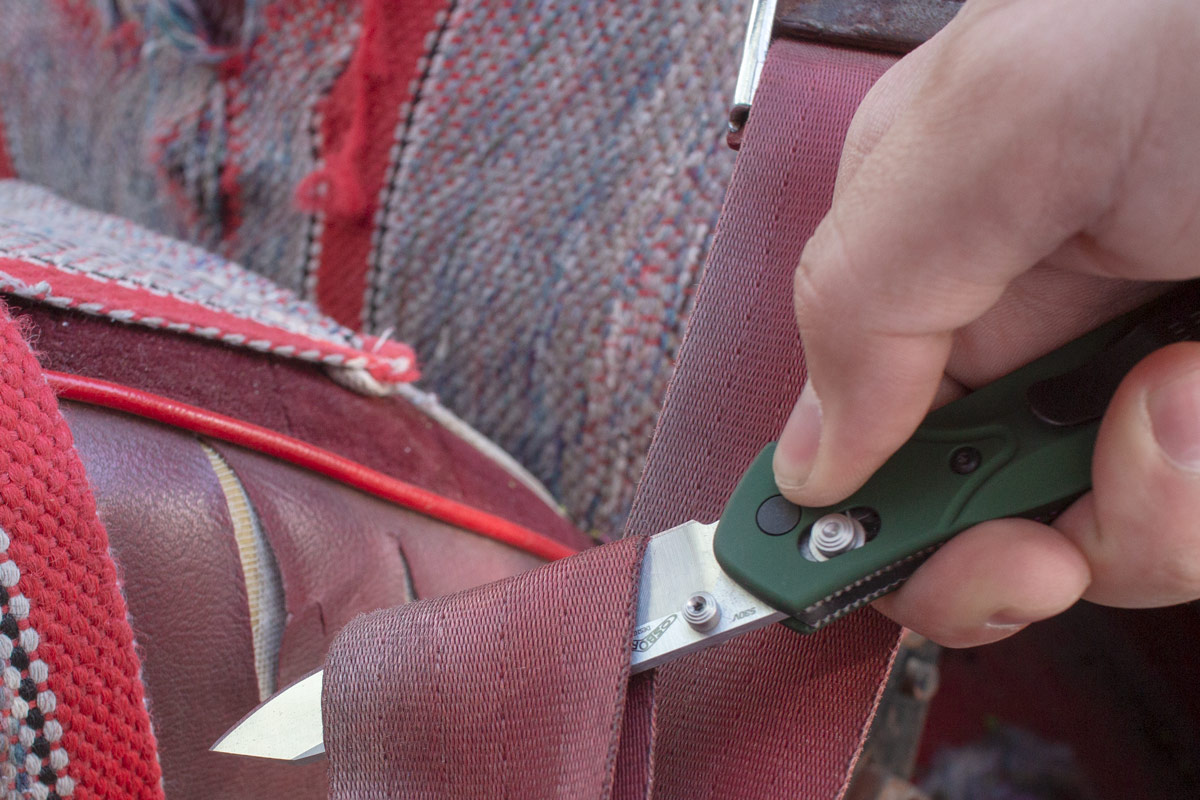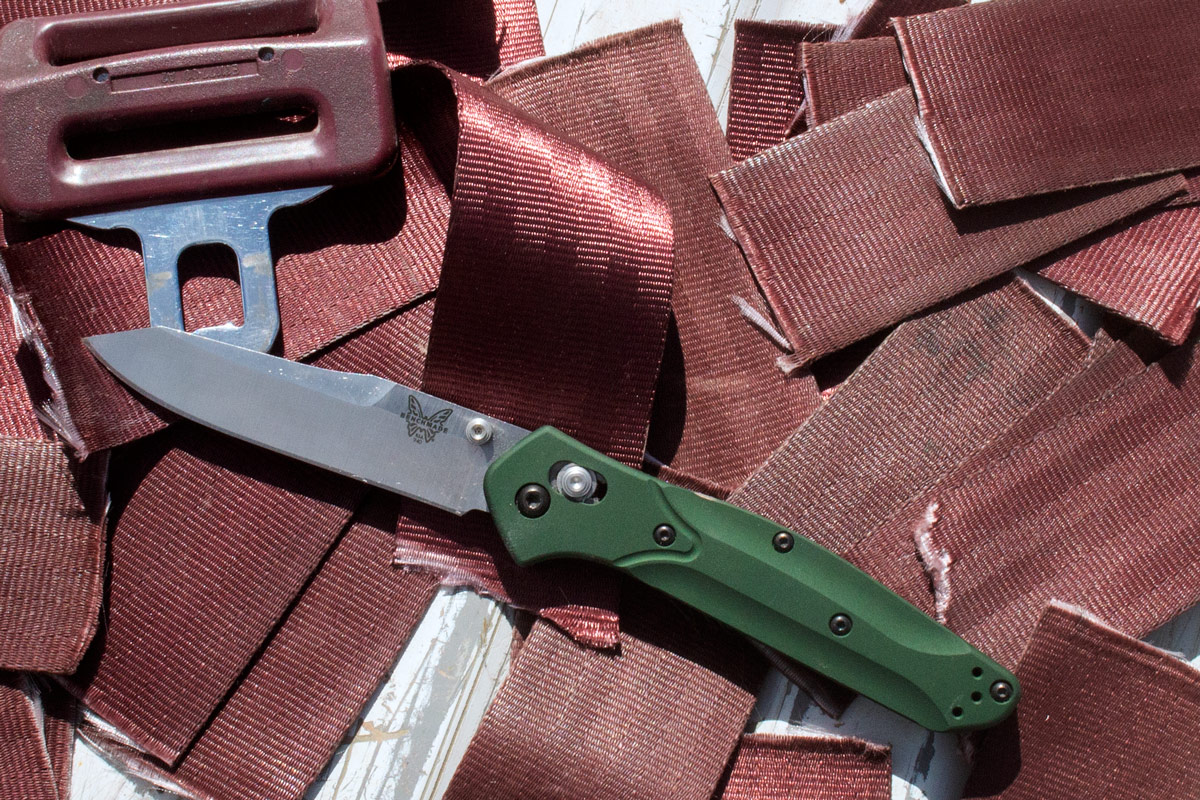 For me, cut tests are not about pushing a knife to failure or using it as a pry bar. I task my folding knives to open mail and boxes, process cardboard, and slice fruit. It's also important to have a knife capable of cutting seat belt for emergency situations, and ideally it would be able to stand up to some hard use tasks if necessary.
Out of the box, this blade was SCARY SHARP and danced through cardboard like soft butter. I broke down a number of thick shipping boxes and minced lengths of jute rope to shreds. The reverse tanto tip easily cuts open taped up boxes and envelopes. I was able to peel a whole apple in one long strip as if I was using a paring knife. I cut out clean segments from the apple's exterior to the core. The final test was an old, soft tomato. Many a fine knife has been defeated by a past prime tomato, but the 940 did the job.
I took a trip down to my local pick and pull lot to really put the 940 through its paces. If you like playing with knives and cutting up some junk, a trip to a wrecking yard is better than Disney World. Seat belts galore, leather, pleather, rubber, insulation—the opportunities are endless!
After all my testing the Osborne had held its edge, and showed no signs of slowing down.
---
LOOK / STYLING
Score: 8/10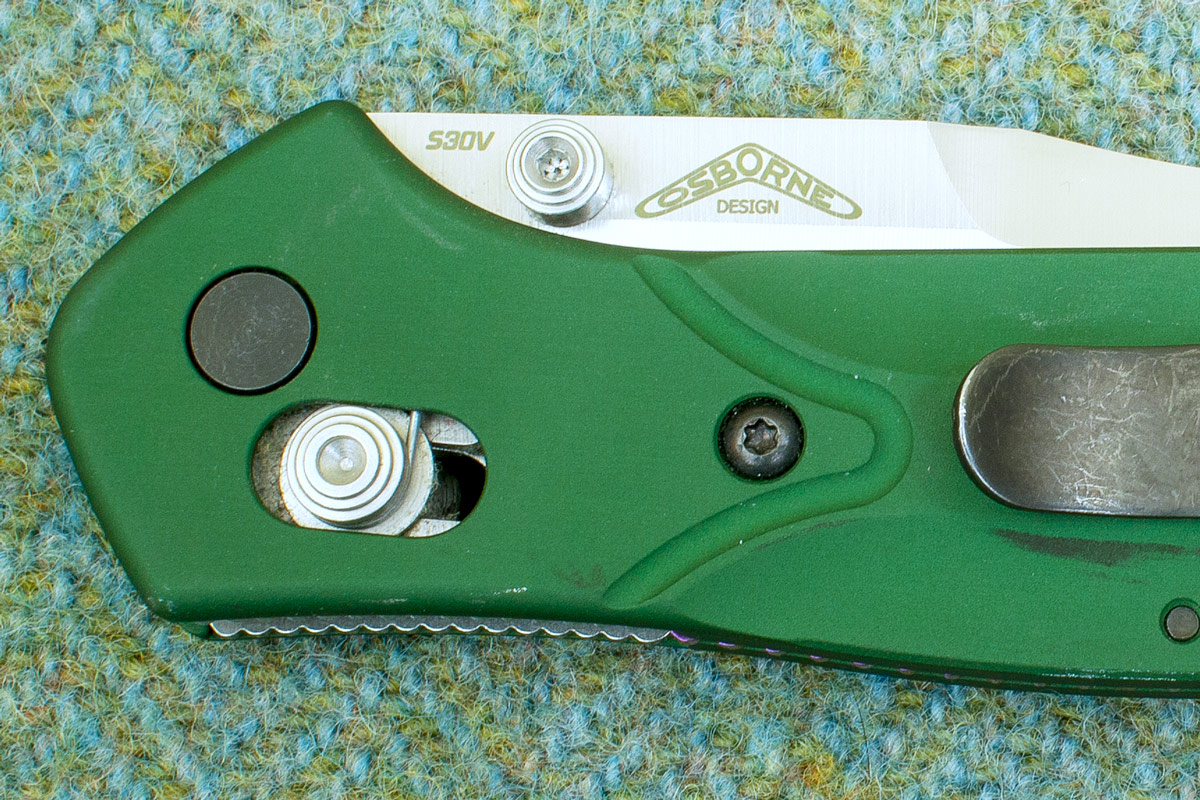 Slim, attractive, and well proportioned. I love the way the Benchmade butterfly and Osborne boomerang logos peek out of the handle scales. Utilitarianism is balanced with eye-catching details that appeal to the senses.
---
POCKET CLIP
Score: 8/10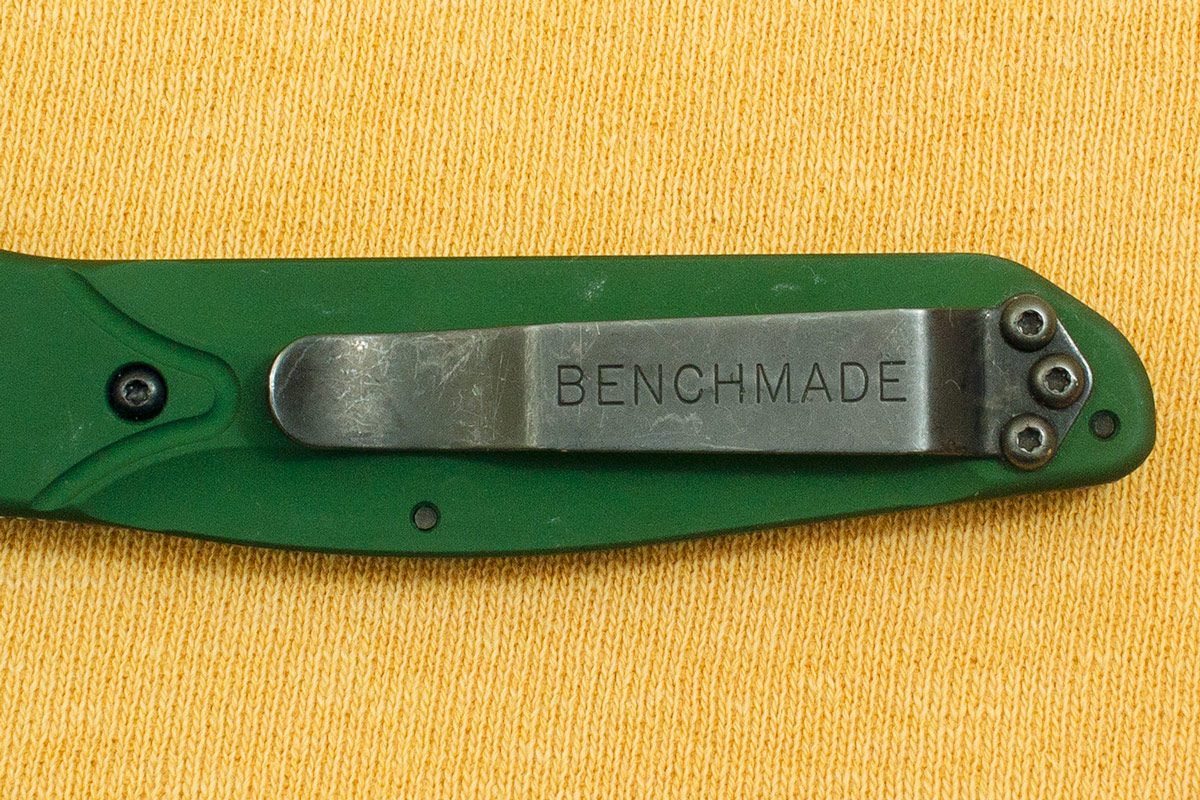 Benchmade makes great pocket clips. The one that comes on the 940 is their standard clip boldly marked in all caps. If you prefer a deep carry pocket clip, contact customer service at Benchmade and they can usually send one out to you. The stock clip is painted black and will develop scratches over time. That type of wear doesn't bother me, but the carbon fiber 940-1 model features a more-durable Parkerized clip that resists scrapes.
---
MATERIALS
Score: 8/10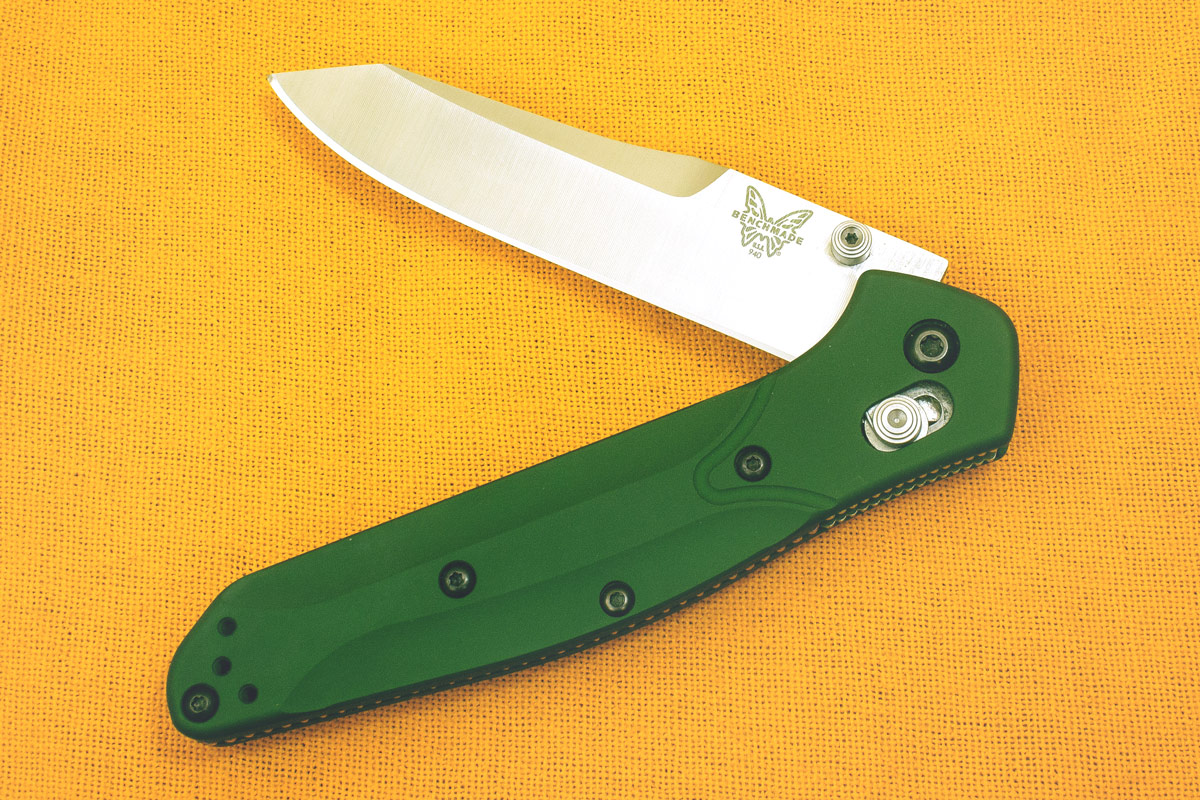 The materials on this knife are premium, no doubt about that. The CPM-S30V blade conquered all challenges with nary a whine or whimper. The aluminum handle scales are lightweight and feel great in the hand. The 940-1 is the same great knife as the 940 with a couple small changes. It shaves an ounce of weight away with full carbon fiber handle scales, and the blade steel is upgraded to S90V. But more on that later…
---
BLADE / SHARPENING
Score: 7/10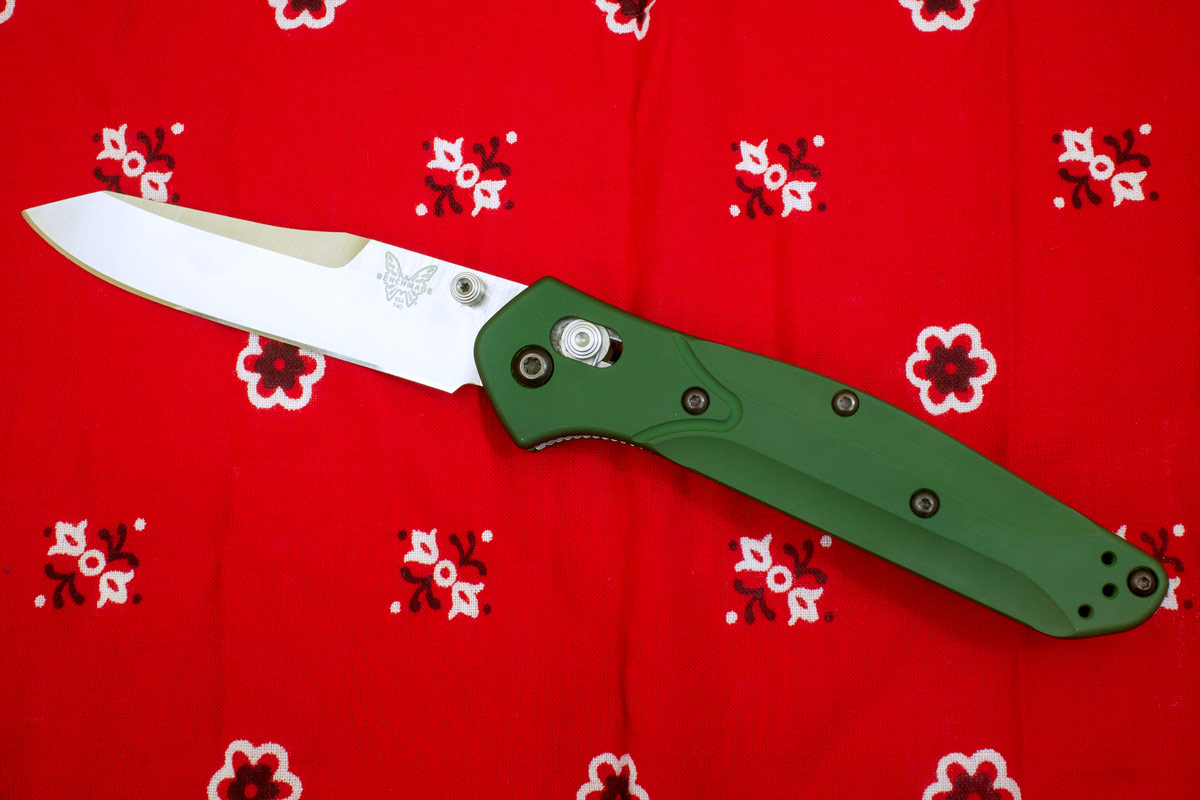 This blade is a winner. The reverse tanto blade shape adds a ton of material to the tip area which increases durability. I appreciate the swedge out of the spine as it takes away some unnecessary metal. This knife is more of a slicer than you might think. For any conceivable EDC task the 940 will perform. There are harder and tougher steel options available on the marketplace if that's what suits your fancy, but S30V is great!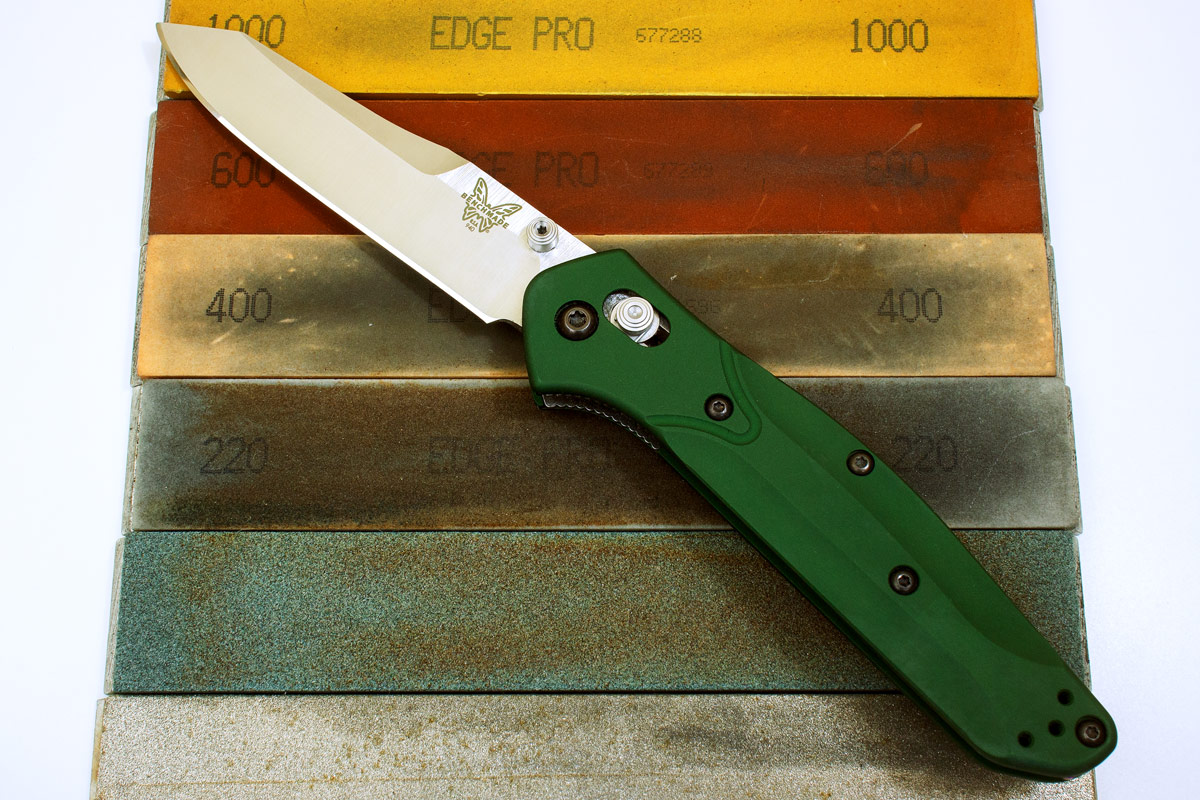 I love 'Super Steels' as much as the next guy. It's cool to carry a knife made from Maxamet, M390, or CPM-S110V. That said, S30V is a great steel! Through over a month of consistent use my blade was still sharp enough to glide through phone book paper and stick against my thumbnail. Where a steel like this really shines is in sharpening. I initially touched up the edge on my Spyderco Sharpmaker, and was very pleased. The magic happened when I brought my 940 over to the Edge Pro Apex. In less than ten minutes I was able to achieve a beautiful mirror edge. On other steels this process can take much, much longer.
---
POCKET JEWELRY
Score: 5/10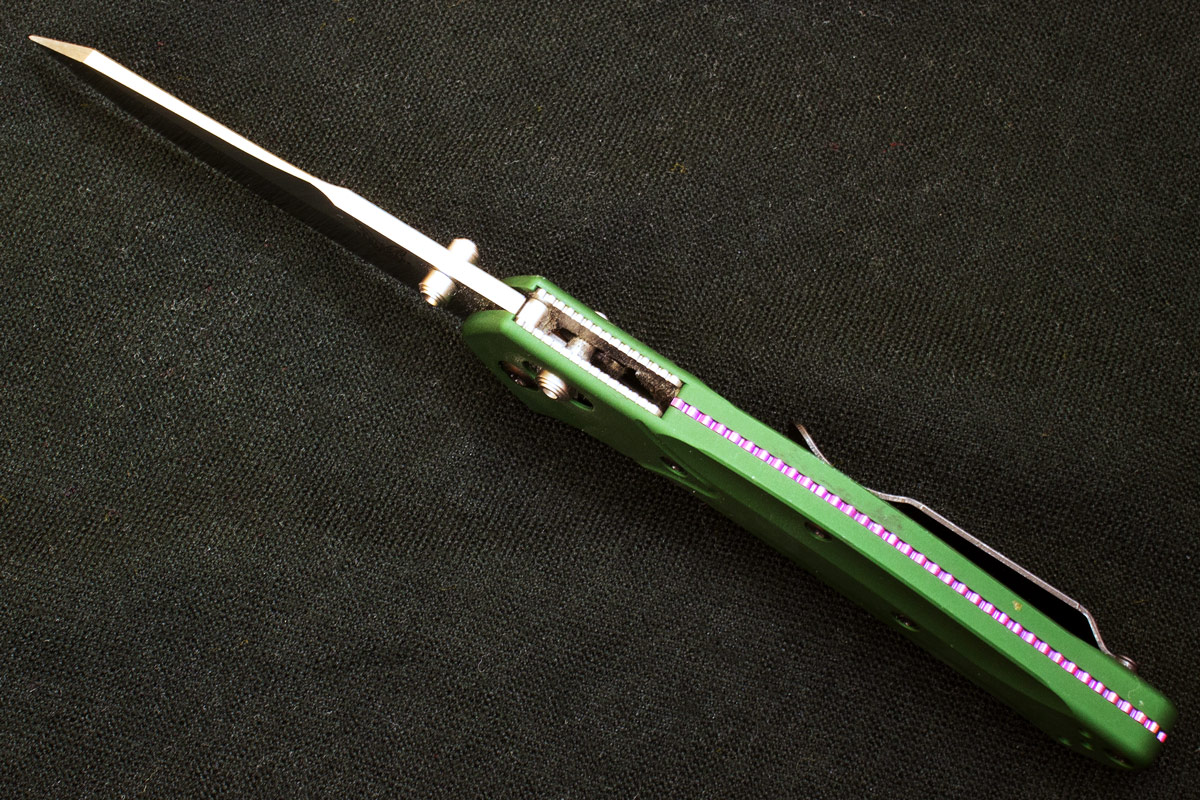 The 940 is an eye-grabbing design in every sense, but if you're looking for a luxury piece of pocket jewelry this might not be the knife for you. Utilitarianism and function come first on this Osborne design. The purple titanium back spacer is a real winner and I appreciate that they went in that direction rather than matching the silver and black hardware found on the rest of the knife.
---
TOTAL KNIFE LIFE SCORE:
83/100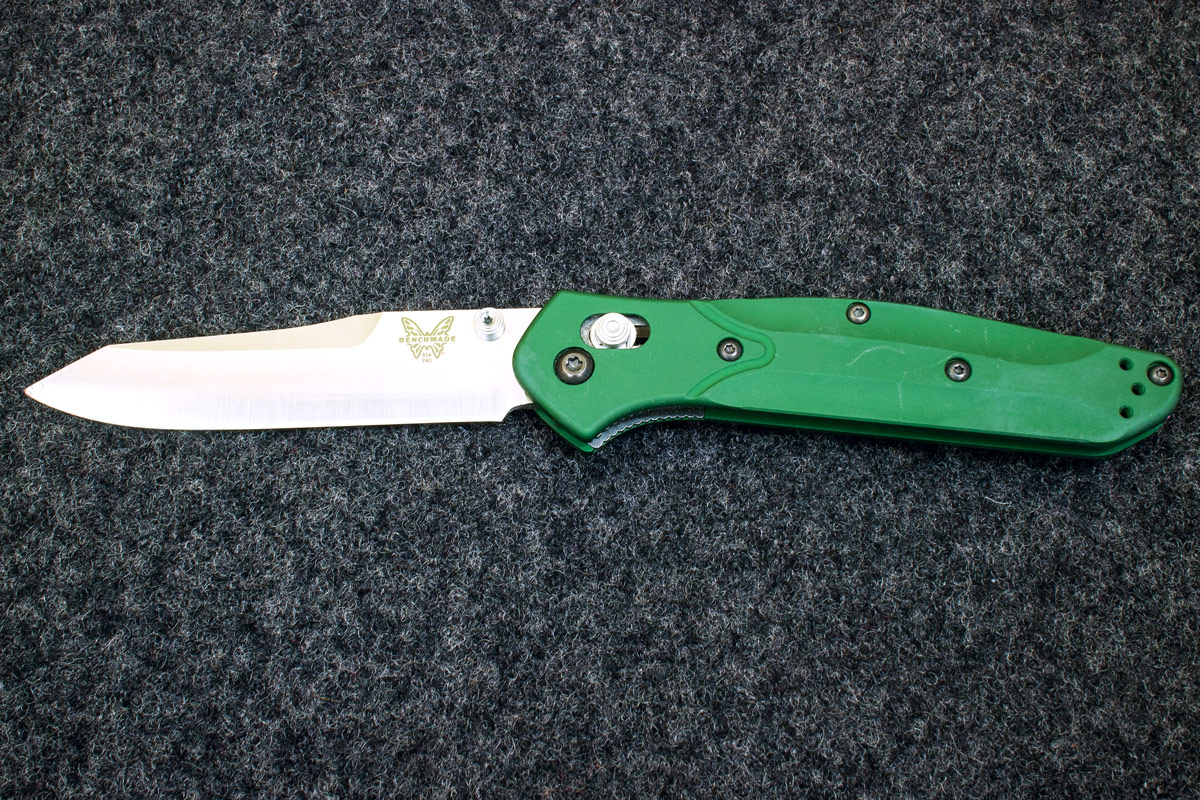 This is one of the most popular knives in history, and for good reason. Still kicking butt after all these years, the 940 would be an ideal EDC for any knife lover. Budget friendly, dripping with clout, and always hankering for action, the 940 Osborne is everything I hoped for.

---
940 vs. 940-1 vs. 940-2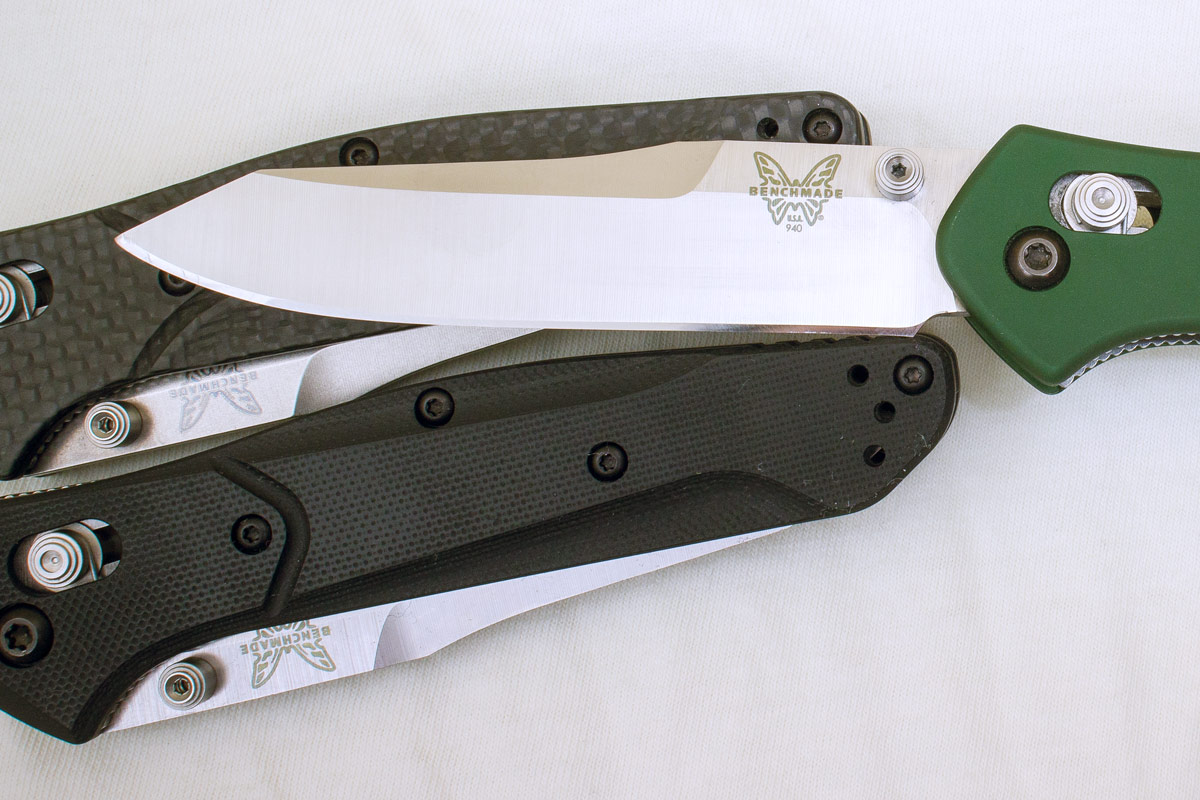 Interested in the 940, but aluminum handle scales not your thing? Luckily Benchmade gives you some options for variety. The 940-1 comes with carbon fiber scales and a CPM-S90V blade. The purple titanium back spacer is replaced with 'Ben Blue' aluminum barrel spacers. This knife ups the class on materials. The S90V blade is wicked shaahp with a toothy edge. The 940-2 has G-10 handle scales and a CPM-S30V blade. The G-10 is more grippy than anodized aluminum and might be a bit more durable, too. Green anodized aluminum barrel spacers compliment the black and steel look. Still can't decide? Check out our sweet 940 video overview below. Or see how the 940 stacked up in our Best American Made Knives article. And for even more Benchmade goodness be sure to check out our Best Benchmade Folding Knives article.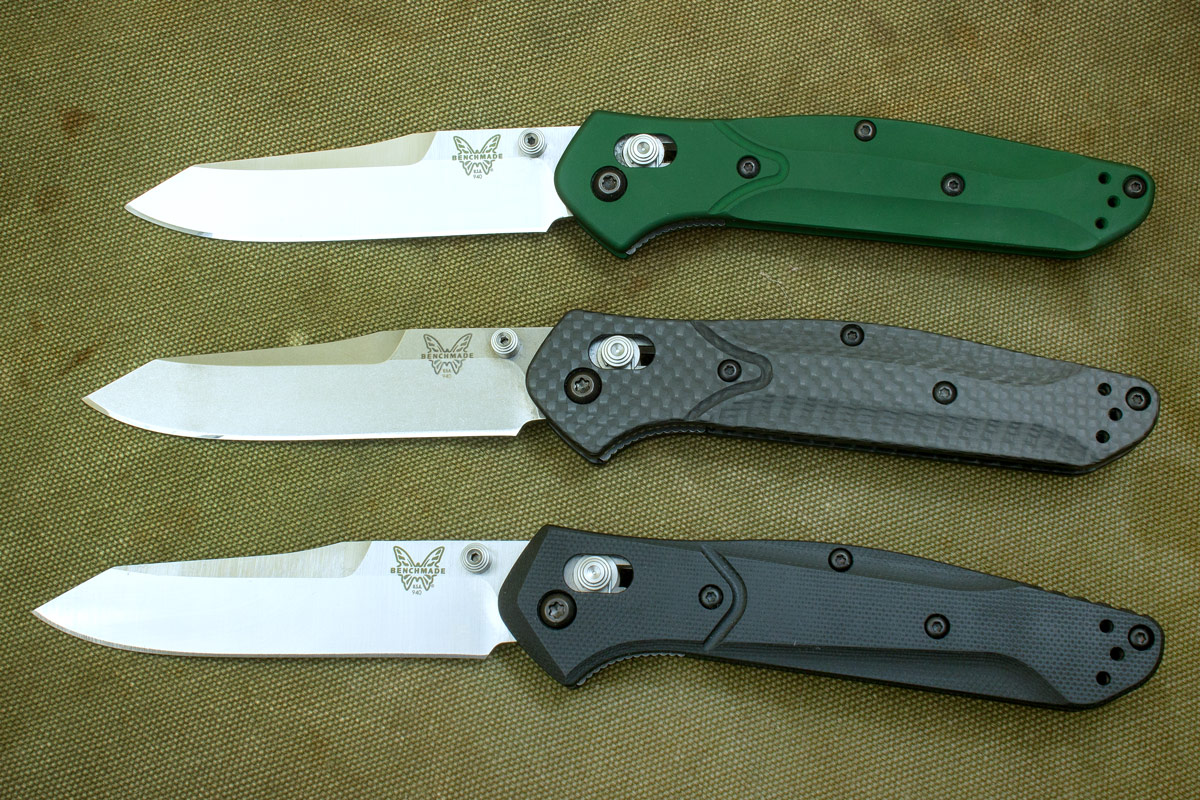 OTHER KNIFE GUIDES