Good news everyone (<– read in Dr. Farnsworth's voice from Futurama!) Benchmade's 42 balisong butterfly knife may be history (we are all crying, belive me), but Benchmade has introduced the model 51 butterfly knife and now they are poised to release the Benchmade model 53 butterfly knife!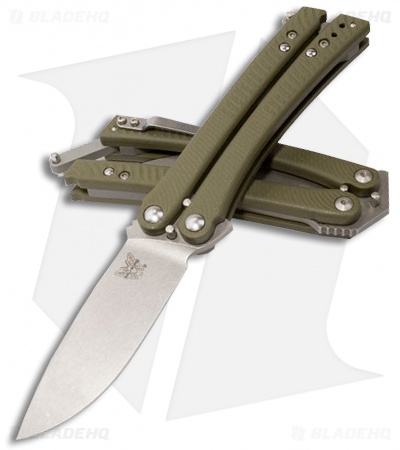 We had a chance to play with the 53 earlier this year while attending the Las Vegas Shot Show. The 53 has a unique pivot system with bearings and the action was exceptionally smooth.
 The model 53 Bali-Song® knife is designed by Charles Marlowe. Some of the highlights include a D2 tool steel blade, machined textured green G-10 handles, and the aforementioned ball bearing pivot system offering unmatched action and smoothness.  The 53 tip up pocket clip is present for easy carry.
Here are the Benchmade specifications:
Blade Length: 3.15″"
Blade Thickness: 0.120″
Blade Material: D2 Tool Steel
Blade Hardness: 60-62HRC
Blade Style: Crowned Modified Spear-Point
Weight: 3.50oz.
Clip: Silver, Tip Up
Lock Mechanism: Machined latch
Overall Length: 7.82″
Closed Length: 4.67″
Sheath Material: Sold Separately
Class: Blue
Right now BladeHQ has this butterfly knife available for Preorder (they expect them in a couple of weeks). The knives will be shipped in the order in which they were purchased. Login and preorder today for a special price (as an authorized dealer BladeHQ is not allowed to advertise it's discounted prices- but it's worth the time to make the account, login and check it out!).