The knife that caught my eye:
If there was ever a knife that I could pinpoint as my "gateway", it is this knife. The Benchmade Griptilian (aka my Griptaur) makes an every-day-carry knife worth having. In fact, in the same true form and for its more comfortable and convenient fit in my pocket, I carry the Mini Griptilian. As a matter of fact, I am a huge advocate for the design that Mel Pardue (and Benchmade) put into this knife.
Overview of the Griptilian's features:
Overall Length: 8.07"
Blade length: 3.45"
Blade Thickness: 0.115"
Blade Material 154CM Stainless Steel, 58-60HRC
Pocket clip: Black, Reversible, Tip-up
Closed Length: 4.62"
Handle Thickness: 0.640"
Weight: 3.82oz.
At first glance, I thought the Griptilian was a straight wilderness knife. One that could be carried to any outdoor adventure, and tried and tested, it would perform beautifully. I was pretty much right. Watch the awesome field test video below to prove just how far you can push it with this great knife. However, the Griptilian does not only give you the confidence in a knife that you want in the extremes, but also in an every day knife.
The axis locking mechanism:
Benchmade has produced some awesome folding knives in a huge variety of styles that incorporate their axis lock technology. The Griptilian does not fall short of that list. I feel that the axis lock, along with the great design and jimping in the handle, allows for easy and quick one-handed opening and closing of the blade. There is also the optional thumb stud or thumb-hole on the blade for opening and closing. Benchmade has placed phosphor bronze washers on both sides of the blade at the pivot joint to allow for easy gliding every time you open and close the knife. The axis lock button can be pinched from both sides, and has that great ambidextrous feel if you just want to use your thumb on either side, left or right handed. I love the feel and weight of the knife. With a 154CM steel blade and a handle made of a material called valox with 420J stainless steel liners reinforcing it, the Griptilian is a great lightweight and very durable folding EDC.
Overall impressions: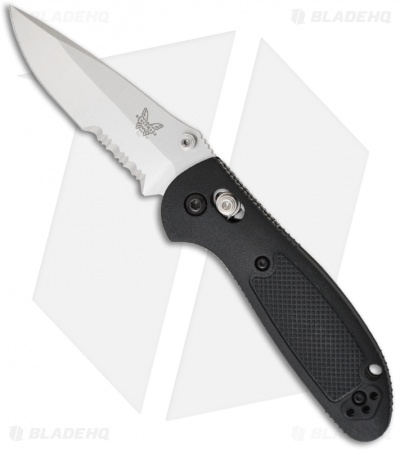 The Griptilian in action produces fantastic results. When it comes down to preparing for an outdoor adventure I like knowing that I am taking something that will be lightweight, durable, and will complete the task.
My personal preference is to have the serrated drop-point blade style, but this knife comes in so many variations, that you could find your own fit. The Griptilian is also very pleasing to the "Made in America" enthusiasts.
The 154CM steel is American made and developed premium grade steel. Known for its best all-around qualities, it offers great corrosion resistance with good toughness and edge quality. Benchmade manufactures their knives fit for the warning right on the box, "Benchmade knives are packaged extremely sharp." I am more confident knowing that my knife can be razor sharp and maintain that sharpness for a long period of time. The knife has a great hold with the right texture and jimping on all the right spots. That makes holding the knife comfortable and practical in almost all positions. It fits comfortably in my palm mostly, I think, because it is so rounded on the handle. With gloves on or off, flipping and using the knife comes with incredible ease and joy.
The Griptilian has really earned its reputation to become a modern day classic. It is a simple folding knife with nearly the same firing capability of a spring assisted or even automatic knife, all respect due to the AXIS lock mechanism. The resilience of the blade paired with the light and durable build of the handle makes the Griptilian my go-to knife.