The world is full of innovators and artisans when it comes to our huge knife community, and every day is full of exciting possibilities. When we get to see a new prototype come into Blade HQ, we're beyond thrilled.
Right now, the seemingly impossible, such as the corrosion resistance levels found in MagnaCut steel, has become a reality. New designs, mechanisms, and designers are springing up all over the world, and we'd be the last to say you need to limit yourself only to American-made knives.
However, you may have noticed that a lot of the advances are coming out of the United States. Our culture, bushcrafting nature, and fairly recent (compared to the rest of the world) emergence from a wild frontier have made us particularly fond of our tools, including knives, and it makes sense to participate as consumers as well as the fans that we are.
We appreciate the solid, tried-and-true designs forged in America's past as well as the up-and-comers, and adding to our extensive collection from both is always a happy event.
As the saying goes, for some every day is Independence Day, and many knife buyers want to show their patriotism in a way that benefits the country, American workers, and the economy as a whole. It's a great way to celebrate!
It's a win-win. Not only do you get to support our country's tremendous knifemakers, but you're also getting yourself some sweet, sweet blades.
Without further ado, here are a few of the best American-made pocket knives and fixed blades out there.
Shop Best American-Made Knives
1. Benchmade Bugout

The Bugout is still king. In the competitive knife world, it's an incredible feat for a knife to come out, make everyone sit up and take notice, and still be selling like crazy years later.
There's a reason we sell more Benchmade Bugouts than any other knife. The name says it all–this is the perfect knife to have in your bugout bag. It's a marvel for a knife to be this tough and light. Ergonomically speaking, knife users appreciate the grip and easy maneuverability. Best of all, the killer crossbar Axis Lock provides super strength, safety, and accessibility. You can deploy or close this beauty one-handed, even if you're a Southpaw. Available in a full size or a mini version. We put the Bugout to the test–check out the Bugout review.
Overall Length: 7.46″
Blade Length: 3.24"
Blade Material: CPM-S30V
Handle Material: Grivory or CF-Elite
Locking Mechanism: AXIS Lock

Greg T. says…
"No knife meets every need perfectly. But when it comes to EDC and everyday cutting tasks, the Bugout checks every box for me. Extremely lightweight. Deep carry mini pocket clip is discreet. Perfect blade shape and length. Feels like quality in your hand. Not flimsy or cheap at all. S30V blade. Axis lock for easy one hand open and close. Comes very sharp from the factory. All around excellent EDC knife."
2. Microtech Ultratech

With the exception of some collaborations with RikeKnife, Microtech uses "exclusively American-Made manufacturing, materials, and labor. Every component we use is developed within the United States and more than 95% of all our components are manufactured in-house, by us directly." So Microtech is a great choice if you're looking for USA-made knives.
It just doesn't get more tactically minded or American than the Ultratech. The Ultratech sets the bar for all other out-the-front knives, with the firing spring at rest in both the open and closed positions. With the spring at rest, but quick to activate, the double-action is a joy to use, the materials are top-drawer, and the one-handed accessibility is superb. Check out our Microtech Ultratech Review.
Overall Length: 8.50"
Blade Length: 3.44"
Blade Material: CTS-204P
Handle Material: Aluminum
Locking Mechanism: Dual Action OTF Lock

Tyler K. says…
"This is another example of fine craftsmanship. The action is solid, blade came razor sharp, the knife feels great in the hands. The action was a little stiff initially but after the initial break in period, it feels amazing. Good job Microtech!"
3. Spyderco Paramilitary 2
The state-of-the-art Compression Lock alone is enough to make this American-made pocket knife a must for your collection. Although a favorite with soldiers and survivalists, this blade also makes an excellent EDC and is popular with knife fans all over the world. Excellent materials, fantastic grip, easy one-handed accessibility, and exceptional durability keep this knife selling strong. Spyderco isn't one to rest on its laurels, though. They are constantly working to improve their knives, even when the model's been out for a while, and finding new innovations to make their blades even better. See more of the Spyderco Paramilitary 2 in our Spyderco Paramilitary 2 full review!
Overall Length: 8.25"
Blade Length: 3.44"
Blade Material: CPM S45VN
Handle Material: Varies
Locking Mechanism: Compression Lock

Paul F. says…
"This is by far the best knife I've ever owned. No blade movement at all. Sharpness is amazing. Great grip. Buy it!!!"
4. Pro-Tech Godson
The EDC version of The Godfather manages to be a bit aggressive, a bit gangster–yet undeniably classy, too. The incredible coil spring action is a marvel to experience, and the tactical implications are obvious. However, the size, durable construction, and fit and finishes make this knockout a great everyday carry.
The Godson is a compelling combo of Italian inspiration and American innovation.
Overall Length: 7.56"
Blade Length: 3.15"
Blade Material: 154CM
Handle Material: Aluminum
Locking Mechanism: Button Lock

Brian L. says…
"They are right when they say that Protech has certain snap. This thing is mean. The quality is amazing. The blade comes razor sharp out of the box, and holds an edge. I love the aluminum smooth handle. Very slick. I consider this my gentleman's EDC."
5. Gerber StrongArm

Gerber's been making survival knives for the military since the late 60s, and with a rubberized, grippy handle and hard-working steel, you can't go wrong with this fixed blade. The StrongArm is more compact and accessible for non-military situations, too, but the MOLLE-compatible multi-mount sheath system is convenient and ready to assist our servicemen and servicewomen wherever they may be posted.
For everyday use, the StrongArm is the perfect blade when working outdoors, camping, hiking, and general hard use. The full tang construction keeps this knife's durability and strength at its best. And, perhaps best of all, the price point guarantees an exceptional value. Click here to see our Gerber StrongArm review.
Overall Length: 9.75"
Blade Length: 4.875"
Blade Material: 420HC
Handle Material: Rubber
Locking Mechanism: Polymer Sheath

Sang K. says…
"My strongarm came scary sharp right out of the box. The sheath has solid lock and the handle feels very sturdy and has a great grip. I can't wait to try this knife on my next camping trip!!!"
6. Buck 110
7. Kershaw Leek
The Leek just seems to get cooler every year and not lose any of its sleek wonderfulness in any of its new incarnations. Since its initial release, and then winning Knife of the Year in 2002, the Leek has only increased its fan base. This streamlined assisted-opening knife retains its popularity for many reasons.
The Wharncliffe blade looks spectacular with the handle shape. The assisted opening is a glorious operation–just give the thumb stud a flick and the knife takes over. Finally, Kershaw just keeps coming up with new beautiful scales for this collector staple. Makes me think of Pokémon. I just want to catch them all.
Overall Length: 7.00"
Blade Length: 3.00"
Blade Material: Varies
Handle Material: Varies
Locking Mechanism: Frame Lock

Wyatt V. says…
"Small, durable, fast, and sharp. Have used and abused this daily for over 6 years now. Have never had any issues beyond the spring getting stuck after 5 years of hard use. Opened it up and fixed in 3 minutes. Love this knife to death."
8. Case Trapper
Made originally for the hunter who uses traps to catch small game–and it's still useful for that–but this folder also makes an excellent everyday carry. Two blades can take on the basic tasks that come your way, and you also get a moment to feel close to your grandfather. He always had his slipped in his pocket or in the little leather sheath strapped to his belt, right?
When it comes to full-blown Americana, you have to have a Case Knife in your collection. The Case brothers started selling their handcrafted blades from the back of a wagon in 1889, and have since become a symbol of the land of the free and the home of the brave. A Case knife has even accompanied astronauts as part of a survival pack on board the spacecraft used in every Gemini and Apollo space mission led by NASA. It costs about $10,000 per pound to get something into space, so this is high praise indeed.
Overall Length: 7.375"
Blade Length: 3.25"
Blade Material: Tru-Sharp
Handle Material: Varies
Locking Mechanism: Slip Joint

Alec P. says…
"Classic look, great feel, amazing price; there really isn't anything bad about this knife."
9. ESEE 3
Perhaps ESEE's greatest ability is to search out the people who use knives, –the authorities on the subject–and listen to what they have to say. ESEE has worked to design their knives with the U.S. Marshals Service, USMS SOG teams, U.S. Special Forces teams, Navy Special Boat Teams, Peruvian Special Forces, Colombian Police Forces, the Peruvian Anti-Narcotics Task Force, survival experts, and outdoorsmen and adventurers all over the world.
The ESEE 3 is a killer survival/bushcraft knife that can take on the toughest tasks while its compact construction keeps the blade from weighing down your pack. Sharp, slicey, and reliable–what else do you need for the great outdoors? The full tang construction and durable materials mean it's doubtful you'll ever need to use their excellent warranty. For more about ESEE, check out Best ESEE Knives.
Overall Length: 8.19"
Blade Length: 3.875"
Blade Material: CPM-S35VN
Handle Material: Varies

Landon M. says…
"Definitely worth the money. Gets razor-sharp and is a perfect size. You also get the Esee warranty, which you can't beat. My new favorite EDC. Carry it everywhere I go along with my CRKT minimalist."
10. Chris Reeve Sebenza

I've asked people that work here, "If you could only have one knife–just one!–what would you pick?" More than one person said the Sebenza. They did look a little traumatized like I was asking them to pick their favorite child, but the Sebenza is still the ultimate. Truthfully, this knife is one of the most universally respected knives you can find. If you can afford the price tag, and you can snag one before it sells out again, the Sebenza will likely be one of your favorite picks, too.
Chris Reeve uses space-age materials and the best, newest machining practices to give us a USA-made pocket knife that's practically perfect in every way. The craftsmanship is simply stunning.
Overall Length: 8.335"
Blade Length: 3.625"
Blade Material: Varies
Handle Material: Varies
Locking Mechanism: Frame Lock

James L. says…
"Fantastic knife that stands the test of time. Top quality materials with the fit of a Colt revolver. A must have for any knife lover. Somehow the Sebenza far exceeds the sum of its parts into something really great. It's odd to describe but you become very involved with the Sebenza through disassembly, cleanings, and carefully greasing the pivot to get it just right. It might be the best case of industrial art in the knife world. I own several vintage, regular's, classics, 21's and 25's and love 'em all."
Conclusion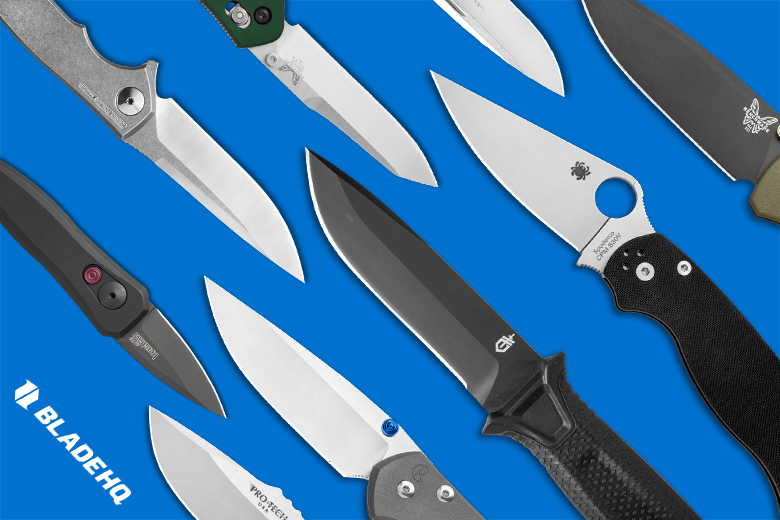 We picked these knives in particular because these iconic blades have something about them that reflect the country where they were made. They are very much American knives. If they were made anywhere else, it would just seem wrong. American designs and innovations may be copied, and often are, but they should never be transplanted.
Also, for knife enthusiasts who want to support the knifemaking culture we have in the United States, this is a great place to start. Buying American also means supporting American workers. Their wages go straight back into the economy and feed our communities.
Not only are you fostering that growth, but you're rewarding the companies that are committed to keeping their businesses in the country where they started, rather than shipping it all overseas to cut costs.
One huge benefit to you is that if you should have any problems or have any questions, their customer service departments are right here! No struggling to communicate and no sending off a knife on an extensive voyage just for a little service.
So buying American-made knives means supporting your knife-making countrymen, American businesses, and also getting some excellent customer service for yourself. And did we mention those sweet, sweet blades? Get your mitts on your favorites and you'll never look back.
Stay sharp, knife friends!
While these are our top American made knife recommendations, Blade HQ has way more knives than those featured here. Leave a review of your favorite and follow us on Instagram, Facebook, and Twitter for all your future knife updates.
Need more American made knives? Check out our American Made fixed blade knives Knife Banter video below for more knife goodness.
---
Learn More
The knives we listed in this article are some of the best American Made Knives, but did you know there are tons more amazing knives made in the USA? In this video Kurt and Zac break down some of the Best American Made Pocket Knives. Check it out!
Shop Best American Made Knives
---
Other Best Knife Guides
Still in that information gathering phase? We've got a whole bunch more lists of all the Best Knives! Happy hunting and may you find that one special knife of your dreams!
*Customer reviews may be condensed for clarity and edited for grammatical errors. You know we have to make our high school English teacher proud. Check product listings for current pricing.