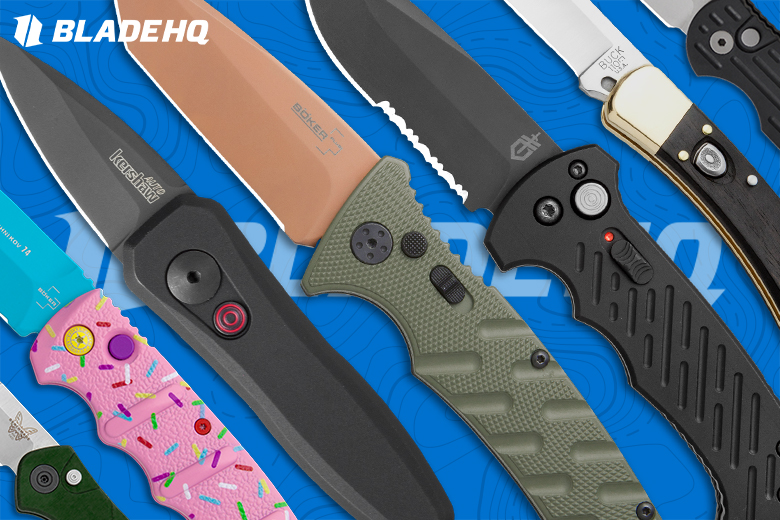 Automatic knives come in all shapes and sizes. From fancy Italian Stilettos to hard-hitting tactical folders, the automatic knife has become a point of excitement for knife nuts the world over. They make life easier for anyone who needs a reliable knife that can open quickly with one hand, and provide a great amount of utility over manual folding knives. In this "Best Of" we look at some of our favorite automatic switchblade knives and what makes them great. Let's get to it!
Shop Automatic Switchblade Knives
---
1. Kershaw Launch 4 Auto

The Kershaw Launch 4 may be diminutive, but it packs a big punch. It is a member of the famous Kershaw Launch Series and features a minimalist design and sleek aluminum handle scales. This knife is the perfect auto for your EDC rotation or bugout bag and is even California-legal. You won't regret picking up this little guy. This is one awesome everyday carry automatic knife. Pick one up by clicking below.
---
2. Buck 110 Automatic

For around 40 years, if a man needed to clean a fish, open an envelope, or slice an apple, the Buck 110 was the ultimate and only choice. Buck did the world a real solid by releasing the 110 Automatic. There's no better modern classic than this Idaho-made brute. Get yours by clicking below.
Shop Buck 110 Automatic Knives
---
3. Boker Kalashnikov Automatic

The Boker Kalashnikov kicks like a stallion and its dependability is off the charts. You might be tempted to treat this affordable, bargain-basement switchblade like a beater, but this thing has got the feel and ergos of an automatic knife at least five times more expensive. If you haven't added a Kalashnikov to your rotation, do yourself a favor and get one today by clicking below.
Check out our Boker Kalashnikov Review for a deep dive into this knife!
Shop Boker Kalashnikov Auto Knives
---
4. Gerber 06 Auto

When a tool or piece of equipment is contracted to be built for the US military, it's held to a high standard of quality and workmanship. Being that the Gerber 06 Auto was originally designed and made to support service men and women during their tours of different places around the world, it is one of the most solidly built automatic knives available to date. Though its action isn't the most punchy in the world, it is easy to open and close with one hand. The Gerber 06 Auto features an ergonomic aluminum handle and a durable CPM-S30V blade. Whether you're currently enlisted or looking for a big knife to use as your everyday carry, the Gerber 06 Auto won't let you down. Check it out by clicking below.
---
5. Pro-Tech TR-3

Last but most definitely not least is the Pro-Tech TR-3. This is one serious automatic folding knife. It features a grooved aluminum handle, a CPM-154 blade and a lightning-fast action that helps this knife live up to its "Tactical Response" designation. The TR-3 is the perfect size for big tasks and everyday carry alike. It's easy to hold and provides confidence that many other knives just don't. Get a Pro-Tech TR-3 by clicking below.
---
6. Benchmade 9400 Automatic

The Benchmade Osborne has been one of the most popular knives in the industry for more than 20 years. Up until just this last year, the knife has only existed as a manual folding knife. The Benchmade 9400 Osborne takes the same familiar materials, profile and construction found on the original 940, and adds a snappy push-button automatic action. It features a reverse tanto CPM-S30V blade and a green anodized aluminum handle. Click below to learn more.
Shop Benchmade 9400 Osborne Automatic Knives
---
7. Boker Plus Strike D2 Automatic

If you like the Kalashnikov but prefer your switchblades with a little more belly and a safety slide, this Boker Plus Strike is an incredible option. Textured aluminum handle scales and a prominent finger choil keep your locked in place. Dollar for dollar, these Boker Strikes automatic knives punch way above their weight and now come with a D2 blade.
Shop Boker Plus Strike Auto Knives
---
Final Thoughts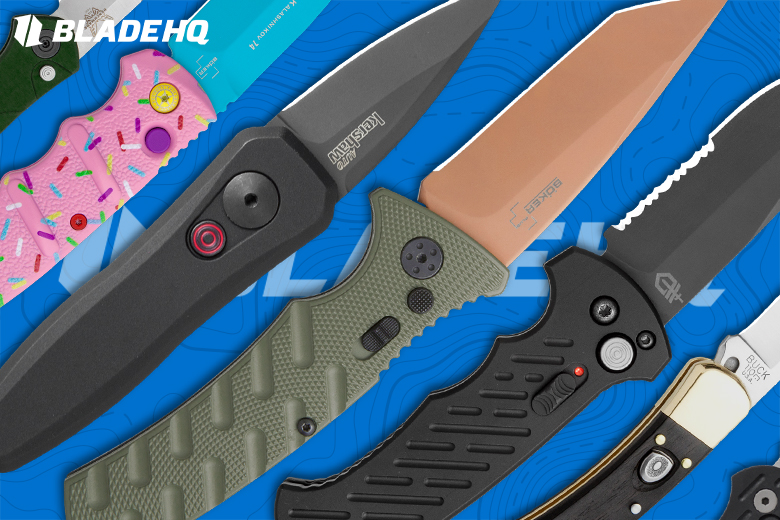 Automatic knives are all business and no BS. They are made to make a statement and to get the job done. Whether you're into cool gadgets or need a reliable knife you can open with one hand, there's bound to be a great automatic folding knife for you. Click below to see more great automatic knives.
Don't delay. The time is now. We've got some epic deals on all the automatic knives that fill your dreams every night. Make it happen; unbox your new EDC! For all Blade HQ updates, follow us on Instagram, Facebook, and Twitter.
---
Learn More
Whether it's the snappy sound, tactical use, or collectible appeal, automatic knives are great for countless reasons. If you went through each knife above and are yearning for more switchblade action, check out our Knife Banter video below. We highlight many more of our favorite automatic knives. For more of the best knives check out our Best Knives of 2020 article.
---
Other Best Knife Guides
Still in that information gathering phase? We've got a whole bunch more lists of all the Best Knives! Be sure to check out our How to Choose an Automatic Knife article for more information on our favorite automatic knives. Happy hunting and may you find that one special knife of your dreams!
*Check product listings for current pricing.