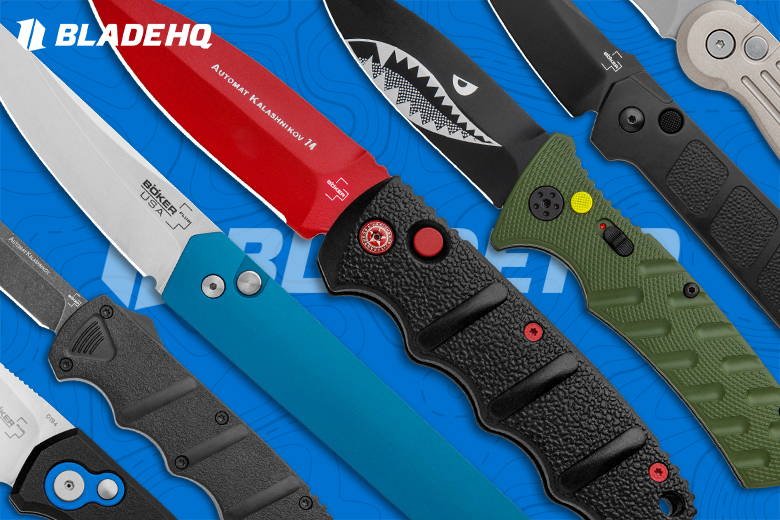 Boker Knives has a rich history dating back hundreds of years, and has developed, over time, some of the best automatic pocket knives in the knife world. Each Boker automatic knife has something unique to offer those who carry them. Some are perfect for hard use and heavy duty jobs while others make great everyday carry knives for regular tasks. In this "Best Of" we take a look at the Best Boker Automatic Knives of 2021 and break down why each one is amazing. Let's get to it!
Shop All Boker Automatic Knives
---
Boker Kalashnikov

The Boker Kalashnikov has been a staple in the knife industry for as long as we can remember. With its quality construction, comfortable ergonomics and reliable action, the Kalashnikov has been the go-to knife for everyone from tactical operators to everyday knife nuts. It features an aluminum handle with comfortable finger channels, a sturdy AUS-8 blade that's easy to maintain, and a push-button automatic action that delivers a satisfying "SNAP!" every time. The Boker Kalashnikov is available in a mini-version, many color ways and several blade types, so don't hesitate to pick up multiple variations of this knife to rotate through your week. Check it out by clicking below.
---
Boker Strike

Like the Kalashnikov, the Boker Strike has graced the collections of knife collectors for many years and will continue to be a fan favorite for many to come. This knife is tailored and designed around tactical applications, but has been adopted as an everyday carry folding knife as it offers great ergonomics and an amazing push-button automatic action for easy one-handed opening. The Strike features either an AUS-8 or D2 blade and an aluminum handle. It's also available with a drop point, spear point or tanto shaped blade. The Boker Strike is a great knife for anyone who's looking for a knife designed to take a beating, perform under pressure and last over time without absolutely breaking the bank. Pick up a Boker Strike by clicking below.
---
Boker Kihon Auto

Drawing on Japanese design, the Boker Kihon Auto offers a new look and feel to the Boker automatic knife lineup. It features a familiar feeling push-button automatic action to other Boker autos, but features looks more suited for everyday carry. Its aluminum handle features unique "ray skin" texturing which offers ample grip without chewing up your hands or pockets. Its D2 blade slices well, is built to last and is easy to maintain. It features a deep carry pocket clip making it easy and convenient to carry. Check out the Boker Kihon by clicking below.
---
Boker Magnum Auto

A high price tag isn't always indicative of a great knife. With a price under $50 the Boker Magnum Automatic exudes a similar level of elegance and precision often found on much more expensive knives. This knife features a lightweight aluminum handle with sleek grooves for added grip. Its drop point AUS-8 blade makes quick work of everyday tasks and sharpens up nicely. This knife features a durable pocket clip for convenient carry and has a satisfying action that's sure to fill your fidget fix. Get yours by clicking below.
---
Boker Kwaiken Auto

The Boker Kwaiken Auto could quite possibly be the best looking Boker automatic knife in the lineup. From sleek and sexy 6061-T6 aluminum handles to its slender drop point 154CM blade, this knife screams elegance and precision. Thanks to a collaboration between Boker USA, Pro-Tech Knives and Lucas Burnley, the Kwaiken Auto is what it is. The knife snaps open with authority thanks to precision milling and construction from Pro-Tech, and upholds the highest standards of quality from Boker. This Lucas Burnley design is minimal yet sophisticated and makes a great addition to any collection. Learn more by clicking below.
---
Boker Kalashnikov OTF

The Boker Kalashnikov OTF is the first OTF automatic knife in the Boker knife lineup. It features a powerful double action and familiar ergonomics to those found on the folding Kalashnikov automatic. Its D2 steel Bowie blade provides incredible utility and is made to withstand the rigors of regular heavy use. A deep carry pocket clip and aluminum construction make this knife easy to carry. Get yours by clicking below.
---
Boker Kompakt

The Boker Kompakt was designed to add a Cali-legal option to the Boker knives lineup. This stout blade features amazing ergonomics for a small knife and gives users incredible control during big and small tasks alike. It features a black coated aluminum handle and a compliant AUS-8 drop point blade. This knife is small, but incredibly capable. Check out the Boker Kompakt by clicking below.
---
Final Thoughts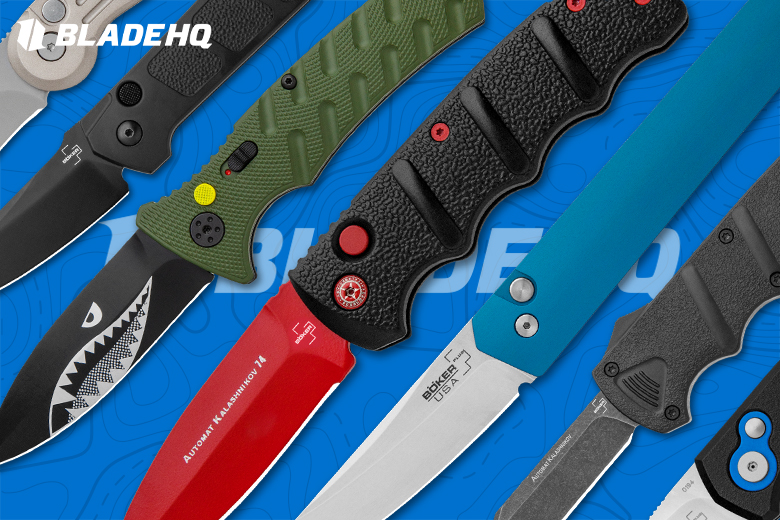 Boker knives are known for their precision, durability and affordability. They're made to the highest standard of quality and performance but don't break the bank. If you're looking to get your first automatic knife or just want to expand your growing collection, there are plenty of amazing Boker Automatic knives to add to your collection. Click below to see our full selection of Boker Automatic Knives.
Blade HQ has way more knives than those featured here! There's bound to be another knife you need for your growing collection. Give our wares a browse, and find the perfect knife to suit your needs! If you need some more inspiration, be sure to check out this recent episode of Knife Banter, where we sit down with Boker Germany's CEO to discuss the latest new Boker releases for 2021.
---
Other Best Knife Guides
Still in that information gathering phase? We've got a whole bunch more lists of all the best knives! Happy hunting and may you find the knives of your dreams!
*As our inventory fluctuates regularly, the availability of some products may change. Sign up for our wishlists and check back regularly for current pricing and availability.