Whether you're a weekend camper or live in the wild, a great camping knife can make all the difference. We've compiled this list of the best camping knives perfect for any camping trip. Each knife has its respective specs and has a summary of what makes them extraordinary. Some are perfect for small tasks, while others have more heft for doing big jobs. Overall, these picks are great to take on your next adventure. In addition to an overview of each knife, we've included videos of specific models to show off how excellent they are!
---
1. Morakniv Basic 511

Overall Length: 8.00″
Blade Length: 3.50″
Blade Material: Stainless Steel
Handle Material: Polymer
Weight: 2.70 oz.
Country of Origin: Sweden
A knife doesn't have to be expensive to wield some incredible cutting power. For under $10, you can get the Mora Basic 511, an honest-to-goodness fixed blade with a true, zero-edge Scandi grind. It's ready for camping, hunting, bushcraft, and more! You won't be afraid to beat it up because it's so inexpensive, and you'll be amazed at what it can handle. Lots of lifelong campers, bushcrafters, and outdoor lovers got started with a Basic 511, and some never leave it! If you're on a budget for your next camping trip, this might be the best choice for you!
---
2. Benchmade Hidden Canyon

Overall Length: 6.42″
Blade Length: 2.79″
Blade Material: CPM S30V
Handle Material: Wood
Weight: 2.81 oz.
Country of Origin: USA
While it was built with hunters in mind, the Benchmade Hidden Canyon excels in camp tasks too. When skinning, you need a stout, controllable knife that can navigate skin, muscle lines, fat caps, and bones. When camping, you need a knife that can handle wood, cordage, food, and tons of other tasks. The Hidden Canyon can slip into either role with ease, and it keeps the weight down all the while. If you're on a lightweight camping trip or a backpacking adventure, this knife will give you all the cutting power you need while keeping it light and strong.
---
3. Ka-Bar Becker BK2 Companion

Overall Length: 10.75″
Blade Length: 5.25″
Blade Material: 1095 Cro-Van
Handle Material: Zytel
Weight: 15.90 oz.
Country of Origin: USA
Few knives can compete with the BK2 in terms of toughness. Its quarter-inch thick 1095 Cro-Van blade can take any beating a human is capable of throwing at it. The BK2 is a great one-tool option for your adventure. It might be a bit heavy, but you can do some fine carving with it, but you can also chop, baton, and hack your way through even the hardest, knottiest wood you can find. If you don't want to carry a knife and an ax, carry the BK2! It can play double-duty for sure. We chose the BK2, but there is a huge line of Ethan Becker Knives to choose from.
---
4. ESEE Izula

Overall Length: 6.25″
Blade Length: 2.875″
Blade Material: 1095
Handle Material: 1095
Weight: 1.90 oz.
Country of Origin: USA
The Izula, named for the bullet ant, is a potent little fixed blade that can serve as an outdoorsy EDC or a backup to a larger knife. It's light, strong, well-proportioned, and ready for all your adventures. It also comes in dozens of colors, so you can have one to match the rest of your kit; but we especially love the green featured model and our exclusive Fire Ant Red variation because it is easy to see if you drop it or set it down! Each of the knives are designed by real survival experts whose full-time jobs are in the wild. If you love ESEE Knives as much as we do, then be sure to check out our Best ESEE Knives article.
---
5. Gerber Terracraft

Overall Length: 9.125″
Blade Length: 3.875″
Blade Material: CPM S30V
Handle Material: G-10
Weight: 6.94 oz.
Country of Origin: USA
We replaced the StrongArm with the Terracraft because we've agreed that the StrongArm is a tactical knife. Not that it can't go camping, but the Terracraft was built from the ground up for the campsite. Offering an exposed full tang, S30V blade steel, and a G-10 handle, this knife is tough, resistant to the elements, and will hold its edge. The knife includes an optional Ferro rod loop to make the Terracraft an entire fire-making system! It's a top-of-the-line knife; if you get one, it will serve you for a lifetime! Some people, however, prefer a smaller camp knife. If that's you, Gerber has you covered with the Principle. It shares a similar design to the Terracraft, but it's smaller and has a real Scaninavian grind too!
---
6. Ontario RAT 1

Overall Length: 8.625″
Blade Length: 3.625″
Blade Material: AUS-8
Handle Material: GFN
Weight: 4.95 oz.
Country of Origin: Taiwan
There's room for a RAT in everyone's collection! The Ontario Rat series gets its name from Randall's Adventure and Training. RAT is a world-class survival instruction company that has trained people from the jungles of South America to the deserts of North America. The survival experts there designed the RAT 1 as an everyday carry knife that could also work well in the outdoors, and they hit a home run! It sets a benchmark for what a budget folder can be, and in the woods, it can get most of your cutting tasks done without fuss. And if you love the RAT, the geniuses who designed it also made the entire Ontario RAT Fixed Blade line, not to mention ESEE Knives!
---
7. Boker Plus Nessmi Pro

Overall Length: 6.10″
Blade Length: 2.75″
Blade Material: D2
Handle Material: Micarta
Weight: 3.00 oz.
Country of Origin: China
Jesper Voxnaes designed the Nessmi with strong inspiration from the Nessmuk knife style from over a century ago. Featuring a reinforced tip and a sweeping edge, the knife excels in woodcraft, slicing food, skinning game, etc. This versatile knife is small, so it won't weigh you down or get in the way. If you like to stay minimal, the Nessmi might be your best option! We also carry an exclusive model with a smoke-washed D2 blade and a micarta handle. It's a real treat of a knife and has earned its way into our hearts! Not only that, but it's an homage to an important part of knife history. Let us never forget where we came from!
---
8. Bradford Guardian3

Overall Length: 6.75″
Blade Length: 3.50″
Blade Material: Bohler N690
Handle Material: Micarta
Weight: 3.56 oz.
Country of Origin: USA
If ever there was an EDC fixed blade, it was the Guardian3, but it excels around camp too! Made in the Pacific Northwest this fixed blade has just enough handle to be comfortable with no jutting ends to cause you grief. While relatively lightweight, the blade is plenty long for most of your cutting tasks, too. It comes in various blade steels, blade styles, handle materials and finishes that are sure to impress. If you can dream it, there's a Guardian3 with it! There's also a host of larger knives in the Guardian series, so if you want something a bit bigger, check it out!
---
9. Kershaw Camp 5

Overall Length: 9.125″
Blade Length: 4.75″
Blade Material: D2
Handle Material: Nylon
Weight: 5.70 oz.
Country of Origin: China
The Camp series is known for its machetes and large choppers, but the Kershaw Camp 5 breaks the mold. This knife is a slicey fixed blade that lends itself to universal cutting, not just hard chopping. The blade is made of D2, known for its solid toughness and edge retention. This means you can chop through vines, baton logs for the fire, and still have a razor's edge to prepare food with. The Camp 5 is an excellent choice for a belt knife, and the price is right too! Or, if you want something bigger, the original Kershaw Camp line might be just the thing!
---
10. Spyderco Bow River

Overall Length: 8.14″
Blade Length: 4.40″
Blade Material: 8Cr13MoV
Handle Material: G-10
Weight: 3.90 oz.
Country of Origin: China
Few brands boast the name recognition of Spyderco, and the Bow River lives up to the legendary name! This knife has a thin stainless steel blade that makes processing game, slicing vegetables, making feather sticks, and dozens of other camp tasks incredibly easy. The weight of the solid G-10 handle scales keeps the knife rested firmly in your hand, so you don't have to worry about dropping it. Best of all, the Bow River is one of the least expensive knives on this list!
---
Conclusion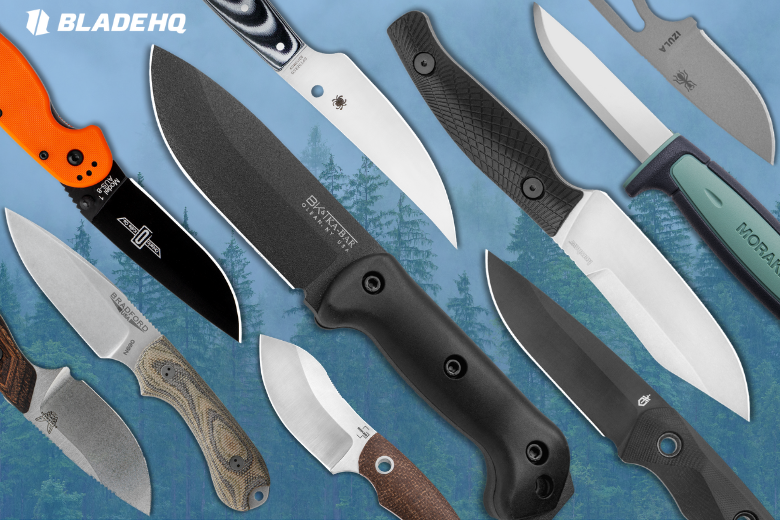 Though not a comprehensive list, these knives are a good start for anyone looking to make the most of their next camping trip. Each has its own unique flavor, but all are designed to make camping and bushcraft easier. Whether you are looking for a small knife to use as a spare or a burly bushcraft knife to accompany you on your next adventure in the woods, you know we have you covered.
Now that you've got all our recommendations, Blade HQ has got way more knives than just the ten featured here. In a recent blog post, we recommended three types of camping knives at three price points: Bushcraft, Lightweight, and Cooking knives. Be sure to head on over and give it a read here to see what knife will best fit your budget!
---
Learn More
Our campaign manager Spencer and copywriter George went out to the woods to help Spencer choose the perfect camp knife. Check out the video and learn about some solid options at any price point!
---
Other Best Knife Guides
Still in that information gathering phase? We've got a whole bunch more lists of all the best knives! Happy hunting and may you find the knives of your dreams!