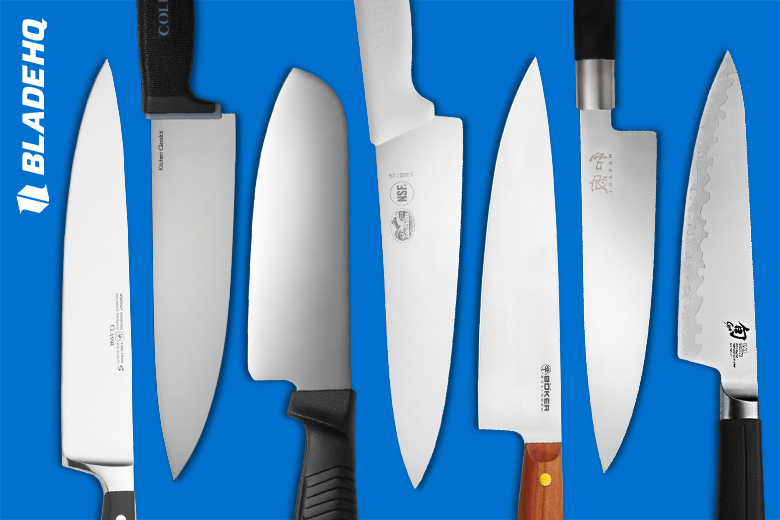 Knives are right at the top of the list of must have kitchen tools, and the chef's knife is the most important knife in the block. Whether you're a well seasoned chef or a budding culinary expert, adding an amazing knife to your collection will pay off incredibly. In this guide we break down the Top 7 Chef Knives of 2020 and what makes them great.
In addition to an overview of the specs and details of each knife, we will feature a review of each knife left by one of our beloved customers. If you're new to chef knives or looking to expand your collection, read on to learn more!
---
1. Cold Steel Kitchen Classics 8″ Chef's Knife

The Cold Steel Kitchen Classics series builds on Cold Steel's reputation for making knives with incredible cutting power and durability. The Kitchen Classics 8-inch Chef's Knife features a cry-quenched 4116 stainless-steel blade made for chopping and slicing food with precision and efficiency. Its handle is designed for both long-term durability and comfort and is made from food-safe polymer material. The Cold Steel Kitchen Classics 8-inch Chef's Knife is one of those knives built to stand up to the rigors of professional and home kitchens alike. Check it out by clicking below.
8.00″ 4116 Stainless Steel Blade
Polymer Handle
5.90 oz. weight
Made in Taiwan

No reviews yet!
Be the first to write a review!
---
2. Kai Wasabi 6.5″ Santoku

The KAI Wasabi 6.5" Santoku knife features a broad blade large enough to use with medium and larger pieces of produce and meats. Its handle offers optimum hygiene thanks to the special combination of bamboo powder and polypropylene – assisted by the natural anti-bacterial properties of the bamboo parts. This knife makes quick work of general kitchen cutting chores and is made from the stuff that stands the tests of time. Check out more below.
6.50″ Daido 1K6 Santoku Blade
Polypropylene Handle
8.40 oz. weight
Made in Japan