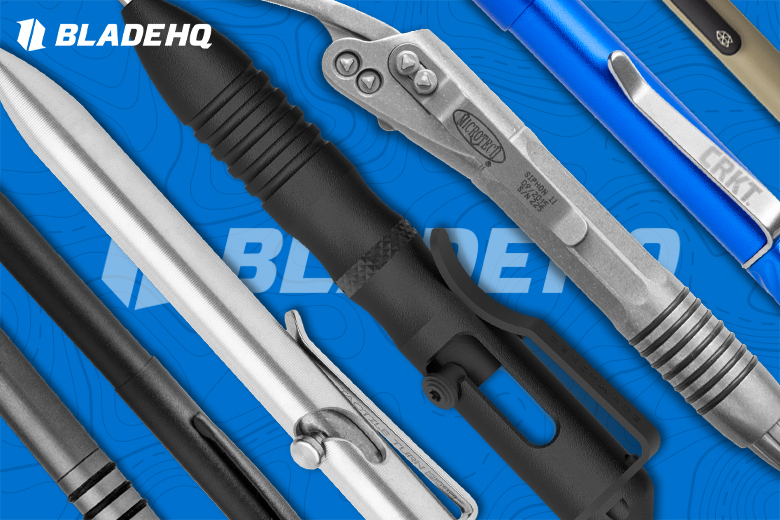 Have you ever been in a situation where you were looking for a pen, couldn't find it and felt kind of dumb not having one? Maybe it was a moment where you could have gotten an autograph from someone famous. Maybe you met the girl of your dreams, your phone was dead, and you didn't have a way to write down her number. In any case, a pen comes in handy in more situations than you think. In this "Best Of" we look at the Best EDC Pens at Blade HQ and break down what makes an EDC pen better than a regular pen. Let's get to it!
---
The James Brand Benton

The James Brand is known for their minimalist designs and premium feel. The Benton pen is made from 304 Stainless Steel and features a PVD coated pocket clip. The Benton comes standard with a Schmidt P900M ink cartridge but works with most standard sized pen cartridges. We love this pen's simple design, balanced weight and overall "cool factor". Check out The James Brand Benton by clicking below.
---
Microtech Siphon

Sometimes a pen can be just as much of a statement piece as a nice watch or knife. The Microtech Siphon certainly falls in the category of statement pieces as it has an incredibly unique design and opening mechanism which opens and closes with a lever rather than a button. The Siphon has a mechanical look and feel like other Microtech products. It features a stainless-steel body and comes in a wide array of colors and finishes. Check out the Microtech Siphon by clicking below.
---
CRKT Techliner Super Shorty

A great EDC pen is easy to use and carry. The CRKT Techliner Super Shorty pen is a new addition to the CRKT everyday carry line. This little pen is constructed from 6061-T6 aircraft-grade aluminum and comes standard with a Schmidt MegaLine 4889 M ink cartridge. The Techliner features a unique magnet cap that helps keep it secure and allows the pen to be attached to magnetic surfaces like a desk or filing cabinet. Learn more about the CRKT Techliner by clicking below.
---
Benchmade Shorthand

This year is off to a quick start for our friends at Benchmade. In the last few weeks they've announced many great and exciting new products including the Benchmade Shorthand 1121-1 pen. This pen is built with an aluminum casing featuring knurling and grooves for added stability and grip. Its unique bolt-action design features an AXIS lock inspired stud making it easy to open and close. A deep carry pocket clip keeps things locked down in your pocket. Check out the Benchmade Shorthand pen by clicking below.
---
Rite in the Rain All-Weather Clicker

It's all fun and games until you need to write something down and your pen won't work because it's too cold or wet. The Rite in the Rain All-Weather Clicker pen is made specifically with your Rite in the Rain notebook in mind, but it's great for writing when it would otherwise be a challenge to write. This pen's unique ink cartridge is pressurized and filled with permanent ink formulated to easily write over grease, fingerprints, water and other stuff that would inhibit other inks. This may not be the sexiest pen in the world, but it is made for everyday carry and then some. Get the Rite in the Rain All-Weather Clicker Pen by clicking below.
Shop Rite in the Rain All-Weather
---
Tactile Turn Bolt-Action Mini

The Tactile Turn Bolt-Action Mini is a new addition to the EDC pens offered by Tactile Turn. Built and designed as a more pocket-friendly version of the full-size Bolt-Action pen, the Bolt-Action Mini features full titanium construction and a built-in deep carry pocket clip. This version features full titanium construction but is also available in copper or bronze. Click below to get the Tactile Turn Bolt Action Mini
---
The James Brand Stilwell

Last but certainly not least, The James Brand Stilwell is a pint-sized everyday carry pen featuring titanium construction and great ergonomics. The Stilwell's lightweight design makes it great to throw in a pocket or a bag. Its cap doubles as an extension making the rather small pen into a full-sized pen. The Stilwell comes standard with a D1 style replaceable ink cartridge but is compatible with other mini ink cartridges. Learn more about The James Brand Stilwell by clicking below.
---
Final Thoughts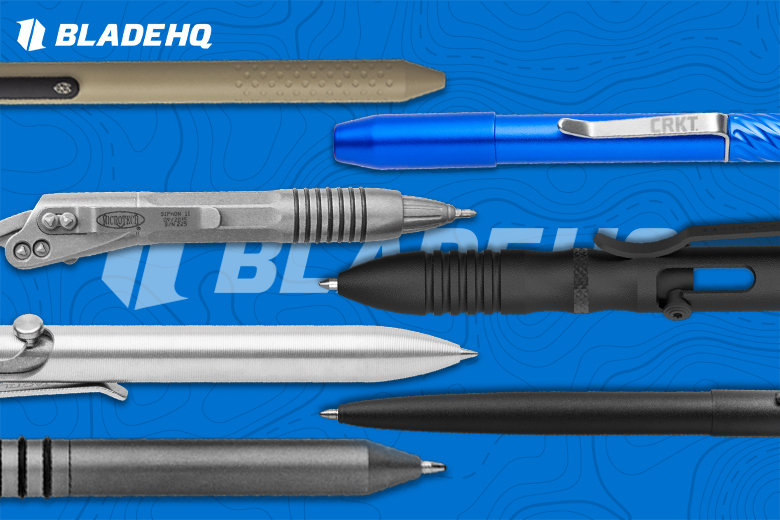 A pen can be one of the most important pieces in an everyday carry setup. Carrying a quality writing utensil is a must-have for anyone who has to take notes, doodle, or keep track of their day. They offer a great deal of value in moments where you might not have access to an electronic device and can save your skin when important information is to be written down. If you haven't added a great pen to your everyday carry setup check out our full selection of pens by clicking below.
Blade HQ has more pens than those featured here and don't forget, we have knives too! There's bound to be another knife you need for your growing collection. Give our wares a browse, and find the perfect knife or pen to suit your needs!
---
Other Best Knife Guides
Still in that information gathering phase? We've got a whole bunch more lists of all the best knives! Happy hunting and may you find the knives of your dreams!
*As our inventory fluctuates regularly, the availability of some products may change. Sign up for our wishlists and check back regularly for current pricing and availability.