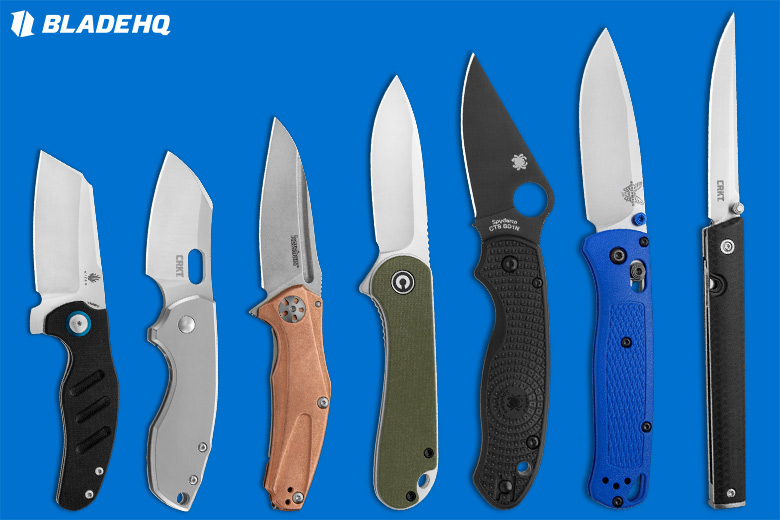 Looking for the best folding knife? Not just any old thing, but the best-of-the-best, creme de la creme folding knife? You've found the right place!
It can be hard to narrow down the options with the thousands of different knives available at any time. From the budget friendly to the high-class, here are the top 7 folding knives available on Blade HQ!
---
1. Benchmade Bugout

When the Benchmade Bugout was announced, it's no exaggeration to say it took the world by storm. Budget-friendly, ultralight, and perfectly sized, the Bugout has certainly made its mark. It certainly helps that this instant classic comes in CPM-S30V blade steel with the widely beloved Axis lock. Benchmade introduced the highly anticipated Mini Bugout. You can't go wrong with this epic cutting tool. The Benchmade Bugout is our recommendation for the best folding knife. Check out the Bugout Review if you're still not convinced.
3.24″ CPM-S30V Drop Point Blade
Polymer Handle Scales
1.85 oz. Weight
Made in USA

Kenneth V. says…
"I carried a Delica 4 for years and continue to carry my trusted orange friend, but in my other pocket is a new knife. The Benchmade Bugout. It's a delight to carry such a slim and lite pocket knife. Pure one handed operation. Deep carry clip, open frame design, S30V steel and Axis lock make this knife "The Total Package"."
---
2. Spyderco Paramilitary 3 Lightweight

With the demand for lightweight knives, it is no surprise that our friends at Spyderco brought us the Para 3 Lightweight. This knife is built like former Para 3 models, but with a twist. The Para 3 now features polymer handle scales to decrease weight without sacrificing strength or performance. This knife features the same great Spyderco Compression Lock we have come to know and love, and now comes standard with a wire deep-carry pocket clip. This knife is available in black with a satin finished blade or black with a black DLC coated blade.
3.00″ CTS-BD1N Clip Point Blade
Polymer Handle Scales
2.50 oz. Weight
Made in USA

Jesse G. says…
"I've owned other Spyderco knives. I've always wanted a Para 3. Now that I've purchased one, I understand what all of the hype is about. This knife is perfect. The deep-carry clip. The fact that it's lightweight in the hand. Great blade steel. And it just looks so darn good in all black. Easily the best purchase I've made on a knife."
---
3. Kershaw Mini Natrix
Kershaw's Natrix model lives within their lineup of folding knives as the slightly smaller little brother to the Zero Tolerance 0770. That smaller form-factor comes with a smaller sized price and makes this folding knife the perfect size for EDC. The copper-clad Natrix makes for a perfect gift or collection folder. Keep your eyes peeled for the full-sized Copper Natrix and Copper Natrix XL.
2.75″ D2 Drop Point Blade
Copper Handle Scales
3.70 oz. Weight
Made in China

David G. says…
"D2, Copper Scales and a size I can legally carry in the big city makes this knife a winner. It is heavy for its size, and tiny in hand for the weight. Very snappy to flip open, and the flipper tab is just right. Quality build and materials, this knife is a bargain."
---
4. CIVIVI Elementum

The CIVIVI Elementum has quickly gained popularity in the knife community thanks to its amazing design, action and affordability. Available with G-10, copper, brass or wood handle scales, there is a CIVIVI Elementum suited for any style or preference. This small everyday carry folding knife features a super-smooth ball bearing pivot and a razor sharp, hollow ground D2 blade.
2.96″ D2 Drop Point Blade
G-10 Handle Scales
2.89 oz. Weight
Made in China

Chase S. says…
"If you're looking for an affordable knife that still has good quality, the Elementum should be an option. G-10 feels great. Deep carry clip is a life changer. Flipper is so smooth, my coworker thought it was assisted. It is a must have."
---
5. CRKT Pilar

The Voxnaes designed CRKT Pilar is about as popular as it is distinctive.From the tiniest to the biggest of hands – the large forward finger choil somehow just works. If you happen to live or work around people that fear your folding knife no matter the size, the Pilar seems to scare that type of person just a little bit…less. This knife is easily one of our favorite folding knives, and it probably will be for quite a while.
See our CRKT Pilar Review for a closer look at this knife.
2.40″ 8Cr13MoV Sheepsfoot Blade
Stainless Steel Handle Scales
4.20 oz. Weight
Made in China

Tyler K. says…
"This little knife is a tank. It fits securely in your hand and has a sturdy feel to it. This is definitely a knife that's made to be used. Our can opener broke recently and this has become its temporary replacement. Just a quick touch up on the edge and it's good to go again after opening multiple cans. This is a sweet little go-to knife if you don't know what you'll need it for but want to be sure you're ready."
Shop CRKT Pilar Large and Small Knives
---
6. CRKT CEO

The CRKT CEO is an incredible everyday carry gentleman's folding knife. Its slim design and sophisticated styling make it a great companion for days when wearing jeans and a t-shirt isn't in the plan. This pocket knife features a slender drop point blade for regular cutting tasks. The knife's G-10 handle scales look and feel great providing both performance and aesthetic value. If you're looking for a smaller knife to add into your EDC rotation, the CRKT CEO is an amazing option.
3.10″ 8Cr13MoV Drop Point Blade
G-10 Handle Scales
2.10 oz. Weight
Made in China

Andrew L. says…
"Flicks out really nice once you get the hang of the angle. Nice and thin. Almost like a modern stiletto. Good weight and balance. Fairly light, but balanced."
---
7. Kizer Mini Sheepdog

This wonderful knife is designed as a more pocketable version of the popular Kizer Sheepdog XL. The Kizer Mini Sheepdog features the same design and construction as its big brother at a fraction of the size. This knife features a smooth action and great ergonomics and is available with premium materials like copper and titanium or budget materials like G-10.
2.625″ CPM-S35V or 154CM Cleaver Blade
G-10, Copper or Titanium Handle Scales
Approximately 3 – 5 oz. Weight
Made in USA

Cody B. says…
"This is my first cleaver style blade, and I absolutely love it. Feels great in hand, fits perfectly in my pocket. Blade came sharp, and slices beautifully. I'm finding it hard to remove from my pocket and give others their due. You'll love this knife."
Shop Kizer Mini Sheepdog Knives
---
Conclusion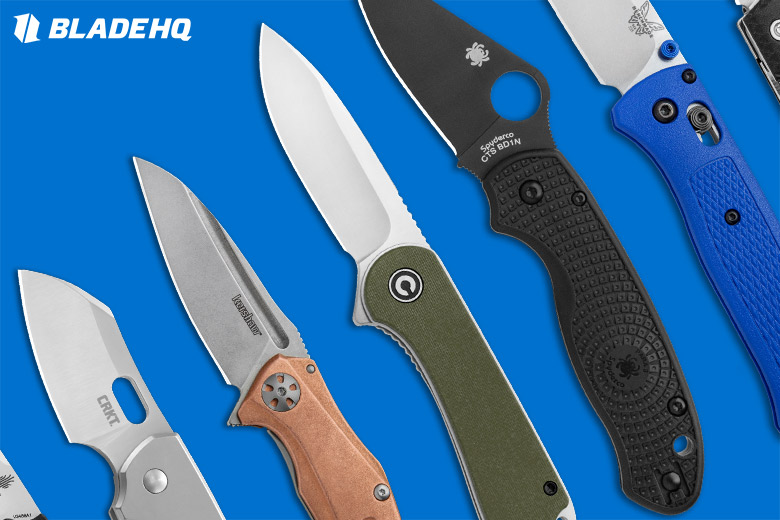 Best Folding Knives Overview
You can't go wrong with any of the folding knives on this list. Follow your heart and pick up the one that speaks to you. We've put all these folding knives to the test and they are ready for absolutely anything!
Follow us on Instagram, Facebook, and Twitter for all your future knife updates!
Learn More
Thirsty for more? Check out our video below of the best folding knives and see how many made the list above. Or read our Best Knives of 2020 article for more of the very best knives.
---
Other Best Knife Guides
Still in that information gathering phase? We've got a whole bunch more lists of all the Best Knives! Happy hunting and may you find that one special knife of your dreams!
*Customer reviews may be condensed for clarity and edited for grammatical errors. You know we have to make our high school English teacher proud. Check product listings for current pricing.