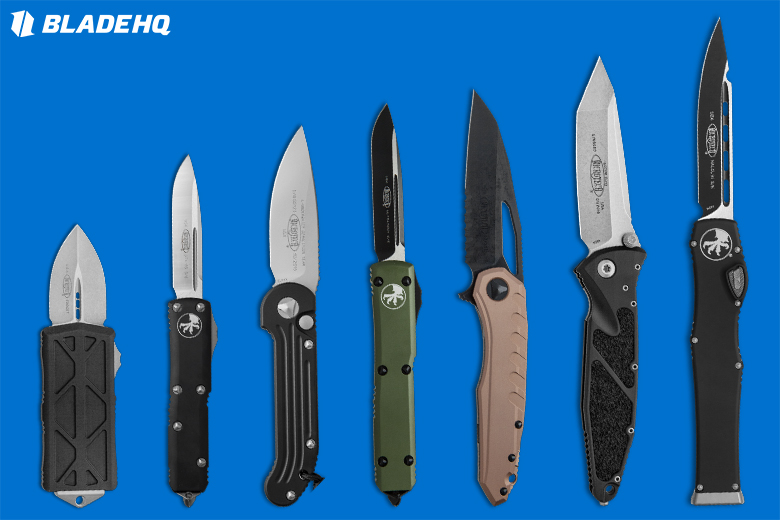 Are you shopping for a new Microtech knife? We've tested all the different models and compiled a list so all you have to do is click the shop button and 'Add To Cart'. Here's our selection of the 7 best Microtech knives.
We'll go into the specs and details for each selection, and then we'll drop in a review from you guys, our customers!

---

When it comes to the Ultratech, there's probably not any other OTF (Out The Front) knife that matches its level of lust-worthiness in the knife industry. Perfectly sized for EDC (everyday carry), this OTF blends a mix of functionality with a snappy double action deployment you'll surely be playing with all day and night.
3.44″ Bohler M390 Drop Point Blade
6061-T6 Aluminum Handle Scales
3.60 oz. Weight
Made in USA

Tomislav S. says…
"Bad to the bone knife. I received the knife and it is everything I expected it to be… The spring action is very clean, fast, and crisp… the blade is very sharp and it is a well-made knife."

---

When most people think of Microtech, OTF knives usually come to mind first. But like K2 next to Everest, Microtech has done an amazing job expanding their knife lineup while keeping focus on their bread and butter. The LUDT (Large Underwater Defense Team) knife fires hard and slices like a scalpel.
3.375″ Elmax Drop Point Blade
6061-T6 Aluminum Handle Scales
3.62 oz. Weight
Made in USA

James H. says…
"One of my best autos with powerful release and lockup… This is by far the SHARPEST blade I have ever received in the mail… Dangerously sharp like a straight razor… Well worth the money for a superb quality knife. Feels great in my large hands."

---

The Socom Elite is the perfect tool for guys driven by a tactical motivation or mentality. These hefty, lengthy beasts are available in both manual and automatic switchblade configurations. Rubberized inlays in the aluminum handle scales give you a reliable purchase even in the most treacherous of conditions.
4.00″ Bohler M390 Clip Point Blade
Aluminum Handle Scales
5.36 oz. Weight
Made in USA

William E. says…
"I have to say that this knife is really awesome! The weight is lighter than I expected for the size compared to other knives of similar profile. The pocket clip orientation is great for the design and the action is very smooth allowing the blade to fly out with a lockup that is strong. Feel is comfortable, sturdy and lots of well-placed grip points. This blade is very sharp! I am very happy with this knife."

---

The Microtech Exocet is a stout Cali-Legal Double Action OTF automatic. It features a wide double edge dagger blade and an anodized aluminum handle with a thumb slide firing switch. Get powerful Microtech action in a compact package with the Exocet. The knife features a large wide pocket clip, so you can carry it clipped inside your pocket, or use it as a super cool money clip. Upon first glance, you might not think much of the Exocet, but this knife is one of the best short blade knives available. The Exocet is an incredible addition to any everyday carry setup.
1.98″ CTS-204P Dagger Blade
6061-T6 Aluminum Handle Scales
2.75 oz. Weight
Made in USA

Henry T. says…
"High quality blade that's Cali legal. I use it as a money clip and is perfect for that. Sharp blade that's great for basic utilitarian tasks. Highly recommend this for high-end money clip with Microtech attitude."

---

The UTX-85 was designed to be 85% the size of the Ultratech OTF above. If the Ultratech is just too much knife for you, then you've definitely got options. Watch our website closely and you might even see the smaller, wildly sought after UTX-70. The UTX-70 OTF is a truly diminutive blade, but you still get all the great quality you've come to expect with Microtech.
3.125″ Elmax Drop Point Blade
6061-T6 Aluminum Handle Scales
3.10 oz. Weight
Made in USA

James F. says…
"I love this OTF! Since my purchase, I have carried it every day. The single hand operation makes using this knife so simple and easy. With automatic retraction, the knife is honestly safer, as well. I can say without a doubt, this is the sharpest blade I have ever owned. Make your wishlists for when these come back in stock! Highly, highly satisfied and highly recommended!"

---

Microtech has never shied away from bold designs, and the Sigil MK6 is no different. This knife features a sexy Wharncliffe, hollow ground blade with a nice aggressive tip profile. Designer Deryk Monroe really engrained his vision into this distinctive piece.
3.75″ Bohler M390 Wharncliffe Blade
Aluminum Handle Scales
5.20 oz. Weight
Made in USA

Jerry H. says…
"Excellent EDC knife. My knife was razor sharp out of the box. The centering is perfect and the lockup is just right. The flipping action is very good. The quality of my knife is comparable to my Sebenza. I think that as the knife gets used and carried daily it will perform and look better over time. Maintain this knife properly and it should serve you well."

---

For the guy that only accepts the biggest, baddest, and boldest designs, look no further than the Halo VI OTF. No OTF hits harder in terms of deployment (besides maybe the rare and gigantic Halo 3X. This bad boy is single action, so when it comes time to retract the blade, a slide returns the blade and spring to tension. Is it excessive? Maybe… but you certainly can't go wrong picking one up.
4.375″ Bohler M390 Drop Point Blade
Aluminum Handle Scales
5.95 oz. Weight
Made in USA

Russel B. says…
"Grail achieved. Well, I've always wanted a Halo ever since I could remember. I never thought I'd get one and I just so happened to have 660 bucks, so I said, "Why not?" and I have no regrets. This is one I won't be selling or trading off."

---
Conclusion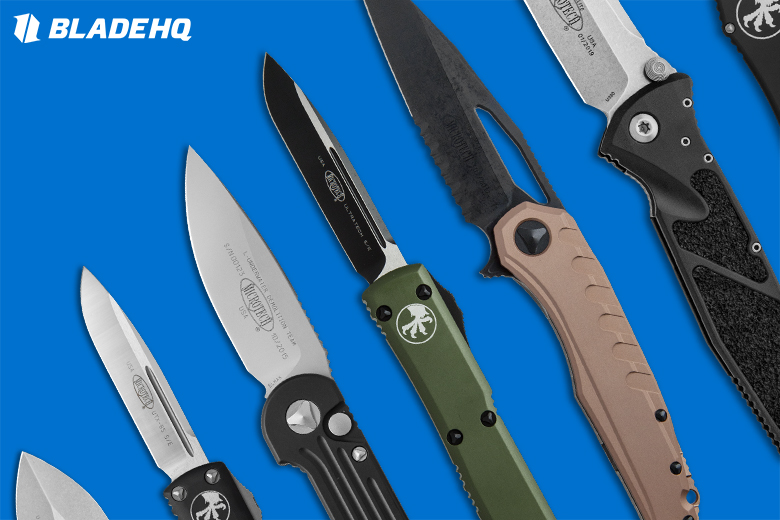 Microtech Overview
Microtech has long since been a favorite brand among knife collectors. Known for impeccable fit-and-finish, innovative designs, and making the best dang OTF knives around, you can't go wrong adding one of these to either your safe or your pocket. Microtech knives hold their value extremely well on the secondary market, so there's little risk in picking one up.
Blade HQ is one of the top dealers of Microtech knives in the world. We stock an incredible assortment of Microtechs, including the straight up cool, drool-worthy, jaw-dropping Marfione Customs. Once you've got that new knife, leave a review!
Follow us onInstagram, Facebook, and Twitter for all your future knife-related updates.
Learn More
TLDR? If each OTF knife above pulls on your heart strings, check out this video. It covers the best popular Microtech OTF knives. See which ones made the list above!

---
*Customer reviews may be condensed for clarity and edited for grammatical errors. You know we have to make our high school English teacher proud. Check product listings for current pricing.