The new Boker Epicenter is creating quit a stir! This folding knife features a VG 10 blade and 3d-contoured titanium handle with a frame lock.  At over 8″ and with similar styling comparisons are being made between the Epicenter and the Lion Steel SR1– series. However, with a MSRP of $199.00 on the Epicenter we imagine we'll see street prices somewhere south of $150 before long. Of course the Epicenter sports a sandwich styled handle and not a solid piece like the SR1 series. Regardless the Boker Epicenter is certain to be another knife hit. Look for it in the coming months: Boker Knives
Here is some information from Boker's website about the Epicenter: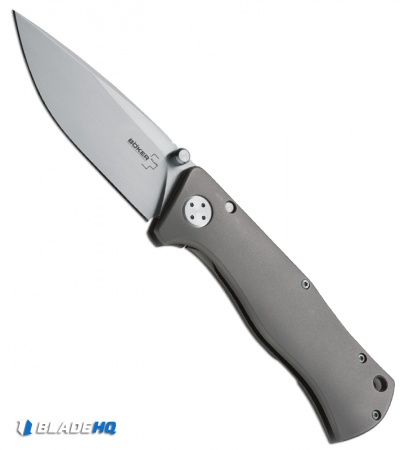 The Epicenter was designed by Todd Rexford, a young knifemaker from Colorado, who is a remarkable talent in the world of knife design.
In addition to our successful Boker Plus line, this model represents a significant innovative step. Being the first titanium frame lock, this piece reaches a special status within our knife range. The massive titanium plates have a thickness of 5 mm, and are contoured three-dimensionally, offering outstanding performance and stability.
Equally impressive is the blasted titanium surface and the finish of the handle (without protruding edges), which make the knife not only a sturdy usable knife, but also a beautiful collector's piece. The modified satin drop point blade is made of VG-10 steel, and features a removable double-sided thumb stud. The titanium pocket clip is reversible, allowing tip-up or tip-down carry, and the lanyard hole adds convenience. An impressive synthesis of technology and design!
Blade length: 3 1/2″.
Overall length: 8 3/8″.
Weight: 6.5 oz.