The Balisong (or Butterfly Knife) has a rich history with its origins beginning in the Philippines nearly 1200 years ago. Over time the knife's popularity and use has evolved from self-defense to hobby and performance. Whether you're an experienced flipper or someone looking to try a new knife hobby, there's bound to be a Balisong for you. Check out this article to see our Top 10 Butterfly Knives.
---
1. Benchmade 85

The Benchmade 85 is an ultra-premium, competition-ready butterfly knife. The Benchmade 85 is constructed using a single billet of titanium for its handles, and this provides an incredibly high level of durability and strength. The recurved drop point blade helps keep the weight towards the blade's tip for even faster and more controlled flipping. A big reason that the 85 is competition-ready has a lot to do with the precise construction and thrust-bearing washers that provide phenomenal smooth flipping action right out of the box. Benchmade also provides their LifeSharp maintenance guarantee to keep all your Benchmade knives wickedly sharp. It's true: Benchmade will re-sharpen your knife to a factory edge at no cost for the life of the knife.
About 5.29 oz.
CPM S30V steel.
Skeletonized, single billet titanium handle.
Made in USA.
---
2. Kershaw Lucha

The Kershaw Lucha Series is arguably one of the best butterfly knives to ever hit the market. The Lucha was the first balisong knife from Kershaw and quickly rose to the top. You can't get a better butterfly for the quality of materials, performance, and price. Constructed with KVT ball bearings, it offers a smooth, fast, and reliable flipping action that will keep you entertained for hours. The latched design doesn't just make this a fun knife but a practical one at that. Whether a seasoned user or a beginner, the Lucha is offered in a trainer model that is constructed with a dull skeletonized blade. Whether training or adding a new knife to your arsenal, you can't go wrong with the Lucha!
About 5.29 oz.
Available with CPM 20CV or Sandvik 14C28N blade steel.
Skeletonized stainless steel handles.
Made in USA.
---
3. Squid Industries Krake Raken

Squid Industries works closely with the balisong community to produce innovative products that provide balance, comfortability and, most importantly, fun. After taking community feedback in their quest to create excellent and praise-worthy butterfly knives, Squid produced an absolute banger of a knife–the Krake Raken. These knives will take your flipping to the next level and are offered in various colors and blade finishes. Since these exquisite blades are highly sought after, they usually sell out within hours. We get Squid Industries knives in regularly and they go fast! Join the wishlist by clicking the 'email me' or 'text me' options to be notified when they are available. Also, keep up with social media for dates and drop times. You won't want to miss this!
About 4.33 oz.
AEB-L steel in satin, "Inked" black finishes, and more.
Skeletonized aluminum handles in a variety of colors.
Zen pin construction.
Made in USA.
Shop Squid Industries Krake Raken
---
4. BRS Replicant

The BRS Replicant was bioengineered for superior agility, dynamics, and performance. This stylish blade is forged with a scorpion tip tanto style that gives off  dangerous vibes and a killer look. Offered in various handle materials and finishes, this knife perfectly matches your personality and style. BRS constructs their butterfly knives with finely tuned washer pivots that provide smooth flipping and gliding. The thoughtfulness of the design also incorporates a latch that won't get in the way of flipping, but also makes your bali a practical knife for daily tasks. Like the Krake Raken, these knives are highly sought after and usually sell out within hours. The best way to ensure you obtain one is to join the wishlist. This means that when the knife is announced on Blade HQ in the coming soon section, click the 'email me' or 'text me' options to be notified when they are available. Also, keep up with social media for dates and drop times. You'll want to take advantage of this!
About 4.70 oz. to 5.40 oz.
Constructed with 154CM blade steel.
Titanium handles with anodized finishes and variety of scale options.
Made in USA.
---
5. Bear Ops Bear Song

The Bear Song Series from Bear OPS is a line that stems from the rich minds over at Bear and Son Cutlery. The Song butterfly knives have been constructed to embrace beauty, ergonomics, and durability, all while having an affordable price. This model has a spring-loaded latch that makes opening easy with just one hand. Be sure to check out our blog on spring and standard latches to get a better idea of what you might prefer on your balisong. Bear OPS has produced additional trainer models for those who wish to learn more or just want to practice. There is always an option to choose from at Bear OPS!
About 4.50 oz. and 5.15 oz.
Constructed with your choices of 154CM, Damascus, and 440 blade steel.
Options of G-10, steel, and titanium handles.
Made in USA.
---
6. Flytanium + Eldon Talley Talisong Z

The creative masterminds that are Eldon Talley and Flytanium have come together to produce the one and only Talisong Z. This balisong knife is constructed with lightweight, channeled, aerospace-grade aluminum, and with ceramic bearing pivots that are all-inclusive and micro-adjustable for a perfectly tuned flipping session. Looking for the custom feel without the custom price? This butterfly knife will give you all that you wish for and more. Upgrade your knife arsenal with the Talisong Z! Or if you prefer hand-ground blades and custom pieces, join the wishlist for Eldon Talley's custom Talisongs!
About 4.25 oz.
Constructed with AEB-L steel.
Diamond knurled textured aluminum handle.
Made in USA.
Shop Flytanium + Eldon Talley Talisong Z
---
7. HOM Basilisk

The HOM Basilisk has been changing and upping the balisong game since 2007. The Basilisk balis are constructed with channeled handles and adjustable bushing pivots to cater to the preference of the user. Even though the Basilisk is a mythical creature, the fang-inspired blade is very real and very lethal. The idea behind HOM Designs is to create a unique, exciting, and functional product that exceeds all expectations. With a wide variety of materials and finishes used, there isn't one that you won't want. Since these butterfly knives are so good, they also usually sell out within hours. The best way to ensure you obtain one is to join the wishlist. Be notified when the next drop occurs so you don't miss your chance to grab one of the best butterfly knives in the game!
About 4.61 oz. and 4.86 oz.
Constructed with your choice of 154CM and CPM S35VN steel.
Carbon fiber, G-10, and anodized titanium handle options.
Made in USA.
---
8. Bradley Kimura

The Bradley Kimura Series that was once discontinued has been revived with the help of Bear and Son Cutlery. These butterfly knives offer a uniquely ground spear point blade to match its distinguished handles. A major design function of these knives is reversible latch locks. No matter if you're a righty or lefty, this bali will perform beautifully for you and your friends. You can't go wrong adding this balisong to your collection for the materials and the price. Worry about busting your hands on this beauty–not your wallet.
About 5.90 oz. to 6.07 oz.
Constructed with 154CM blade steel.
Stainless steel handles with carbon fiber or G-10 handle scales.
Made in USA.
---
9. Bear & Son 114

The 114 Butterfly Knife from Bear and Son Cutlery is the perfect mid-range butterfly knife that features a dependable pin construction for improved strength and durability while flipping. No matter the skill level, you will drop your balisong; having a reliable and durable knife is vital. The 114-model comes in various styles and finishes that will add a sense of luxury when you carry this knife. Bear and Son additionally offer this butterfly in the form of a trainer model. Whether a pupil or a phenom, the 114 Butterfly will have you flipping for hours.
About 5.10 oz. to 5.60 oz.
Constructed with Stainless, 440, or CPM S35VN blade steel steel.
Choice of skeletonized steel or zinc handles in a variety of colors and epoxy finishes.
Made in USA.
---
10. Boker Plus Papillon

The Boker Plus Papillon Butterfly Knife may not be permitted in Germany, but that doesn't mean they won't make it! With this butterfly knife, they definitely hit the mark. This balisong takes its history as an East Asian utility knife seriously, and Boker Knives makes this looker with high-quality materials but at an affordable price. The skeletonized handles are extremely lightweight and rust-resistant. You can use this flipper anytime, anywhere. The latch is perfect for transforming your fun knife into a practical one for those daily tasks requiring a sharp blade. At under 4.5 ounces, you can bring this bali with you everywhere without it dragging your pockets down. Needing to practice a bit more before upgrading? No worries: Boker has constructed a trainer model for this exact reason. Practice, play, and perfect your butterfly skills with these Boker models!
About 4.20 oz. and 4.30 oz.
Constructed with D2 blade steel with a trainer option.
Skeletonized steel handles.
Latch lock for EDC option.
---
Conclusion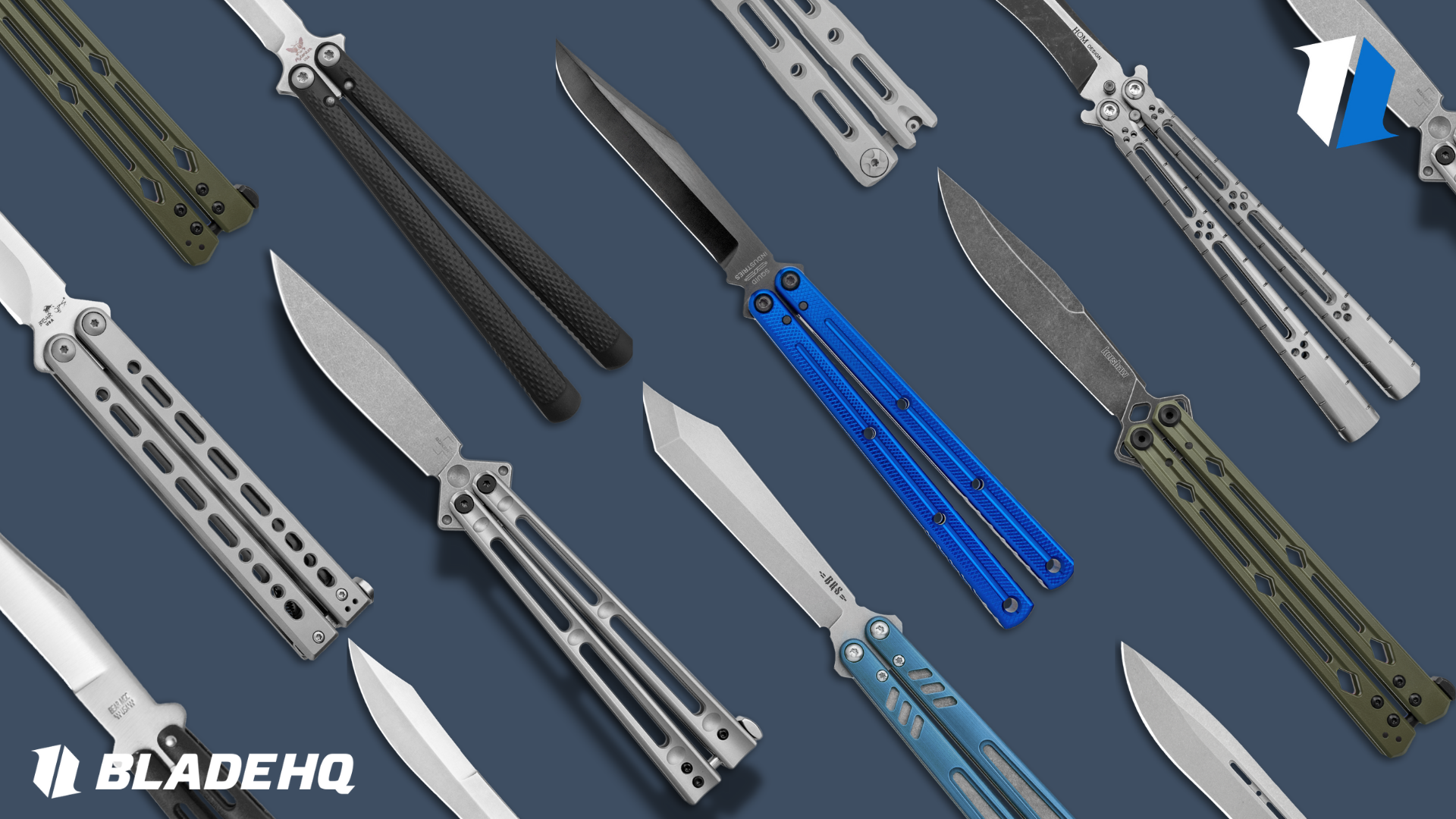 Butterfly knives are a fun addition to any collection. The Balisongs of today feature better construction, higher-end materials, and smoother action than the butterfly knives of old. Depending on your budget limitations, there are tons of great options available so you can learn to flip and then continue to grow your skills.
While these are our top Butterfly Knife recommendations, Blade HQ has got way more knives we love than just the ones featured here. Leave a review of your favorite and follow us on Instagram, Facebook, and YouTube for all your future knife updates, reviews, and drops.
Not quite ready for a live blade? Check out our blog on How To Use A Butterfly Knife Trainer, which includes some of our favorite trainer models!
Learn More
In this video we had the chance to talk Butterfly Knives with Lucas Cao from Squid Industries. Check it out to learn more about which Butterfly knives to buy.