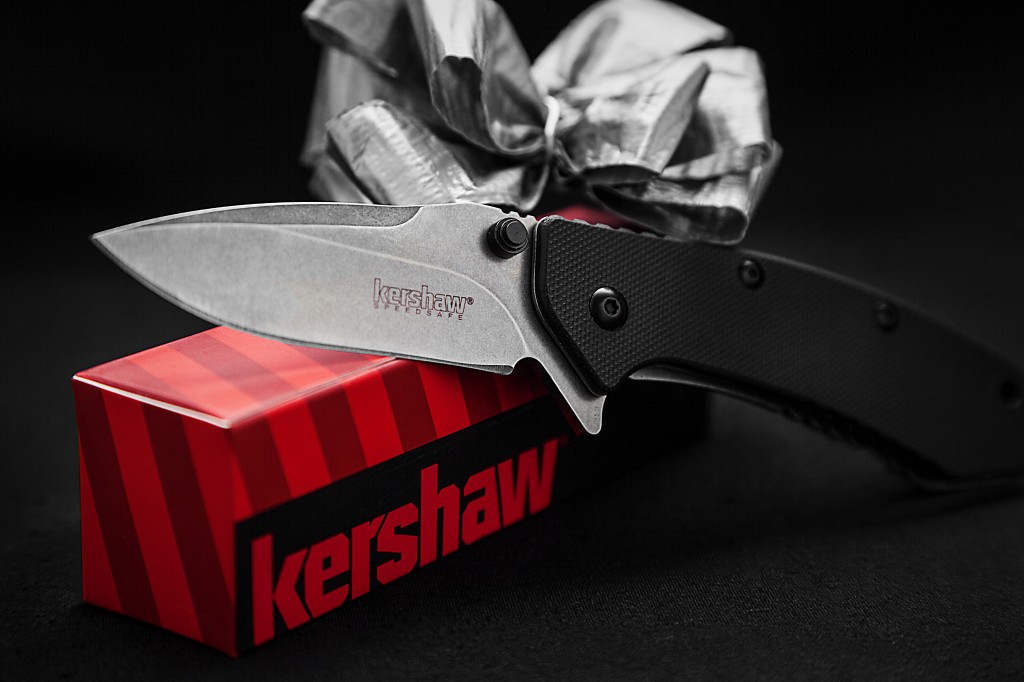 Father's Day is coming up fast! If you're a procrastinator like me, then you probably haven't bought the man a present yet. That's okay though, because there's still time to get him something stellar from Blade HQ for Father's Day! If you need more suggestions than the one to get him something from Blade HQ, don't worry; we've got lots of ideas to help you out. Even if you're just shopping for yourself this Father's Day, these ideas are sure to inspire you and help you figure out what to get.
One final note before going on to the gift ideas—if you want to make your gift even more manly, stick some duct tape on there! Our head photographer goes above and beyond for Blade HQ pictures, and she made the amazing duct tape bow in the image above because she's awesome like that. The duct tape bow makes the knife look more manly, yes? Point proven. 
Ideas for Knife Addicts
How about a sweet Blade HQ exclusive? Here are some of our favorite Blade HQ exclusives:
Zero Tolerance 0550 Black Wash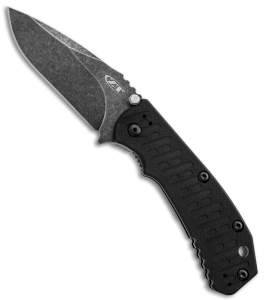 Zero Toerance is always a favorite among knife enthusiasts, and when you mix Zero Tolerance with an exclusive blade, you've got a winner.
Protech Rockeye Black/Neon Green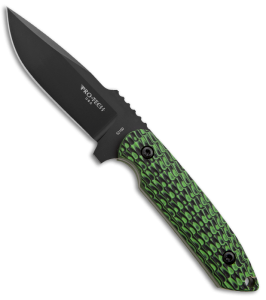 The fixed Rockeye was released at the 2014 blade show, and this black and neon green version is one you can only find at Blade HQ.
Red Zancudo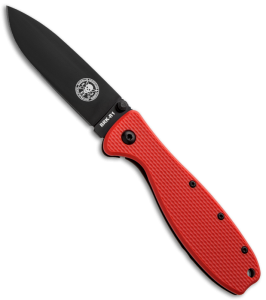 The Zancudo is one sweet folding knife designed by Mike Perrin. It's light and compact, so it's great for everyday carry and also outdoor activities like camping, hiking, and backpacking.
Damascus Boker Kalashnikov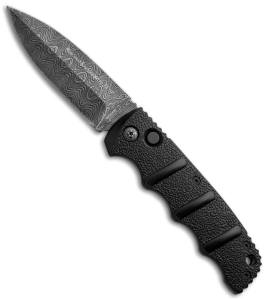 The Kalashnikov is pretty well known, and its cool factor increases by an increment of infinity when the knife is combined with a Damascus blade.
Here are some other sharp-looking gifts that are sure to bring a smile to his face:
Spyderco Endura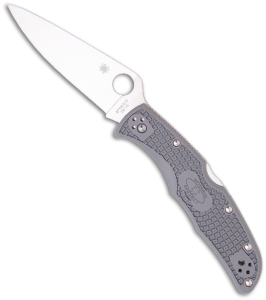 The Endura is a must-have in any collection. It is 5 inches long when closed, and it has excellent bi-directional texturing. This means you won't have a problem getting a good grip on the Endura. It's a great size for everyday carry, and it has a decent-sized blade of 3.75 inches.
The Protech Runt has been around for a while, but this black and green version is new. It's small (just 5.27 inches long overall with a 1.94-inch blade), so if he likes automatic knives, get him this one. It's even Cali-legal!
Spyderco Chaparral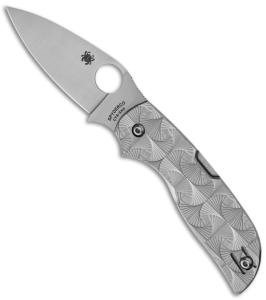 The Chaparral is definitely a favorite here at Blade HQ because with a classy blade made by Spyderco, you can't go wrong. The Chaparral is a Sal Glesser design, and this stepped titanium version is on sale right now for Father's Day! Take advantage of the sale while you can.
Here's another great ZT option for you—the 801. The 801 is probably a little different than most of the Zero Tolerance knives you've seen to date in terms of the handle material and design. The 801 was actually designed by custom knife maker Todd Rexford, and it is super sleek. It has an ELMAX powdered steel blade and a titanium handle, and it also has smooth and solid action all around.

 
Spyderco ManBug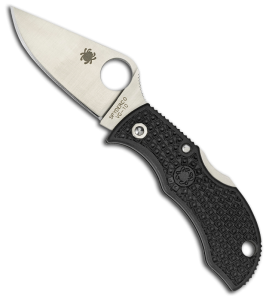 Nothing says "man" like the Manbug. The Manbug is a small key-chain knife that he can carry as a backup knife for light tasks when he realizes he doesn't have a knife on him. Most guys have their keys on them 99 percent of the time, so he'll almost always have an edged tool if he slips the Manbug on his key chain with his keys.
Benchmade Field Knife Sharpener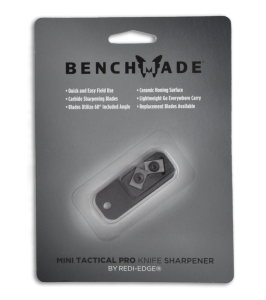 For any knife guy, a blade sharpener or knife sharpening system is a great gift idea because you know he'll need to use one at some point. Even if he already has one, this field knife sharpener would still make a great gift because it's light and compact, making it easy to carry, and it's easy to use anywhere.
You can't go wrong with a solid Benchmade and the AXIS lock! The Presidio is lightweight (it's 8.25 inches long overall but weighs just 4.80 ounces) and it's a Mel Pardue design.
Boker Plus Manaro Bullseye Grip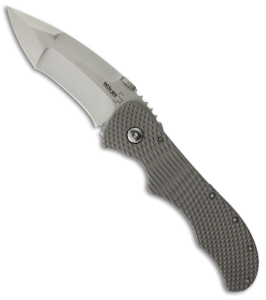 The Manaro has a pretty unique look to it for your everyday folding knife, which is one of the reasons it's so awesome. It has some really intense texturing on the handle that will help you get a good grip on the titanium handle. This knife is also on sale right now, so it's a great time to buy a Manaro Bullseye Grip knife.
Kershaw Cryo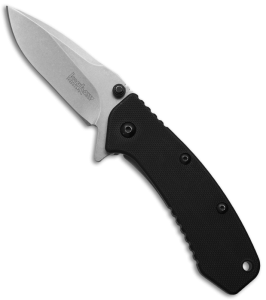 The Cryo is always a classic. It's great for everyday carry, and it comes in a small size and a larger size (i.e., the Cryo II). The Cryo is a huge bang for your buck and it's got great quality and action.
Ideas for Non-Knife People
Geigerrig Hydration Packs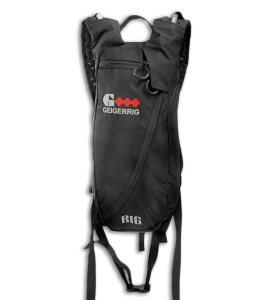 If he's active, get him a hydration pack. They're great for hiking, biking, kayaking, and pretty much every other outdoor activity you can think of. Geigerrig packs have some differences from the typical hydration pack, but the main difference is that Geigerrig hydration packs have a pressurized build that allows them to spray water out of the drinking tube (other packs will normally require you to suck to get any water).
Camp Cookware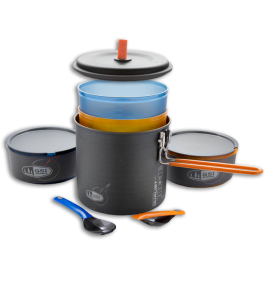 Camping season is here, so if he enjoys camping trips and sweet gear, browse through the "Outdoor & Survival" section at Blade HQ—there are camp-cook sets, pots, and utensils galore.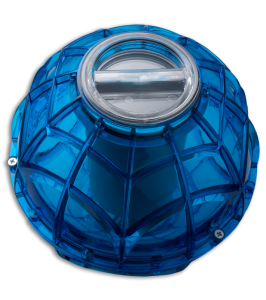 Car camping usually allows for more luxury than other outdoor activities like backpacking or climbing. Get him something he doesn't already have—like this ice cream maker—for those car-camping days. All you need to make a pint of ice cream is some ice, rock salt, and ice cream mix. This ice cream maker doesn't use electricity and it's also great for bringing boating, to picnics, etc.
Lighter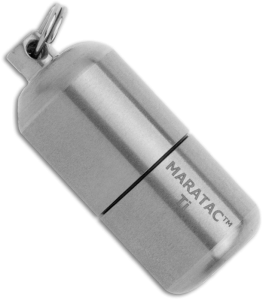 Lighters can come in super handy, and these Maratac lighters are tiny and perfect for keeping on your keychain just in case you need one. They also come in titanium, stainless steel, brass, and copper.
Watches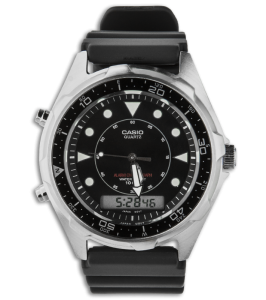 Watches are practical gifts he can wear over and over again. We've got a wide selection of watches that will help him tell the time in style whether he's a hiker or a diver.
Multi-Tools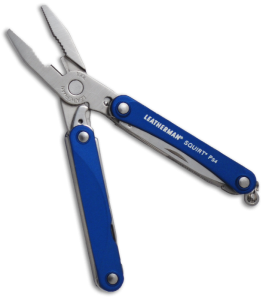 Give him a sweet multi-tool! Even if he's not a knife guy, he can still appreciate a practical tool that has a lot of different uses. We especially like the Leatherman Squirt.
What will you be giving or getting for yourself this Father's Day?