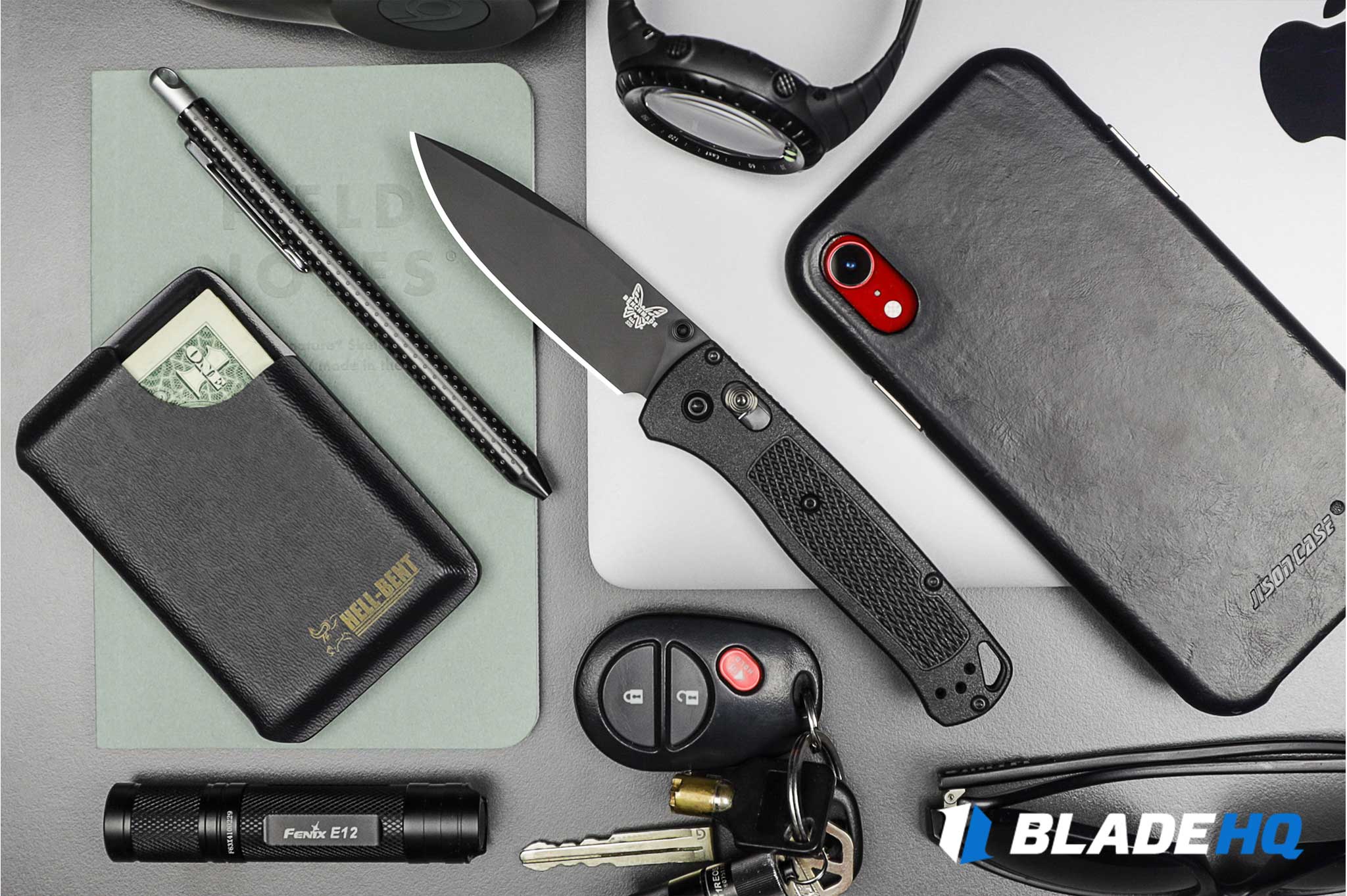 For some of us carrying a knife is about as second nature as breathing or eating. Our knives are tools and offer loads of utility during our daily activities. If you take things a step further, our knives say a lot about us as individuals and are in some ways an extension of our personality. The intricacy of some knives speaks to many of us while some of us prefer simple knives with clean design.
Whichever way you slice it, the knife you carry every day can tell others lots about you. In this article, we break down some of the things to look for when choosing an everyday carry (EDC) knife. We'll look at materials, build quality, and style, and take a look at what a couple other Blade HQ employees are carrying everyday. Let's go!
Shop All EDC Knives
---
Where to Begin?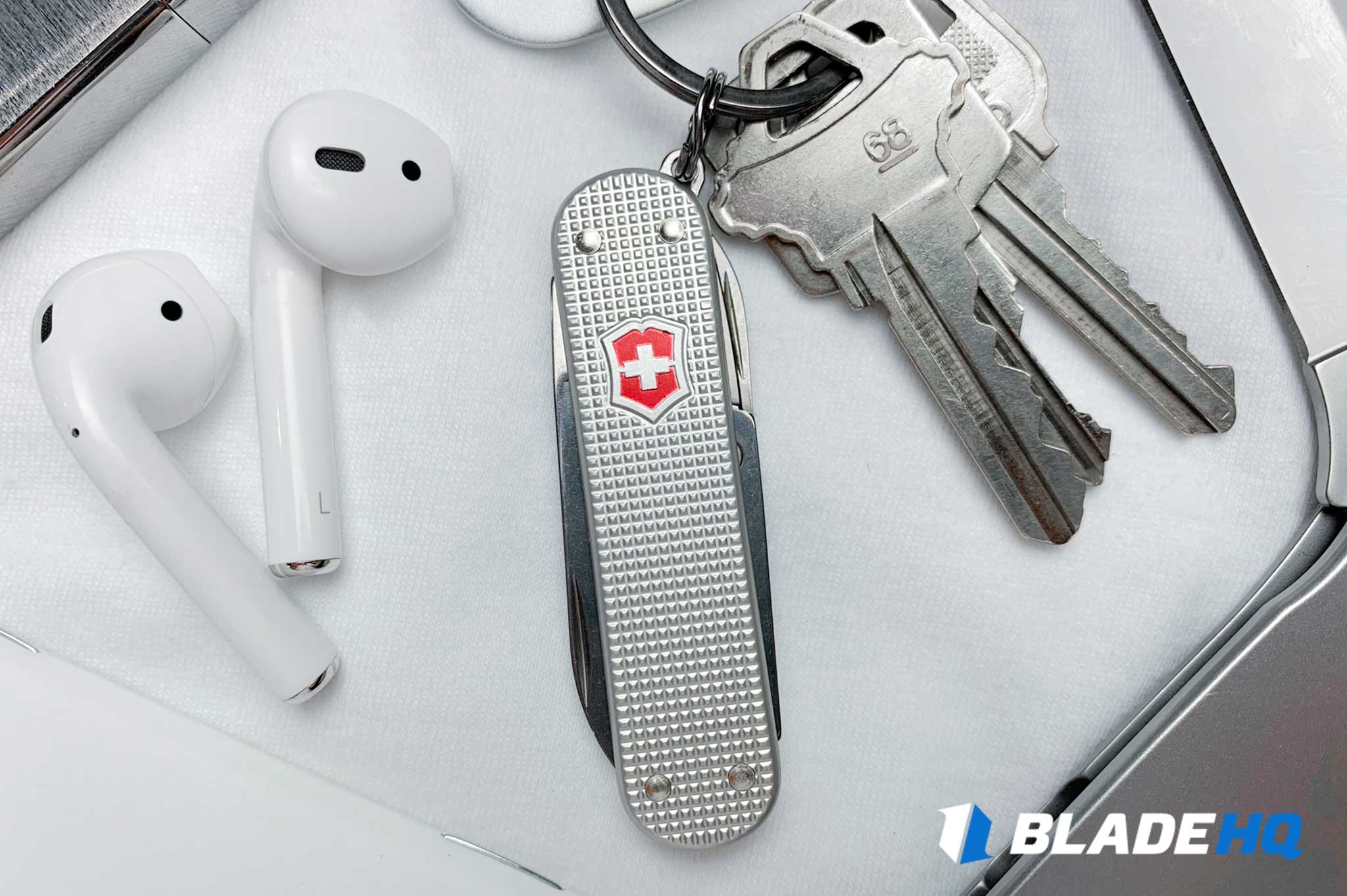 With so many options for pocket knives and fixed blades, you may be asking yourself, "Where do I begin?!" Don't worry! We are here to help. Choosing an everyday carry knife starts with addressing what you're going to be using it for. Are you working in an office where a big knife may come across as excessive? Or do you work in construction where a small knife simply won't cut it? Start by evaluating the things you do every day and what things you find yourself doing that you wish you had a knife for.
From here it should be easier to choose a knife. The things you plan on using your knife for will generally dictate its size. The other part of that is your own personal preference and how a knife feels in your hand. For some of us, smaller knives are perfect but for others something more substantial feels right.
---
Materials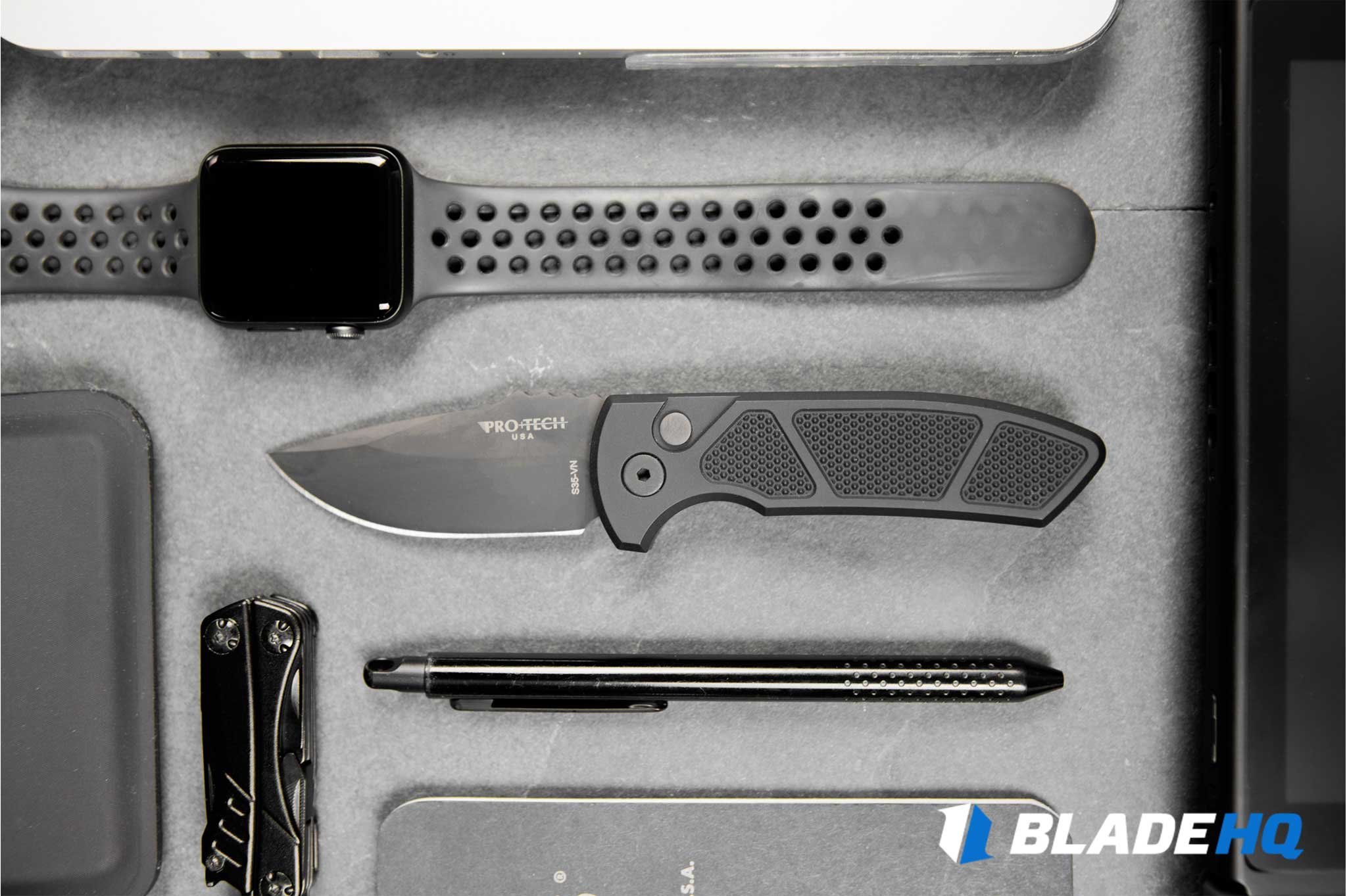 For a knife you plan on carrying every day, the right materials can make all the difference. Chances are you are someone who uses their stuff. Your knives are well loved, and you pride yourself in having a knife that shows character. Yes, an everyday carry knife can be inexpensive and made from average materials, but knives made from higher-quality materials tend to last longer and wear better.
Some of this comes down to personal preference and, again, what you plan on using the knife for, but generally the better the materials a knife is made from, the longer it will last. Here at Blade HQ we look for materials like titanium, G-10, carbon fiber, micarta and reinforced polymers for our handles, and blade steels ranging from VG-10 to M390. There's no set rule for what makes up the best EDC knife, as you need to go based off what makes the most sense for you.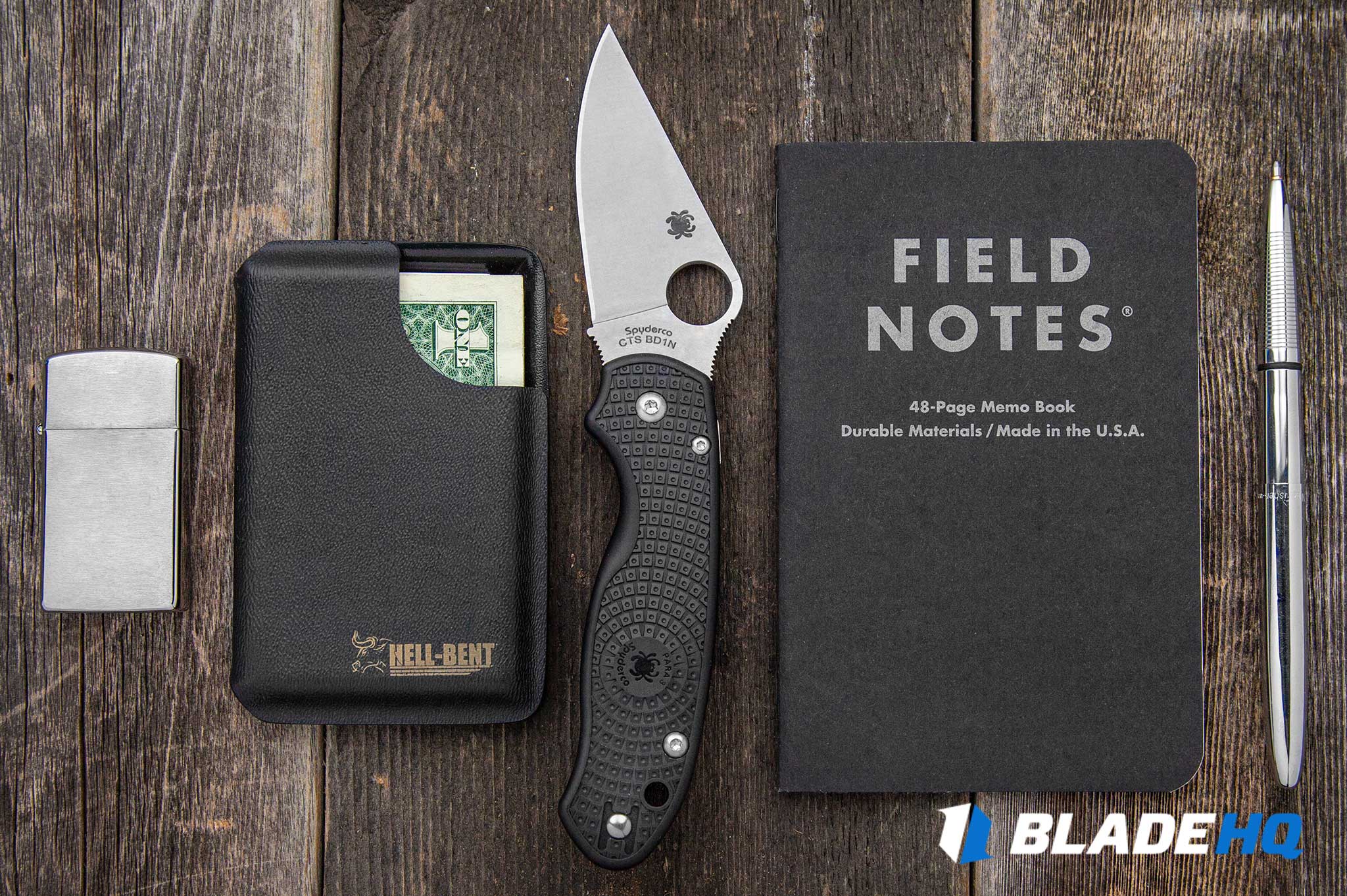 That aside, if you are looking to find a solid knife to accompany the other things you put in your pocket, find the knife with the best quality materials you can afford. Some of our favorite 'bang for your buck' edc knives are the Benchmade Bugout, the Spyderco Para 3 and the Esee Izula because they are made with high-quality materials and come at a price that doesn't hurt your wallet.
---
Build Quality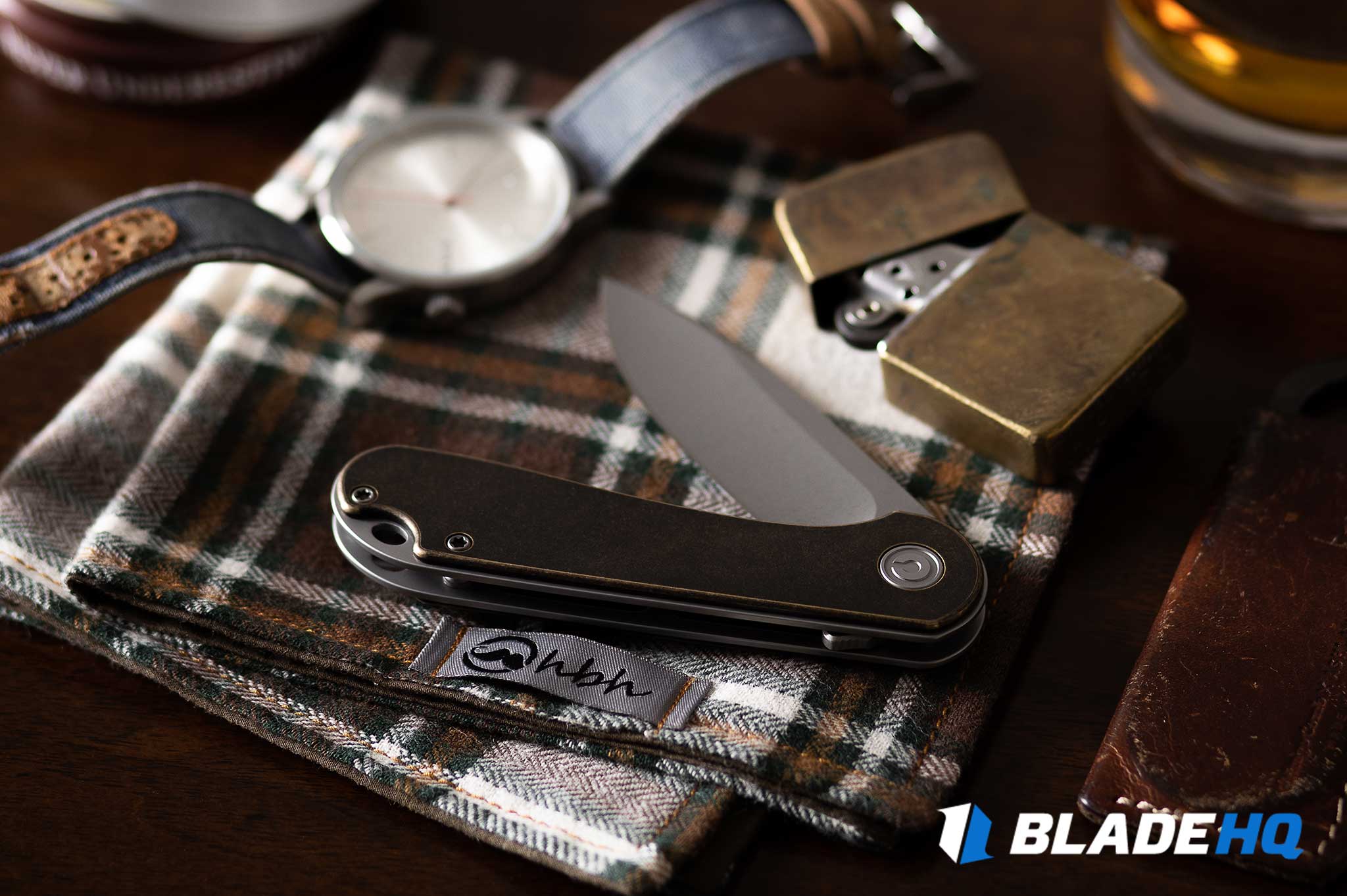 The next thing to consider when choosing an everyday carry knife is the build quality. We won't name names, but some knives simply don't stack up against others. They are made on a much larger scale in places where quality control isn't as consistent, and they lack things that are important for the longevity of the knife. That being said, some inexpensive knives are incredible. They have amazing tolerances and come with some awesome components like ball-bearings and upgraded blade steels.
One of our favorite everyday carry knives is the Civivi Elementum. Its build quality is amazing considering it's priced around $50. It has a smooth action thanks to phosphor-bronze ball-bearing washers and ultra-tight tolerances. We have been impressed with its size and overall feel. If you're looking for a safe choice for everyday carry, check out the Civivi Elementum.
---
Style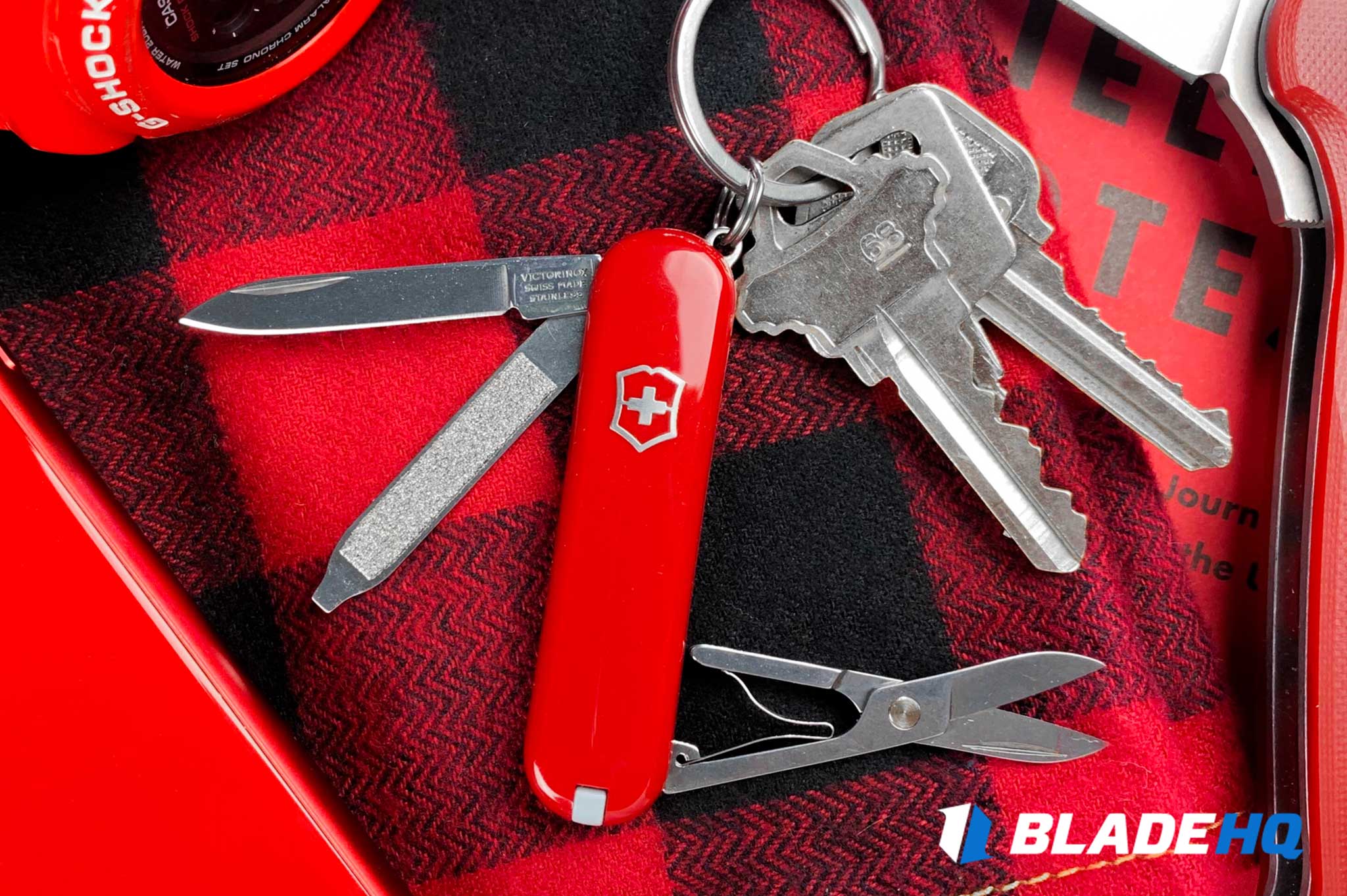 The last thing to consider when choosing a knife, as funny as it may sound, is the style of the knife. It's likely that you have your own personal style and look. It's likely that your knife will follow suit and match your look. How you dress can influence the knife you choose. If you find yourself wearing nice slacks, a knife with a pocket clip may wear out your pocket and you would be better off to choose an in-pocket knife. If you're the kind of guy who wears more fitted clothing, a big knife with a beefy grip may be harder to carry in pocket (and may get some uncomfortable glances). Choosing a knife based on what you wear is a real thing. If it's uncomfortable to have a certain kind of knife in your pocket, you may want to choose another knife.
For most of us here at Blade HQ, we choose our everyday carry knife based on what we wear and how we carry our knives. I tend to wear black a lot. Most of my EDC gear is also black. Several of the knives I rotate in my pocket are all black to match my watch, phone and wallet. I like the subtlety of black and I feel like it helps to keep my knife low-key and less noticeable.
---
Conclusion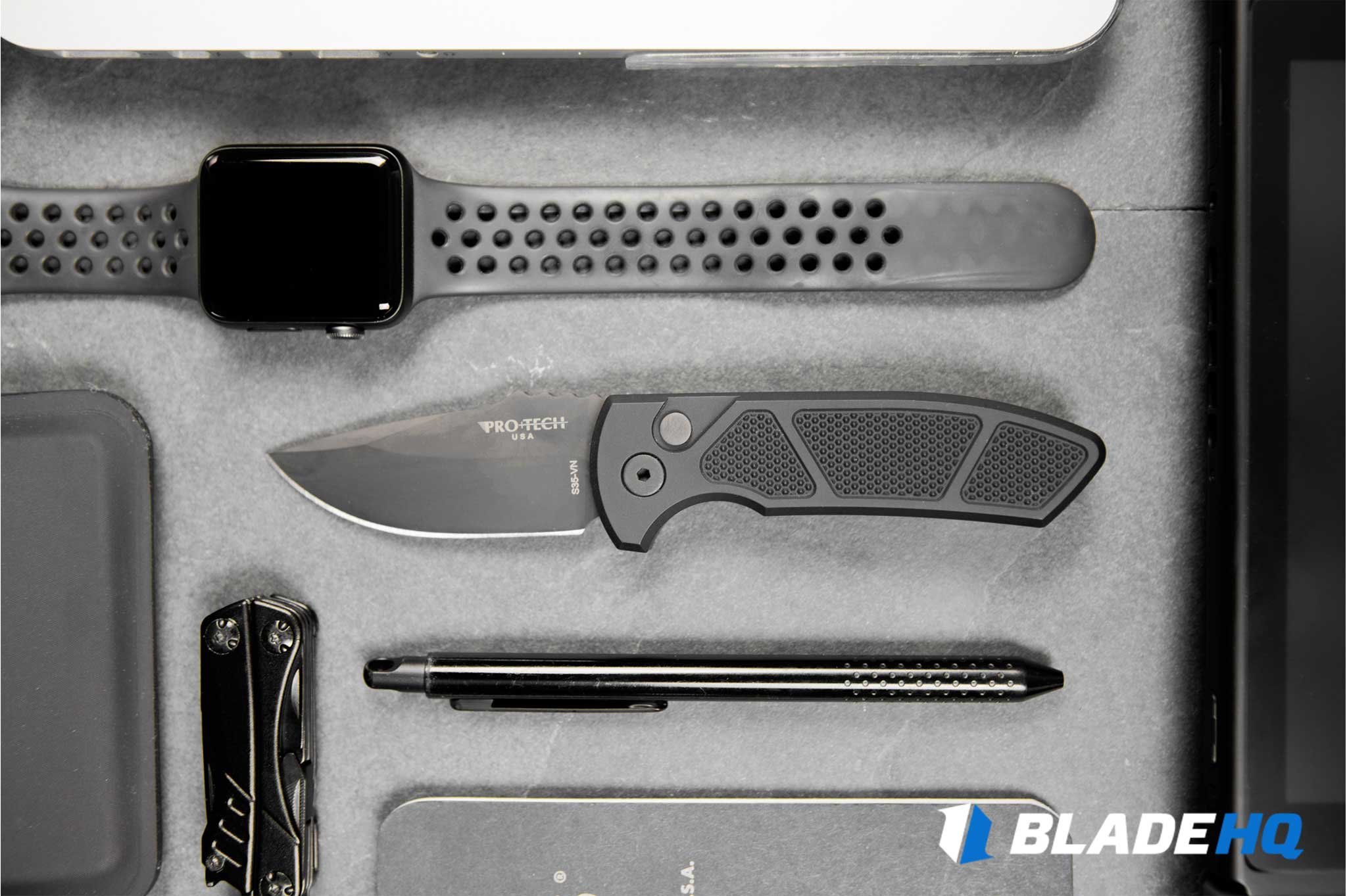 Choosing an Everyday Carry knife is a little less scientific than choosing other kinds of knives knives (Check out our guides on How to Choose a Tactical Fixed Blade and How to Choose a Tactical Folding Knife). The knife you carry everyday is an extension of your personality. It shows people what you are about and should be something you find useful and enjoyable. What an everyday carry knife is made of and how it's constructed plays a huge part in which one to choose, but it ultimately boils down to your personal preference and what you use your knives for. Check out our collection of EDC knives by clicking the button below.
---
Employee EDC
Here at Blade HQ we love knives. Most of us always carry at least one knife on our person. Check out these sweet EDC knives from some of us here at Blade HQ!
George's EDC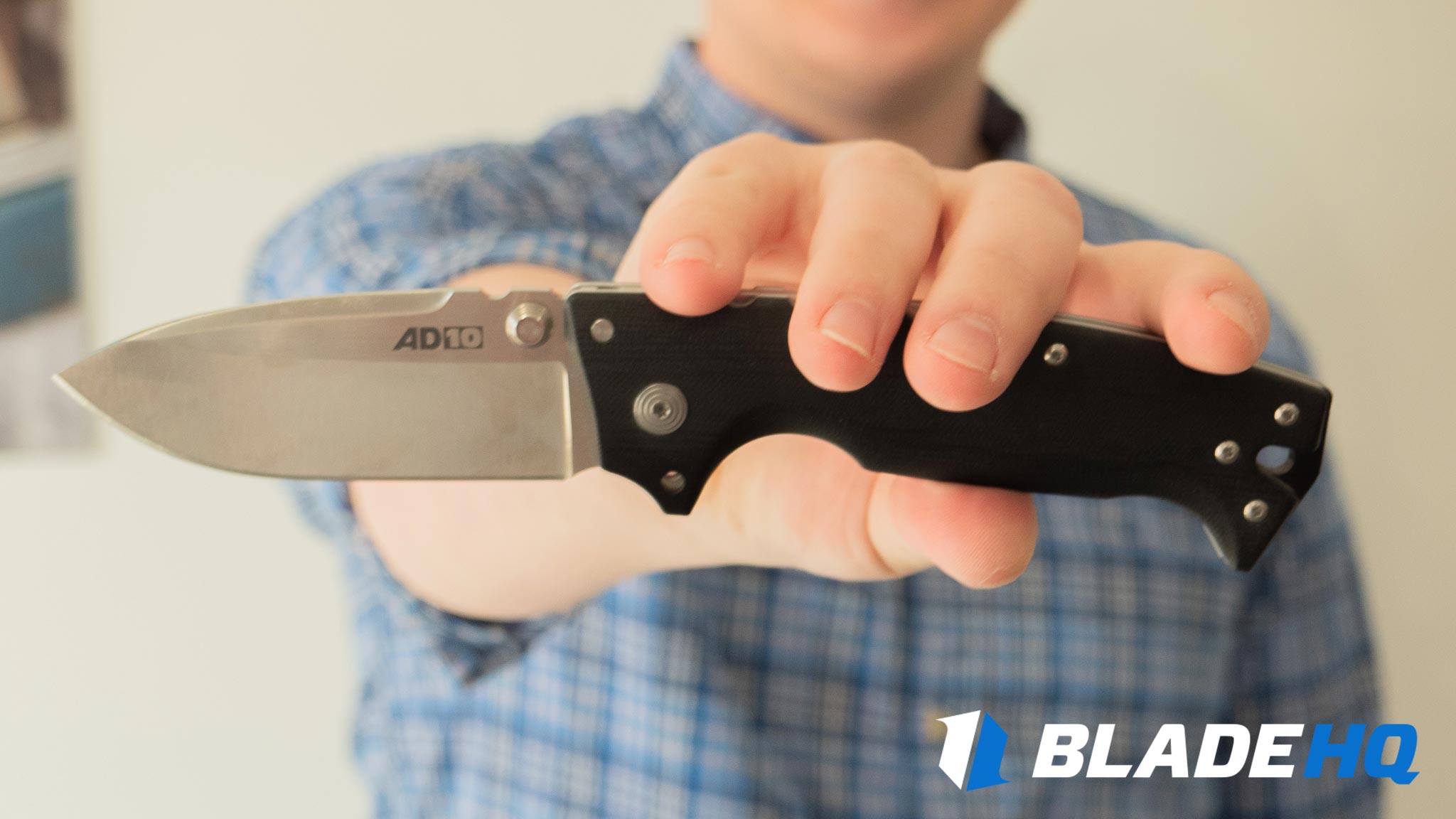 Cold Steel AD-10
We had the chance to talk to George, one of our product copywriters, about one of his EDC favorites. Here's what he hade to say about this awesome knife:
"I chose the Cold Steel AD-10 as my go-to knife, and since I got it, all of my other knives have taken a back seat to it. When I pick a knife, function is at the forefront of my mind, and the AD-10 is incredibly functional. It's built on the Cold Steel Tri-Ad lock, which is incredibly strong (as far as I'm aware the strongest there is), and as a plus is totally ambidextrous. I like the S35VN blade, it holds a great edge and is very tough, but it's easy to get a razor edge back on it. I love the handle most. It's contoured design makes it the most comfortable folder I own. The knife is heavy, but the weight has never bothered me; on the contrary, the heft makes me feel more confident that the tool won't let me down. I clip the knife into my pocket every single day. I tried it without the pocket clip for a while, but I went back to the clip. It's easier to get to the knife that way."
Learn more about the Cold Steel AD-10 HERE.
Sean's EDC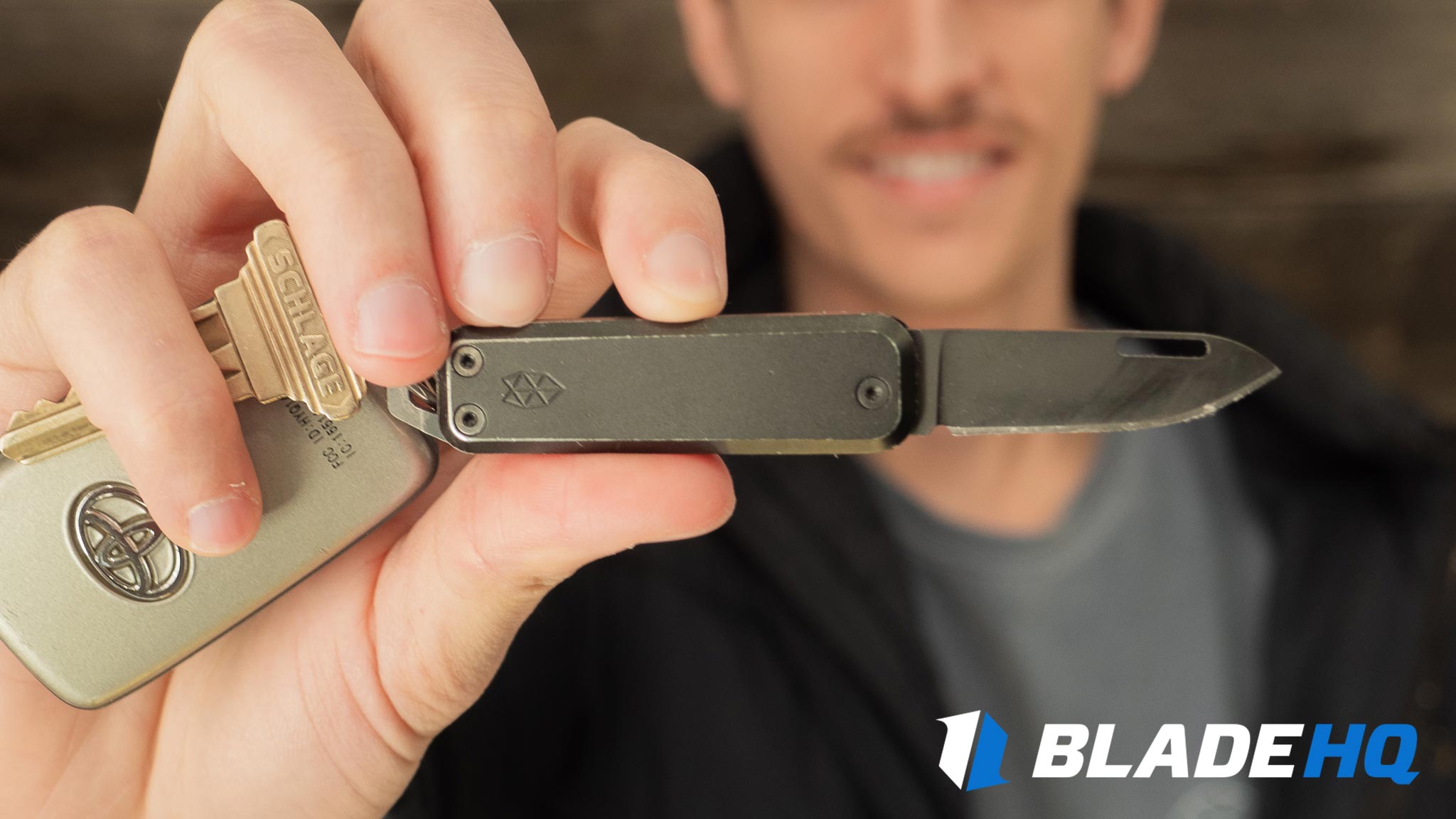 The James Brand The Elko
There's no doubt The James Brand Elko is a cool and classy little blade. Its sleek design and simple construction make it a perfect everyday companion.
Our in-house graphic designer, Sean, is a man of simple tastes. He's known for whipping out the Elko whenever we do pocket checks and is often teased for only ever carrying the small keychain knife. For Sean the Elko is perfect. It's subtle, utilitarian and has the cool factor he looks for in a knife. He often uses it for opening packages and other small tasks. It's an amazing knife for opening packets of oatmeal and removing tags from tan t-shirts, things Sean does often. Learn more about The Elko HERE!
---
Learn More
Still craving more EDC knives? Check out the Week One Wednesday videos below where Kurt and Zac discuss the best small and large knives for everyday carry! If you're looking for more EDC gear, take a look at our recent Best EDC Pens article.
Shop All EDC Knives
---
OTHER KNIFE GUIDES
Still in that information gathering phase? We've got a bunch more lists of all the Best Knives! Happy hunting and may you find that one special knife of your dreams!
*Customer reviews may be condensed for clarity and edited for grammatical errors. You know we have to make our high school English teacher proud. Check product listings for current pricing.