Whether you are into spinners, flies and/or bait, nothing is more relaxing or serene than a day fishing. Even if the fish aren't biting, it is just nice to get away, sit back and crack open a cold beer. The only think I can think of that might ruin a day of fishing is not having a knife! If you are anything like me, you make sure to bring at least two knives on your fishing trips. Normally, I tend to bring three to four with me. Today, we are going to look at a few types of fishing knives—ranging from fillet knives to multi-tool knives—that should be a must-have when packing for a fishing excursion.
As many of you fishermen know, there are 3 basic ways to deal with a fish after you've reeled her in: the catch and release method, putting her on a line for later use or cleaning her right then and there. Each to their own. I personally love to snatch the fish out of the water and filet them on the spot. That being said, let's take a look at a few really good fillet knives.
Kershaw Pro-Grade 4.5" Narrow Fillet Knife: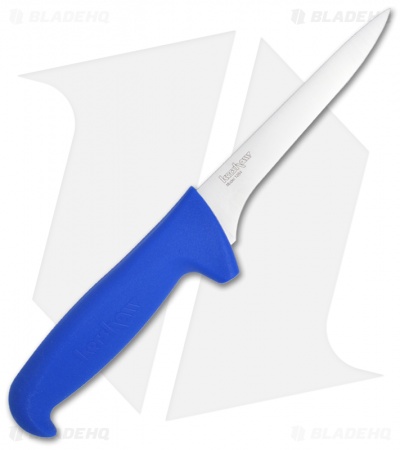 Not only is this a really good fillet knife (intended for smaller fish), but it can also be used as a boning knife. The injection molded polypropylene handles ensure that your hands will have that sure-grip even when your hands are really slimy and slippery. It also features a flexible 420J2 steel blade with blade guards to protect the edge. Every time I hold this knife, I can't believe how light it is (3.4 oz).
Lone Wolf Big Water Fillet Folding Knife:
This is a personal favorite of filet knives for me. Since the blade is an astounding 8", Ken Steigerwalt designed it to be a folder that is easier and more conventional to carry around with you. The blade guard slides into the handle to work as a tang to lock the 420J steel blade up and protect the blade when it is closed (known as a Tail-Lock mechanism). What really blows my mind on this one is that it only weighs 3.2 oz. It is so light due to the topographic handles. For you back country fishermen who are looking for light and effective, this is the fillet knife for you . This knife also comes with a sheath to carry it in.
Let's now take a look at gutting knives. When gutting a fish, you want the knife to be sharp. You also don't want a knife to dull quickly. Not all fish have tough skin but if you were gutting something like a Red Rockfish, then you might want a pretty solid blade and edge.
SOG Aura Hunting Knife Fixed Blade: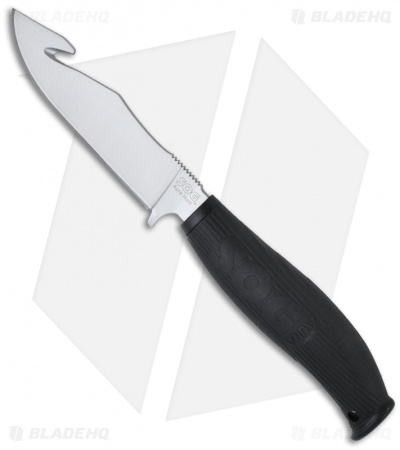 SOG did a really good job with the way this knife feels in your hand. It has tough glass-reinforced zytel with rubber overmold handles. This knife comes razor sharp right from the manufacturer. Keep in mind you will need to sharpen the blade from time to time. SOG was very thoughtful in putting a built in carbide sharpener that unscrews from the base of the handle. Included is a nylon sheath with belt loop. This knife also features a gut hook. It weights 5.4 oz and has a blade length of 5".
Bone Collector Large Fixed Blade Knife w/ Gut Hook: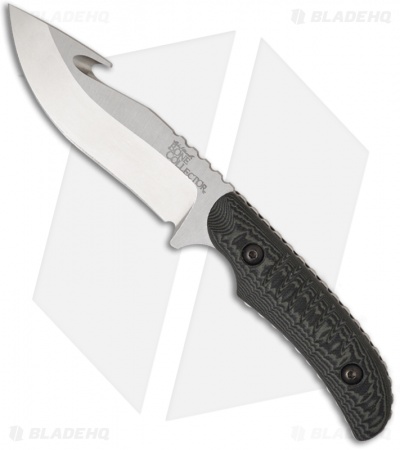 This knife is a perfect design from Benchmade. The whole knife is flawless (in my opinion). Not only is it razor sharp but you will almost never have to sharpen the D2 tool steel that comes with this knife. The handle is green and black layered G10 with a rib cage pattern that makes a firmer, more comfortable grip. One of the best features of this knife is the gut hook on the top. It's really sharp and can open any fish like a zipper. It is a really nice feature to have. Because of it's size, I personally wouldn't use it on a really small fish. Another great feature is the serrations for sawing away at things. It has a 4.10" blade and comes in at 4.5 oz. This knife can also come serrated.
Last, let's take a look at some multi-tool knives. These are very handy. They can complete every aspect of fishing for you. The only thing missing is a fishing pole and a reel. Yeah I know the pole and reel are essential, but what good does that do you if you can't cut any of your line or pinch on the clip weights to your line? Quite frankly, these knives are a must-have when fishing.
Leatherman Charge TTi Multi Tool w/ Knife:
The Charge TTi is stuffed with eighteen tools! It comes with drivers and eight bits. It has two blades. One of which is an S30V steel plain blade that will stay sharp for a very long time. The other is a serrated 440HC steel blade with gut hook/seat belt cutter. Not only does it sport the blades, but it comes with a mini saw and file (see center picture). All of the tools and blades in this multi-tool lock up good and tight. Don't forget, my favorite feature, a bottle opener! I know it's nothing special, but it's something easily overlooked.
Leatherman Wave:
This is by far the most popular model of all of the Leatherman multi-tools. The reason this knife is so popular is due to the fact that the blades are easy to deploy for the handy reason that they are on the outside of the handles. Also, the knives are fairly large compared to the size of the handles. They fill them out nicely. Along with the Charge TTi, the blades and tools lock up.
Quite simply said: Different knives serve different purposes when fishing. Please comment on the different knives that you like to take fishing with you. To check out more fishing info, take a look at our guide to the Best Fishing Knives.