Anatomy of the Different Types of Knives
We got together and decided that we wanted to make a comprehensive knife infographic. Rather than making you search for separate and specific infographics one at a time, we're putting them all in the same place for your convenience. While we will introduce them one at a time, after the last infographic is released, we (and by "we" I mean our graphic designer) will arrange them nicely into one master infographic.
There's a lot to consider when you're buying a new blade, and we hope this series expands your knowledge and helps you discover the blades that fit your needs best. This first infographic includes the anatomy of all the different knife types along with their pros and cons.

Click to View Full Size Image
Anatomy of an Automatic Knife
Automatic knives are designed primarily for military, police and EMT duty. These knives are simple to open in an emergency by pushing a firing button or pulling a lever. Check the laws in your area before purchasing an automatic knife, as they are restricted in many areas.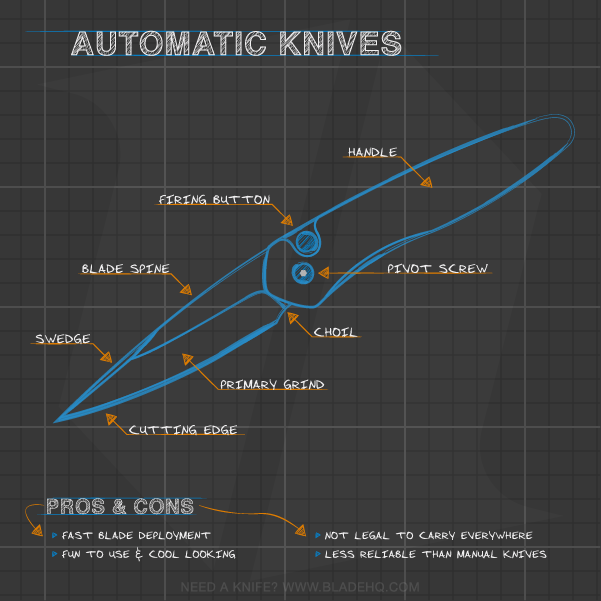 An infographic by the team at Blade HQ
Anatomy of a Manual / Spring Assisted Folding Knife
Manual knives are legal in most areas, which means they are extremely common. Often, this type of knife is also recognized as a "pocket knife." Spring assisted knives are roughly the same as manual knives, but they have a spring inside the handle that helps deploy the blade much faster. Spring assisted knives typically have a thumb stud and/or flipper.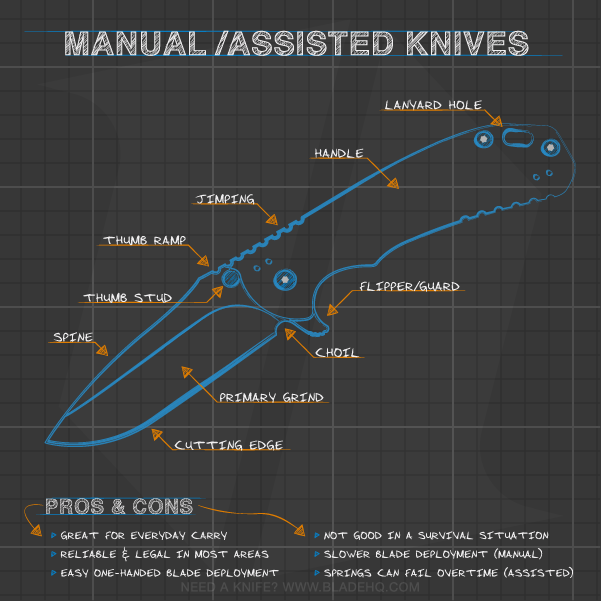 An infographic by the team at Blade HQ
Anatomy of a Fixed Blade Knife
Fixed blade knives don't fold or contract like other types of knives. Fixed blades are perfect for nearly any use—they are carried by sportsmen, hunters, campers, and more.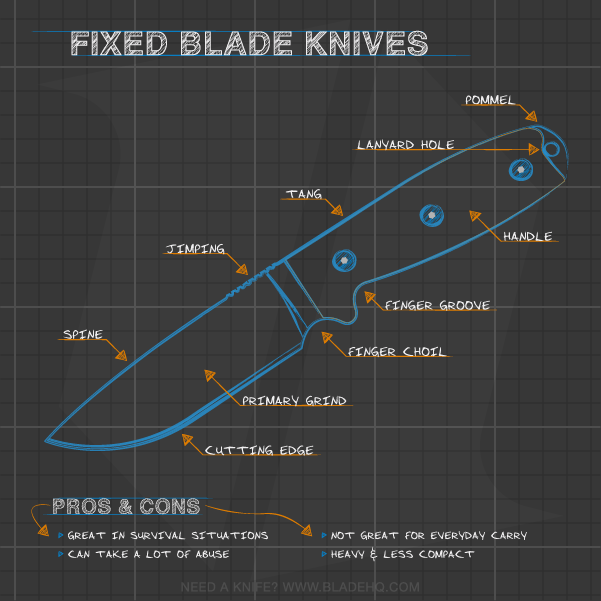 An infographic by the team at Blade HQ
Anatomy of an Out The Front Knife
Out The Front knives are similar to automatic knives in many ways; they are opened by pushing a thumb slide or pulling a lever, but with an OTF knife the blade always deploys out the front of the handle—not the side, like automatic knives. OTF knives are restricted in many areas so be certain to consult your local laws before purchasing these items.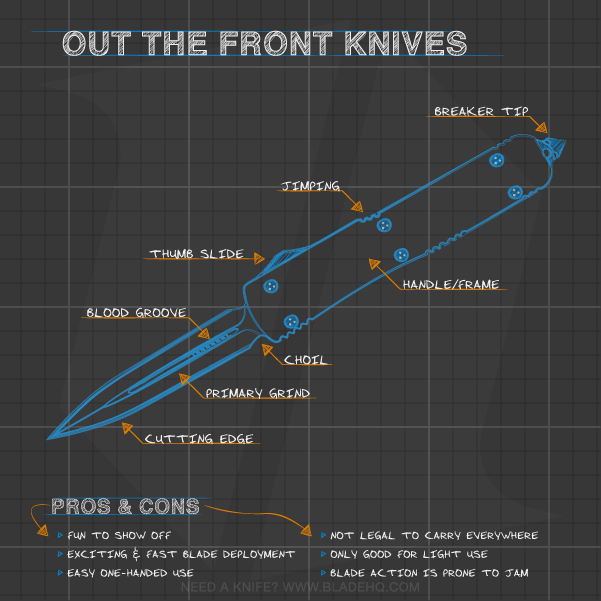 An infographic by the team at Blade HQ
Anatomy of a Butterfly Knife
Some people spend years trying to master the skill of flipping butterfly knives, A.K.A. balisong knives. It's debatable whether it's more fun to flip a butterfly knife or to watch someone flip— it looks really cool, and it's practically mesmerizing.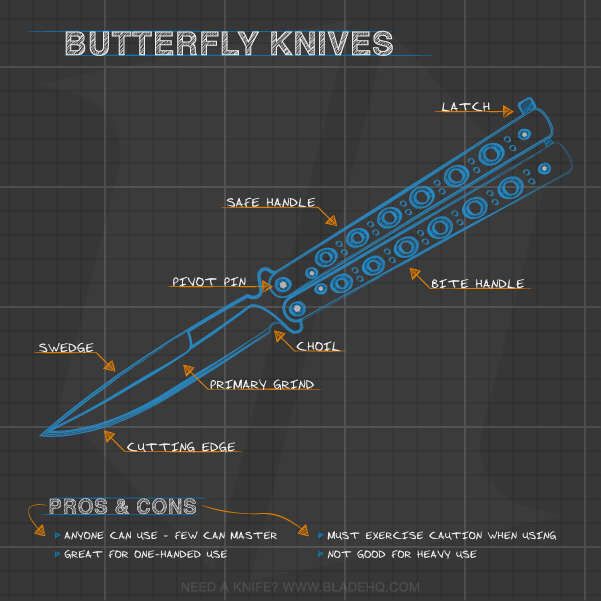 An infographic by the team at Blade HQ
Stay tuned for part 2: "The Ultimate Blade Breakdown."
Help us spread the word!
Please Like, Share, and Comment.