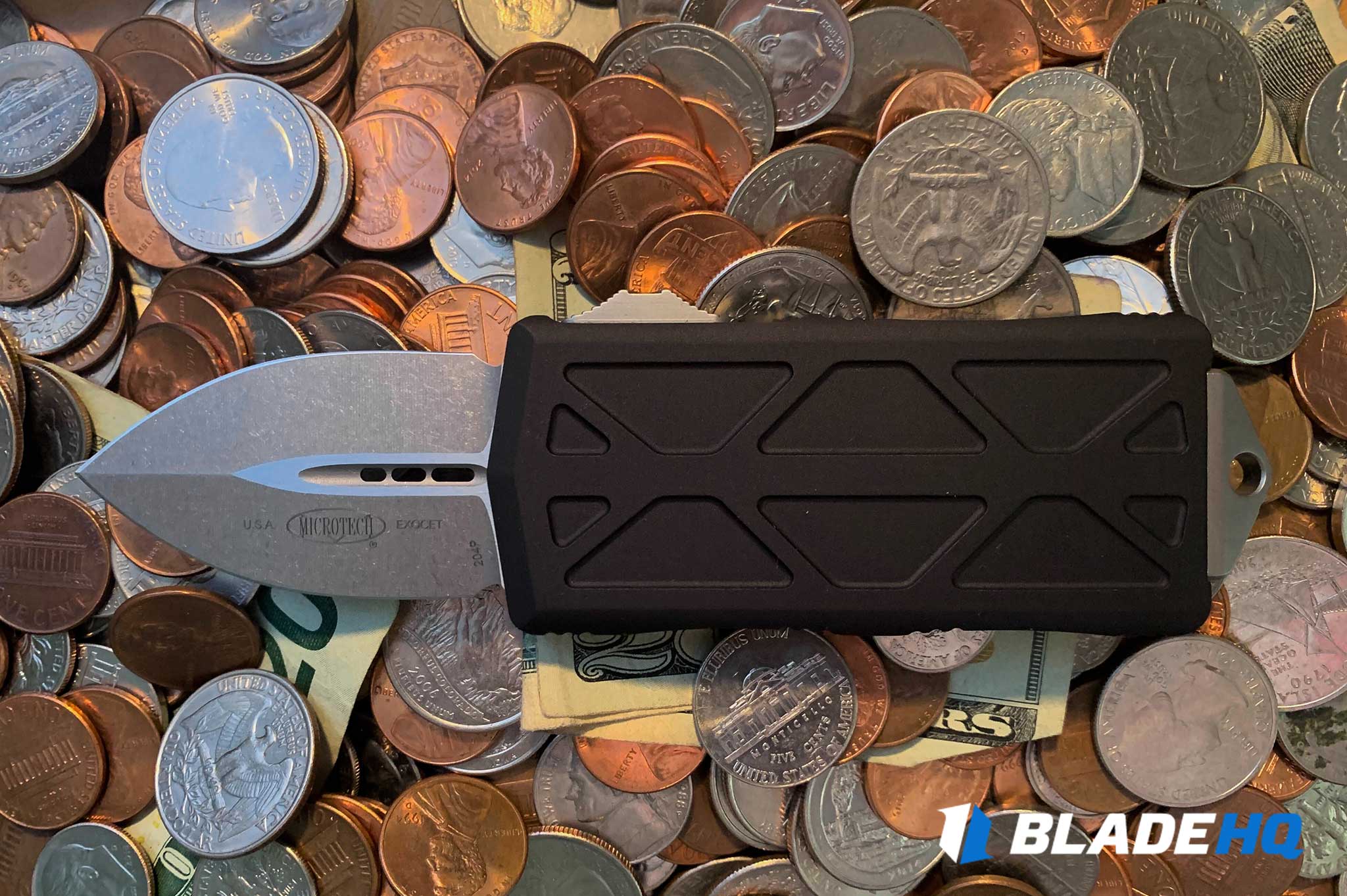 The Microtech Exocet is one of those knives that evokes a unique set of emotions. It's unique, but it seems hokey. It's got the cool factor, but it's also a little odd. In this review we look at this quirky OTF knife, put it to the test and give it a Knife Life Score. Is the Microtech Exocet the perfect everyday carry OTF, or is it just a novelty? Read on to find out!
First let's run through the stats…
Overall Length: 5.625"
Blade Length: 1.98"
Blade Shape: Dagger or Tanto
Blade Steel: CTS-204P
Handle Material: 6061-T6 Aluminum
Weight: 2.75 oz.
Lock Mechanism: Double-Action OTF Automatic
Made in USA
KNIFE LIFE SCORE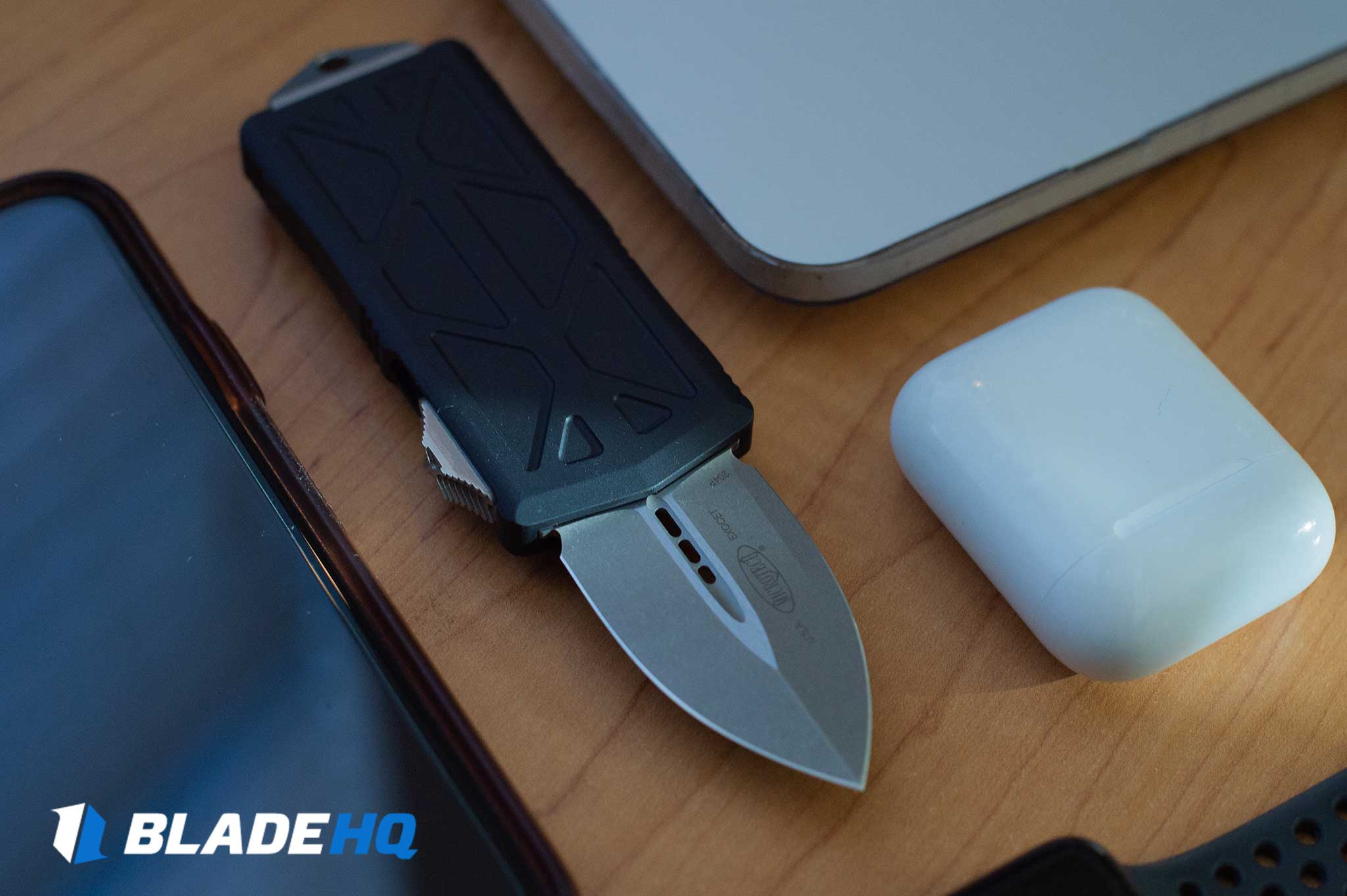 Knife Life is all about representing your personality and passion through the knife you carry in your pocket every day. Quality and performance are key. Tasteful design and ritzy details are also important. You can be confident carrying any knife with a high Knife Life Score. Each section is scored out of 10 with a grand total of 100.
UNIQUENESS / IMPORTANCE
Score: 9/10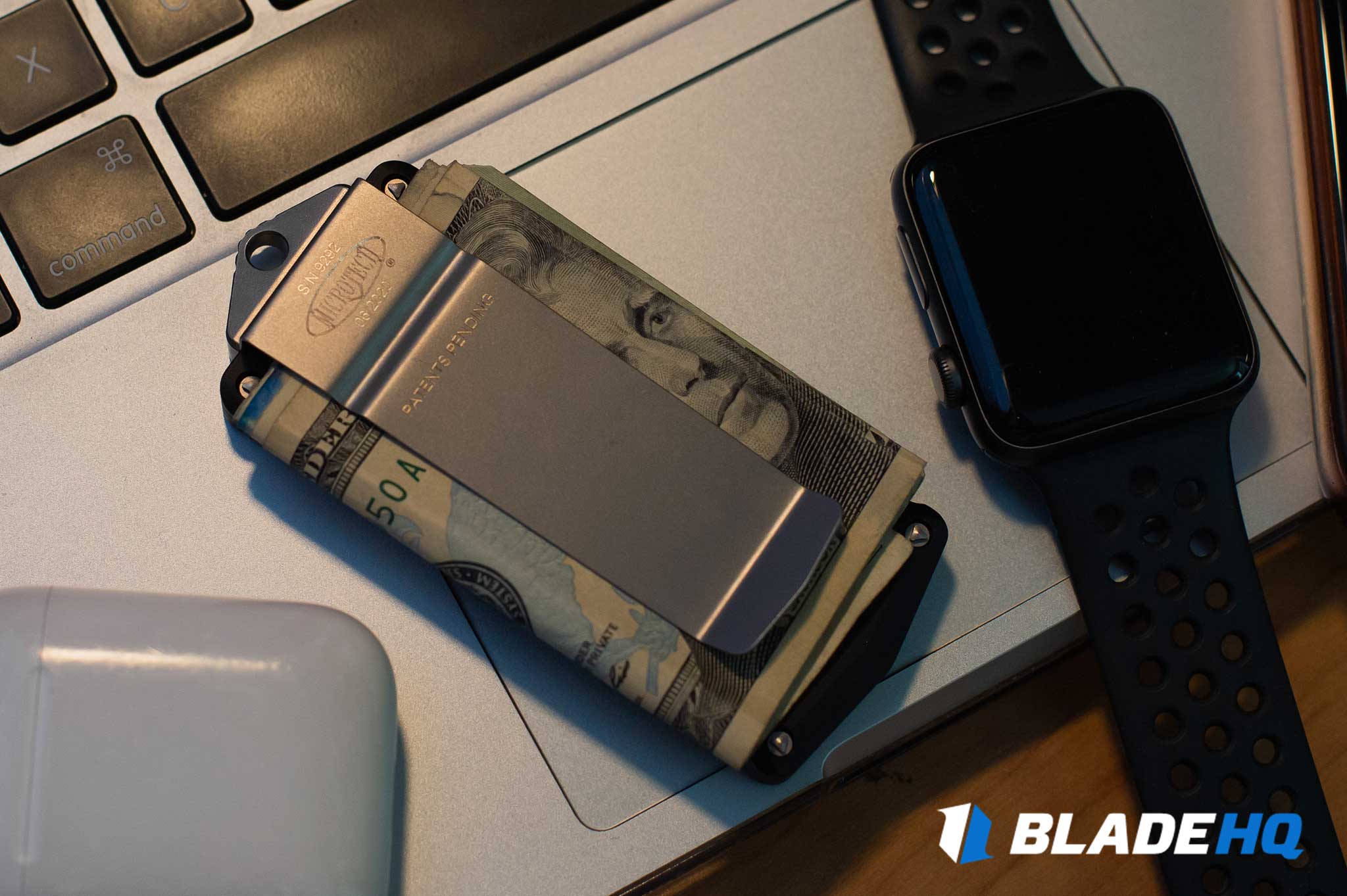 When Microtech introduced the Exocet in 2019, it came at a time when everyday carry knives and gear had gained significant attention and when people were deliberately curating the things they put in their pockets. This knife ranks high in terms of uniqueness as it combines the fidget factor of a small OTF, the utility of a dagger, and the convenience of a money clip. Is the Exocet an earth-shattering addition to the knife community? Probably not. Does it offer an introduction to the kinds of knives we may see in the future? Certainly!
---
MATERIALS
Score: 10/10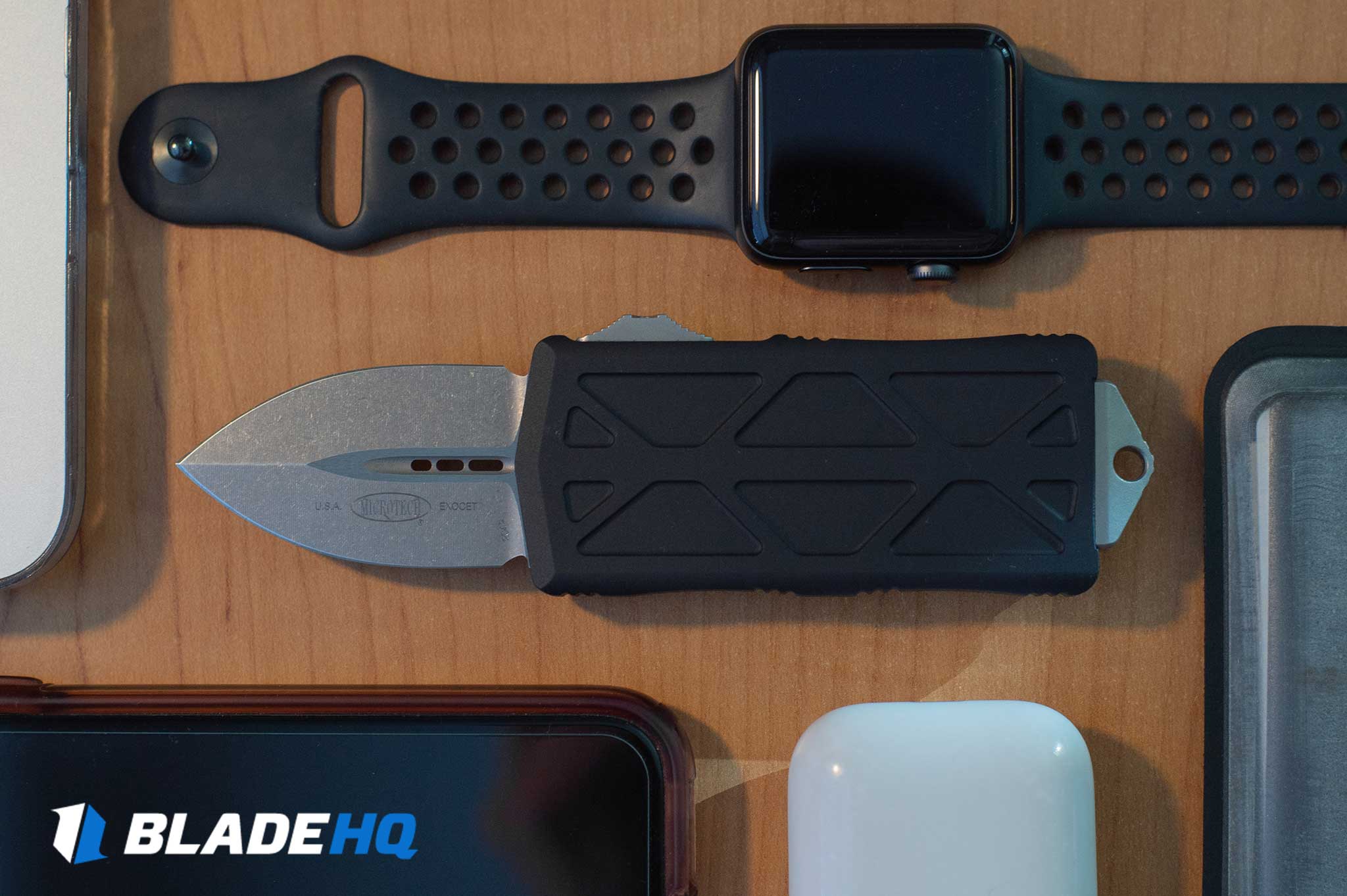 Microtech never skimps when it comes to the materials they use on their knives. The Microtech Exocet features a 6061-T6 aluminum handle giving this knife both structural rigidity and lightweight performance. Its pocket/money clip is made from stainless steel and is built to withstand regular use. As expected, the materials on the Exocet are top-notch.
---
LOOK / STYLING
Score: 8/10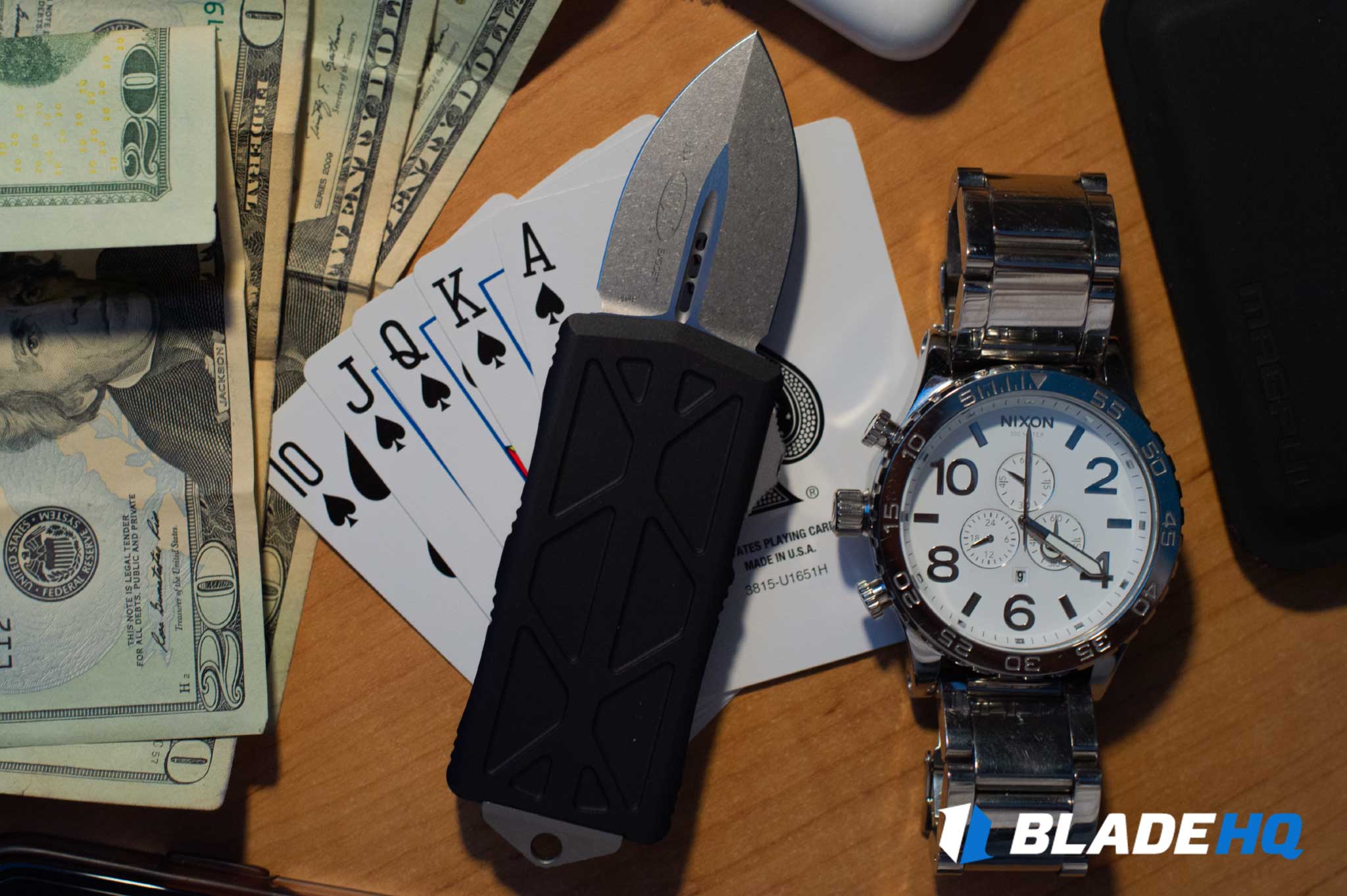 The looks of this particular knife are something I love to hate, but hate that I love. They're different from what you'll find from other knives of its size, and that's a good thing. The Exocet's stout drop-point blade gives it a beefy look despite its slim profile, and the lattice-like texture on the handle is futuristic and masculine. I like the overall look of this knife, on THIS knife. For any other knife, it wouldn't work as well and, honestly, that's not a bad thing.
---
ERGONOMICS
Score: 7/10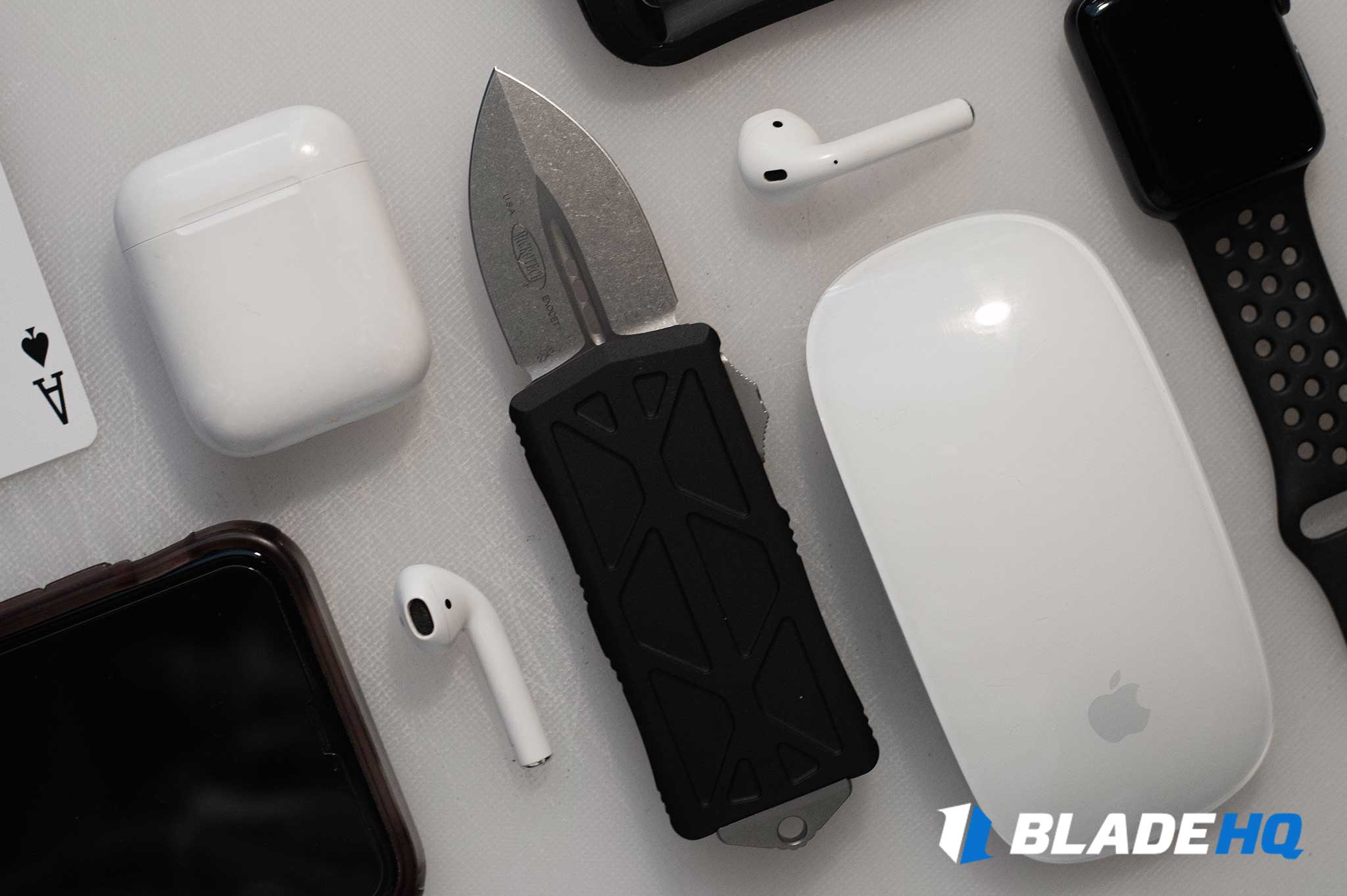 The Microtech Exocet isn't a horrible knife to hold and handle considering what it is. Despite being on the smaller side, the Exocet has decent ergonomics. Its thumb slide is placed in the right spot to get the perfect amount of leverage on it to deploy the blade, and there are no significant hot spots when used. With the dagger style blade on our Exocet, we found that there isn't much room for error if you hold the knife with your thumb on the slide, but if you're careful it's not a big deal.
---
Deployment / Lockup
Score: 10/10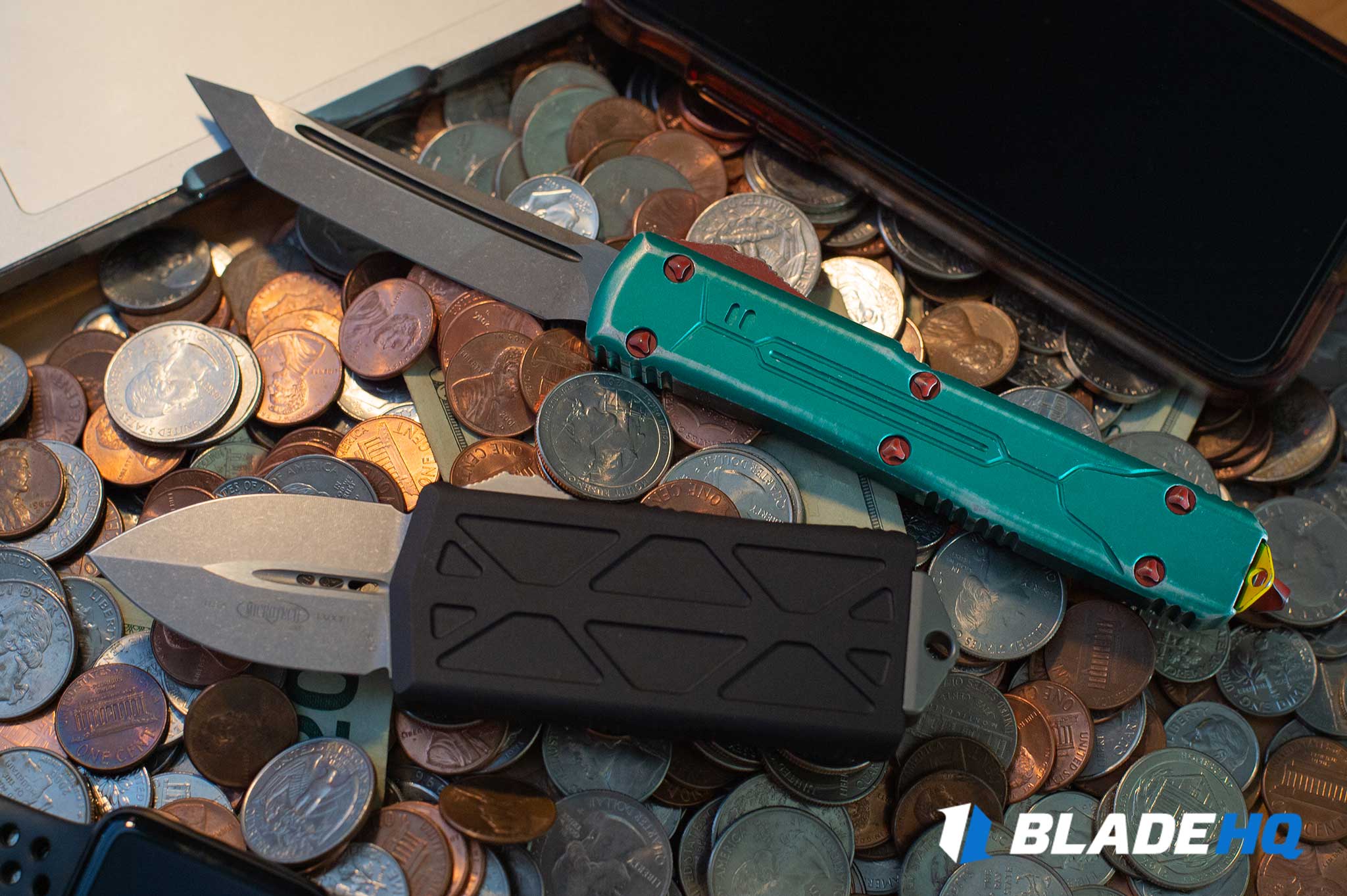 Do we really have to talk about the deployment of a Microtech? It's incredible! The knife fires with precision and authority every time, and locks in place with confidence. The Microtech Exocet is a brilliant little knife when it comes to deployment. Every time I used it I was satisfied with the speed and exactness of the action, especially when comparing it with the bigger Microtech Ultratech. It never failed and is built with such precision tolerances it will likely last an incredibly long time without the need for much maintenance.
---
BLADE / SHARPENING
Score: 10/10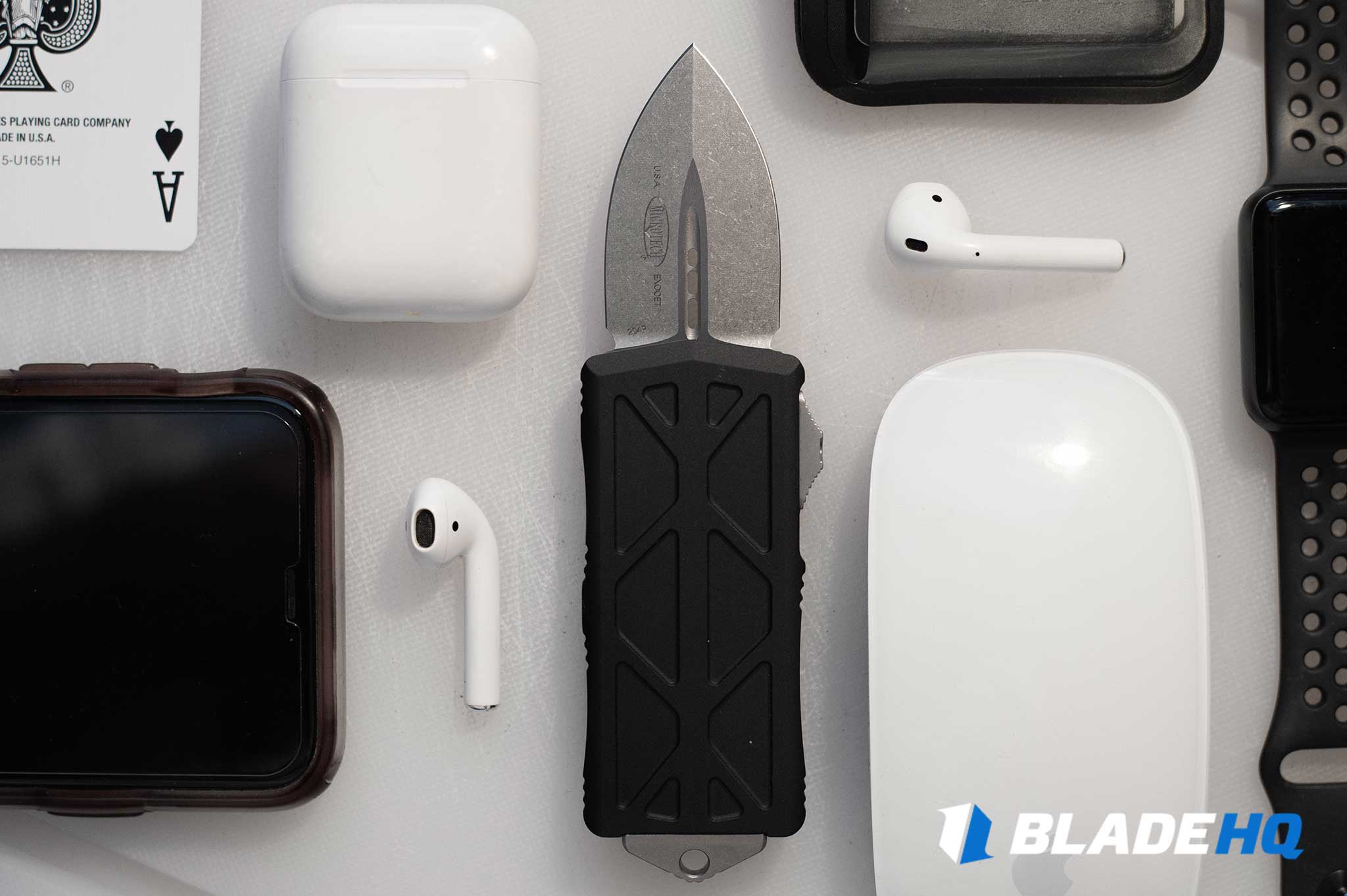 The blade on our particular Exocet is made from CTS-204P blade steel. This premium steel is rock-solid, making it great for edge retention, but a little difficult to sharpen if you don't have the right sharpening setup. Though we only really used the Exocet for everyday tasks, it still has a razor sharp edge on it and cuts with laser precision. The dagger style blade on our Exocet is handsome. The grind is even on both sides and there are no imperfections in the finish or details of the blade.
---
FIT-AND-FINISH
Score: 10/10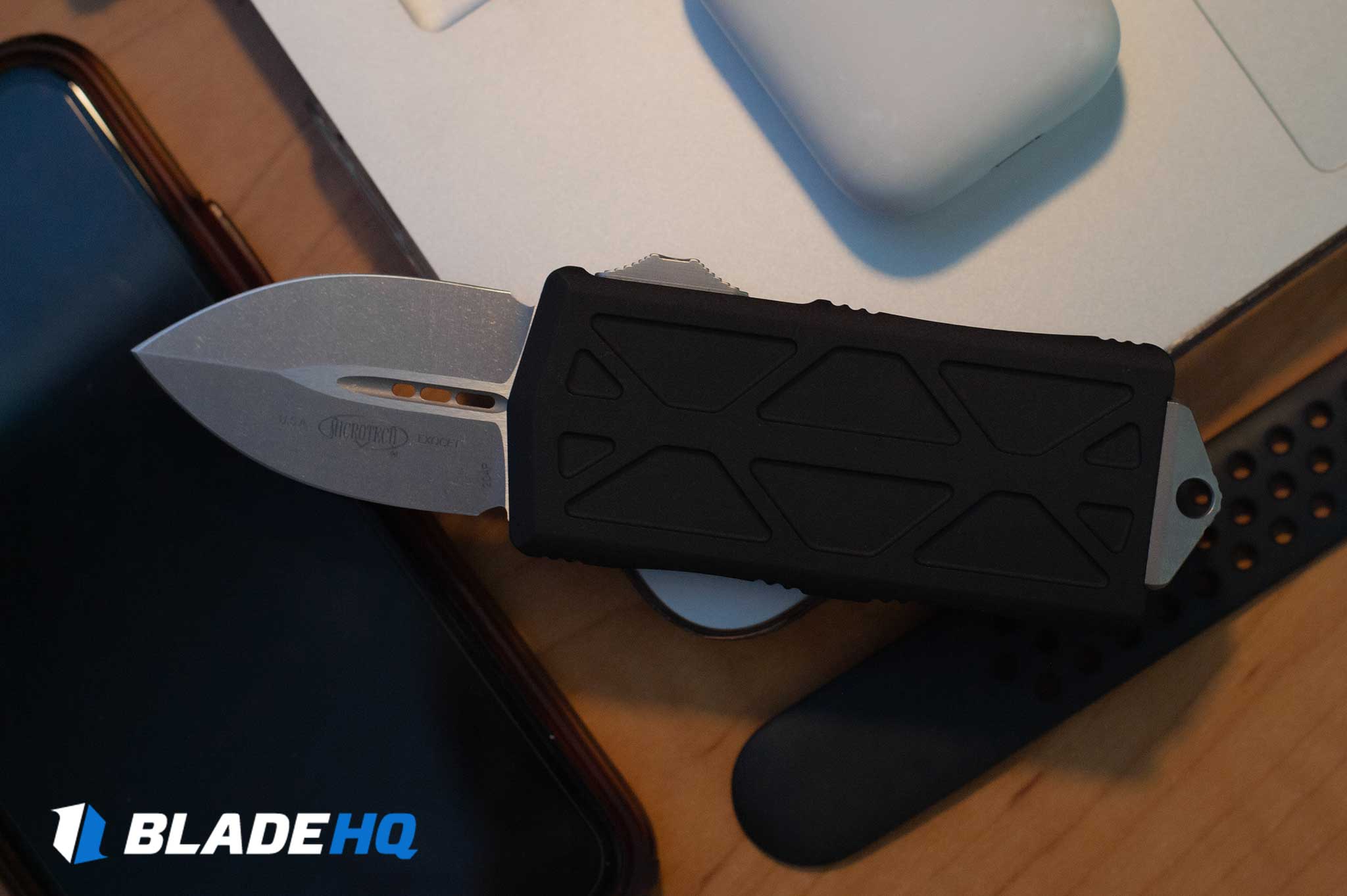 Some things in life are so good they can bring a tear to a grown man's eye. When I first picked up the Microtech Exocet I was absolutely impressed by its fit-and-finish. Every detail of this knife is nearly perfect. The milling of the handle and thumb slide has been done with precision that would rival some of the finest handcrafted watches and jewelry. The engraving on the pocket clip is sharp, easy to read, and unobtrusive to the rest of the knife. Each screw has sharp edges and demonstrates the care and attention that was exercised while the knife was assembled. Overall, the knife is made with the higher quality and workmanship than a ton of knives even at a similar price point.
---
CUT TESTS
Score: 9/10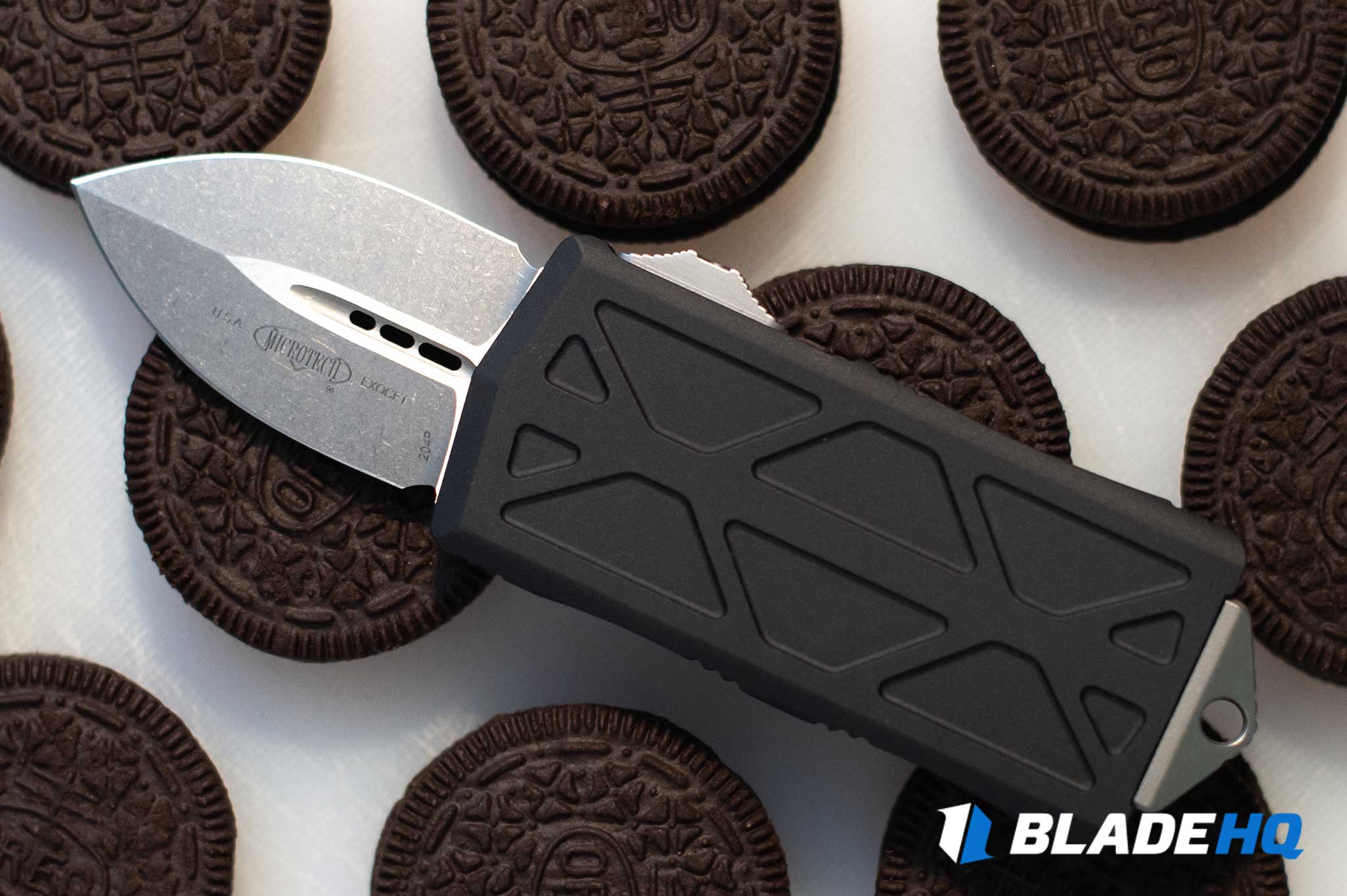 For everyday tasks, this knife was awesome! The Microtech Exocet is an everyday carry pocket knife. It isn't meant to be taken into the woods as a primary work knife, nor is it meant to be a knife for only light duty tasks. It's made to take care of business when needed, but isn't designed to be abused with things like fire building or wire cutting. It's perfect for opening packages and mail, and, if the need were to arise, could be used for personal defense.
---
Ease of Carry
Score: 9/10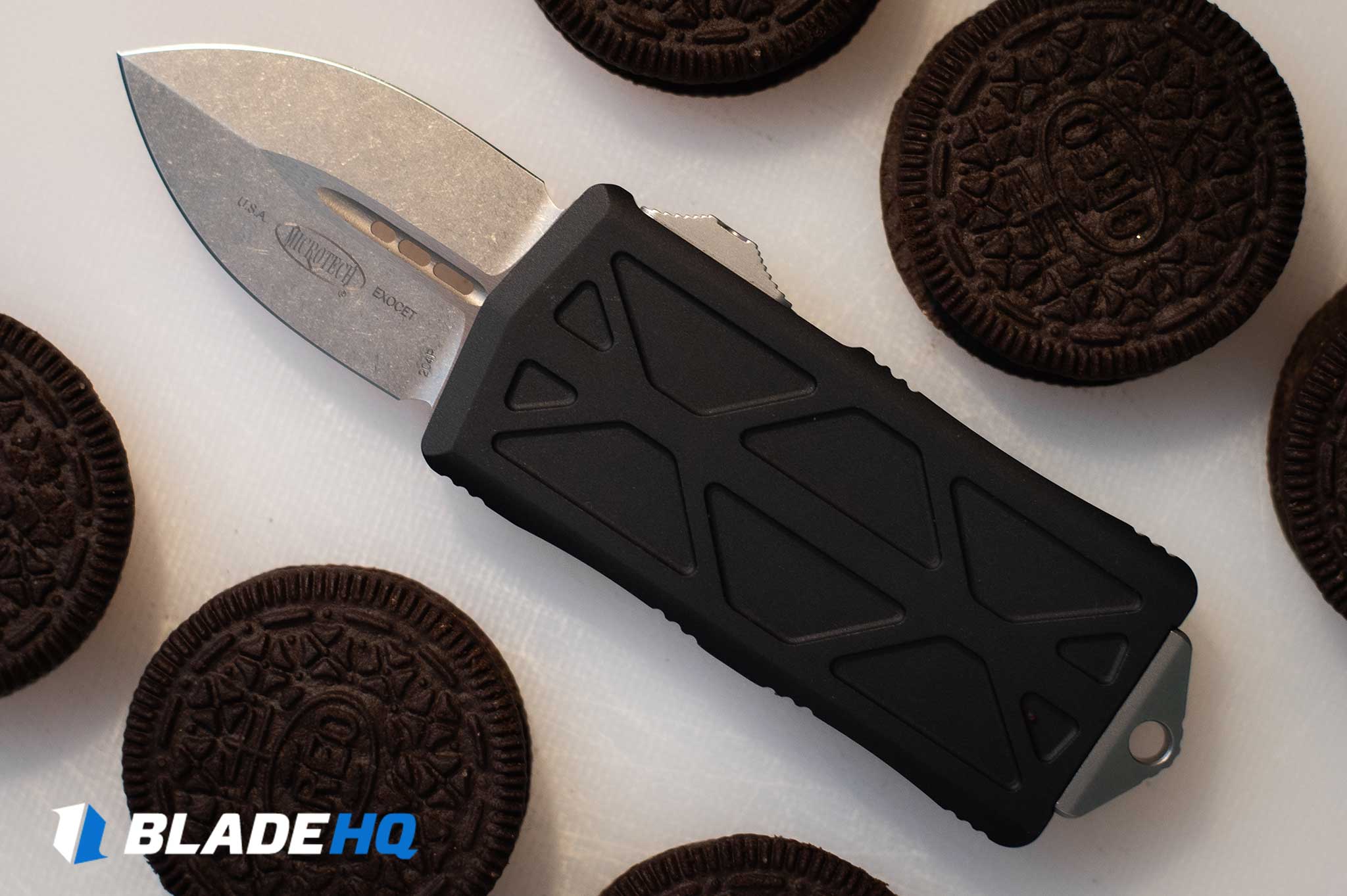 The Microtech Exocet has a super slim profile making it great for in-pocket carry. Originally designed as a knife with a money clip attached, the Exocet can be tucked down deep in the pocket and leaves a minimal print (it looks similar to my card holder wallet). When clipped to a pocket, the pocket clip is a little large and definitely stands out. If you're trying to keep a low profile with an OTF knife, this may not be the knife for you, but can you really keep a low profile with an OTF knife?? Roughly the size of an Oreo cookie, the Exocet is a great knife to carry in a suit jacket pocket, a pair of jeans or tucked into a cargo pocket.
---
POCKET JEWELRY
Score: 9/10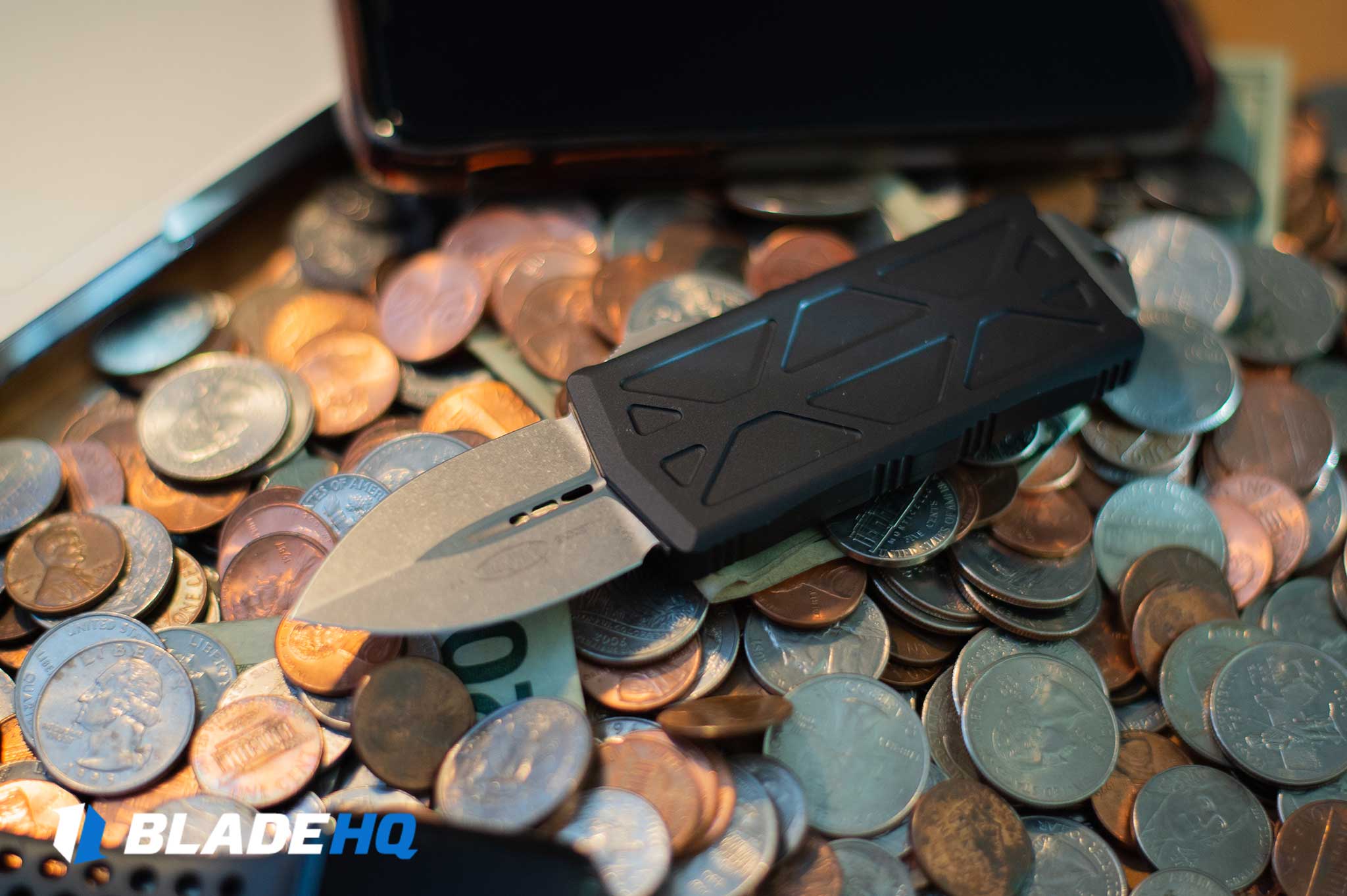 There are tons of knives that are just plain ugly. The Microtech Exocet isn't necessarily a beautiful knife, but it's attractive and unique. It's a great knife to throw in your pocket with some cash in the clip. That in and of itself gives it pocket jewelry points. With a variety of color ways and some new blade shapes coming out, the Exocet can be collected and rotated with your clothes and personal style. Not many knives can boast that.
---
TOTAL KNIFE LIFE SCORE:
91/100
Few knives rate as highly as the Microtech Exocet has. Initially I thought the knife was a bit of a novelty, but after carrying it for a few weeks, I quickly found how convenient it was. For someone with their credit cards and other payment methods on their phone, the Exocet was a great way to combine my cash holder and my knife. It took up less pocket space and made it easy to keep track of less things. The Exocet isn't for everyone. If you have big hands, you'll likely hate it, but for everyone else, it's well worth considering.
Microtech Exocet Overview
In this overview we take a close look at the Microtech Exocet, its features, size, and action. If you're on the fence about this awesome knife, watch this video.
OTHER KNIFE GUIDES