BladeHQ just picked up some of the new Microtech Cobra knives (you can see them on Microtech's website here).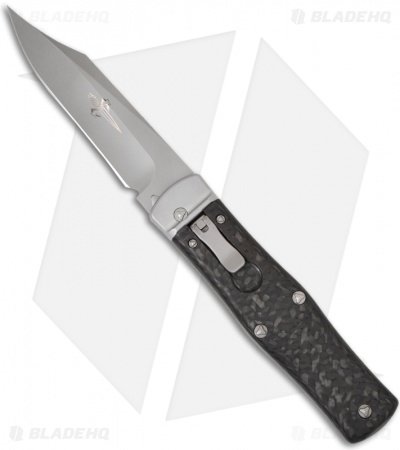 These new knives are all Prototypes and they debuted at the Usual Suspects show in Las Vegas earlier this month.
Right off the bat a savvy knife aficionado might recognize some similarities between this knife and another well know European knife brand. Various forums have also mentioned the similarities between the Microtech Cobra and the Mikov lever lock.  While this wasn't a collaboration effort, I think most people will be able to appreciate the quality of the Microtech Cobra knives. On the other hand its a blow to creativity. Still, imitation is the sincerest form of flattery.
These custom Microtech automatic knives have a hand ground S30-V bowie style or spear point blade. The handle is carbon fiber (front & back) with titanium spaces and stainless bolsters. This first run of Cobra knives are serial numbered prototype models. Production models with different handle material should follow shortly.
The Cobra features a lever lock mechanism- simply open the lever and push it down and the knife will open. When in the closed position the lever acts as its own safety. The Cobra has 4 leaf springs to ensure that the blade gets open quickly and reliably.
Another cool feature of these Prototype models is that each knife comes with a Microtech wallet that has two of Anthony's business cards (one regular and a serial number green metal card). The card gets you direct access to the man himself! These knives also come with two green decals (honestly it's the kind of green that you don't want to put anywhere… I think they would have been cooler in red or black).
These custom Cobra knives aren't cheap- they'll cost you upwards of $1600. The production models should have a street price under $400. Still, there's something to be said for a limited serial numbered hand ground collectible. And even if you don't buy one you can still enjoy the pictures.