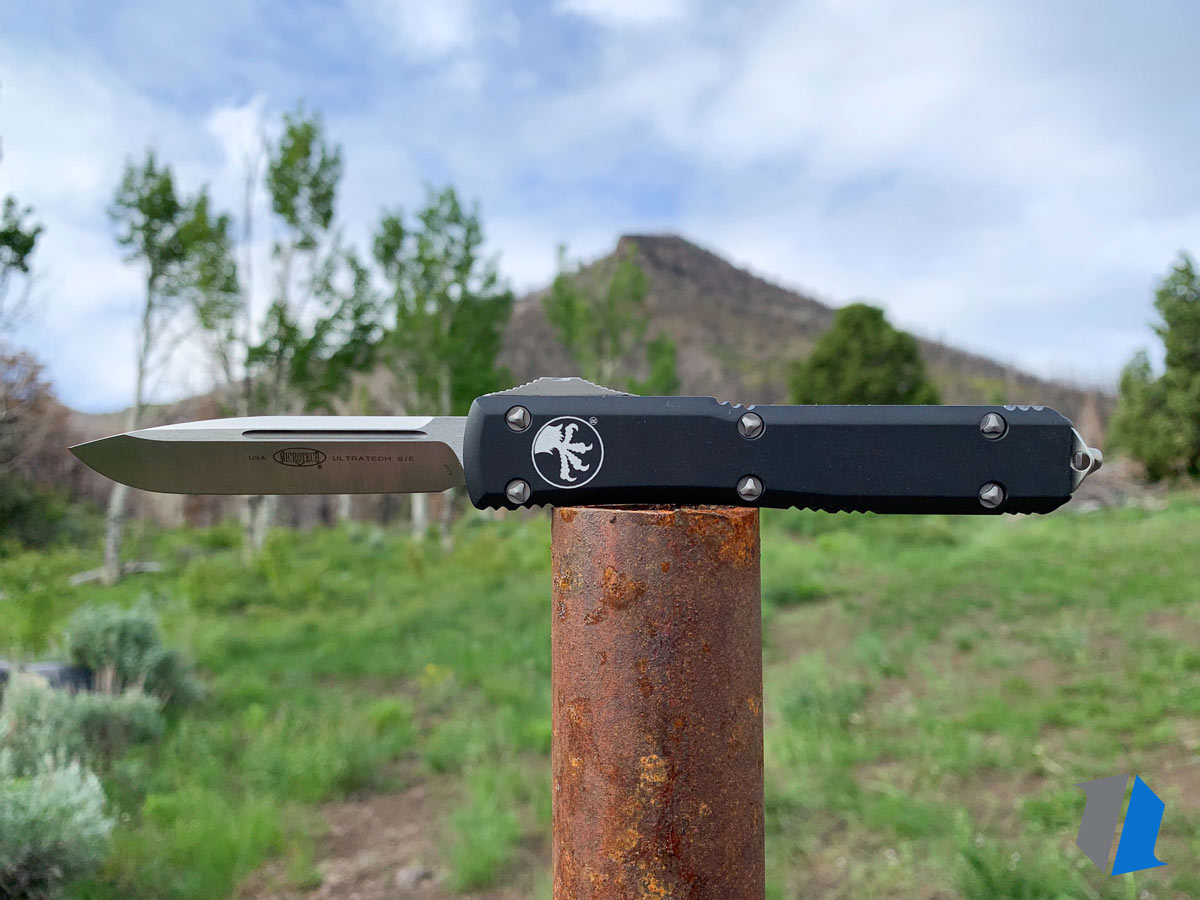 It has the looks. It has the materials. It has the action. It's the Microtech Ultratech! I've played with tons of OTF knives working here at Blade HQ, but I had never carried one for an extended period. I just never felt the need for an OTF because nothing could replace my folders and slip joints. Could the Ultratech change all that? You know what to do to find out!
First, let's run through the basics.
8.5" Overall Length
3.44" Blade Length
CTS-204P Blade (has changed from Elmax)
4.625" Handle Length
Aluminum Handle
Double Action
Made in USA
Shop Microtech Ultratech Knives
---
KNIFE LIFE SCORE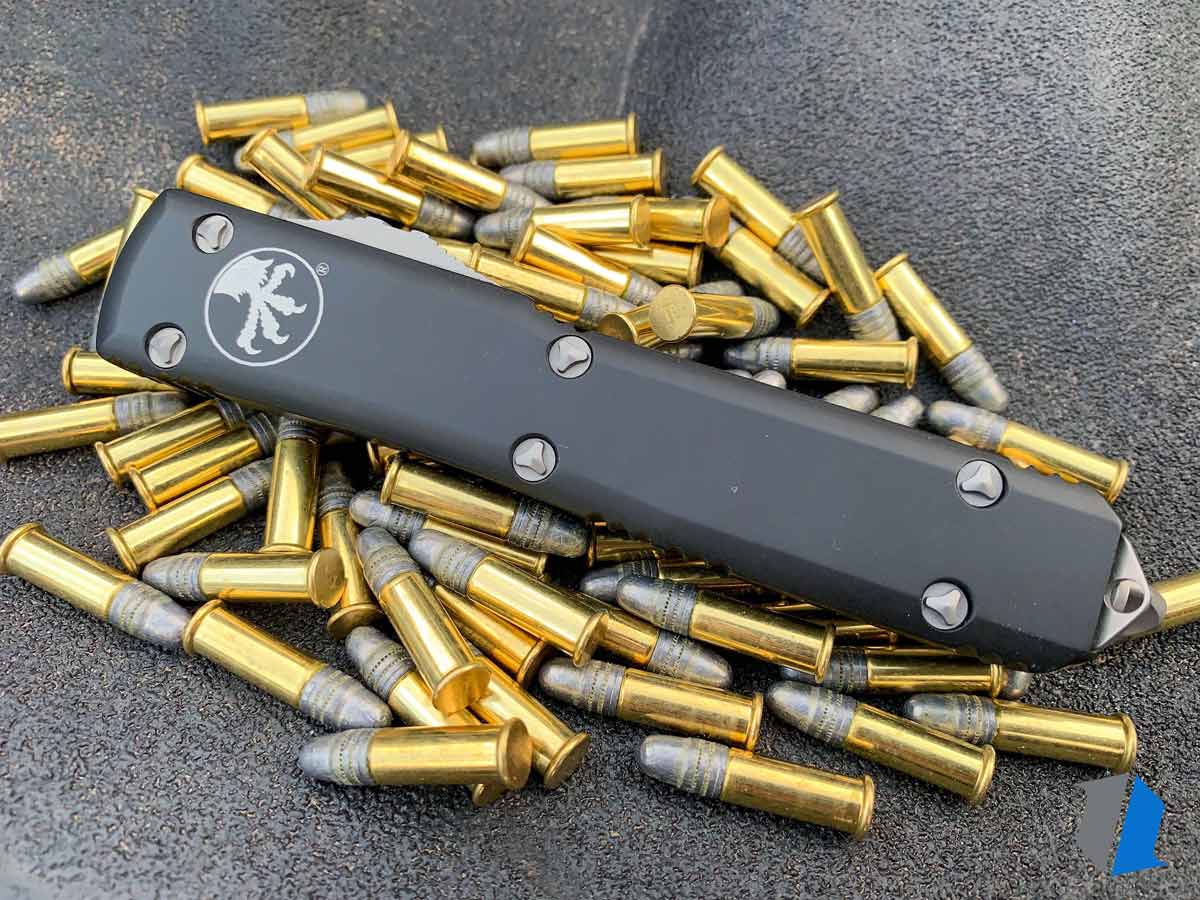 Knife Life is all about representing your personality and passion through the knife you carry in your pocket everyday. Quality and performance are key. Tasteful design and ritzy details are also important. You can be confident carrying any knife with a high Knife Life Score. Each section is scored out of 10 with a grand total of 100.
---
IMPORTANCE
Score: 9/10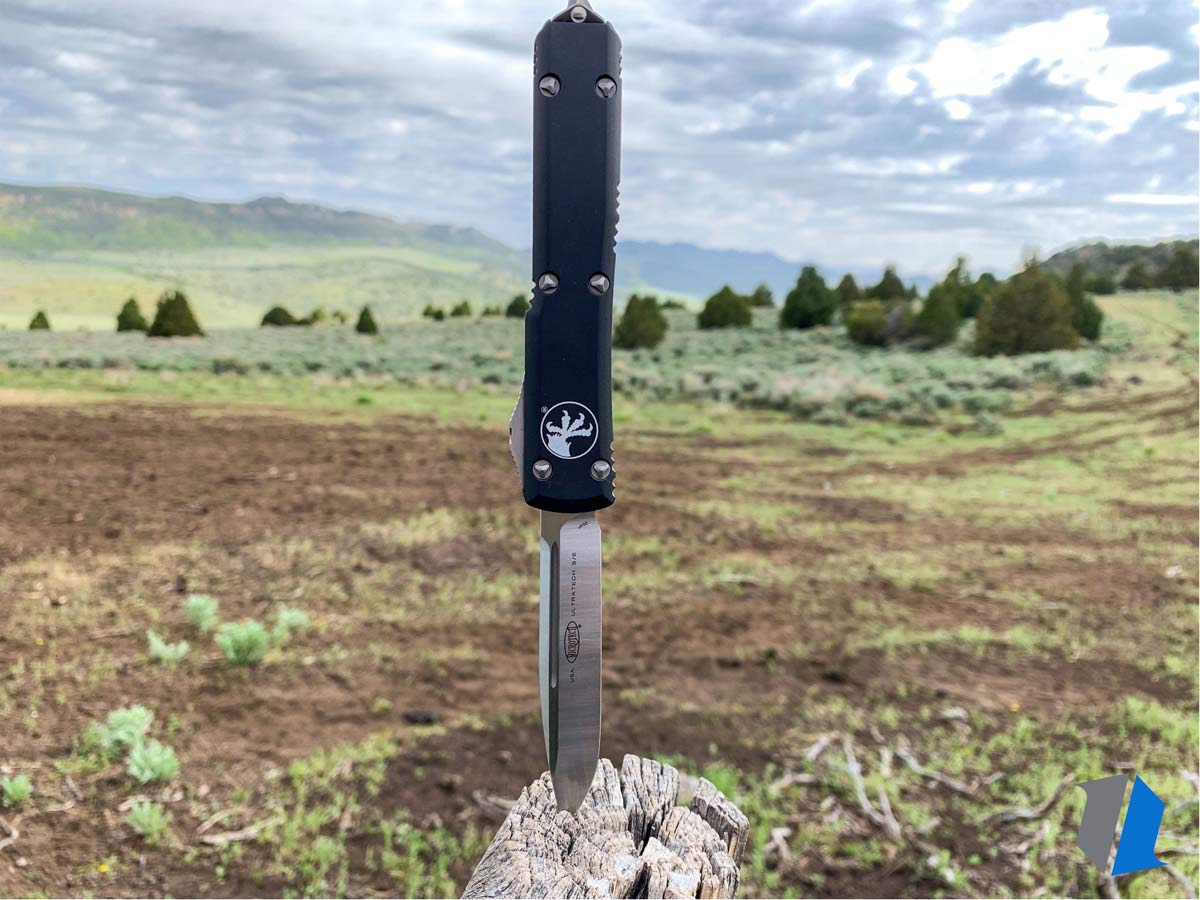 If you know premium OTF knives, you know the Microtech Ultratech. There's no question the Ultratech reigns in the top 3 best OTF knives available today (I'm open for debate!). There are many newcomers to the upper class OTF game, but the Ultratech remains standing with its premium materials, reliable action, gorgeous design, and availability in many color combos. The snappy sound of an Ultratech is music to a knife lover's ears. Plus, it's incredibly fun to play with… I mean use.
---
FIT AND FINISH
Score: 8/10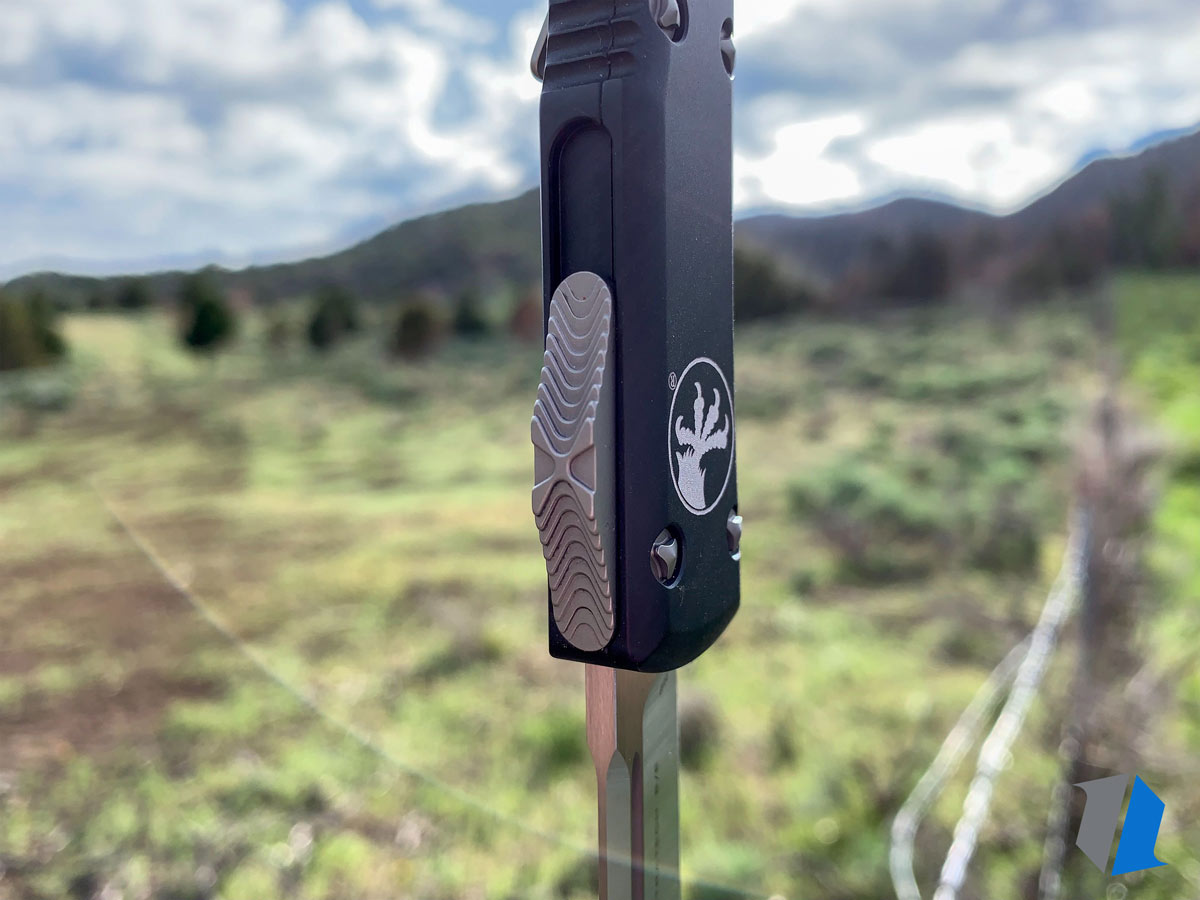 The fit and finish of the Mirotech Ultratech is great. From the four sections of jimping on the handle to the recessed screws, this knife is a joy to look at. I'm a huge fan of the claw logo on the front and the thumb slide is an attractive, useful step design that meets with a big X on the top. It's an awesome looking knife.
The slight qualm I have with not only this knife, but OTF knives in general, is the slight bit of blade play you get in the locked position. It's just the nature of the OTF locking mechanism beast. Now that that's out of the way, I will say that the Ultratech earns bonus points because the blade play isn't as noticeable, even compared to two OTFs that are more expensive. I didn't notice it until I went hunting for it, which is a very good thing.
---
ACTION AND LOCKUP
Score: 10/10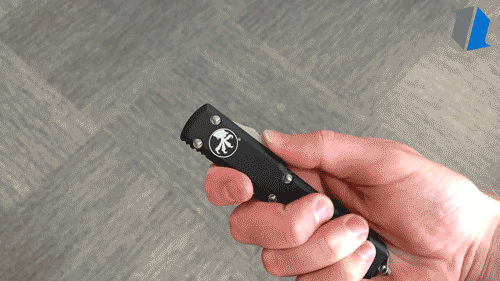 Snap, snap, snaparoo! If I had the skills to portray the sound through words, I would. Just know that it sounds amazing! I haven't had any malfunctions or off-track blades with the hundreds of times I've fired this knife over the last month. OTF knives need lube to function, and I've seen firsthand what a dry mechanism did to a new knife of another brand (blade stick and wouldn't lock up). It was nice not to have any problems with that on the Ultratech.
I was skeptical of the stiffness of the action the first few days I had it. The pattern on the thumb slide looks nice and is very grippy, but it's not kind to new thumbs in the OTF business. My thumb felt raw within a day of using it, although it feels great now. I also handed it to my wife to give it a shot, and she struggled opening and closing it, even with both thumbs! I'm sure this is intentional so there aren't any bad days from blade mishaps in the pocket.
---
STYLE
Score: 8/10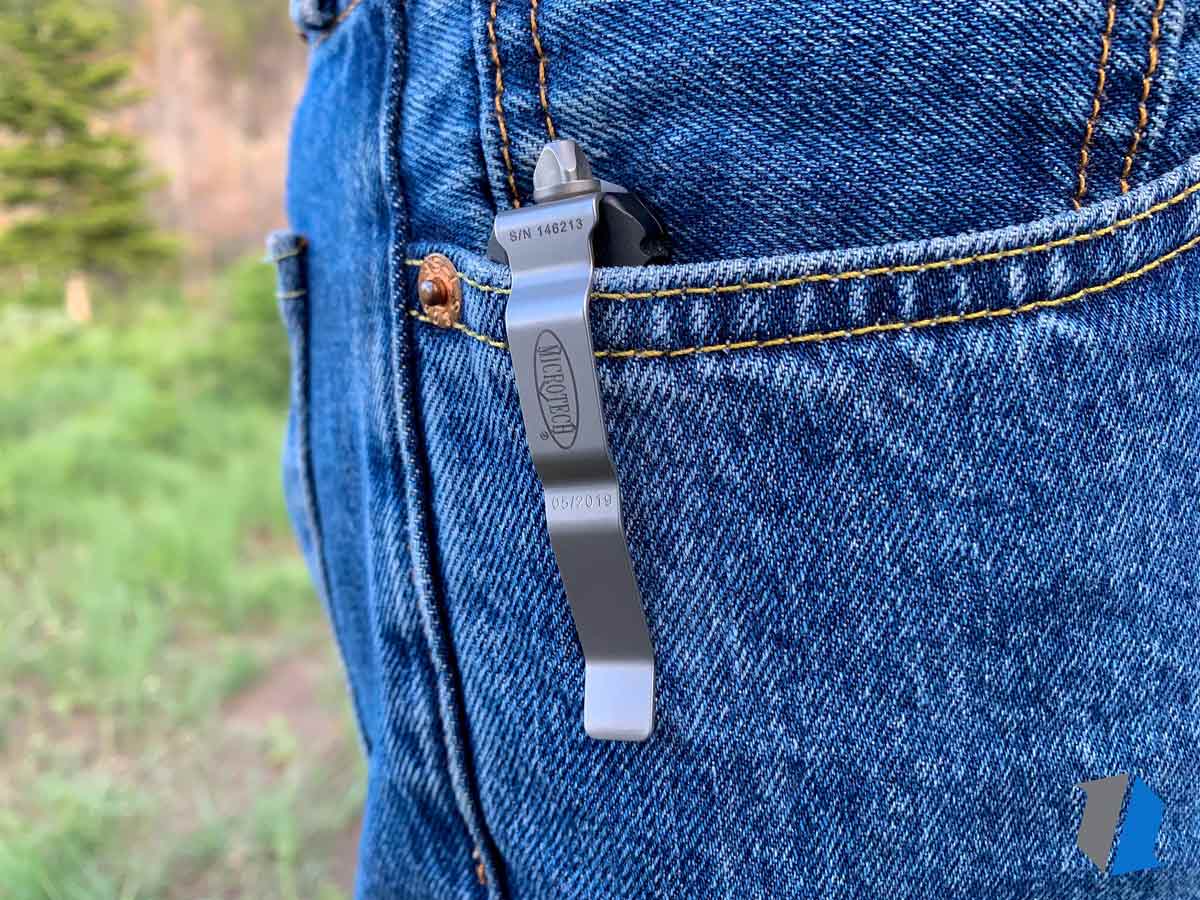 I touched on this a bit in the Importance section. For you skim readers, the style is awesome. I love the slim design, screw placement, glass breaker, blade design, etc. It's all fine and dandy.
The one style factor I don't like is the pocket clip/lanyard hole. The pocket clip felt clunky to me and wouldn't go full deep carry in my jeans with thicker denim, as you can see in the pic. I'm not a lanyard user. Maybe I'm not cool enough? I just don't like the hole sticking out on the front side of the knife.
---
EASE OF CARRY
Score: 7/10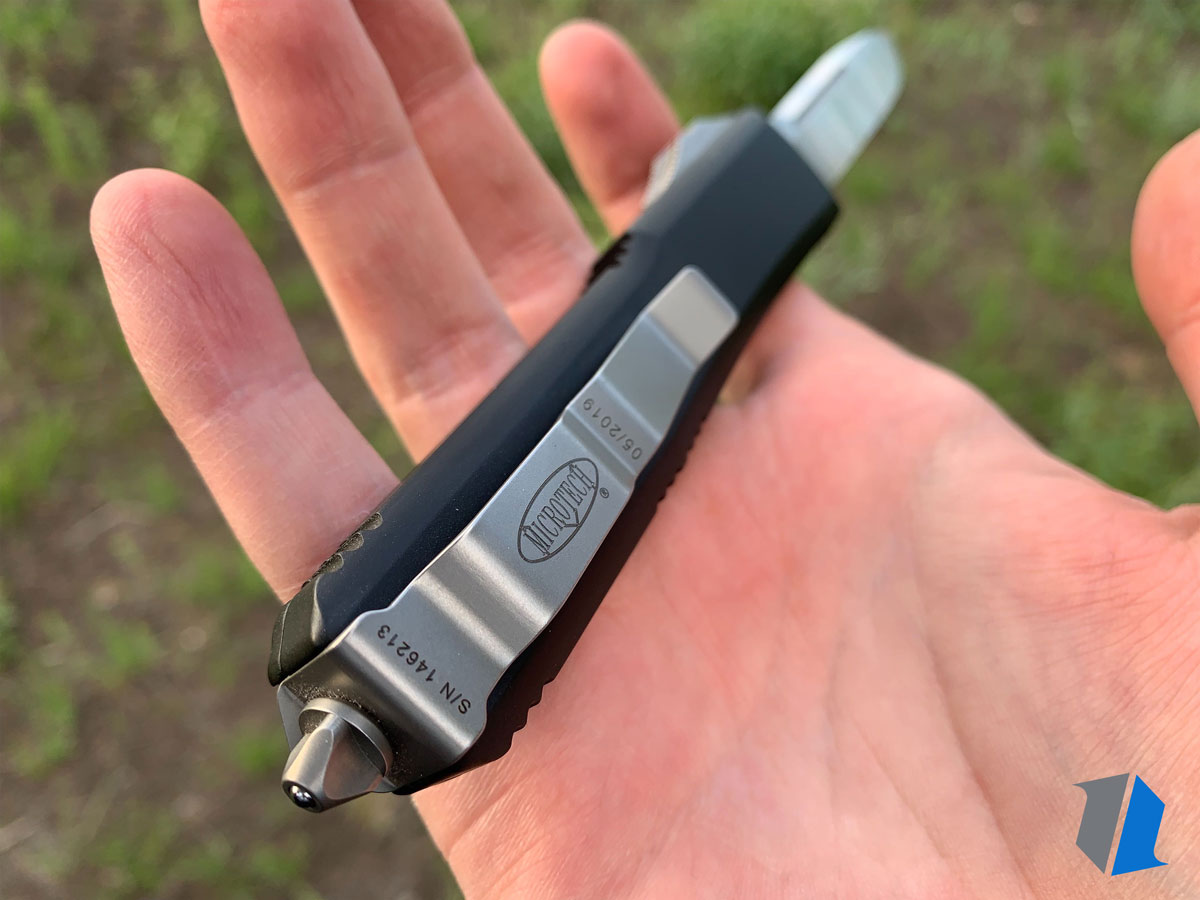 It's slim, decently light and is overall good to carry. My gripes with the pocket clip being a little clunky and only deep carry-able with thin jeans apply here. Even when it was riding deep in pocket, the glass breaker peaks over the jean pocket. This could be a plus for some, but in situations where I didn't want my knife screaming, "hey, I'm a Microtech OTF!", I had to think about carrying a more gentlemanly option. Overall, it rides nicely in pocket, but it isn't the EDC master of them all.
---
BLADE AND STEEL
Score: 9/10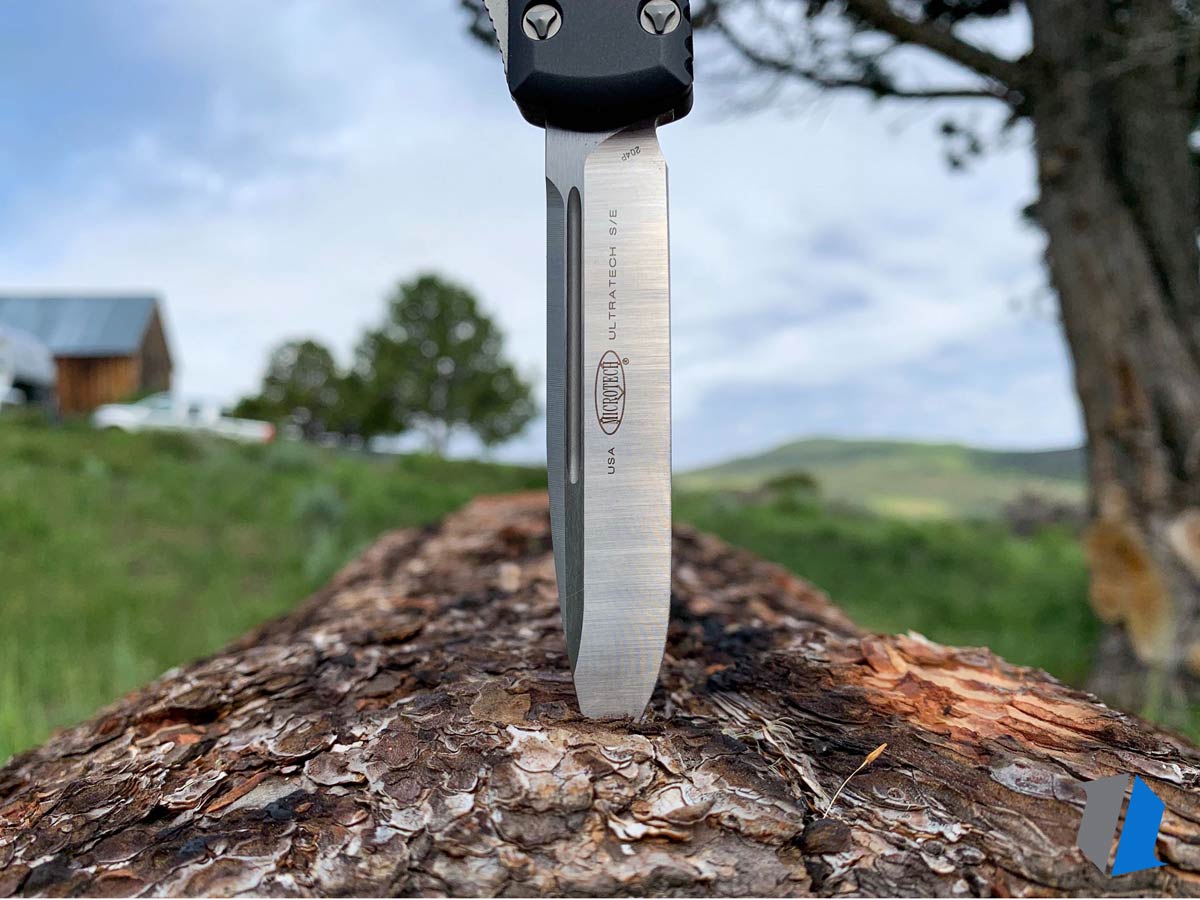 CTS-204P, Bohler M390, and CPM-20CV are essentially the same steels, just made by different companies. I have owned and used a CPM-20CV Mini Griptilian for a few years and have loved every second with that steel. I'm happy to say the same about this 204P-laden Ultratech! I'll go more into cut tests later, but I used this knife camping and with normal office use for a month and I like the blade a lot. I really like the drop point design, except for the branding on the front 2/3 of the blade. Personally, I would appreciate a more subtle approach.
---
MATERIALS
Score: 8/10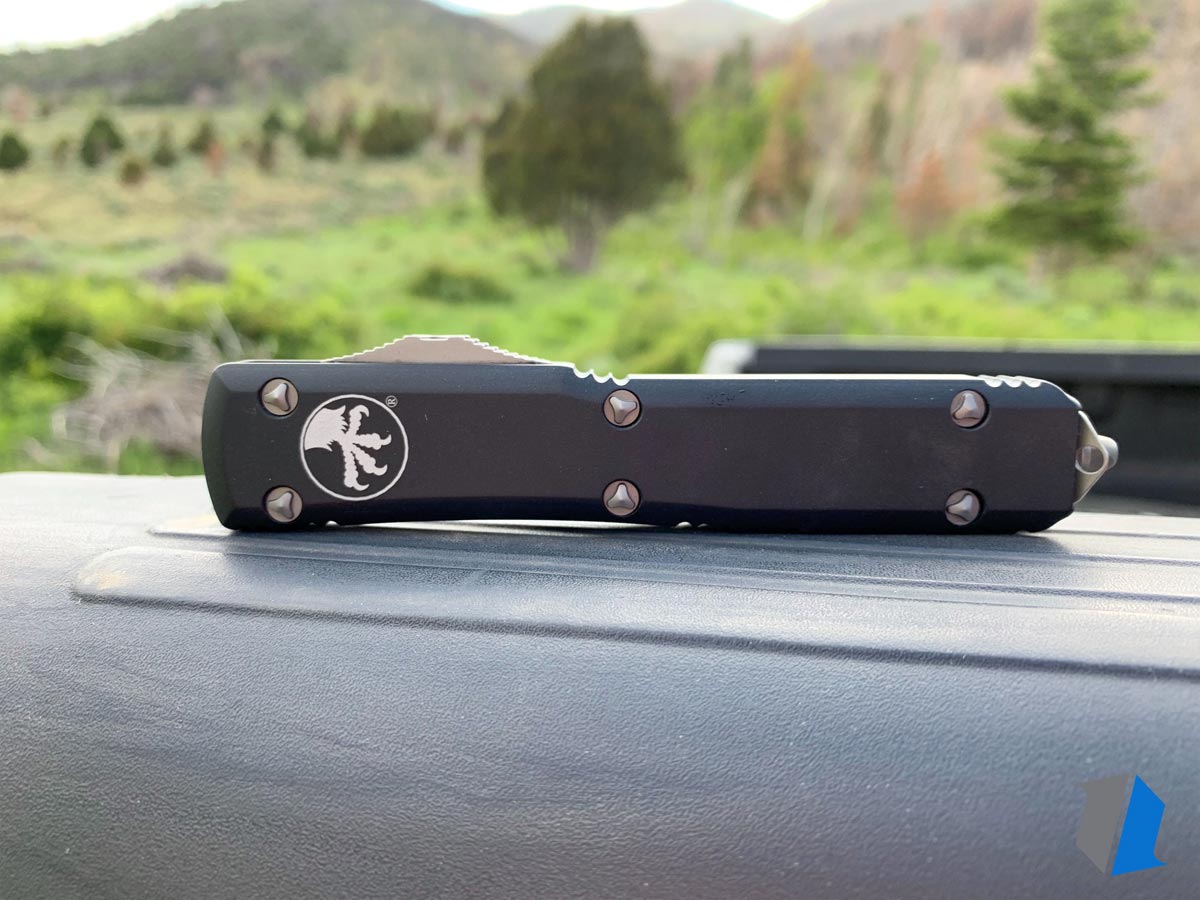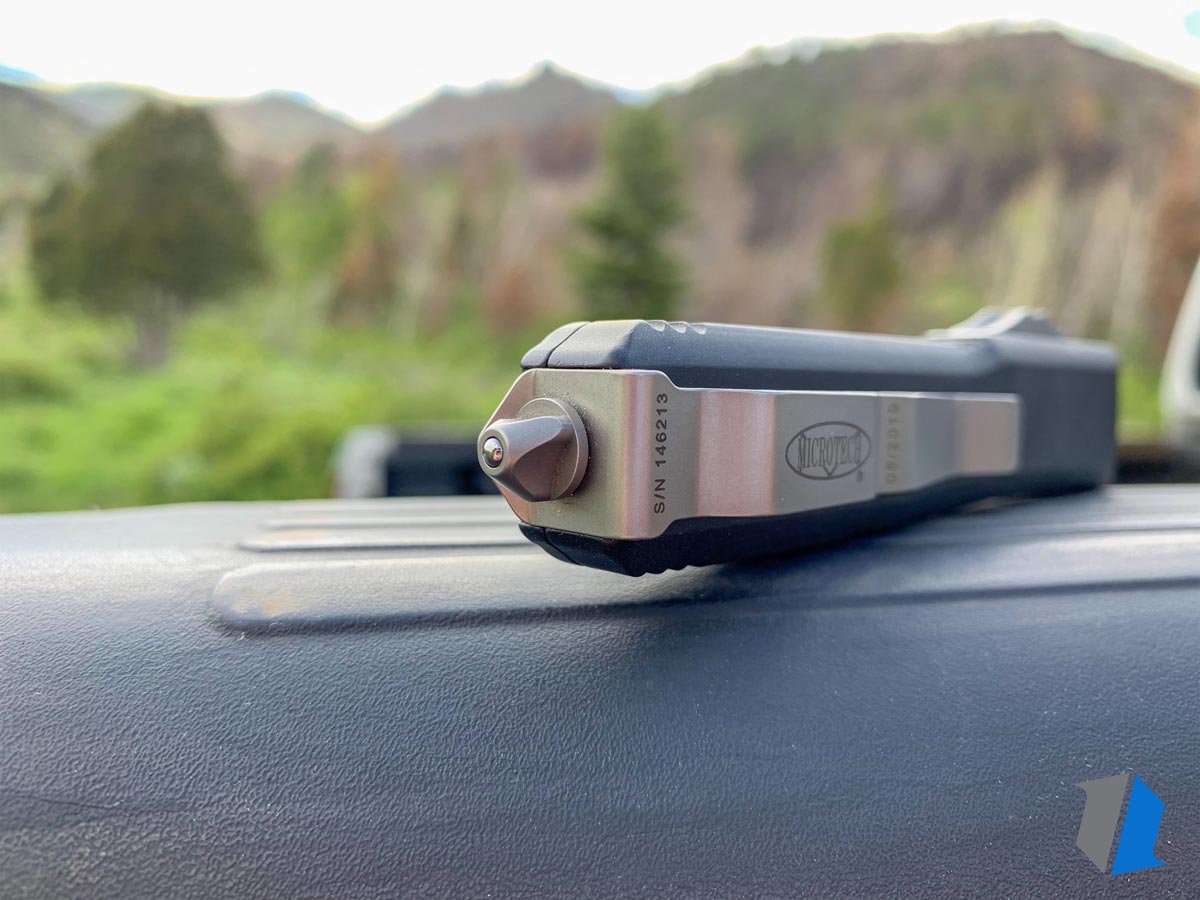 I remember a time when every Ultratech I saw seemed to have Elmax blade steel. Elmax is a great steel, but I'm happy this Ultratech has made the jump to CTS-204P! 204P offers a bit more corrosion resistance at the price of being harder to sharpen. That's a tradeoff I'm willing to embrace with arms wide open (any Creed fans up in here?).
The aluminum handle is well-made and the jimping is grippy. Colors are spot on and the knife feels very durable both in hand and pocket. The glass breaker also feels like it could go to town without a flinch.
Here's where I'm torn: Those pesky Microtech screws. They look awesome, I'll give them that, but if I had a problem out camping with the knife or just carrying it as my EDC, I don't want to worry about lugging around an extra tool if I ever needed to take it apart. Do you trade fashion sense for usability? I can't say I'm willing to.
---
ERGONOMICS
Score: 8/10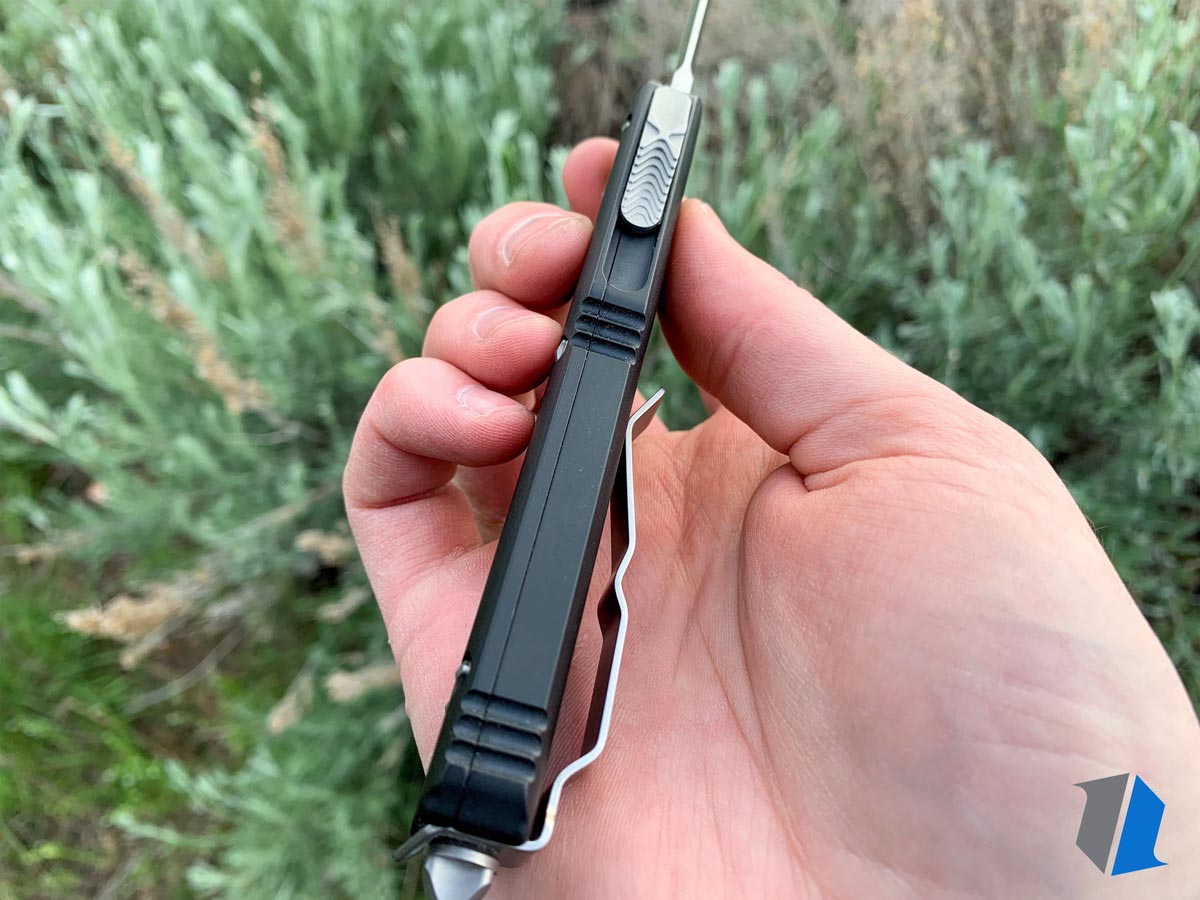 The ergonomics on the Ultratech are good for how slim it is. It's plenty grippy and fits in hands of all sizes. There are subtle curves to both sides of the knife. It's long, slim and is great when all five fingers are wrapped around it, but when my thumb was retracting the blade, it wanted to push my pinky and ring finger off the knife. It's not uncomfortable, but takes a little getting used to because it's a different style of knife.
---
CUT TESTS
Score: 10/10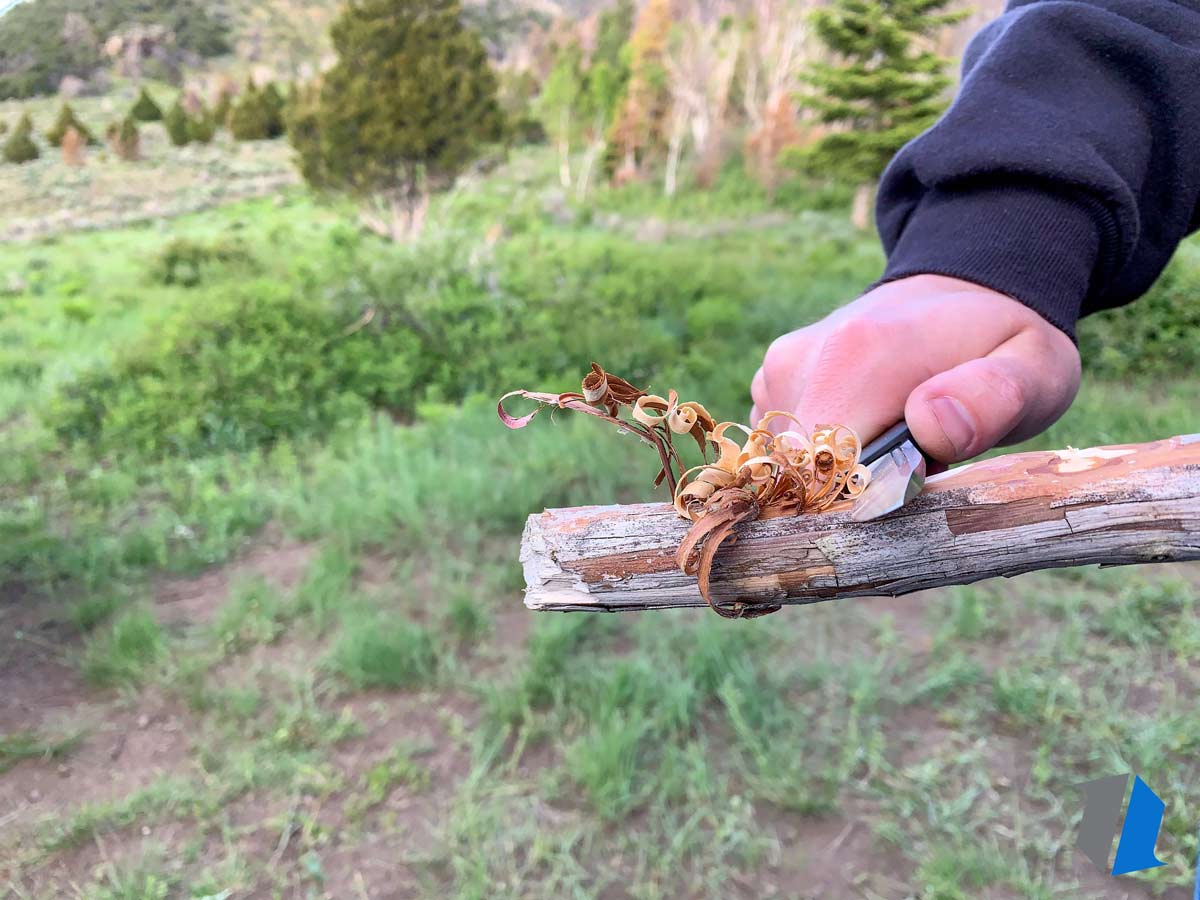 Microtech knives have some of the prettiest, thin grinds available on the market! This Ultratech sliced everything I wanted to with ease and made light work of whittling dried out wood. The stock of the blade is pretty thick, which allows for heavy use when needed. Pair that with an extremely sharp, thin grind and you've got yourself a heck of a blade. The CTS-204P held up easily to a month of use and is still very sharp.
---
POCKET JEWELRY
Score: 10/10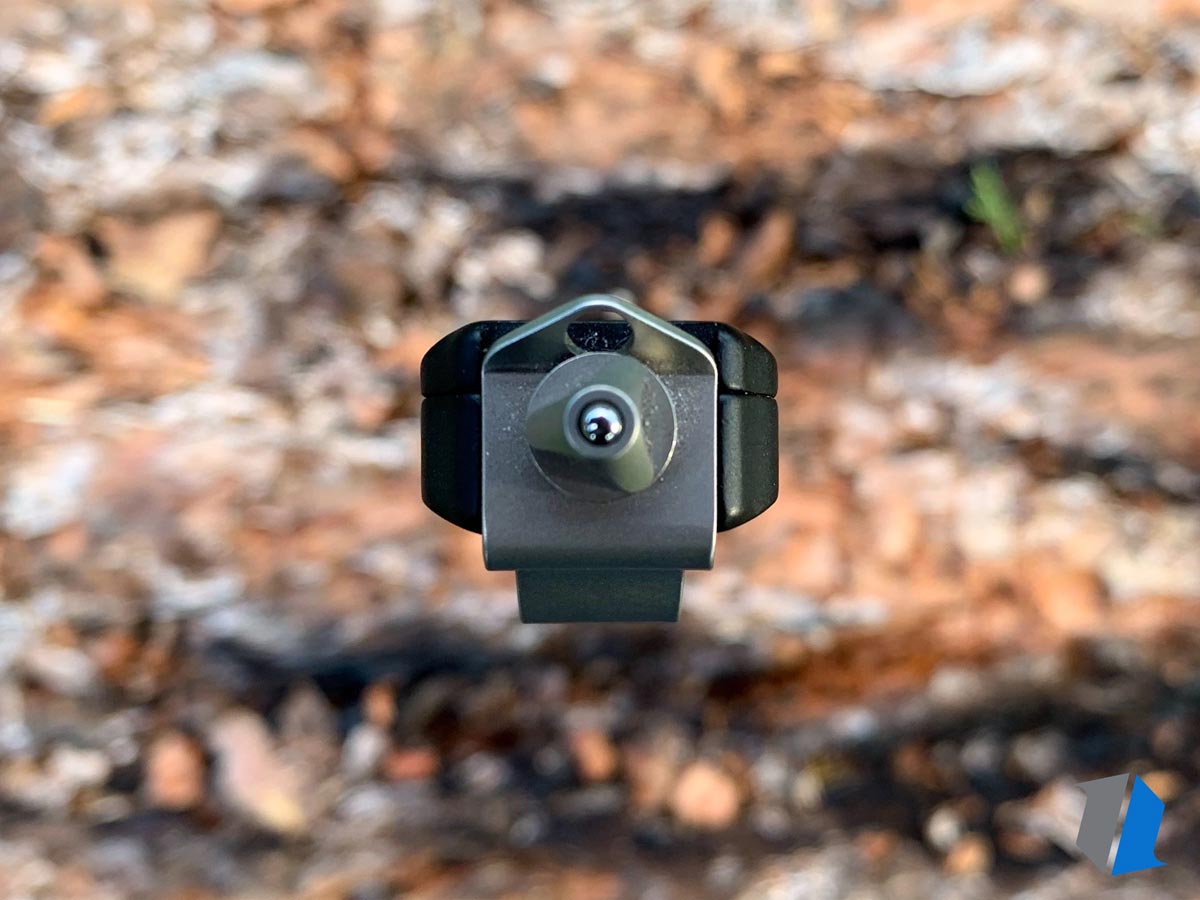 Microtech does an awesome job appealing to every personality. You want tactical black? Got it. Neon pink or deep turquoise? Check. There have even been some Star Wars-themed Bounty Hunter, Storm Trooper, and Jedi models in the past.
The blade style selection on the Ultratech line is extensive and every one of them looks great. The Ultratech reviewed here was the base model and I had no complaints on how it looked. Microtech knows pocket jewelry!
---
TOTAL KNIFE LIFE SCORE:
87/100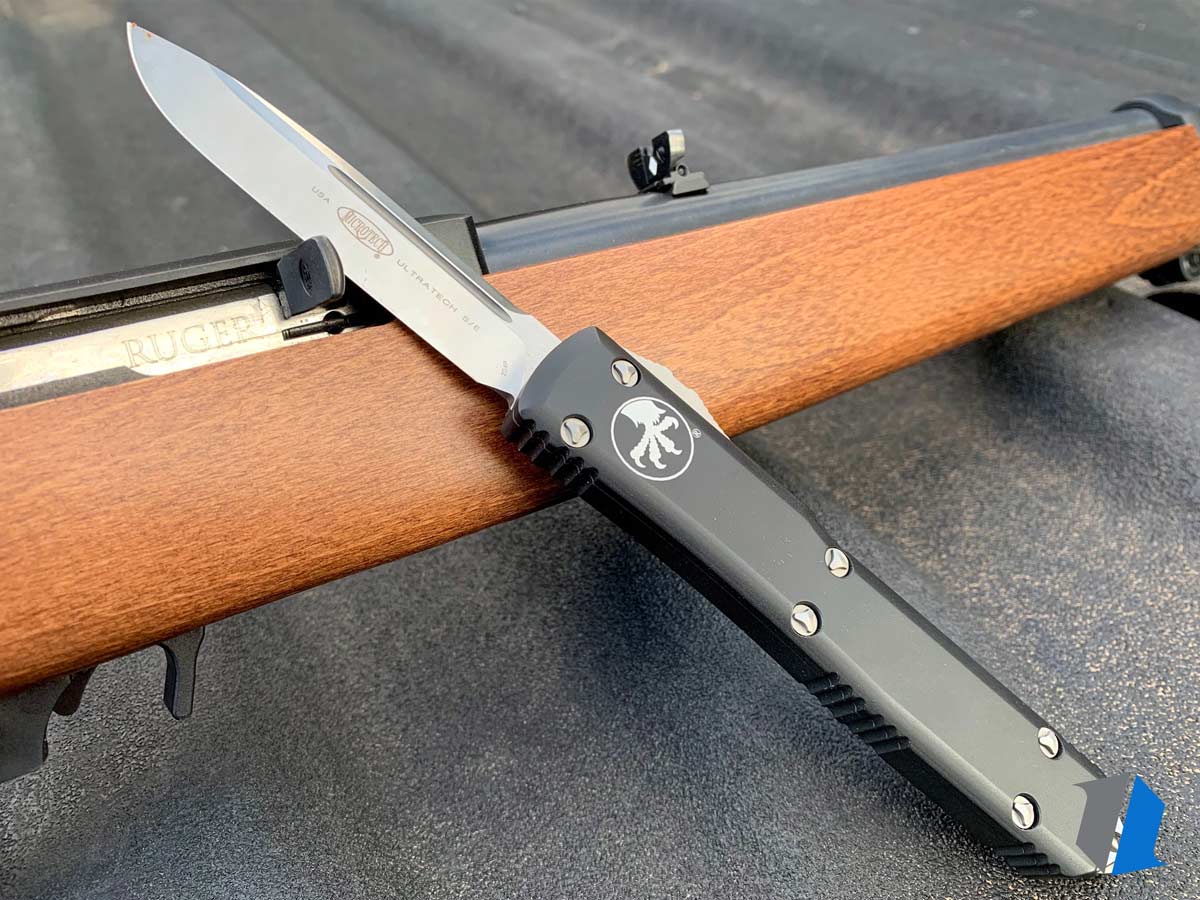 The Microtech Ultratech deserves all the praise it gets. I came into this review of the Ultratech without ever having carried an OTF knife, but came out of it wanting one! I love how skinny the Ultratech is, but the smaller 3″ blades just speak to me. In comes the Microtech UTX-85!
There's a stigma around OTF's that they can't be used like regular folders. If you've heard that, check out our video of the Ultratech being put through the paces.
---
UTX-70 vs. UTX-85 vs. Ultratech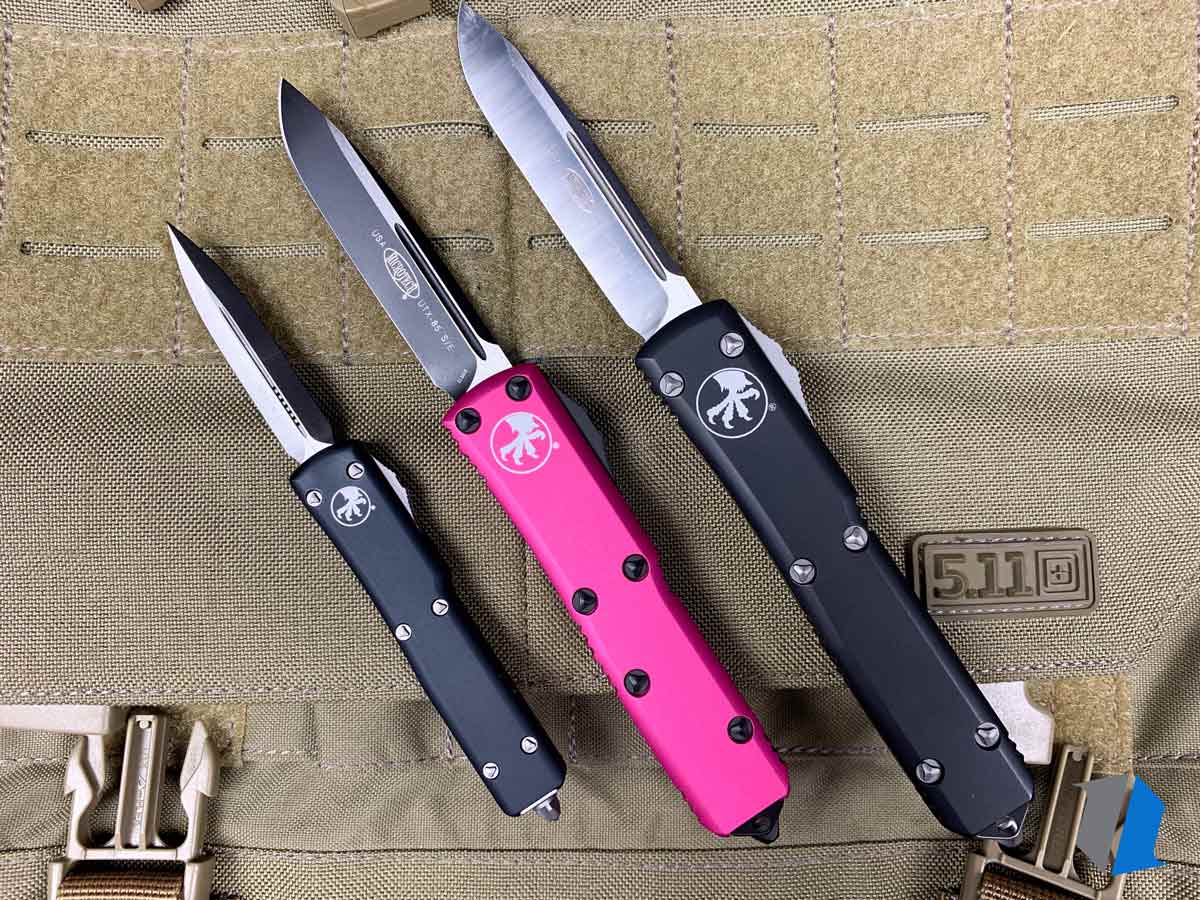 Microtech makes OTF knives in all sizes. Yes, ALL SIZES! Three very popular models are the UTX-70, UTX-85, and the Ultratech. The 70 is 70% the size of the Ultratech, and you guessed it, the 85 is 85% of the Ultratech. After carrying the big boy for a month, I pulled a UTX-85 off the shelf and decided it's the perfect OTF size for me! Unfortunately, pink was one of the only flavors available at the time, but you can bet on me lining up for our next shipment of blue or OD green 85's to roll into our warehouse!
---
CONCLUSION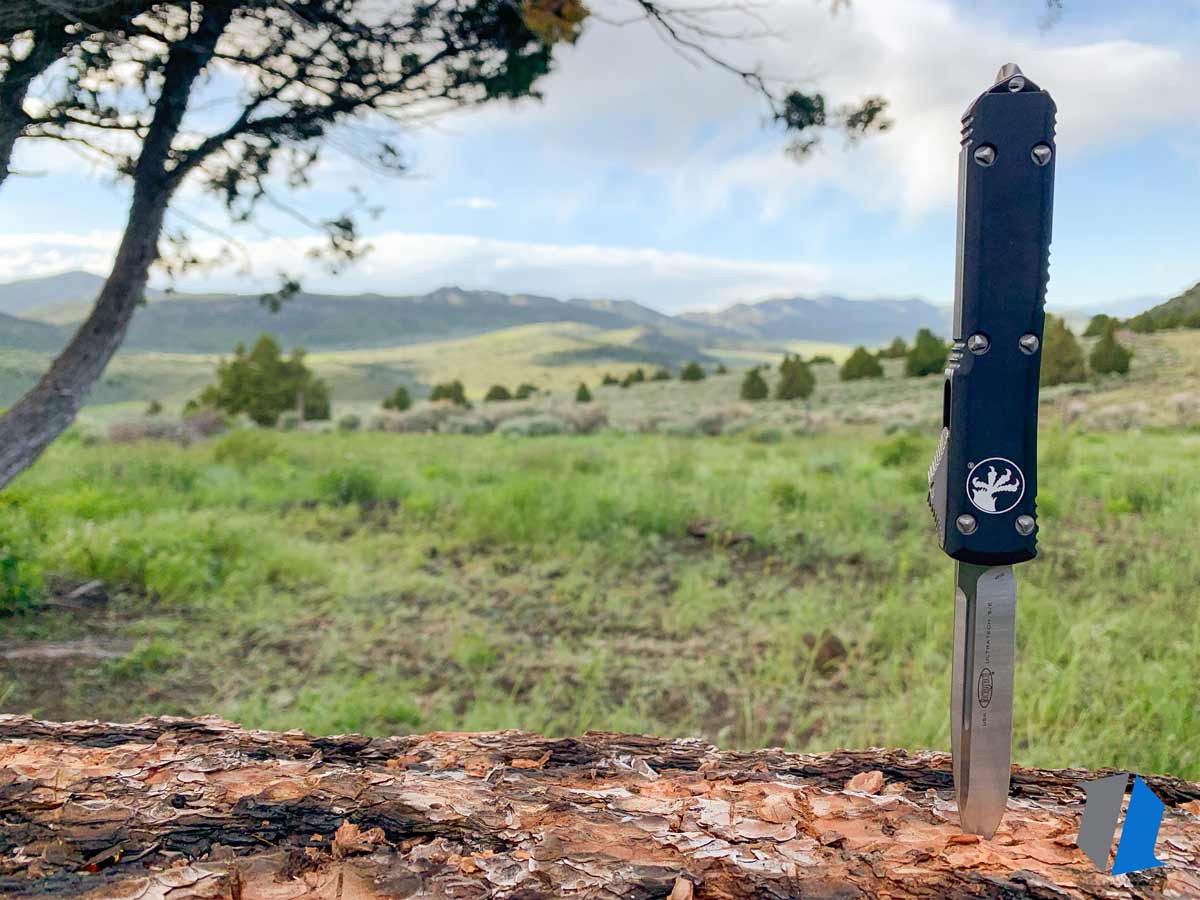 The Ultratech is an amazing knife! I tried to be as honest as I could through this review process, and I stand behind every word I wrote. The Ultratech was such a fun knife to carry and I was impressed with how it functioned with every slide of the switch as it held up to my endless fidgeting. I can see why Microtech is such a popular knife brand.
If you're on the fence about dressing up your collection with an Ultratech, what's holding you back? I'd love to hear about it and answer any questions you have at tbrown (at) bladehq.com. Also, feel free to let me know what you love or hate about this knife! See how the Ultratech stacked up in our Best American Made Knives article for more info.
---
OTHER KNIFE GUIDES