Neck knives are on the rise! Slowly, through the years, neck knives have been climbing the blade ladder. They have been improving in quality and features. They are lighter; their edges are sharper longer; they're more durable and they come in different shapes and sizes that will accomodate your personal style. Neck knives are mainly utilitarian that have both outdoor and indoor uses, but they can also be used for non-utilitarian purposes if desired.
Today, let's focus on my Top 6 Skeletonized Neck Knives:


#6 – H&K Snody Fixed Blade Instigator Neck Knife w/ Kydex Sheath:
This neck knife has many unique features. Not only is it a chisel grind blade, but it is also a wharncliff (AUS-8 steel). The straight blade makes it really simple to sharpen. You might think it would be cool if you could stick your fingers through the handle and have knuckles too. However, it is pretty hard to do unless you have slender fingers. It is BP1 coated to prevent corrosion. Also, it feels really good in your hand with very nice jimping on the spine of the blade. The overall length is 7.5" with a 3.25" blade.
#5 – Ka-Bar ESEE Becker Eskabar Neck Knife BK14 Fixed Blade:
This knife was made by both Ka-Bar and ESEE. It looks very similar to the Izula by ESEE with an obvious Ka-Bar style blade. This knife comes with a 1095 Cro-Van steel blade (3.25"). It comes in at 7" long and has an amazing weight of just 3 oz. This knife is built to last and will suffice any type of need you might have for a neck knife.
#4 – Ka-Bar TDI LDK Neck / Boot Knife w/ Sheath:
The TDI LDK (Last Ditch Knife) is an amazing little knife. At first look you might think that this is a weird shaped knife that won't feel good in your hand. Despite its awkward shape, this knife does feel really good in your hand. The elbow shape makes it easier to get into some tight places. and it growns on you really quick. The grind is straight making it really easy to sharpen if needs be. It is only the size of a credit card (3.7" overall with a 1.5" blade) and can be carried many different ways. You can lace it into your boot, wear it around your neck or tuck it inside a belt. Ka-Bar has included an ABS sheath with this knife. This knife will become your constant companion.


#3 – Microtech MANUS Neck Knife Green Fixed Blade:
This polymer green coated knife is very light and durable. It features a D2 steel blade. My favorite thing about this knife is the sheath. It has a thumb-pad quick-release to pull the blade out. Not only does it look good, it feels even better when you hold it. It has jimping on the spine and in a few spots around the handle to ensure traction. These are difficult to find, so if you find one you should snatch it up. It is 5.75" long with a 2.4" blade.
#2 – TOPS Knives FDX Skeleton Spear (or Hunter) Point Knife Fixed Blade:
The TOPS FDX Skeleton is a very solid knife (handcrafted in the USA). FDX stands for Field Duty Extreme. This knife is a very useful knife. Not only is it one solid piece of 1095 carbon steel, it is light and is comfortable to hold. TOPS did a really good job on this knife. It is meant to be carried at your convenience. Whether it being in a backpack, on you belt or around your neck. As you can see, this knife can come with a hunter or spear poing blade. It can come in a easy-to-find code yellow as well as black. It is possible to get micarta handles for this knife. The overall length is 6" with a 3" blade.
#1 – ESEE Izula with Kit Extras:
Hands down, this is the best neck knife out there. How about a short entomology lesson? (I know you want one.) The Izula got its name from the nastiest ant of the jungle that the locals call the "Izula". This Peruvian ant is also known as the Bullet Ant. One bite from the Bullet Ant feels like being shot by a real bullet! (I can't confirm that nor would I want to). This little ant has one of the most painful bug bites in the world. Now back to the knife: The skeletonized handles make it very easy to wrap your own paracord design through them. If you prefer something more sleek, they make micarta handles for the knife. It has a razor sharp 1095 carbon steel 2.88" blade with jimping on the spine for thumb traction. It fits smoothly in your hand even though it's only .156" thick. The overall length is 6.25" which is plenty of room for a really good grip. However if you want something more to hold on to, I suggest the Izula II which has a 1/2" longer handle with full micarta scales. The Izula comes in lots of different colors including black, gray, OD green and desert tan. Some companies even have more intense colors like red, venom green, orange and a few others. If you are looking at buying an Izula, I suggest getting the model with the kit extras. This kit comes with a lot more bells and whistles.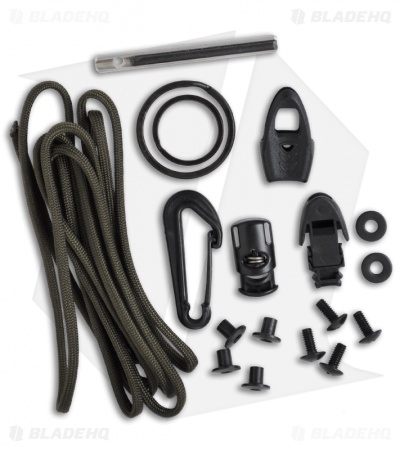 The complete Izula Kit includes: Ambidextrous Sheath, Sheath Clip, Paracord (for cord wrapping handle or use as a lanyard), cord lock, Snap (for snapping system on to outdoor gear), Split Ring, Fire Flint, Whistle, and Instruction Sheet.
There you have it! They are light, durable, and–dare I say it–sexy. Any of these knives would be a great addition to your collection.