Update!
Benchmade has released the specs for their model 62 butterfly knife. While the price isn't where we hoped it would be, the specs look excellent. Here's a lowdown of all the info available from Benchmade:
Benchmade announces the Model 62 Balisong Knife for 2012! The BM 62 knife features a D2 Tool steel Weehawk blade with razor sharpness. The handles are skeletonized to reduce weight and sport a polished stainless steel finish. Sandwich style construction with stainless steel back spacers. The 62 Bali also features Zen pins and the classic T latch to secure the knife open and closed. Made in the USA.
• Practical Weehawk Blade Shape
• Skeletonized Handles
• T Latch for Easy Open
• Unparalleled Benchmade Fit and Finish
Specifications:
Blade Length: 4.25" (10.8cm)
Blade Thickness: 0.127" (3.17mm)
Open: 9.20" (23.4cm)
Closed: 5.27" (13.4cm)
Weight: 6.39oz (181.15g)
Sheath Weight: 0.64oz (18.0g)
Handle Thickness: 0.48" (12.40mm)
---
Benchmade balisong fans rejoice! Rumors had already rum rampant about Benchmade's new butterfly knife and today they confirmed those rumors on their Facebook page. Here is the first glimpse of the Benchmade 62 balisong:
Although we don't have any technical specs like size and weight we can still extrapolate a great deal from this picture. The 62 is obviously inspired by the deceased Benchmade 42 and so we would assume that the specifications will be similar. However, looking at the 62 (above) compared to the 42 (below) it may actually be a little shorter than the 42 (the distance from the last hole to the base of the handle seems shorter on the 62, but it could also be a perspective issue). We can see that the design on the 62 will be sandwich construction (as opposed to channel on the 42). The zen pins remain in place and we would guess that the latch incorporated some type of spring to hold it in place (away from the handle).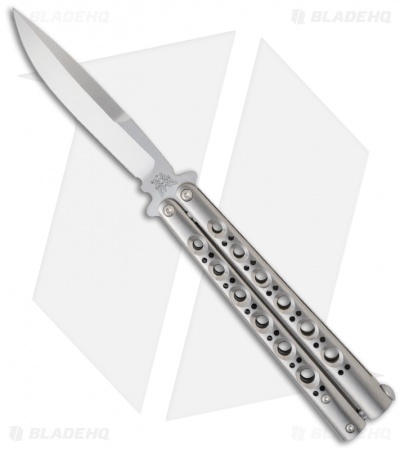 The 62 is rumored to be made from stainless steel. Given the heavier nature of stainless we'll be curious to hear how the knife flips in actual practice (the 42 was titanium and the knife was considered the epitome of balanced perfection by many). Some of the stainless models like those from Bradley Cutlery (the Kimura series) have been very popular. Hopefully the stainless sandwich design allows for a friendly price tag too, since steel is considerably cheaper than titanium.
We should have all the answers to these questions shortly! One thing we know for certain is that there will be a lot of happy Benchmade and Balisong fans celebrating the New Year.
-BK