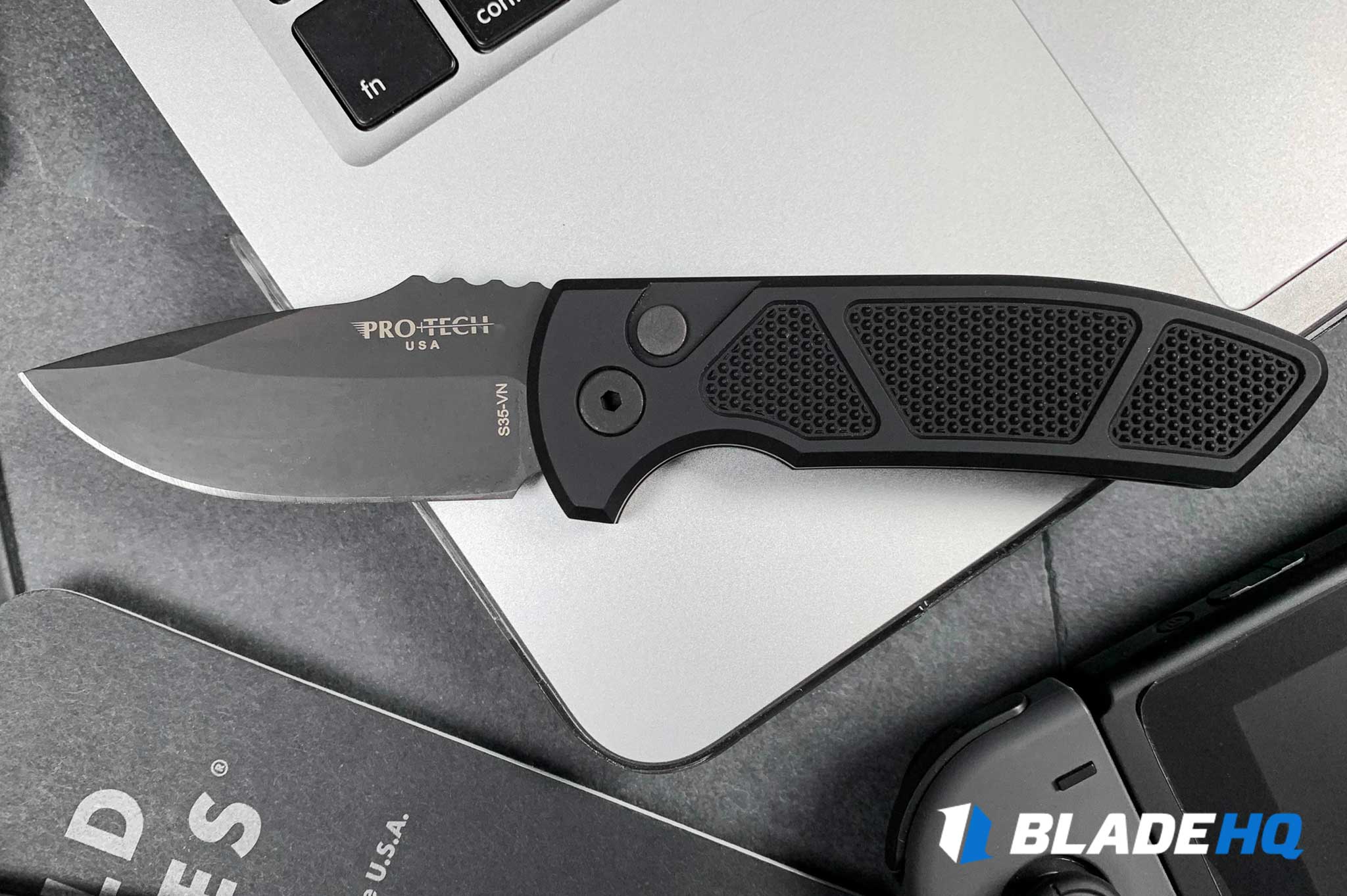 It shouldn't come as a surprise that the Pro-Tech SBR (Short Bladed Rockeye) is on our list of knives to review this year. It's one of those knives that can bring an ear-to-ear grin to a grown man's face every time it's opened. The SBR's quality construction, stout looks and snappy action set it head and shoulders above many other small automatic knives. In this review we break down the good, the bad and the ugly of this pint-sized pocket rocket. We'll look at its features and give it an overall Knife Life Score. Let's go!
First let's run through the stats…
6.50" Overall Length
2.625" Blade Length
Drop Point Blade
CPM-S35VN Steel
6061-T6 Aluminum Handle
3.05 oz. Weight
Button Lock
Les George Design
Made in USA
Shop Pro-Tech SBR Automatic Knife
KNIFE LIFE SCORE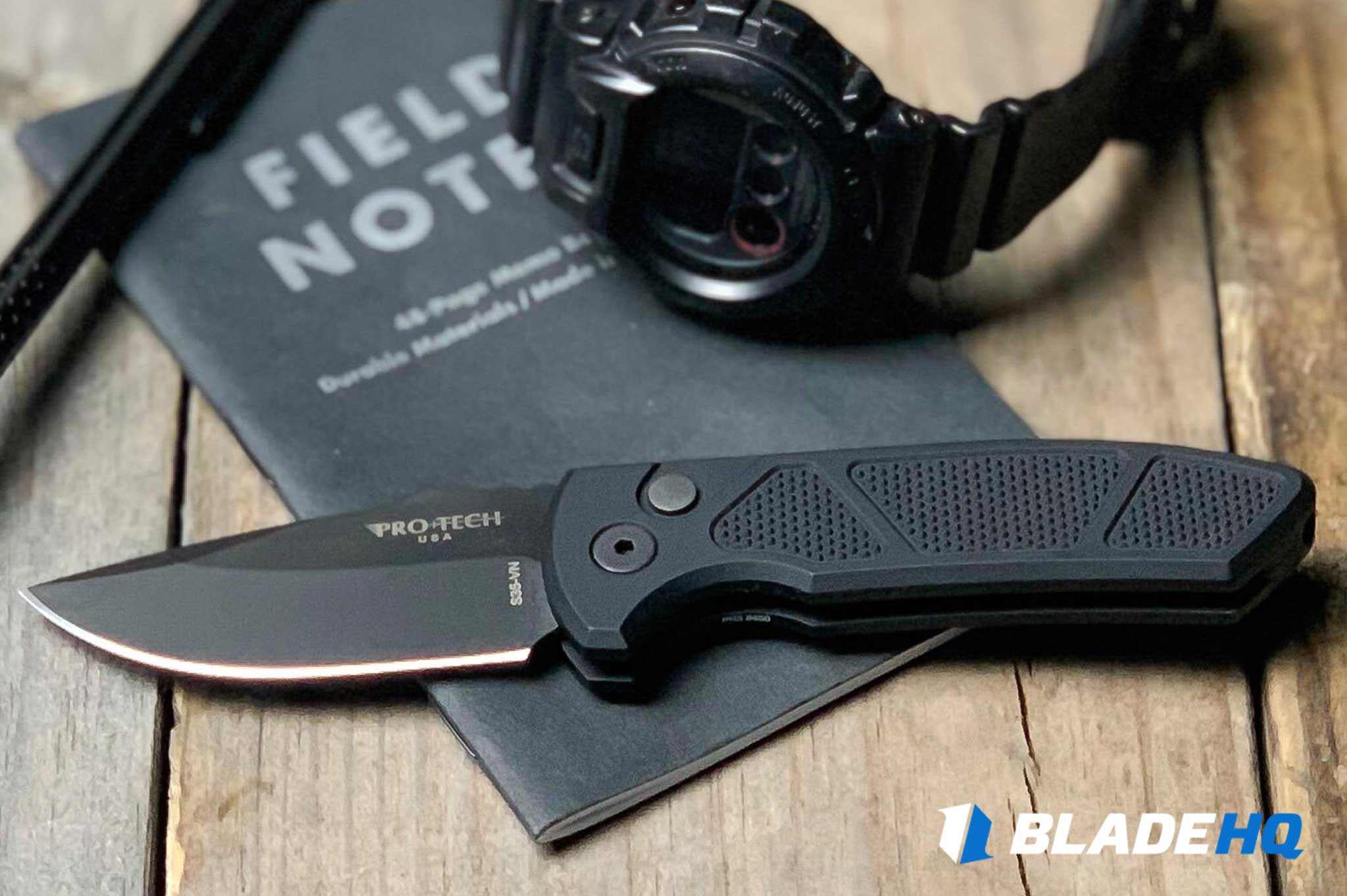 Knife Life is all about representing your personality and passion through the knife you carry in your pocket everyday. Quality and performance are key. Tasteful design and ritzy details are also important. You can be confident carrying any knife with a high Knife Life Score.
UNIQUENESS / IMPORTANCE
Score: 7/10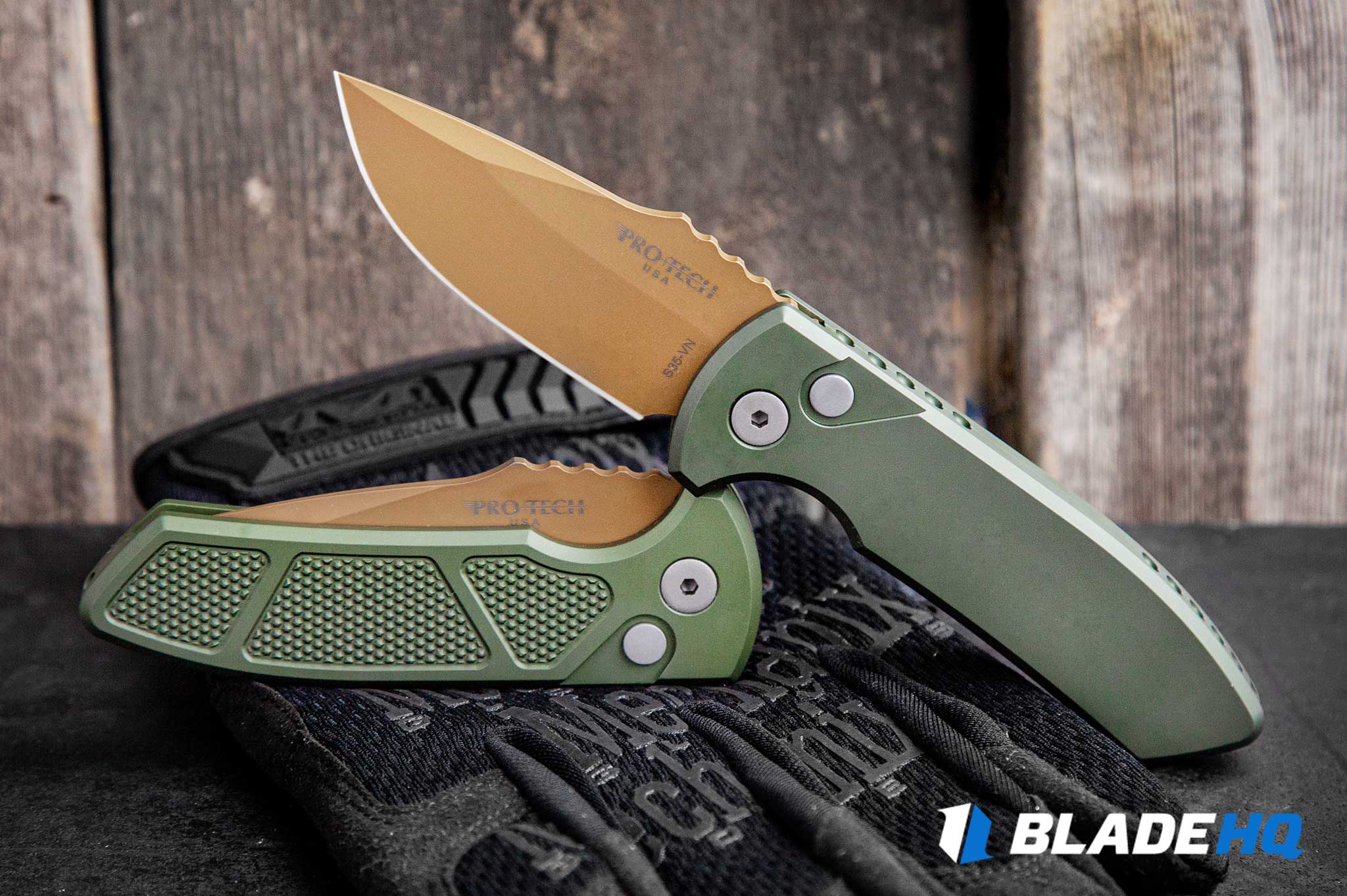 Some knives are well known in the knife community for their rich history, innovative features or general "cool factor". These knives change the way people think and talk about knives. They tend to influence and shape the knife industry going forward. The Pro-Tech SBR isn't by any stretch the most ground breaking or earth shattering knife to make its way onto pockets, but there are some key things about it that have created a buzz among knife enthusiasts. First, the knife is another incredible design from Les George. His knack for combining clean design and top-tier function shine bright with the SBR as it looks great and performs incredibly. Second, the SBR entered the market at a time when everyday carry (EDC) and pocket-friendliness, if you want to call it that, are two major aspects of choosing a knife. The SBR's small size makes it great for everyday carry while its beefiness makes it great for hard use.
---
MATERIALS
Score: 10/10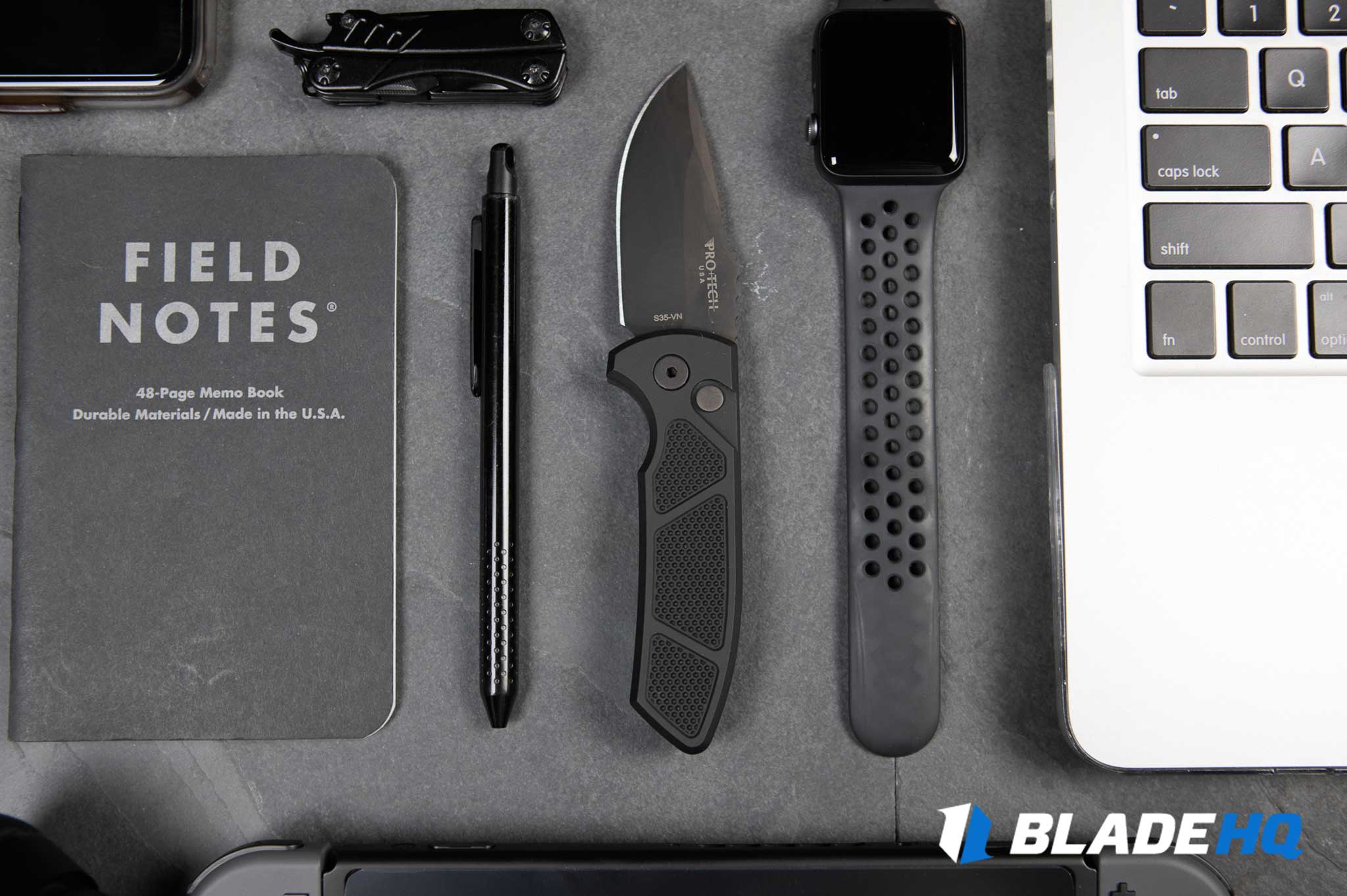 If you are familiar with Pro-Tech knives, you know most feature a 6061-T6 aluminum handle and a 154CM steel blade. The SBR follows suit with a high-quality aircraft aluminum handle, but boasts an upgraded CPM-S35VN steel blade. With the addition of premium blade steel, the SBR is one of Pro-Tech's most EDC friendly knives. Low-maintenance and reliability come standard thanks to these quality materials.
---
LOOK / STYLING
Score: 10/10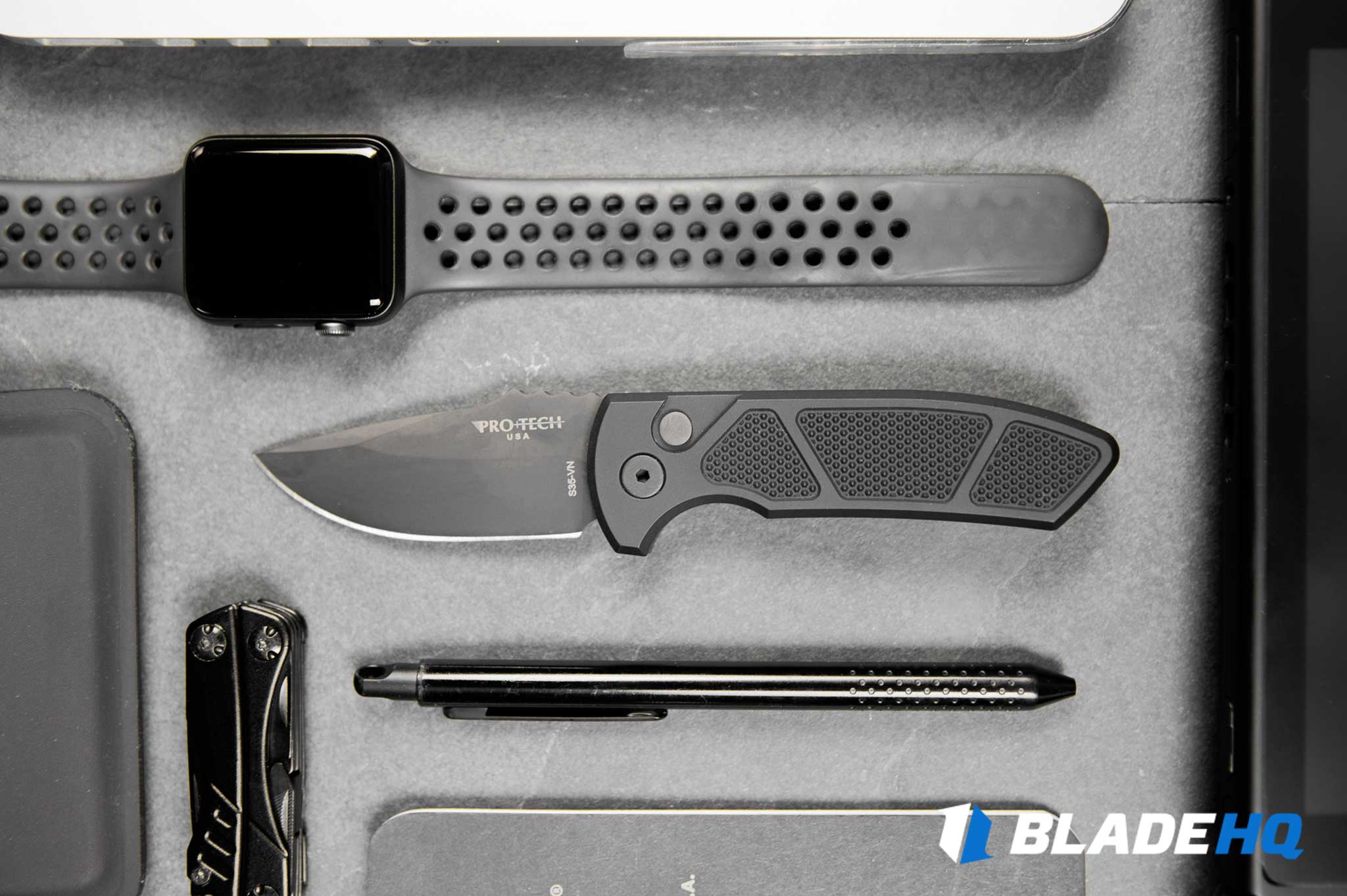 One thing we absolutely love about the SBR over many other knives we've reviewed recently is the way it looks. There are all sorts of sayings about opinions, but there is something to be said about this knife's general shape and design that most people will agree looks amazing. The SBR features a beefy handle in both smooth and knurled textured variations. Its short, big-bellied drop point blade is looks aggressive but is highly useful. Robust thumb jimping on the spine gives this knife extra grip during use and adds even more to the look of the knife. The SBR is available in standard black, OD green, blue and American Flag color ways.
---
ERGONOMICS
Score: 9/10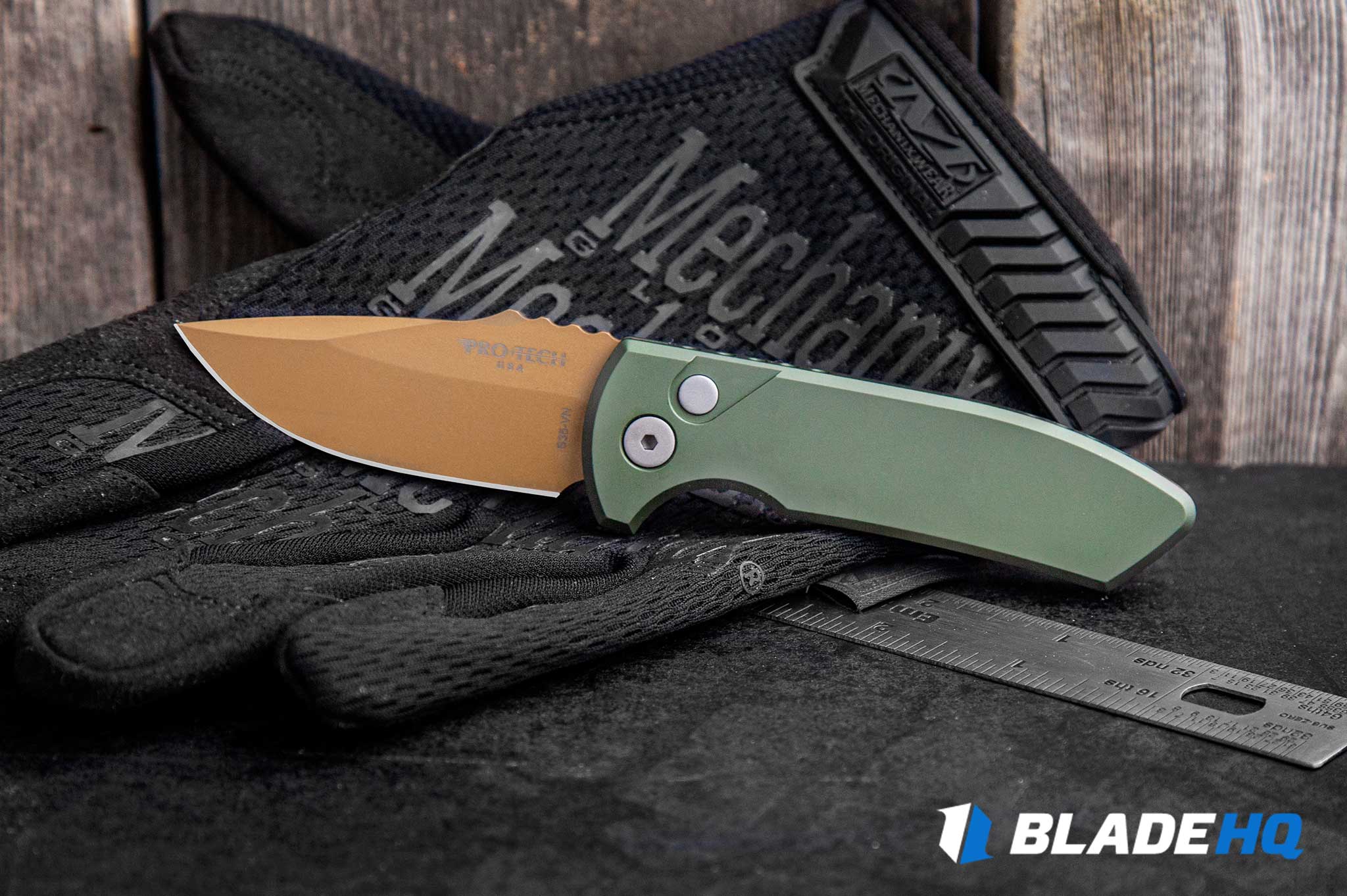 The SBR feels great in hand. Its profiled handle, grippy knurling and thumb jimping make it easy to handle while maintaining stable control during use. Thanks to a large finger choil it is give the user great handle purchase despite the knife's shorter overall length. One fault we found with the SBR (and it really could just be the way our hands are shaped here at BHQ) is a hotspot caused in the palm by the pocket clip. Other than that, the knife is comfortable to use. The pocket clip is sturdy and helps the knife to sit deep in pocket and out of the way. Overall this knife is well designed to fit most hands. Anyone with large or extra large hands may not love the knife for heavy use, but it would make a great small knife to carry.
---
Deployment / Lockup
Score: 10/10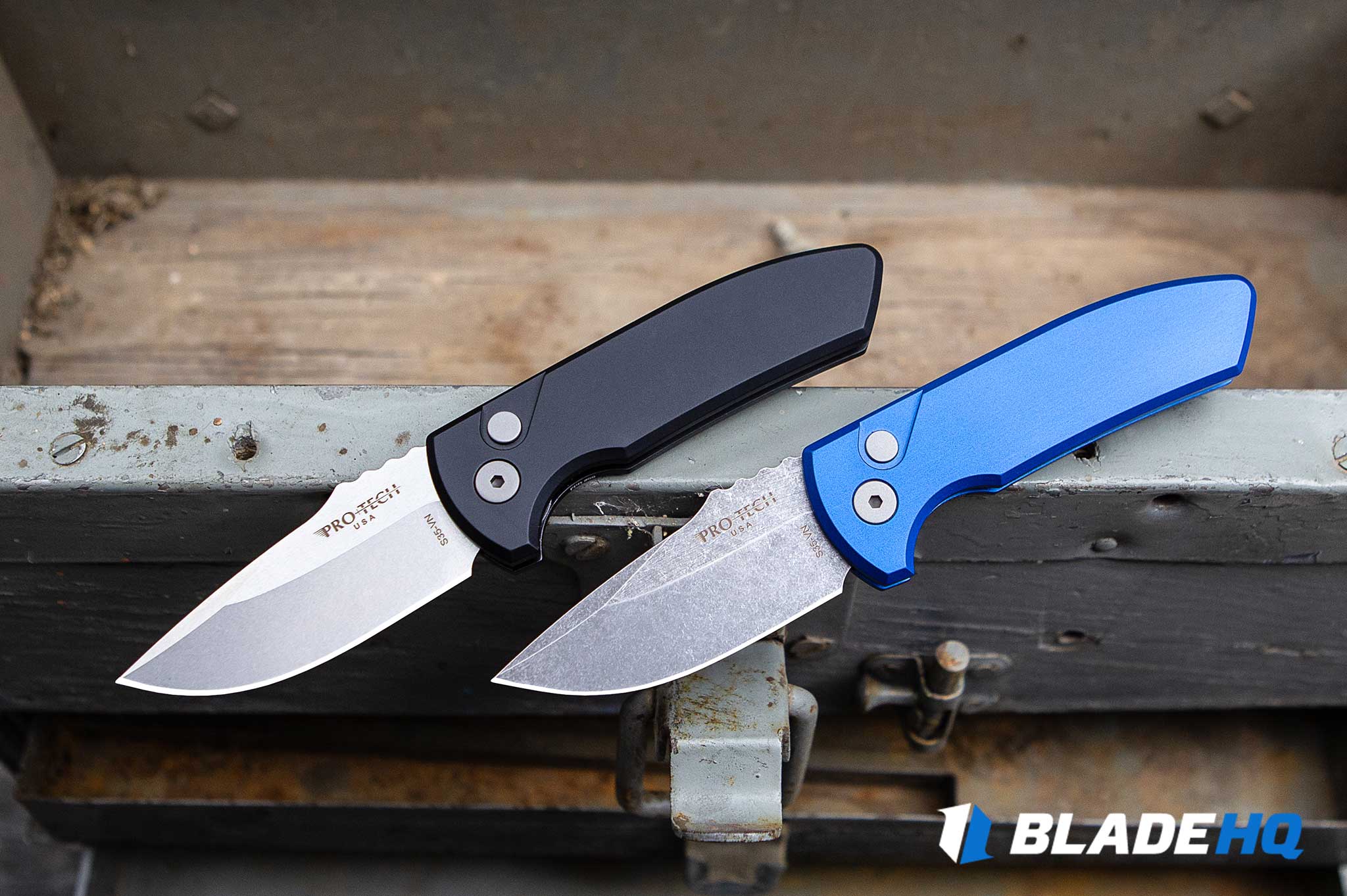 After carrying the Pro-Tech SBR for a while, our absolute favorite thing about it is its rock-solid automatic action. Every time the button is pushed on this knife it delivers a satisfying snap. Thanks to this knife's handle to blade-weight ratio, the blade fires with authority but doesn't feel like it will fly out of your hand. The lock-up on the SBR is incredible and I never felt like it was going to fail even during heavier use. There is seemingly no blade play when the blade is deployed and this knife is built with such tight tolerances there likely won't be any.
---
BLADE / SHARPENING
Score: 8/10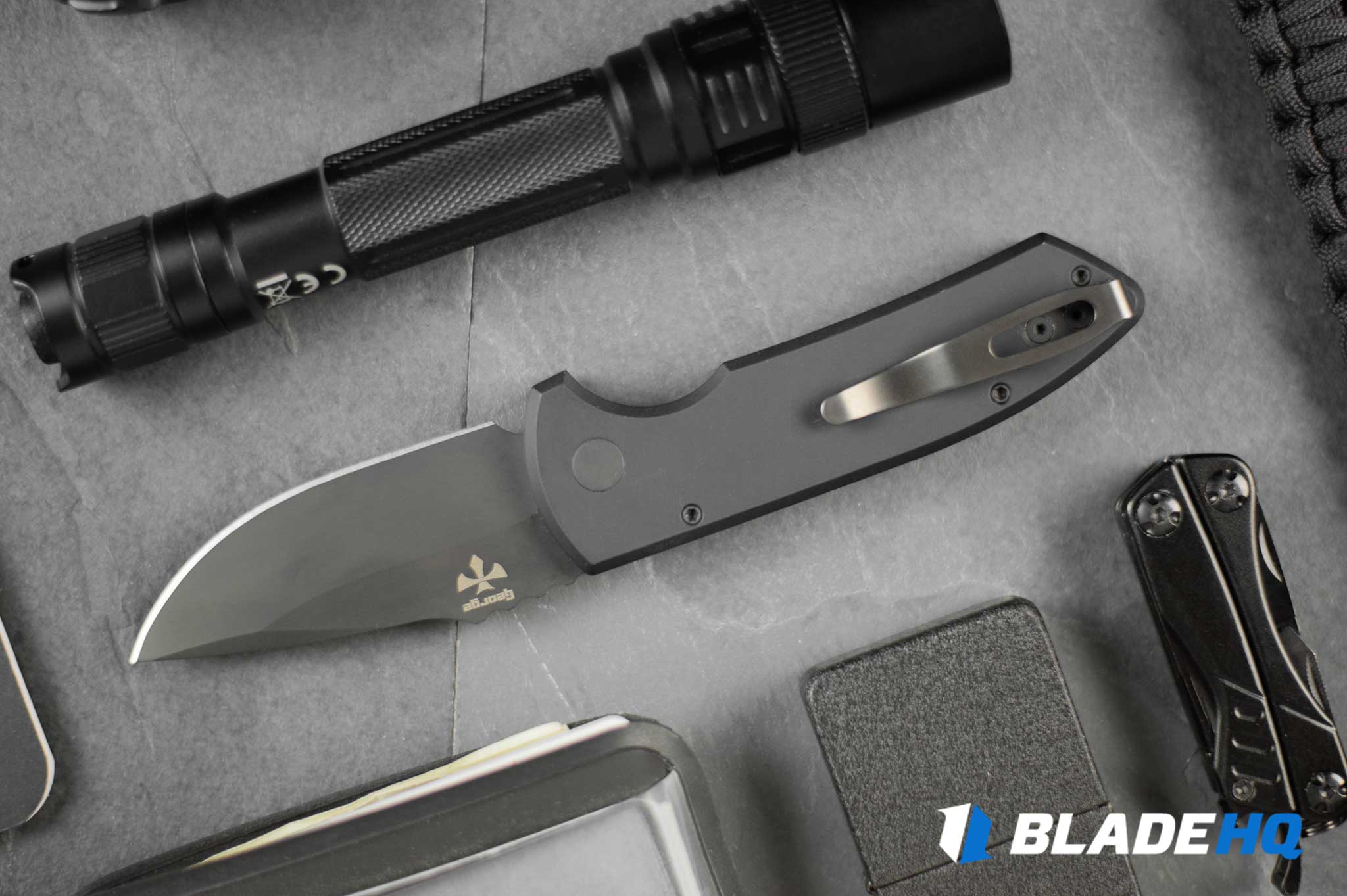 As mentioned before, the SBR features a chunky, drop point S35VN blade. Out of the box the blade was incredibly sharp and passed a series of cut tests with ease. This knife isn't the sliciest knife in the world due to its thicker blade stock, but it performs exceptionally well during regular cutting tasks. The SBR is incredibly easy to maintain thanks to the S35VN blade. I was able to put a fresh edge on it with a few strokes on the Spyderco Sharpmaker and a Flexcut Knife Strop. This knife doesn't require a ton of maintenance and can be used for a while before sharpening and cleaning it.
---
FIT-AND-FINISH
Score: 10/10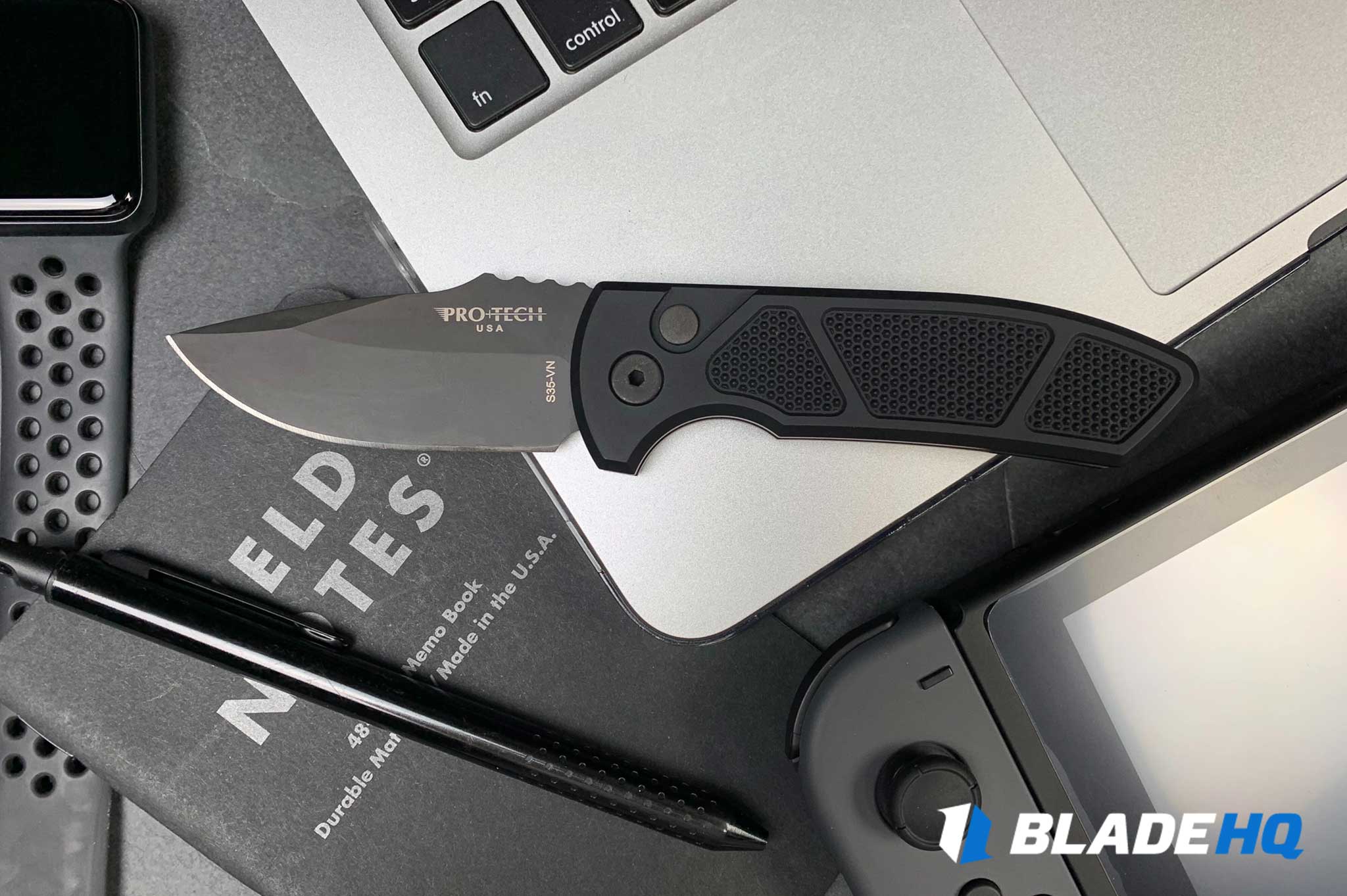 When we first pulled the SBR out of the box we were impressed by the consistency of materials and the coating/texture of the handle. Upon further examination we found that the grind angle on our blade was slightly off. This wasn't a big deal and ours was likely the one in a million with a goofy blade, but still something we noticed. After using the knife for a while, we noticed that the coating on the handle has the tendency to develop small scratches. Again, not a big deal, but something to improve in further iterations of the SBR.
---
CUT TESTS
Score: 9/10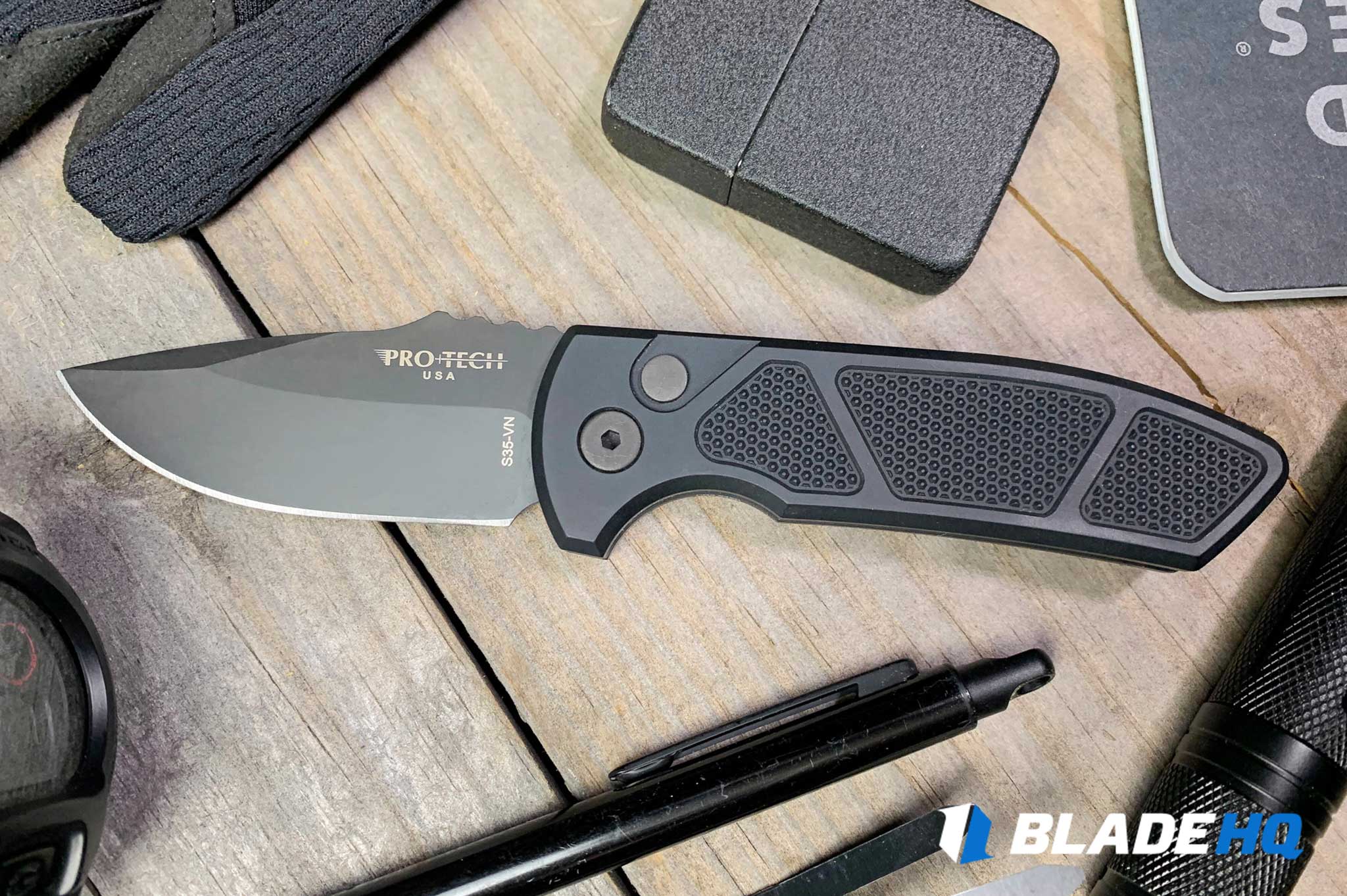 During this review, we had the opportunity to put the SBR through a series of cut tests. Overall it performed well thanks to its razor-sharp, drop point blade. It sliced through paper, chopped snacks, and cut cable ties with ease. Being that this knife is intended for everyday carry, we were sure to put it through a series of tasks that most people would face during their everyday lives. Because this knife has a thicker blade, it isn't the most consistent slicer, but it does a great job with regular tasks and earned its 8 out of 10.
---
Ease of Carry / Pocket Clip
Score: 8/10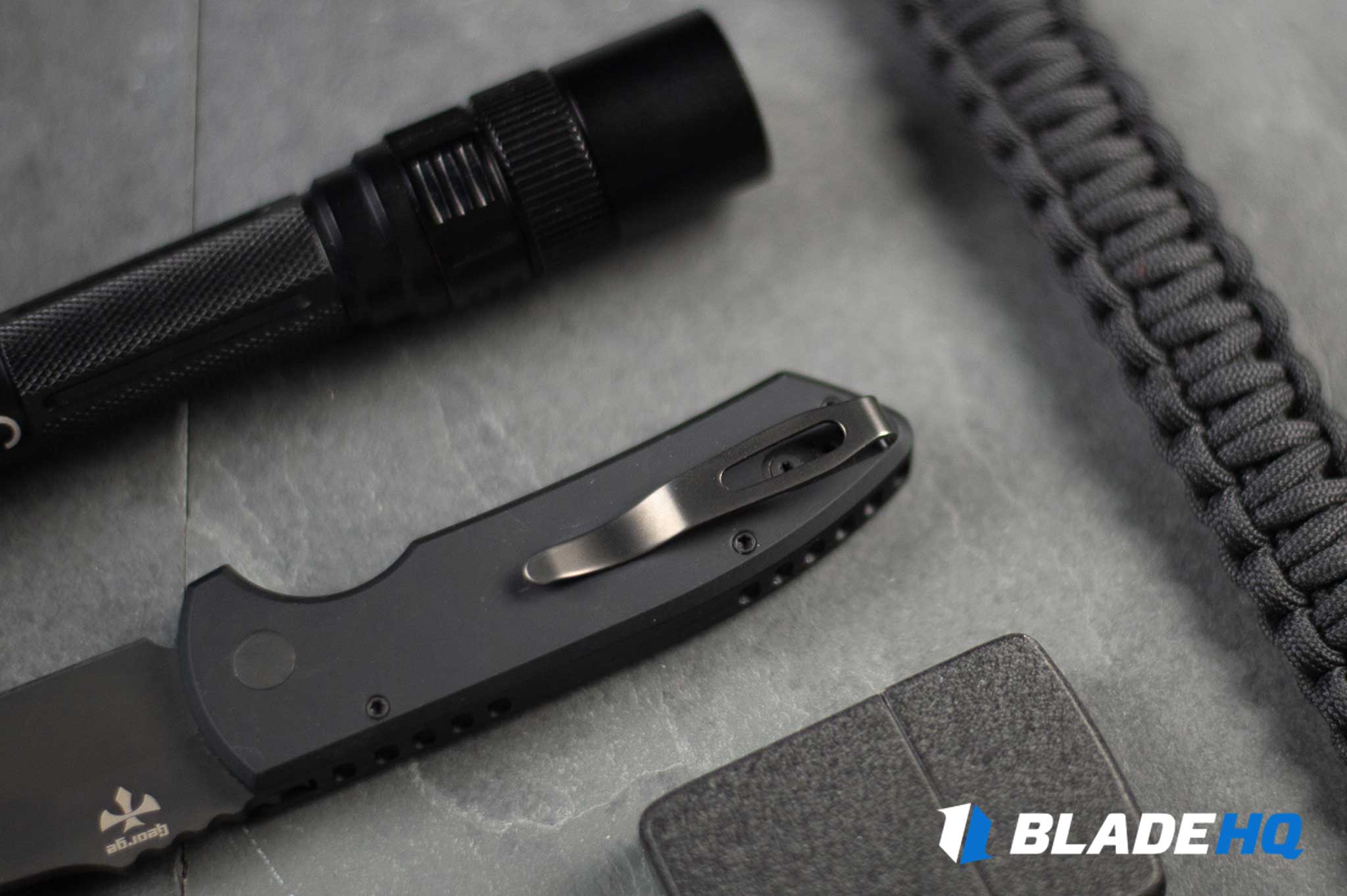 Compared to other knives in the same size and weight category, the SBR is a little better than average to carry. It features a deep carry pocket clip and has a nicely contoured handle. Depending on the knife you are used to carrying regularly, the knife may either seem too small or too thick. Many of us at BHQ carry a Benchmade Bugout regularly (check out our Bugout Review to see it in action) and the SBR was a little too heavy and thick for our liking. If you're used to carrying knives that have a little more substance, the SBR may be the perfect alternative for other beefy knives in your rotation.
---
POCKET JEWELRY
Score: 6/10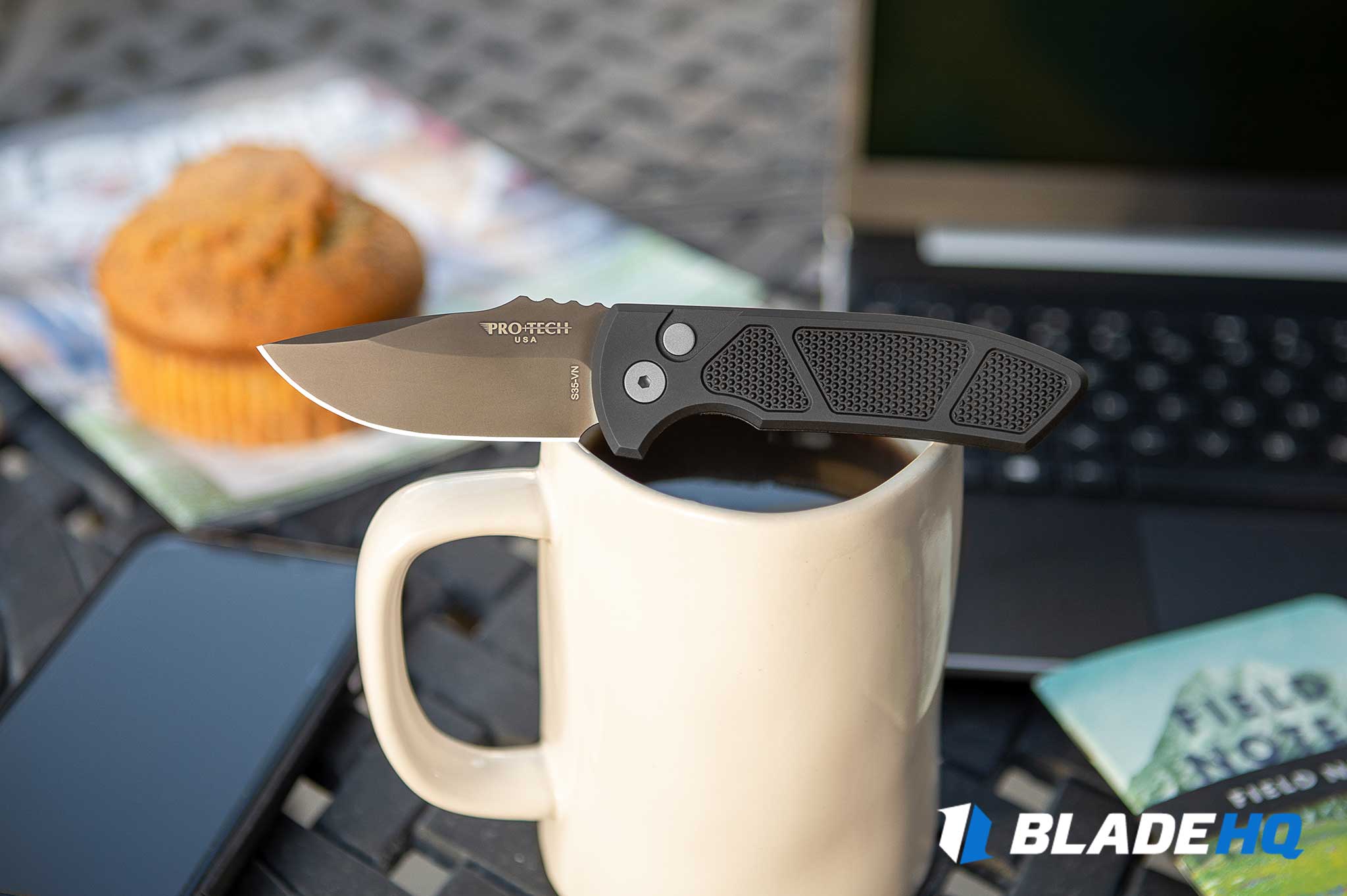 While the SBR is an automatic and a Pro-Tech knife, we couldn't quite give it a full score in the pocket jewelry category. The knife has a general cool factor, but it isn't anything special to look at and doesn't command the same attention as other knives like the Chaves Ultramar, Microtech Ultratech or the Chris Reeve Sebenza. It's cool, but more of a practical knife than a show piece.
---
TOTAL KNIFE LIFE SCORE:
85/100

In short, the Pro-Tech SBR is a great knife. It's a short and snappy automatic knife with the right balance of size and weight. It features a wicked sharp S35VN blade and a comfortable aircraft aluminum handle. The SBR is a great addition to any knife collection and will quickly become one of your favorite automatic knives. We loved carrying the Pro-Tech SBR and despite its few quirks feel like it is one of the best automatic knives you can buy in the $200 price range.
Other Great Pro-Tech Knives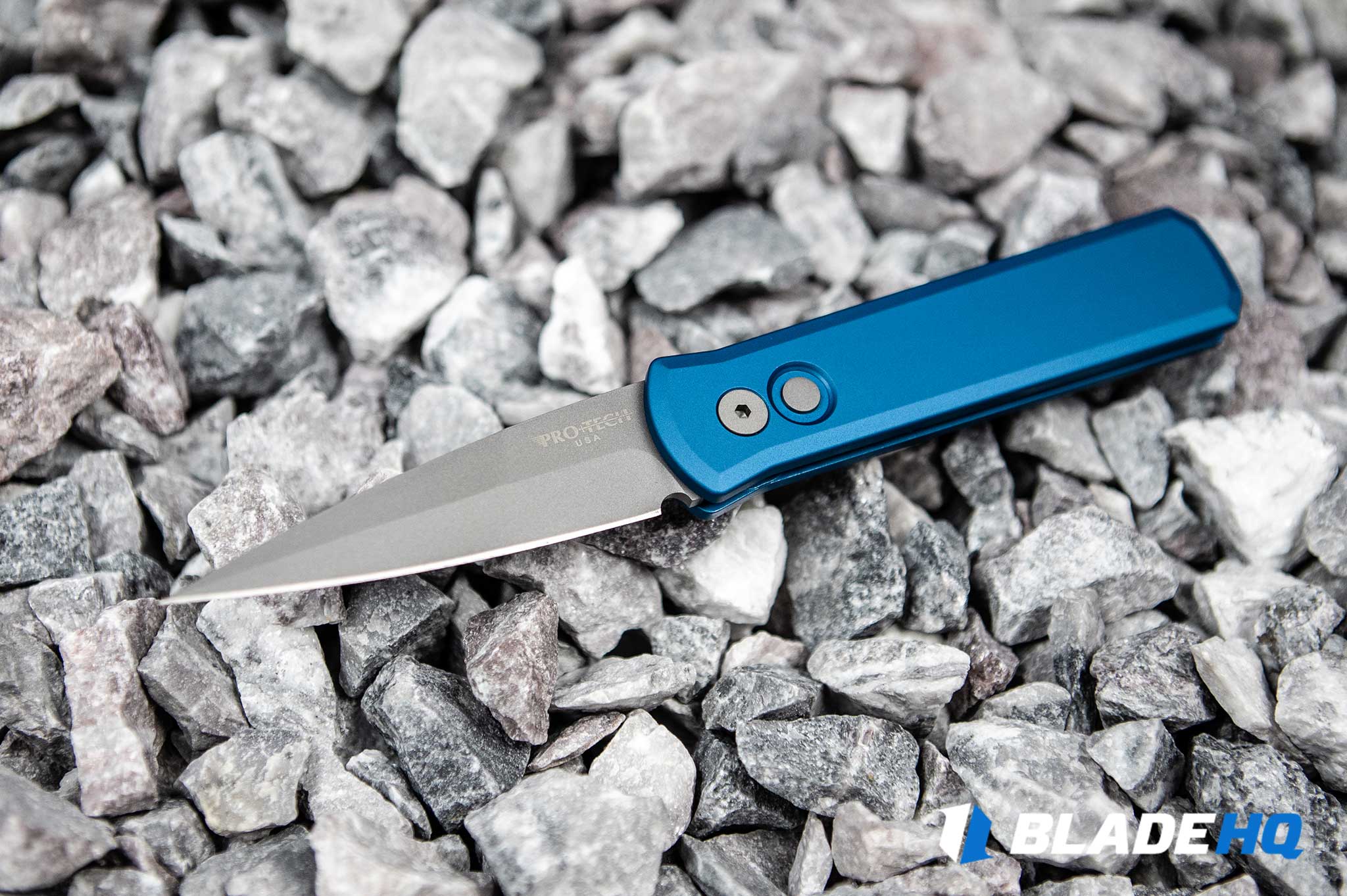 Pro-Tech Knives are some of the best knives in terms of construction, quality and action. They are precision built in California, USA with great attention to detail going into every knife. Whether you're a LEO looking for a duty knife or a custom knife collector, Pro-Tech knives has a little something for everybody. Some of our other favorite Pro-Tech knives include the TR-3, Magic BR-1 Whiskers and the Godson. Like the SBR, these knives are well built and ready for action. Check out more from Pro-Tech Knives by clicking the button below. Or see how the SBR stacked up in our Best American Made Knives article.
YouTube
Zac recently had the chance to chat with Dave from Pro-Tech about new knives for Summer 2020. They talk about some great new looks and innovations, and take a look at some old favorites. Check it out below!
OTHER KNIFE GUIDES