It's SHOT show time once again, and BladeHQ was kind enough to allow one of our bloggers to tag along with them this year. We were able to see tons of 2012 products for most of the major knife brands. We will have lots of pictures and updates coming in the next few months with all of the new stuff.
Our show started off quick at the Strider Booth. This is where I got my first chance to look at the SJ75, a relatively new titanium framelock mini folder. This is a stout little knife that would be ideal for almost any gentleman's carry. Those guys who are big Strider fans, but generally like a smaller knife are going to love this one.
Ontario Knife Company is probably best known for making excellent survival fixed blades. They have had an affiliation with Randall's Adventure and Training, which gives them an expertise working with survival knives.
The Blackbird SK-5 is a sturdy fixed blade knife that has won a couple of knife awards.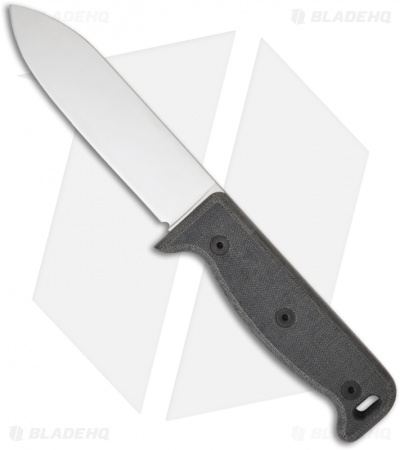 We also saw the DPx Gear HEST folder that Ontario is currently manufacturing. LionSteel is making the majority of the HEST knives, but the Folder II is being produced by Ontario.
TOPS has several new knives they are rolling out this year. One of our favorites was the CUMA TAK-RI designed by Waysun Johnny Tsai. The CUMA TAK-RI is a fixed blade knife that features a kukri shaped blade. The knife is currently being featured in IDW Publishing's G.I. JOE comic book series "Snake Eyes". Snake Eyes can be seen slashing Cobra troops with the CUMA TAK-RI.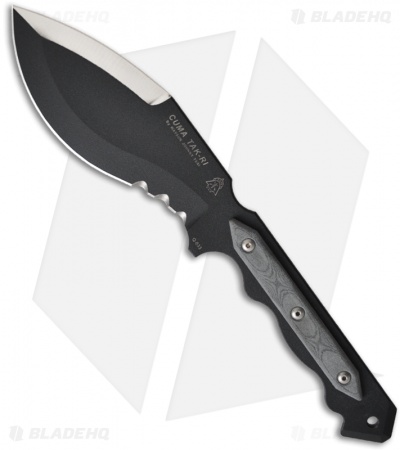 TOPS also has a number of fixed blade knives that will be coming out with stainless satin blades.
Hogue has a new folding knife called the EX02. This knife is thicker and rounder than the EX01. The knife will come with a flipper and will also have a variation with no flipper. It should be available really soon.
Picture C/O and Copyright – Valerie Elishewitz


Hogue also had another prototype called the EX04 which will be coming later this year.
Ka-Bar has several new knives coming out in 2012. They have a brand new Zombie folding knife called the Zombie Mule, which is larger and thicker than the current Zombie folding knife.
This is the Desert Mule folder. The Zombie Mule will have the same look, but will feature a toxic green handle. It will be available in plain and serrated versions.
There is also a brand new Zombie Killing fixed blade knife called the "Chop Stick". The Zombie line seems to be doing very well for Ka-Bar. There is also an exciting new set of Becker fixed blades called the "Tweeners". These knives are shorter than the original Beckers and are very cool. The anticipated release date of the Becker Tweeners is March of this year.
Blackhawk has a new fixed blade knife coming out this year called the Gideon. It comes in tanto and drop point versions. We didn't get to hold the knife, but it looks like it will fit nice in the hand.
Gerber is releasing several new Bear Grylls items this year. There are a few multi-tools, a new survival kit, a canteen, and a knife or two. Gerber has been listening to what people were saying and decided to come out with a plain version of the Ultimate knife. So if you were looking for a non-serrated version, then this is your chance. Gerber said that the plain version would be at your favorite knife store some time at the end of the first quarter this year. Gerber also has a couple of new multi tools, including one that works as a tripod for your camera. I didn't play with this multi-tool but it looks like Gerber is trying to do something a little bit more exciting with their multi tool line.
Many of you will be familiar with Benchmade's new offerings for the year. They had the model 62 at their booth for us to play with and it is super nice. I know that some guys have been concerned with the weight of the 62, since it is going to be stainless steel instead of titanium. After actually holding the knife in my hand, I can tell you that this is going to be an excellent flipper.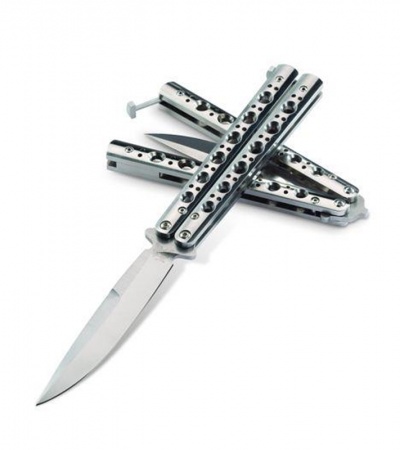 Also we saw the automatic version of the Adamas folding knife. This automatic fires hard and has a solid lock-up. The knife uses the Axis lock mechanism.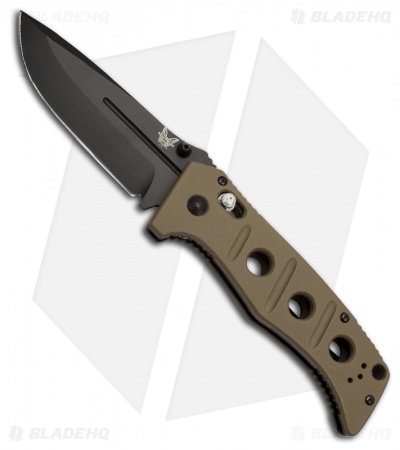 Some of you will be familiar with the Boker 715. It was an older knife that worked similarly to an Italian leverlock. Well, Boker has a new knife that is similar to the 715 that could be coming to market soon. There is a new titanium framelock folding knife called the Albatros that is very cool.
Protech had a prototype of the FlyFather butterfly knife at their booth. The FlyFather is going to be an extremely cool butterfly knife when it comes out into production.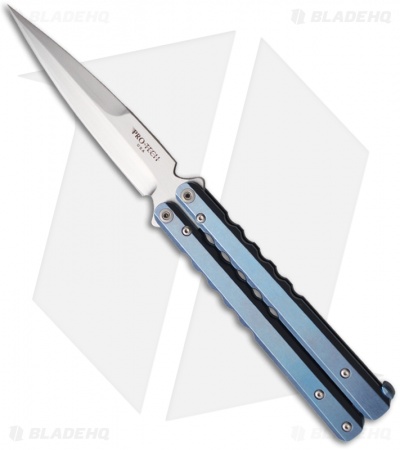 They have a new fixed blade knife called the Spindrift which is an Allen Elishewitz design. The most unique thing about this knife was its handle. Each one is 3D machined and contoured G10 with a 154CM blade.


Protech is also releasing a new CA legal automatic knife this year that is thinner than the Runt. Its called the Sprint, and its thinner and more compact. Most people looking for a CA legal automatic knife who didn't like the Runt felt like it was too thick. So, Protech has made a new knife for all of these people!
SOG has several new knives available this year. The one that is bound to get people talking is called the BladeLight. Its a knife that doubles as a flashlight. No, really. The concept sounded hokey to us at first too. Once we actually took a look at the knife and held it in our hands, we liked it much better than we thought that we would.

SOG is also releasing new satin versions of some of their tomahawks.

Buck Knives has a bunch of new folding knives designed specifically for females by a hunter named Haley Heath. These knives are part of an entire new line called the ErgoHunter Adrenaline series.
There are also several new colors that Buck is adding to the Vantage Force line. The tan looks really good on the Vantage force knives. There will be desert sand (pictured), OD green, and camo.
Ron Hood has also designed a new knife for Buck called the Punk. This knife is smaller than the Hoodlum, but I think it will be just as popular.