In December of 2011 I gave myself the gift of a Spyderco Chaparral knife. I was drawn in by its relatively compact size, good looks and Spyderco's reputation for top-notch product quality.
I'm a snob about the knives I carry, not in a stuck up— I'm better than you way, but I feel that the knife one carries is a reflection of the individual. That being said, I don't feel that my taste in knives will necessarily reflect your taste in knives, nor do I think my taste is the only thing resembling "good" taste.
The Spyderco Chaparral has a modern design that is reminiscent of both the Sage 1 and Caly folders, which are among my favorite knives. The Chaparral really got my attention because it has all the class of the Sage and Caly folders in a super slim, compact platform. The handle on the Chaparral is a mere 1/3" thick and just over 3-1/2" long. For those with large hands this might be a little small, but for me this knife is the perfect size.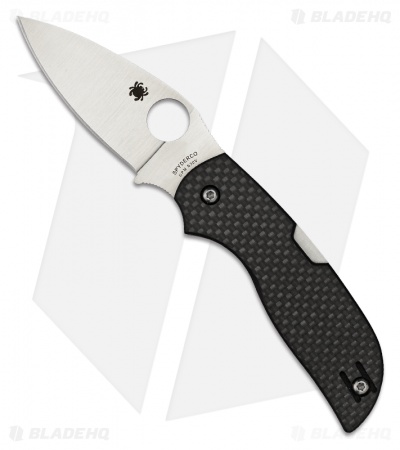 The aesthetics of a knife are in many ways as important as any other characteristic. I am a big fan of the Chaparral's leaf-shaped blade with its full flat-ground edge and ambidextrous thumb hole. This is a slicer blade with a thin 2 mm thickness and razor sharp edge, which is great for a multitude of tasks. The blade has a clean design that flows perfectly through the handle when the blade is open or closed. The handle and blade transition is seamless thanks in part to the index choil below and thumb ramp on the spine. The overall feel of the Chaparral is comfortable and allows me (or any user) to choke up on the blade for the most precise of cuts. I recently cut thick strips of vinyl with ease using my Chaparral and felt an extra degree of confidence with my hand close but safely separated from the blade's edge.  The twill carbon fiber scales on the Chaparral have a light textured as opposed to being polished. I enjoy the grip-ability of the light texture because it doesn't tear up my jeans and it is gentle on my hands.  The Chaparral utilizes a back lock, which has its pros and cons. I like being able to open and close my folders easily with one hand, but the back lock is more easily released with two hands. On a positive note, the back lock is an ideal mechanism for ambidextrous users and quite strong. The Chaparral also features Spyderco's wire clip for deep tip-up carry and it is reversible. The wire clip is a minimalist design that puts the knife safely and comfortably in my pocket, something that I simply demand of any EDC I carry.
I've known quite a few people with Spyderco knives and they swear by them. My experience over the past few months with the Chaparral reinforces what I've heard. The Chaparral is manufactured in Taiwan with high tolerances and it has performed flawlessly for me. My high expectations for Spyderco have been exceeded with the Chaparral.
When I purchased my Spyderco Chaparral last December I was drawn in by its good looks and size. Since then I have used it for the usual everyday cutting tasks and find it to be a highly proficient knife in every way. It's a knife I can wear with jeans, shorts and even a suit. It's the perfect accessory: functional and classy without being cumbersome. This is a versatile everyday carry knife that hasn't disappointed me and continues to be my go-to EDC and knowing it's a Spyderco I feel confident it will provide years of reliable use.