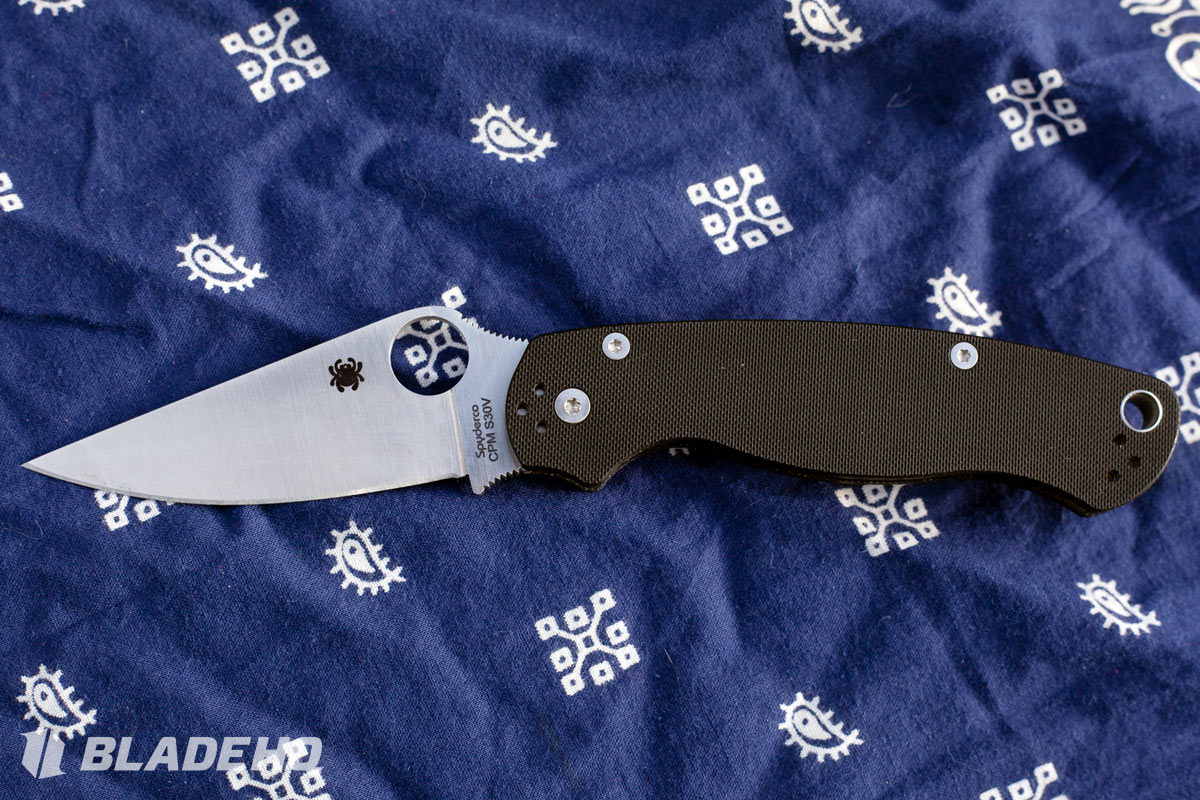 Since its introduction in 2010, the Spyderco Paramilitary 2 has been a favorite EDC knife—and it seems like as time goes on, the knife only gains in its cult popularity. I've been carrying a PM2 for a few months now, and it's time to put pen to page for a review. How does this classic stand up to lofty expectations? Read on because we're going to take a deep dive into all the Paramilitary 2 can do!
First, let's run through the stats:
8.28" Overall Length
3.44" Blade Length
Clip Point Flat Grind Blade
CPM-S30V Steel
G-10 Handle Scales with Stainless Steel Liners
3.75 oz. Weight
Full Ambidextrous Pocket Clip
Compression Lock
Made in USA
Shop Spyderco PM2 Knives
KNIFE LIFE SCORE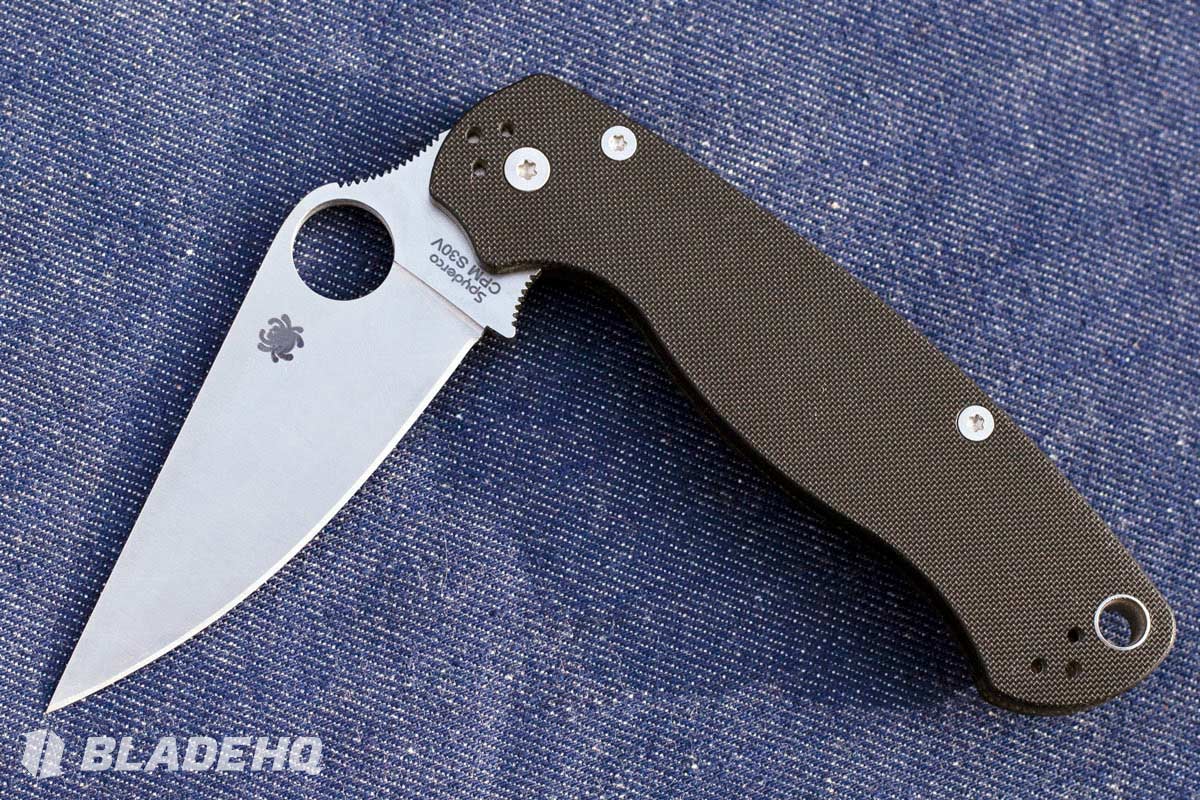 Knife Life is all about representing your personality and passion through the knife you carry in your pocket every day. Quality and performance are key. Tasteful design and ritzy details are also important. You can be confident carrying any knife with a high Knife Life Score.
---
ERGONOMICS
Score: 10/10
Talking to my coworkers around the office, everyone had positive things to say about the ergonomics of the PM2. The G-10 handle scales are sufficiently grippy without that overly aggressive texture that can tend to tear up pockets and even skin.

I'm a big fan of the Paramilitary 2 in hand. It seems to fall well into anyone's grip regardless of hand size. The forward finger choil is a godsend for detail work. All the little details are well thought out. The ergos make this knife feel like a small knife, while it still performs the jobs of a big knife.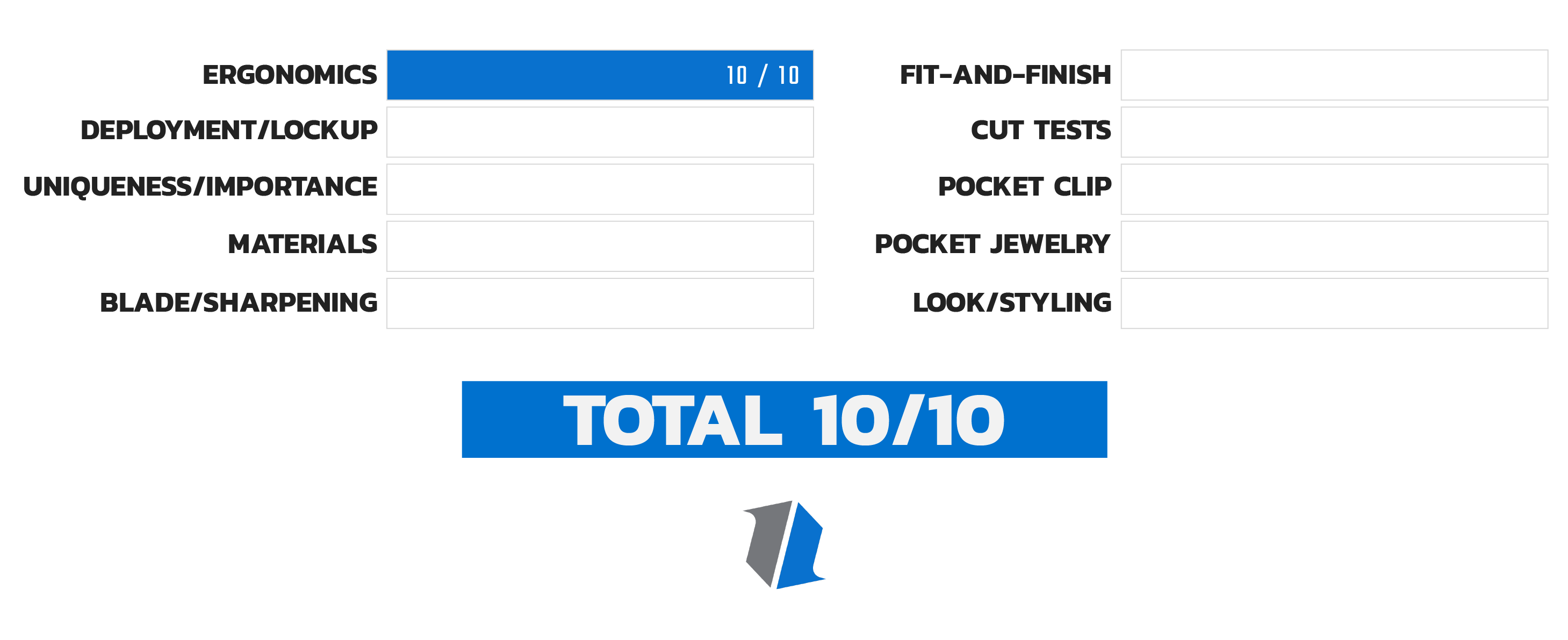 ---
DEPLOYMENT / LOCKUP
Score: 10/10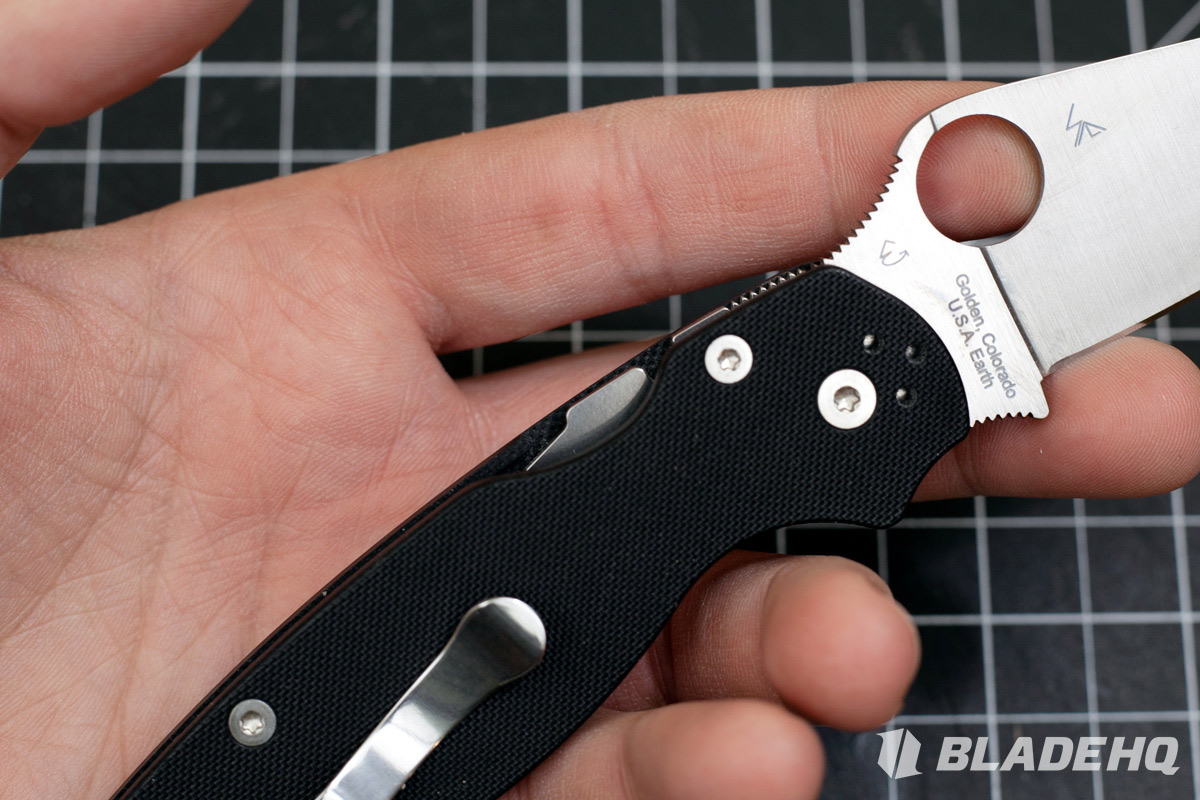 The combination of the Spydie Hole with the Compression Lock system is a match made in heaven. This knife can be easily deployed with a traditional thumb opening, 2 handed, or with the famous Spydie Flick. You can also open the knife easily by depressing the Compression Lock and swinging the blade into position. I've even found that the knife can be opened in a reverse grip with the ring finger for a tactical opening.
The Compression Lock is extremely reliable and secure. It's wonderful that knife can open and close without having your fingers in the path of the blade. I'm a righty, but if you happen to rock the southpaw you may have some difficulty closing the knife one-handed with the Compression Lock. Luckily, Spyderco released a left hand PM2.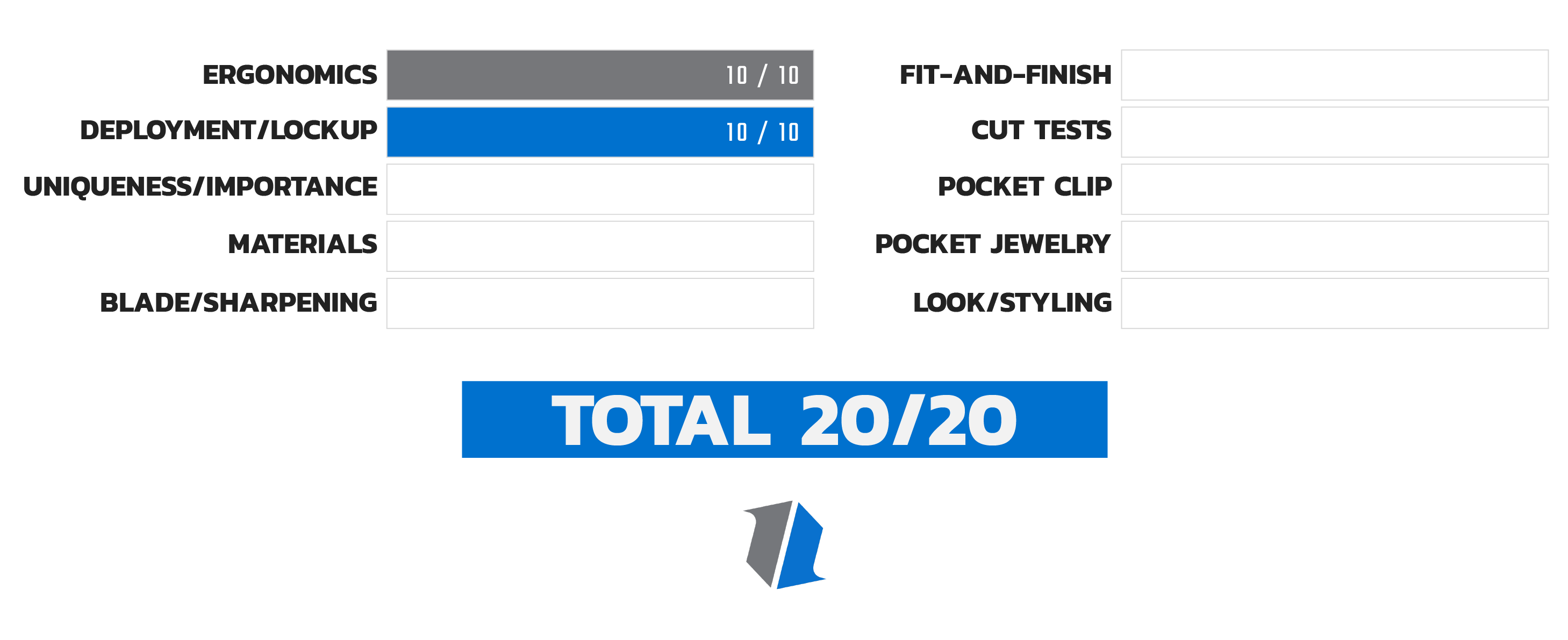 ---
UNIQUENESS / IMPORTANCE
Score: 9/10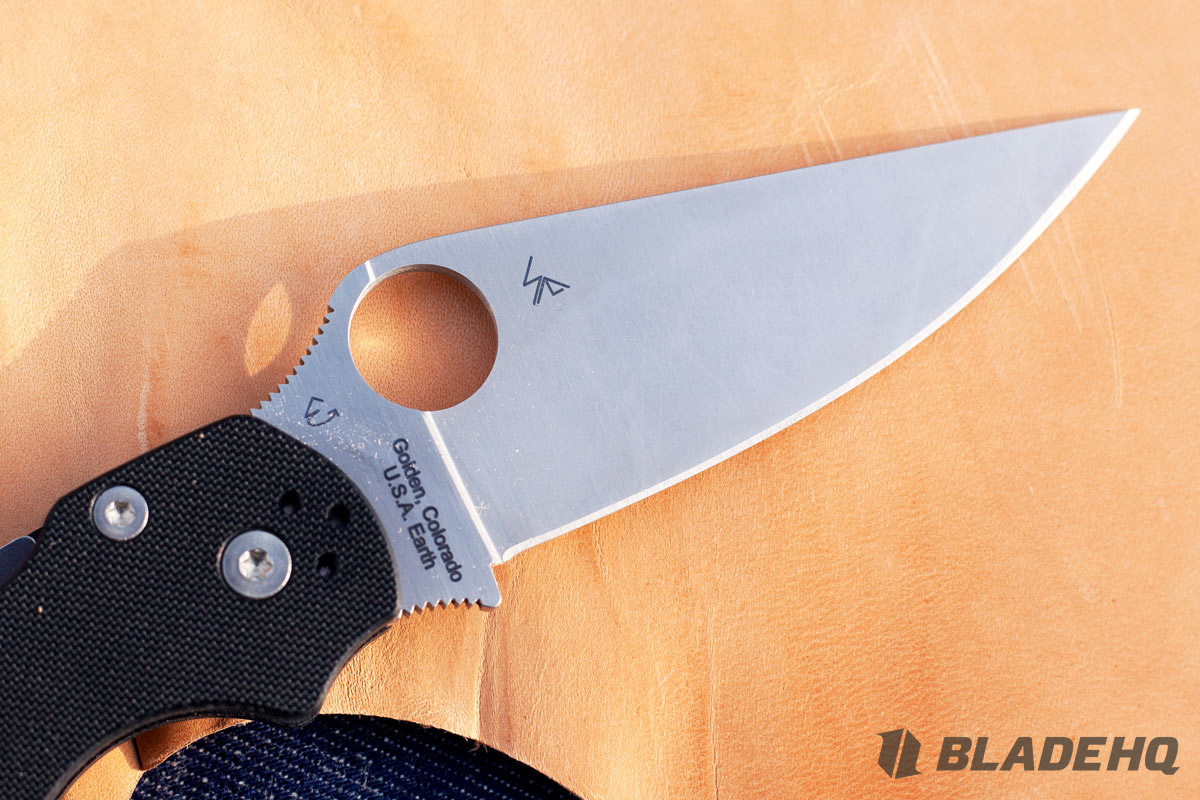 Spyderco stands for innovation. From the pocket clip to the Spydie Hole and their usage of the finest, cutting edge steels in the world, Spyderco has never been afraid to break the mold. The PM2 scores major points in this category, because it is without a doubt the most iconic product within their product line. When a new knife is brought to market, it will invariably be compared to the performance of a Paramilitary 2—if it's lucky!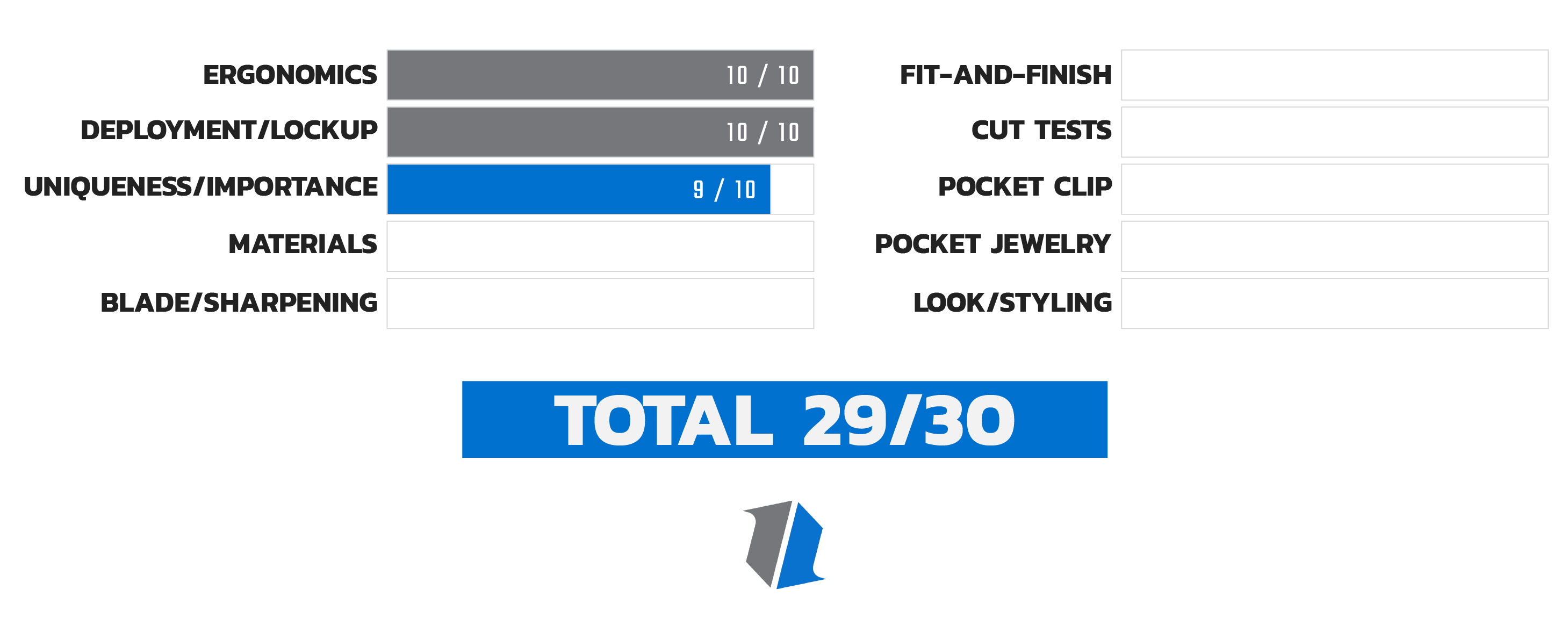 ---
MATERIALS
Score: 9/10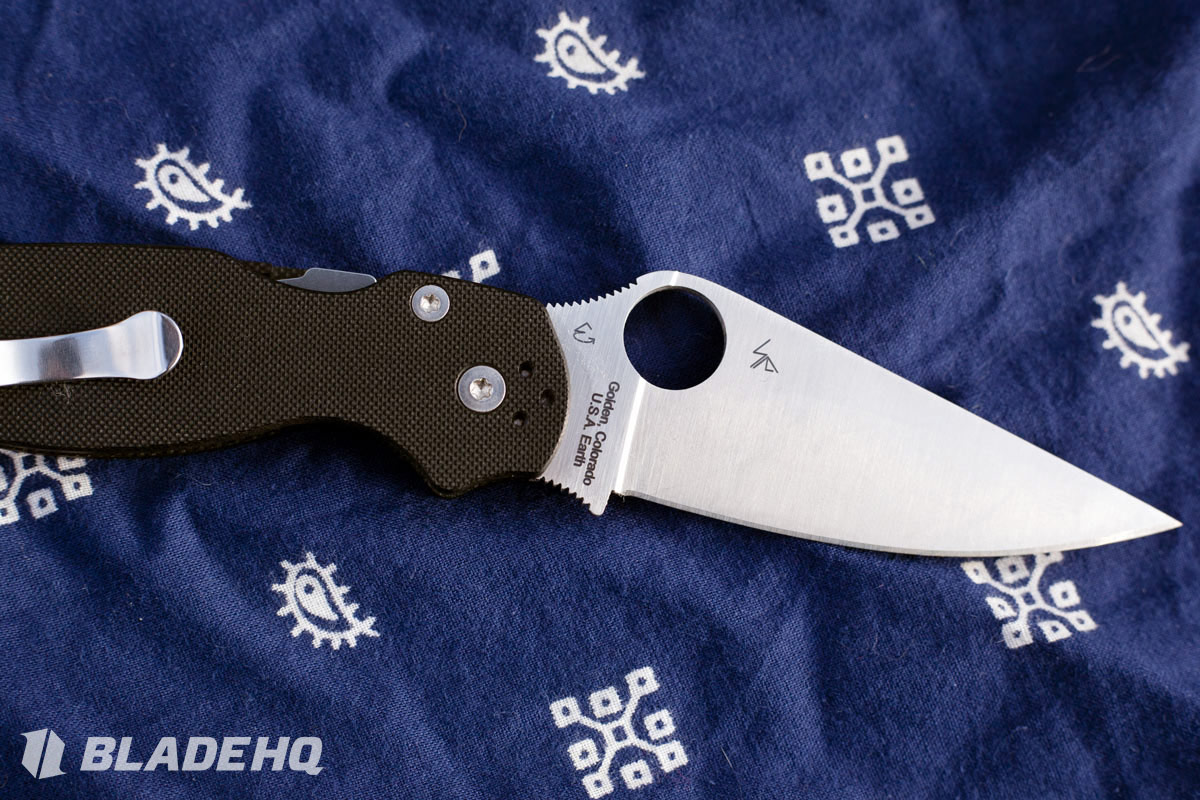 For a knife at its price point, the Paramilitary 2 is an absolutely amazing value. For less than $150 you get an all-around great CPM-S30V blade steel and stainless-steel lined G-10 handle scales—all in a bombproof, warrantied, USA-made package.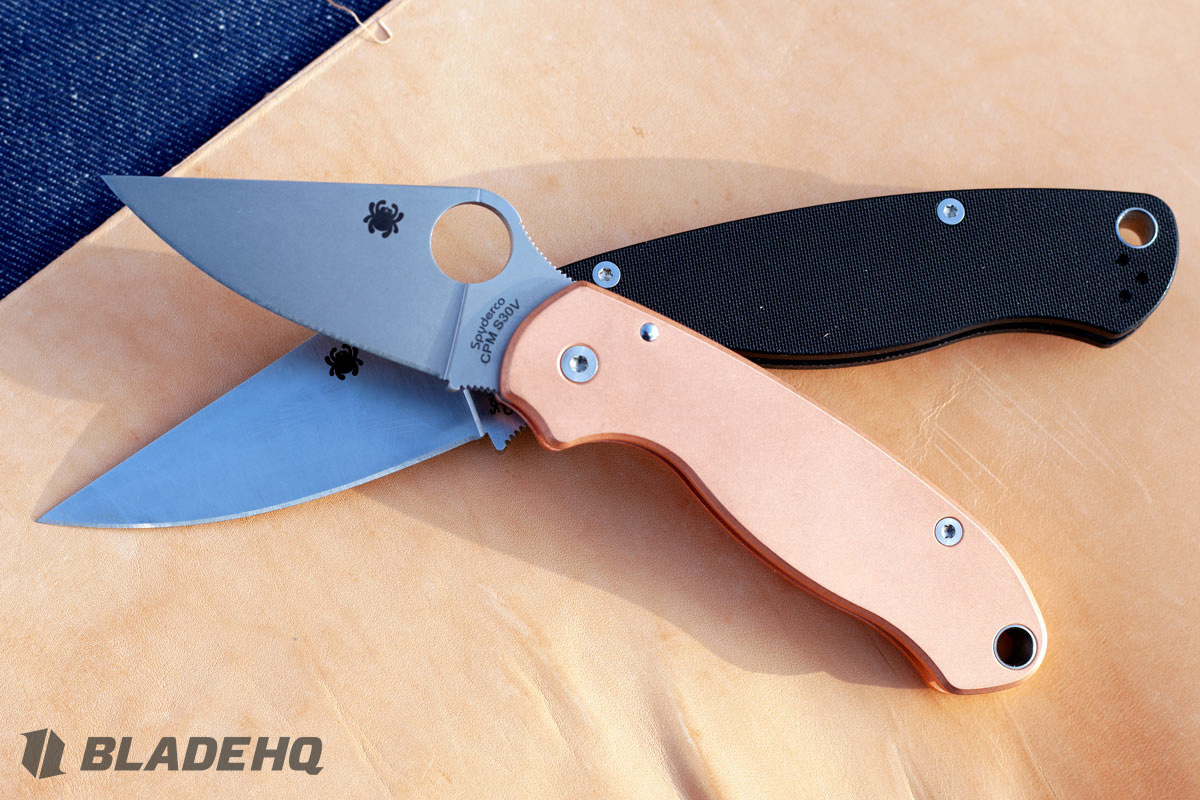 Where the PM2 really shines in terms of materials is the availability of blade steel upgrades and a booming aftermarket mod scene. Blade HQ did a run of PM2's in CPM-M4 steel and an S110V version is regularly available for purchase. Companies like Flytanium (copper scales pictured) and Lynch Northwest make the gear you need to customize your knife to your heart's desire.
---
BLADE / SHARPENING
Score: 9/10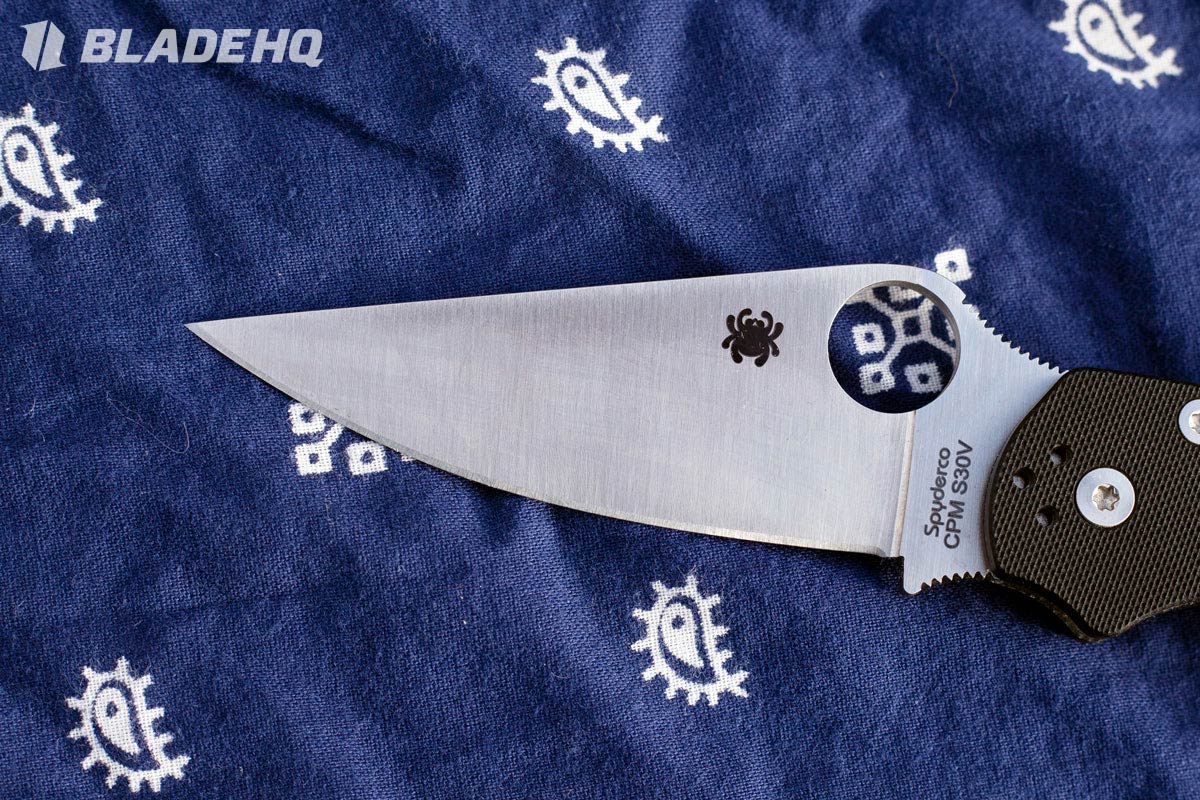 Is the blade on a Paramilitary 2 a clip point? Drop point? Or maybe you call it a leaf shaped blade? Any way you slice and dice it, the Paramilitary 2 is a performer. With a little more beefiness towards the back of the edge, you can readily employ this knife for harder use tasks. The front of the blade is incredibly slicey and thin at the edge. With your hand locked into the forward finger choil, this knife feels much more nimble. I love the versatility of the PM2's blade.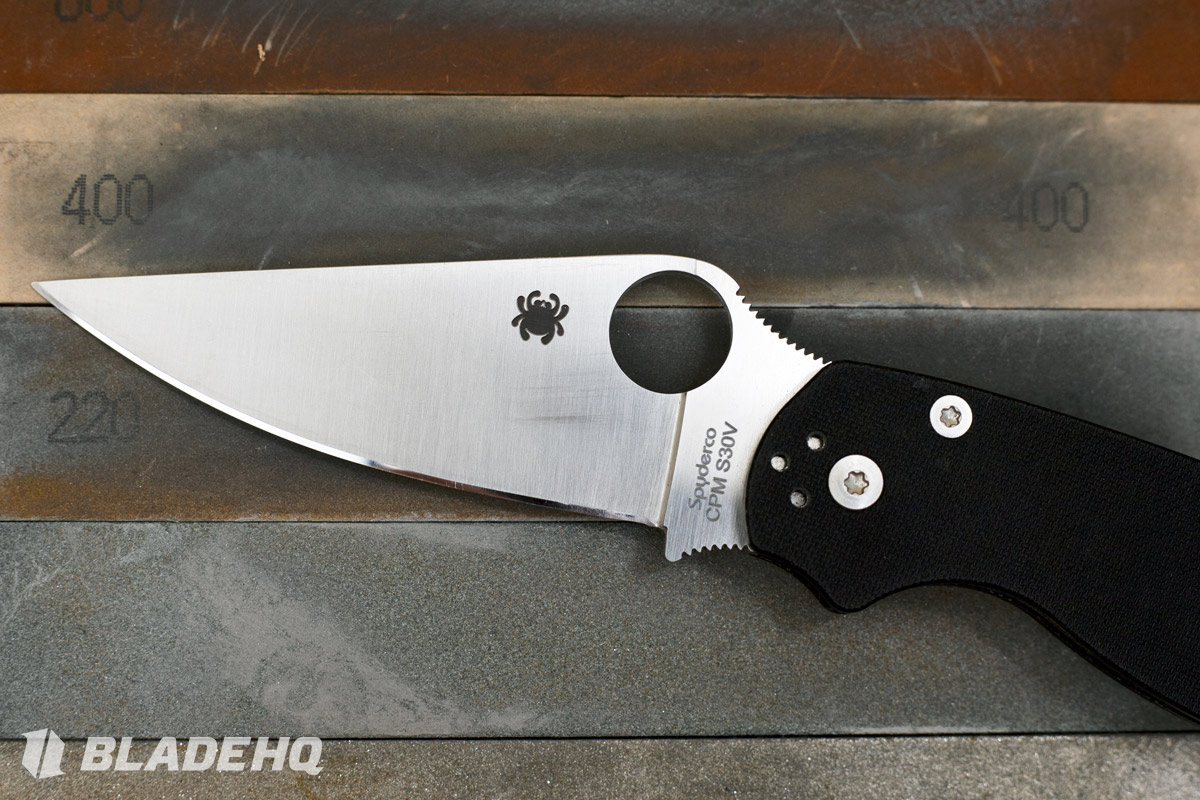 I geek out over 'Super Steels' just as much as the next guy. It's cool to carry a knife made from Maxamet, M390, or CPM-S110V. That said, S30V is a great steel! Through over a month of consistent use, my Paramilitary 2 blade was still sharp enough to slice through phone book paper and stick against my thumbnail. Where a steel like S30V really shines is in sharpening. There are amazing portable sharpeners available today, such as the Spyderco Sharpmaker. If you want something that will really get your edge screaming, check out the Edge Pro Apex. On certain steels this process can take much, much longer.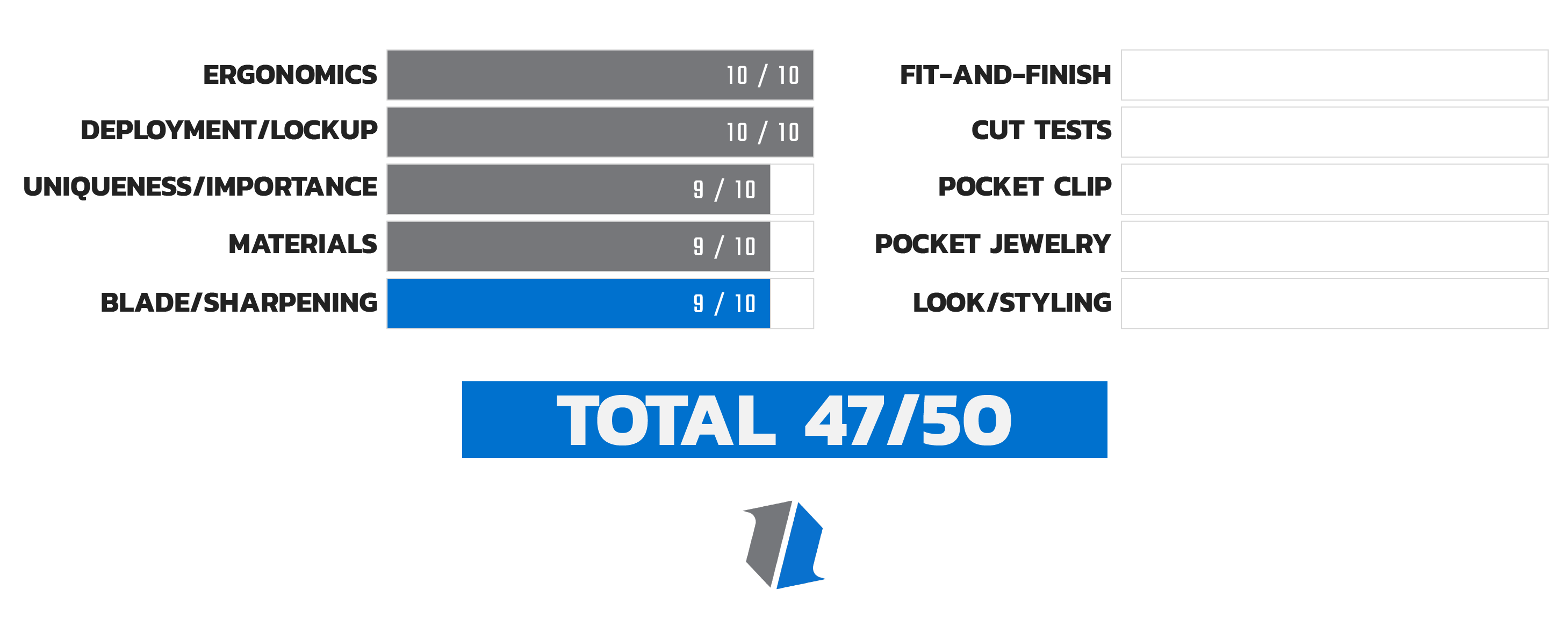 ---
FIT AND FINISH
Score: 8/10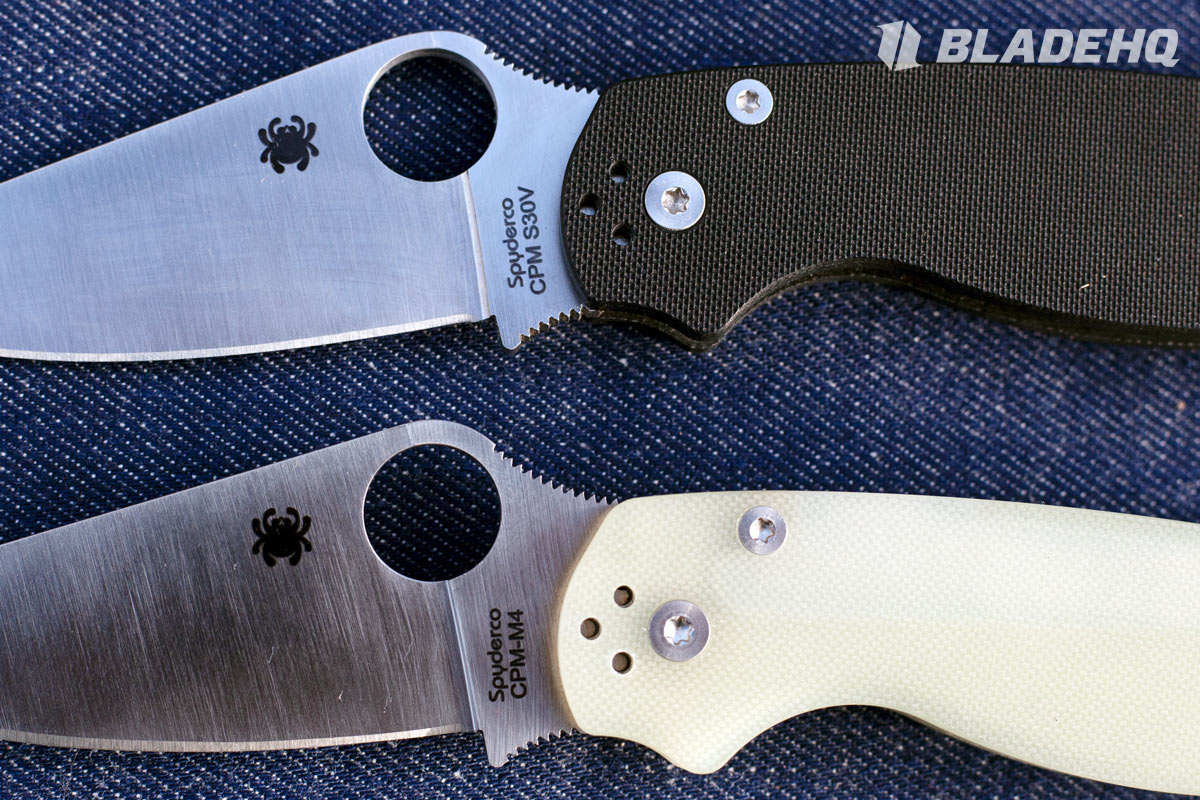 You can expect perfect action and centering any time you pick up a Spyderco, or at least that's been my experience. And I've probably handled over 1,000 pieces from the brand. That said, my one quibble is that the edge grind on my PM2 was not completely even. One side looked great whereas the opposite edge wavered with a thick area at the tip and heel of the blade and an appropriately sized bevel in the center. One sharpening session on my Edge Pro Apex alleviated the knife of this issue, but I would be remiss not to mention it..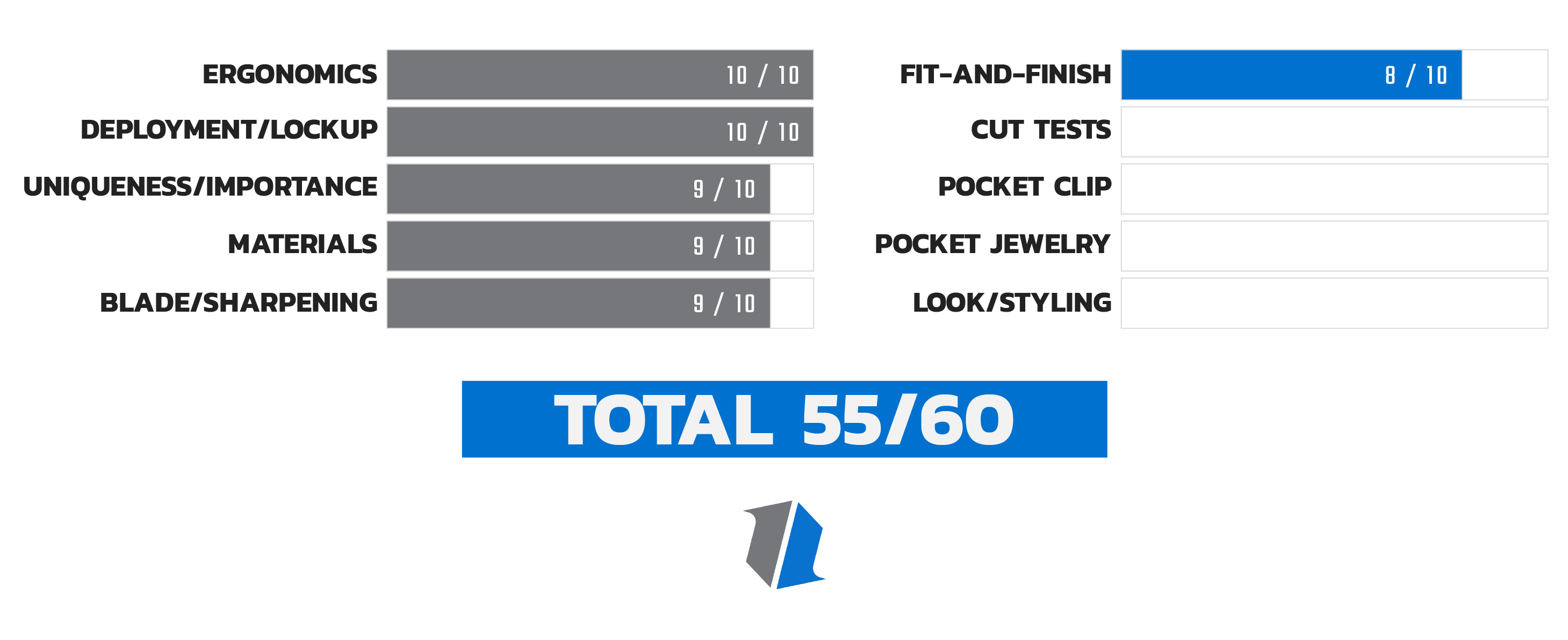 ---
CUT TESTS
Score: 8/10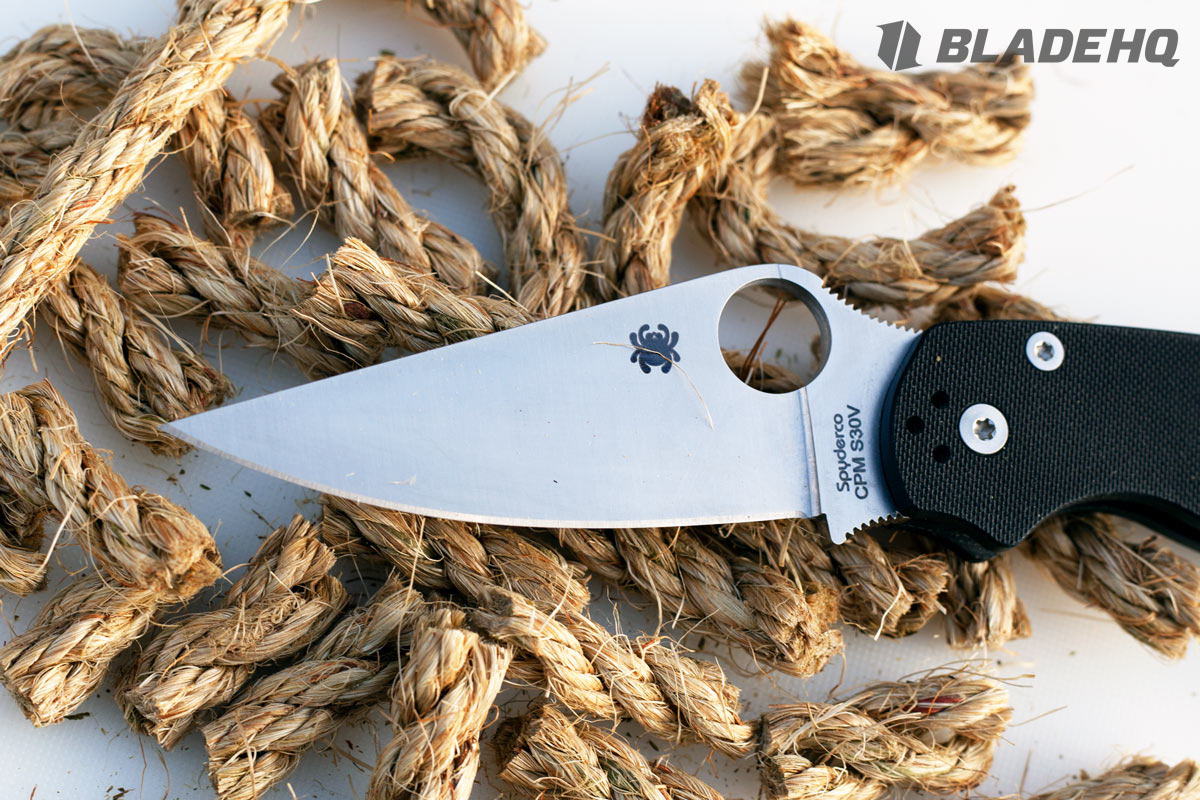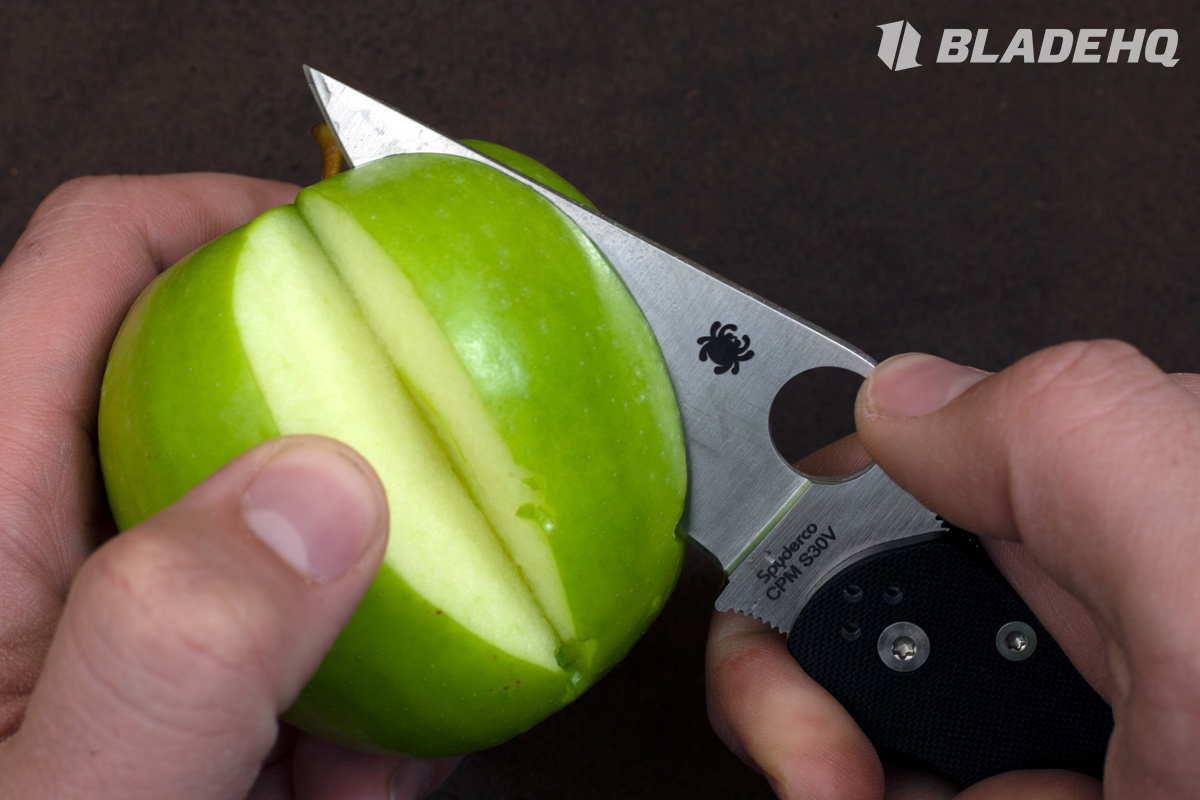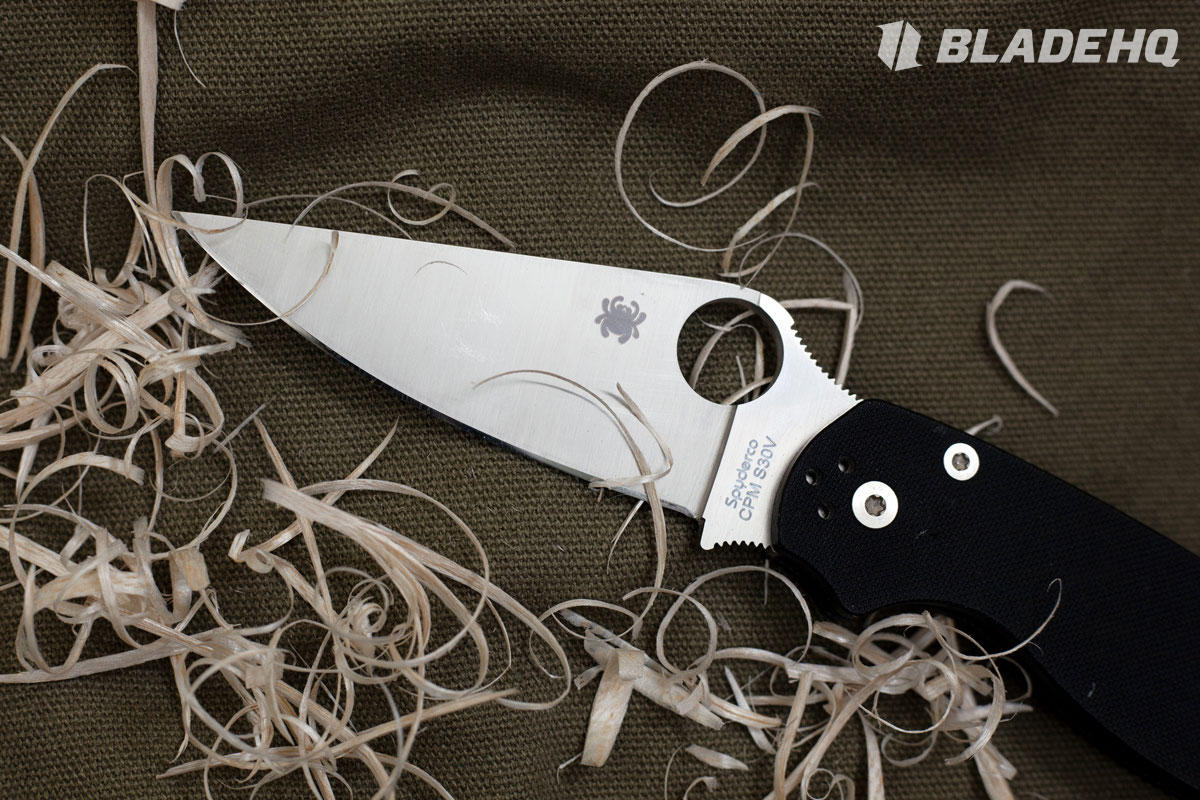 You can buy slicier knives than the Paramilitary 2. You can also definitely find a beefier blade. That said, I think this knife approaches perfection in terms of EDC blade geometry. Slicey at the tip with a utilitarian thickness at the edge, this knife can do it all.
The BHQ M4 exclusive run (no longer available) would probably score a 10/10 in this department while I would give the S110V version a 9/10. You can't go wrong with S30V, but it just doesn't quite meet the edge holding of other special editions released by Spyderco. Check out our Best Knife Steel Guide to learn more.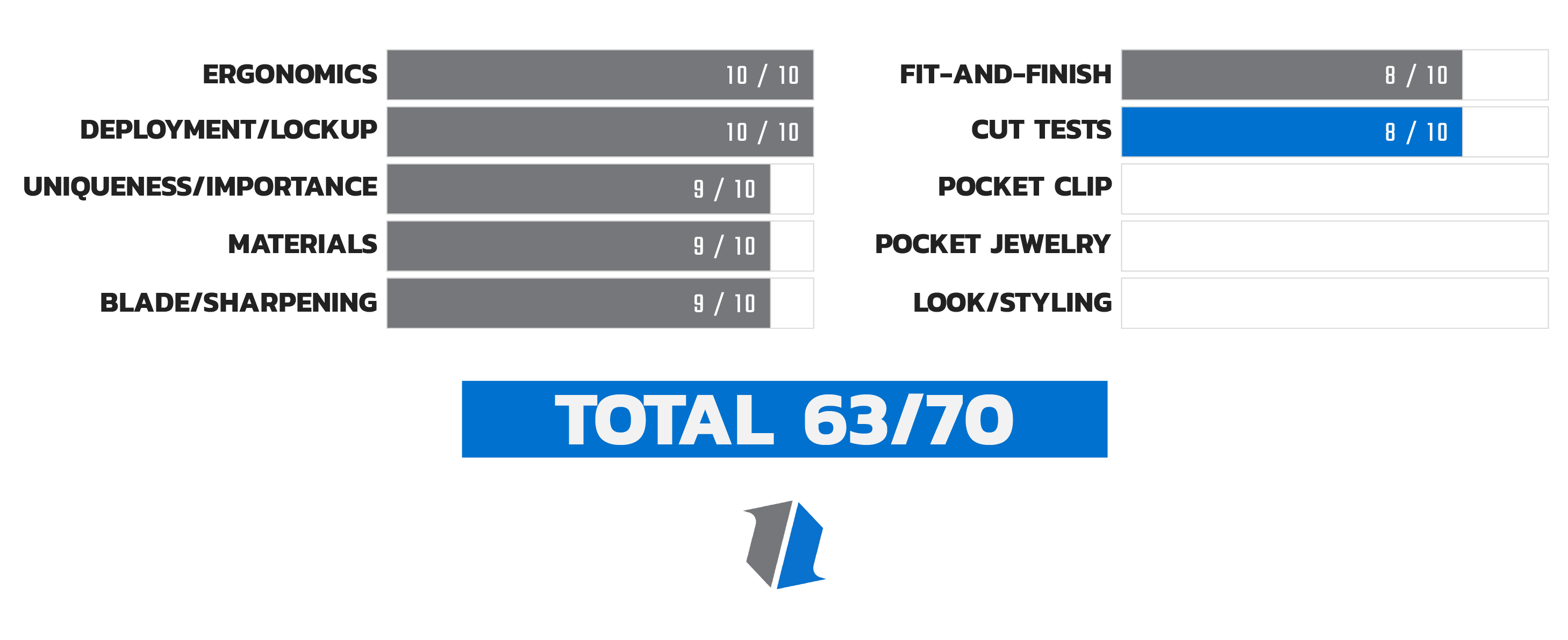 ---
POCKET CLIP
Score: 8/10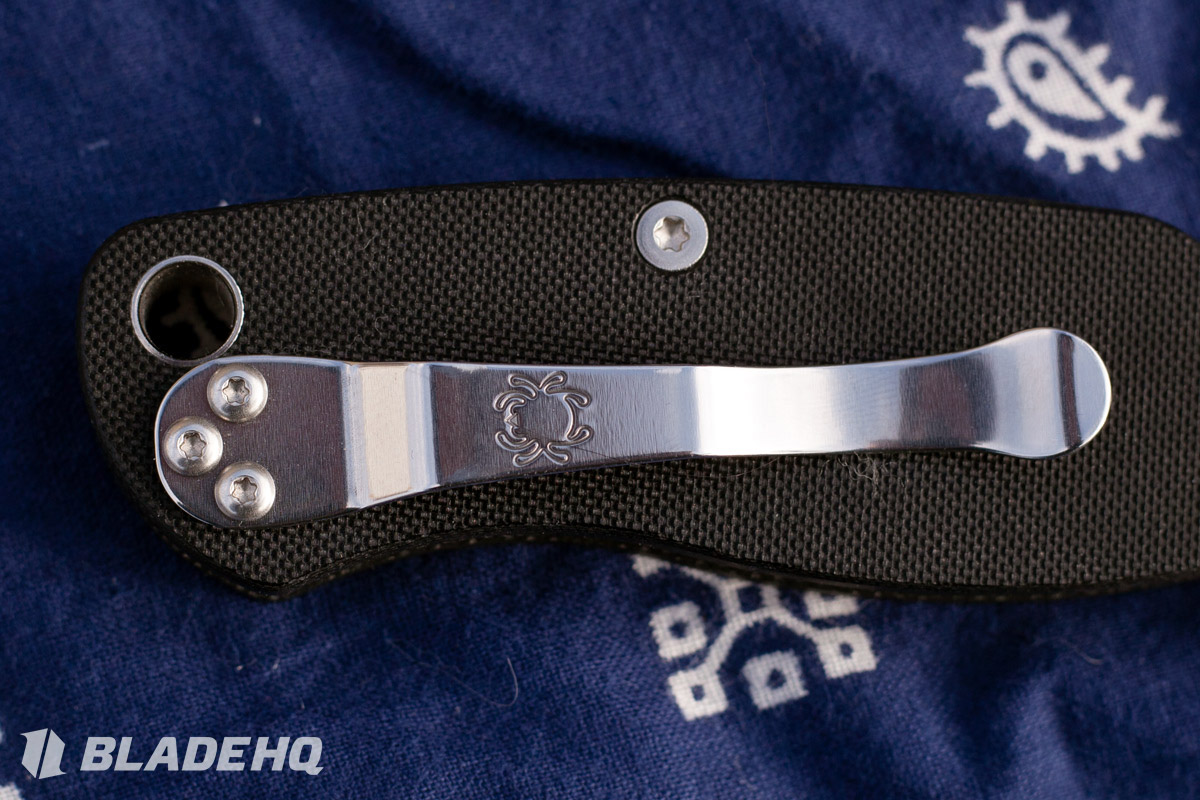 The PM2 features Spyderco's standard 3-hole pocket clip. This clip is perfect from a functional, utilitarian perspective. I tend to prefer a deep carry clip for EDC, and luckily there are a variety of aftermarket options available on that front. If you want to try a deep carry clip for Spyderco knives, you can never go wrong with a Lynch Northwest clip.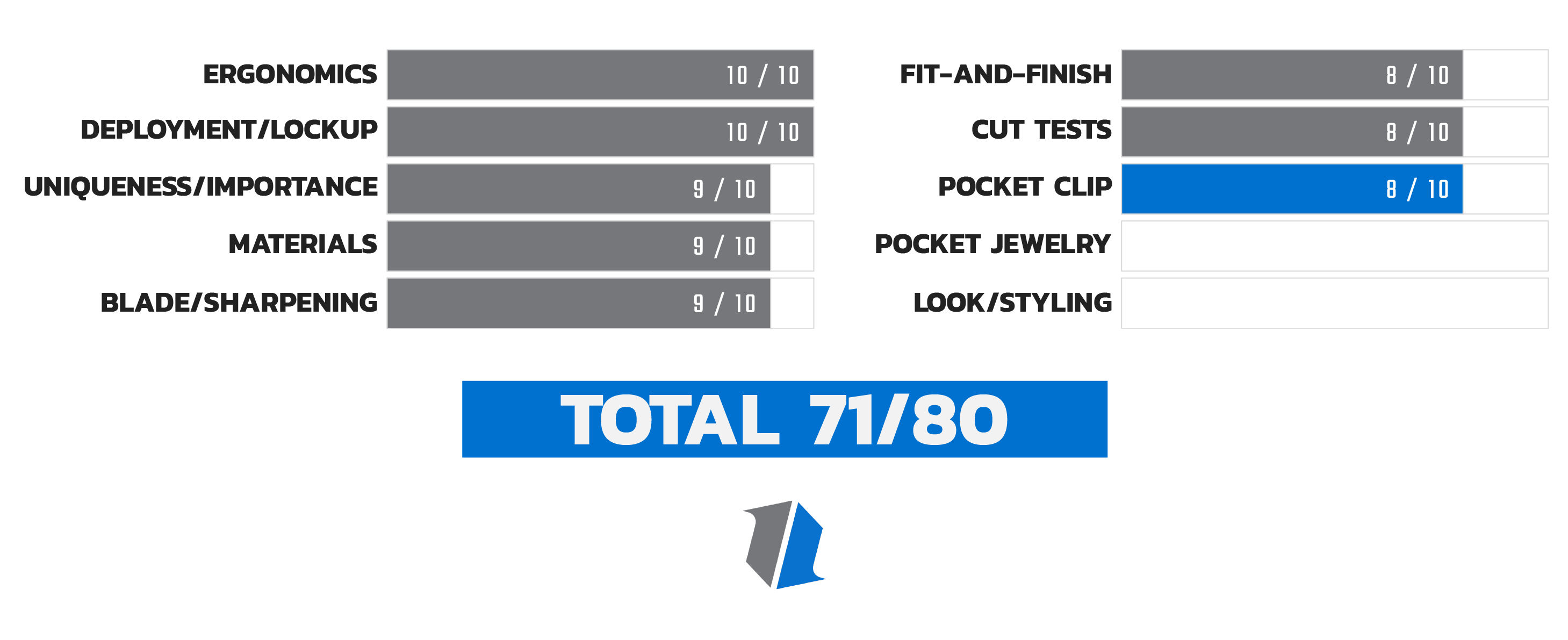 ---
LOOK / STYLING
Score: 8/10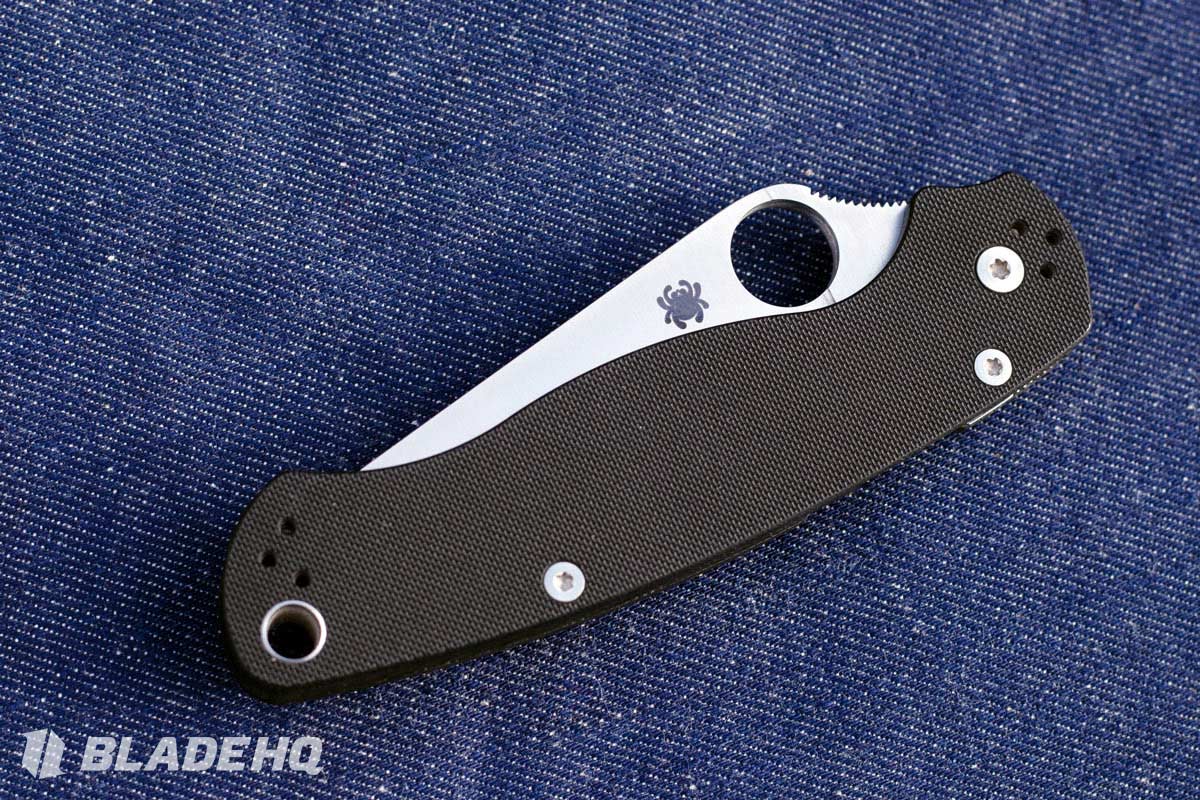 Almost all Spyderco knives have a "love it or leave it" aesthetic, but how can you deny a refined, "form meets function" styling? The PM2 is built from the edge up to be the ultimate EDC performer. Comfortable handle scales meet a graceful leaf-shaped blade in an organic union. There's no overly offensive branding or billboarding. I love the distinctive quality of the PM2 that stands out even when compared to other products in the Spyderco line.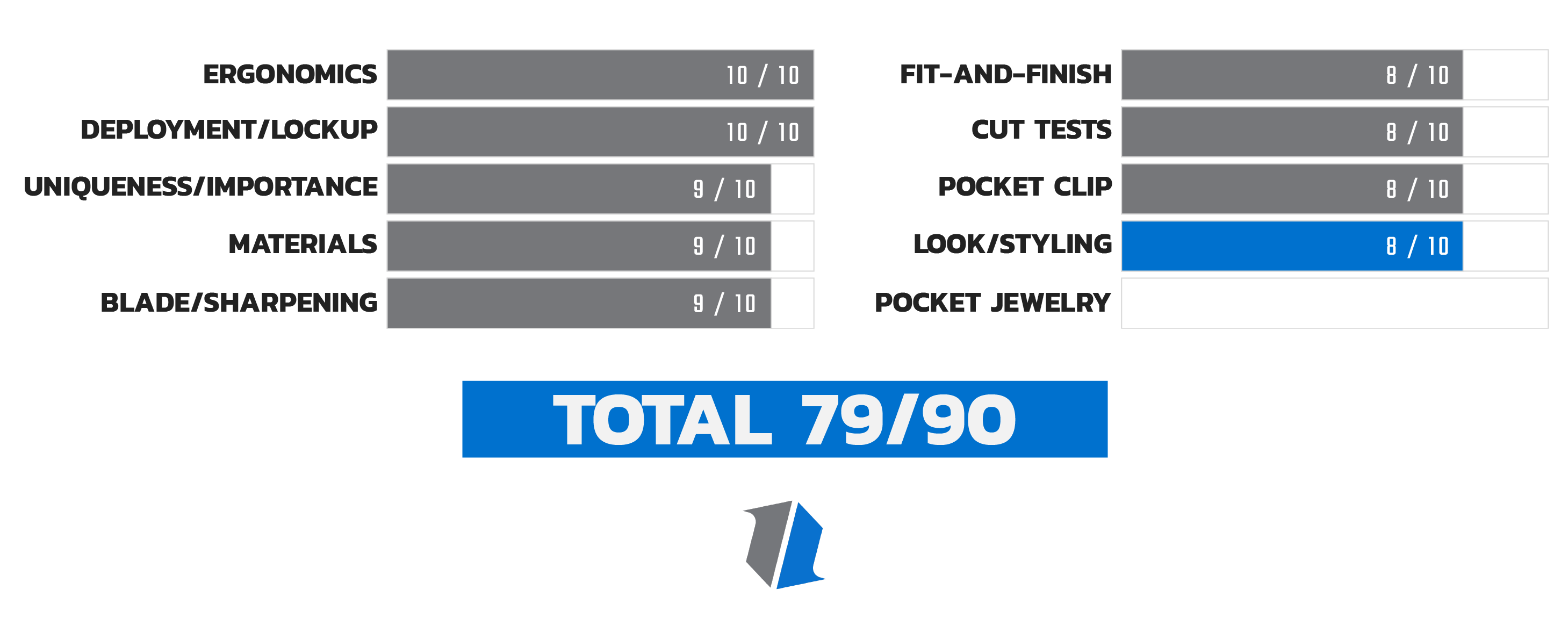 ---
POCKET JEWELRY
Score: 7/10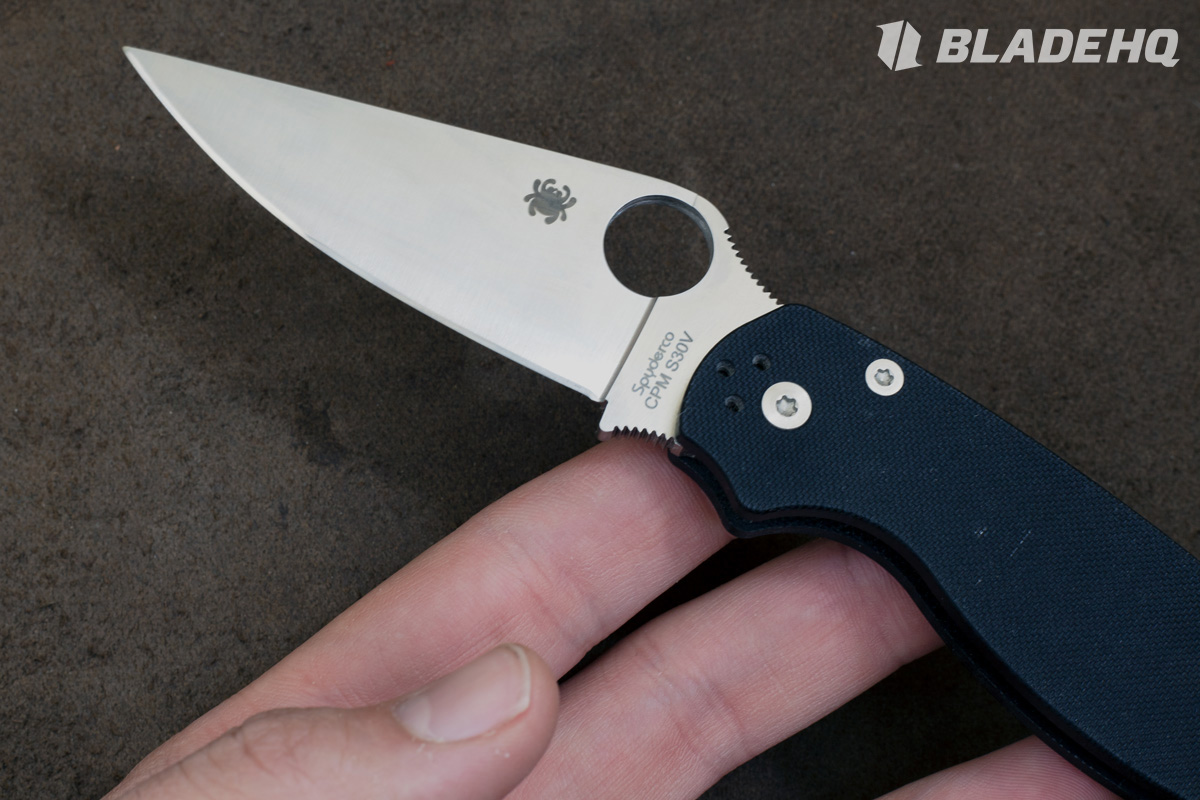 The Paramilitary 2 may be a utilitarian beast, but it is lacking in the flashiness category. Don't get me wrong, a well-used PM2 is guaranteed to get you likes on Instagram or Reddit's KnifeClub, but this piece is not by any means a full-dress Protech or Mokuti custom. Rock the simple PM2 as it ships or deck yours out on the mod scene.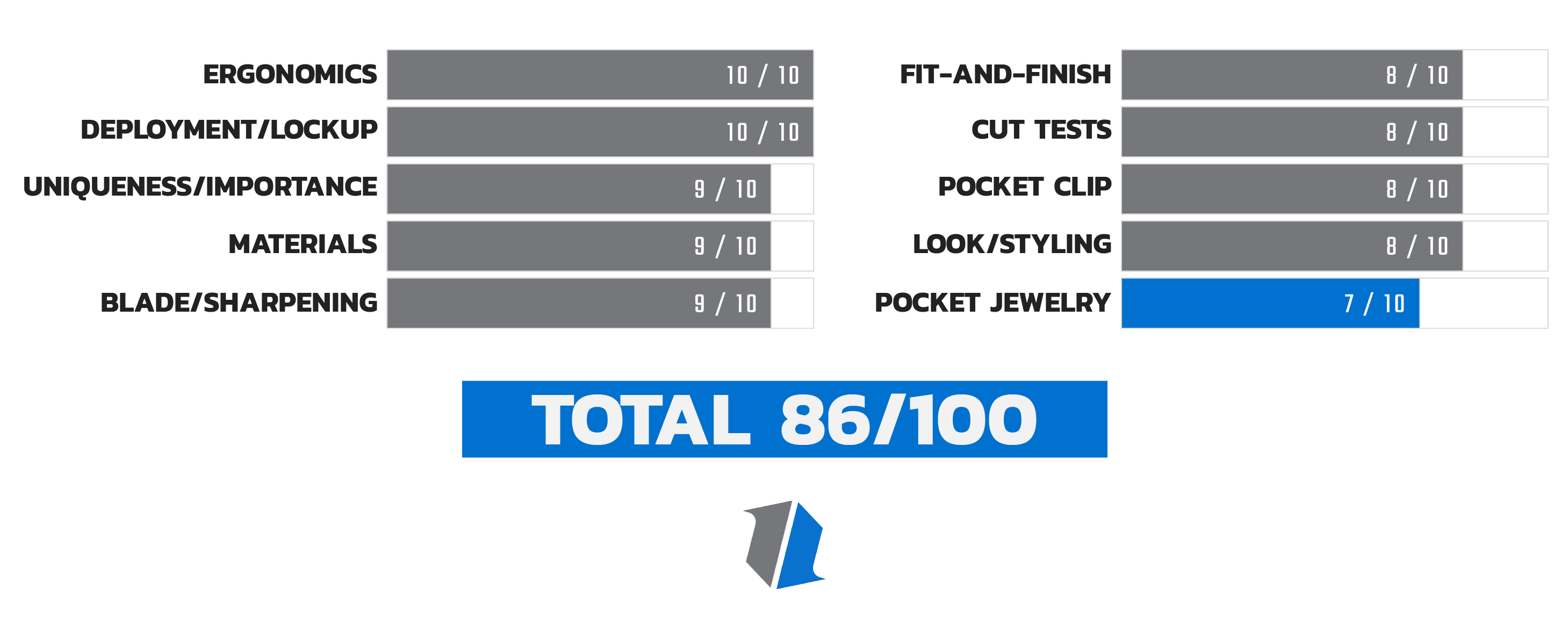 ---
TOTAL KNIFE LIFE SCORE:
86/100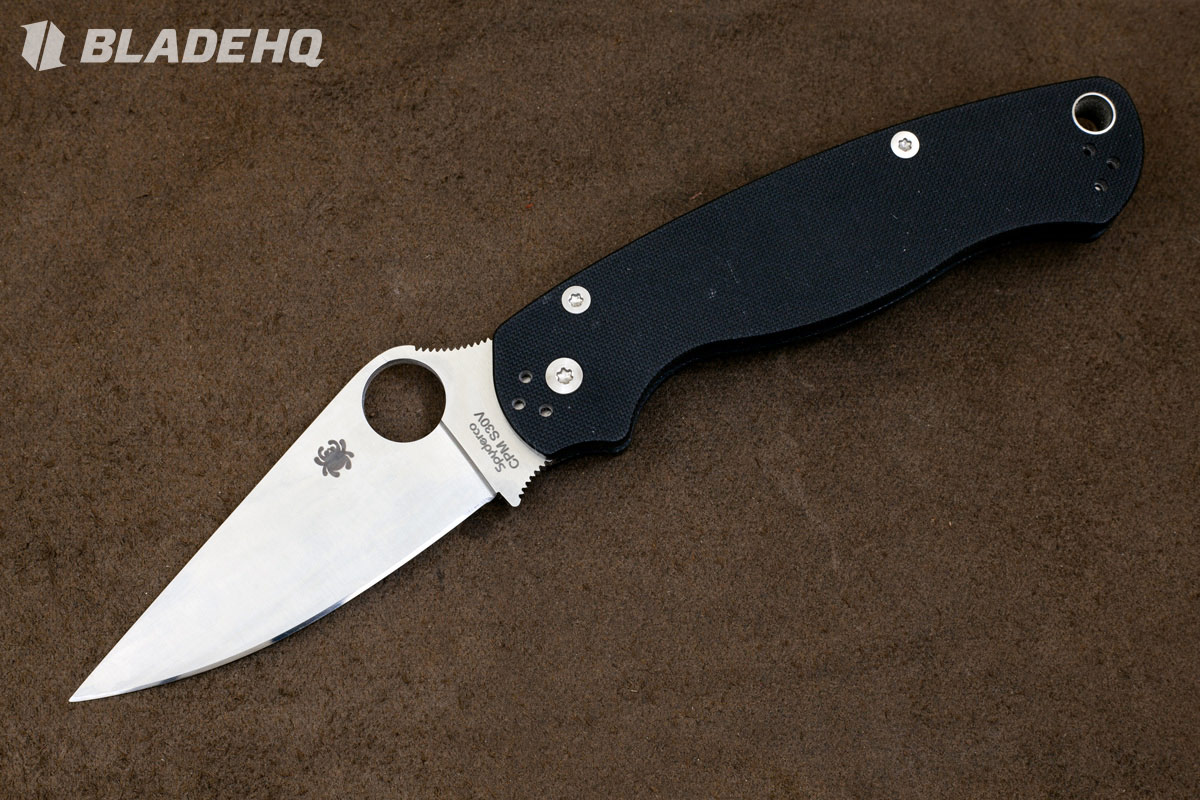 This is one of the most popular knives in history, and for good reason. Still kicking butt after all these years, the Spyderco Paramilitary 2 would be an ideal EDC for any knife lover. Not too hard on the wallet, built like a tank, and always hankering for action, the PM2 is everything I hoped it would be.
If you still need more convincing, check out the video below as The Late Boy Scout puts the PM2 to test in the great outdoors. Or see how the Para 2 fared in our Best American Made Knives article.
Shop Spyderco Paramilitary 2
---
MILITARY vs. PARAMILITARY 2 vs. PARA 3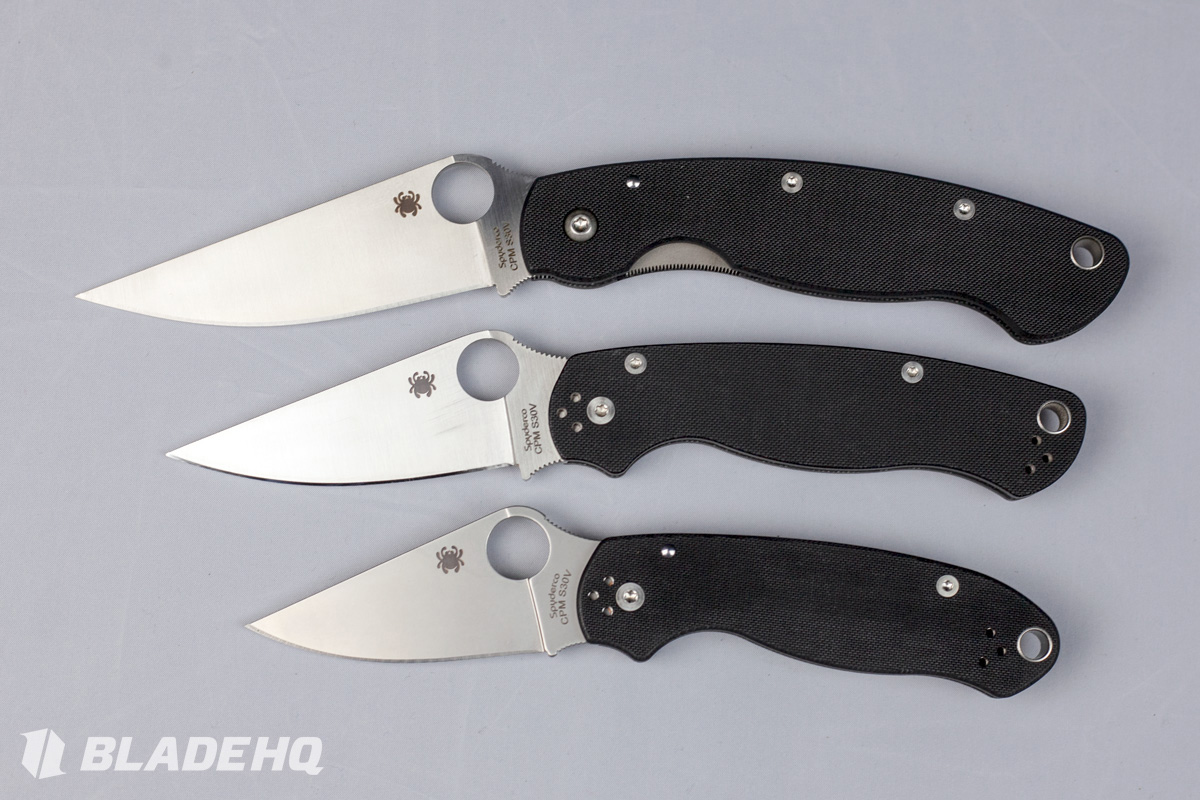 The Paramilitary 2 (middle) is a perfect size for general EDC tasks, but you're also in luck if you're looking for something a little bigger or smaller. The Military (top) is a behemoth of a folder with a 4" blade and lengthy scales to match. If you've never handled a Military, it may seem like a gratuitous novelty. I might have thought that at some point, but give one a chance and you'll see how eager that knife is to be put to work. The Para 3 (bottom) is the perfect knife for smaller handed folks or people that can't legally carry a knife with a blade over 3". If you love the PM2, you're guaranteed to like the Para 3. Give both a try!

---
Paramilitary 2 Variants
Introduced in 2010, the Spyderco Paramilitary 2 has quickly become one of the most popular knives ever. During the last ten years, we've seen dozens of variants come and go in the form of sprint runs, exclusives and limited releases. These special knives have helped to solidify the PM2 as a must-have knife, and have fueled a community obsession for unique and rare Spyderco knives. Below are some of our favorite Blade HQ exclusive and sprint run Paramilitary 2s from the last ten years. Check them out below, but keep in mind that many of them are completely sold out and never returning! At this point, you're probably asking why we're showing you knives that aren't currently available. These knives are a sample of what Spyderco is capable of and they should give you an idea of the kinds of things to look forward to as future variants of the Paramilitary 2 come out.
M4 & Natural G-10

This ultra-limited variant of the Paramilitary 2 is one of our all-time favorites. Its unique natural G10 scales have an awesome translucent green color making this knife a standout in any collection. The addition of a black coated CPM M4 blade increase the already amazing performance of this knife and give it a sinister look compared to plain satin colored blades.
Copper & REX45

Few things are as satisfying as shiny copper and super steel. The PM2 Copper/REX 45 is one of the most flashy and unique Spyderco knives to ever exist. This knife is a tank and boasts a weight of 7.47oz! For anyone who was able to snag one of these, it is one of those knives that will age well and spark conversation. If you didn't have the chance to pick up one of these limited edition knives, check out Flytanium to pick up a pair of their copper scales.
Forest Green G-10 Sprint Run

Though not the most exciting variant in this list, there is something to be said about the cool green color found on this knife. Spyderco is known for radical designs and unique color ways and this is no exception. In an industry inundated with olive drab, it's nice to see something different for a change. In addition to unique scales, this PM2 has been outfitted with a slicey S45VN blade. Sign up for the wishlist to get your hands on one before they're gone for good!
PM2 Tanto

We've saved the best for last. Teased at a recent SHOT Show, the Paramilitary 2 Tanto is the stuff of dreams. It's incredible tanto blade shape offers both added utility and awesome looks to this already rad knife. It features grippy G-10 scales and Spyderco's convenient Compression lock. This Blade HQ exclusive won't be here forever so it's well worth picking up. For more Spyderco Knives be sure to check out the video below for the latest Spyderco Knife releases for 2021.
---
OTHER KNIFE GUIDES