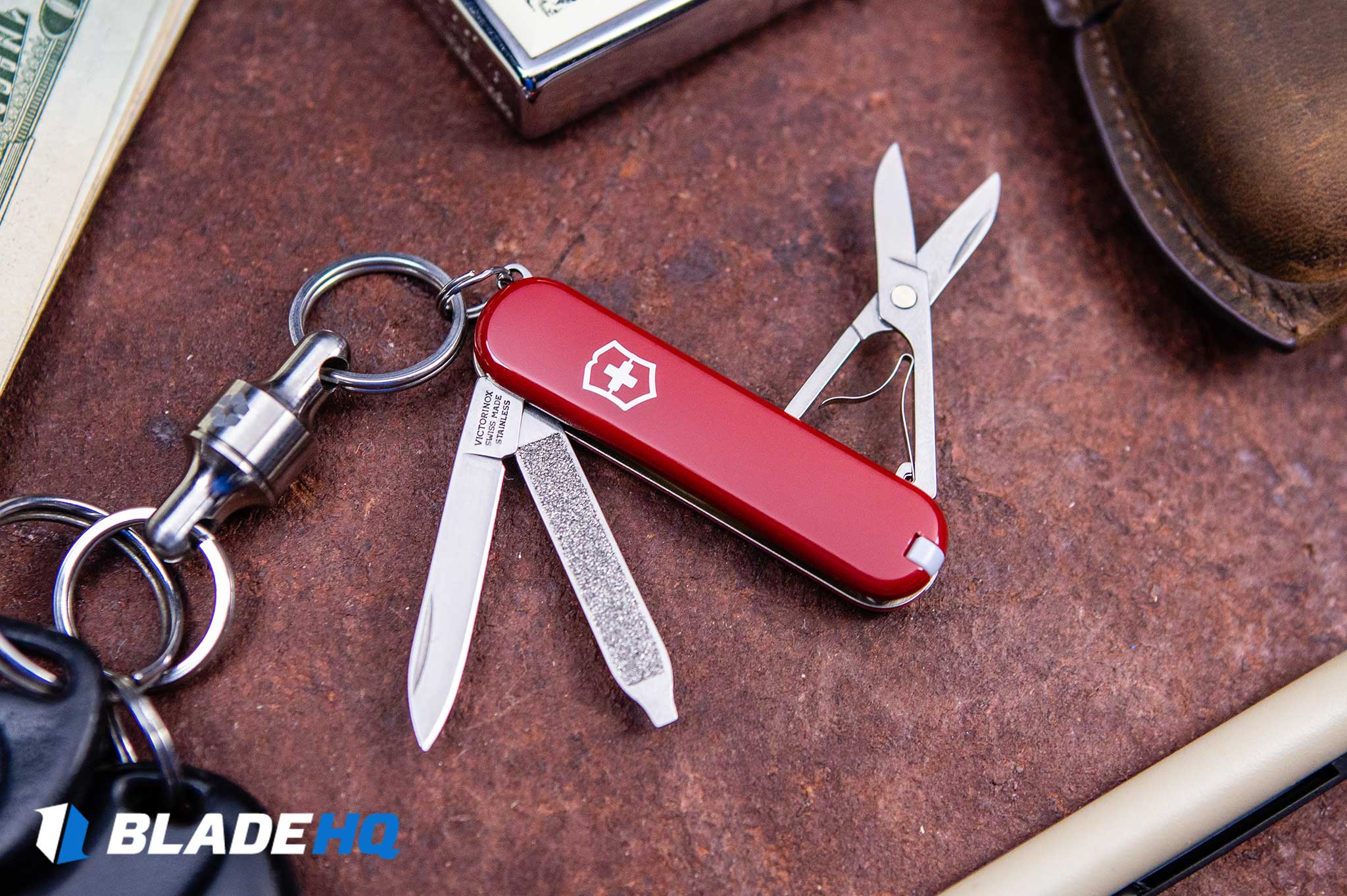 One of the fun things about working at Blade HQ is the opportunity to handle and use many different knives from many different makers. This review is a bit different because I have been carrying and using the Victorinox Classic SD for much longer than I have worked at BHQ. It's an incredible little tool and at times has been more useful than my regular pocket knife. The combination of Victorinox's long history of making quality pocket tools, the classic styling and its general usefulness makes the Classic SD one of my long-time favorite knives and I will always recommend it as an affordable backup blade. Read on to learn more about the Victorinox Classic SD and what makes this Swiss Army Knife such a great tool!
First let's run through the stats…
2.28" Closed Length
1.50" Blade Length
Drop Point Blade
Stainless Steel
Polymer or Aluminum Handle
0.80 oz. Weight
Slip-Joint Lock
Swiss Design
Made in Switzerland
Shop Victorinox Classic SD Knife
---
KNIFE LIFE SCORE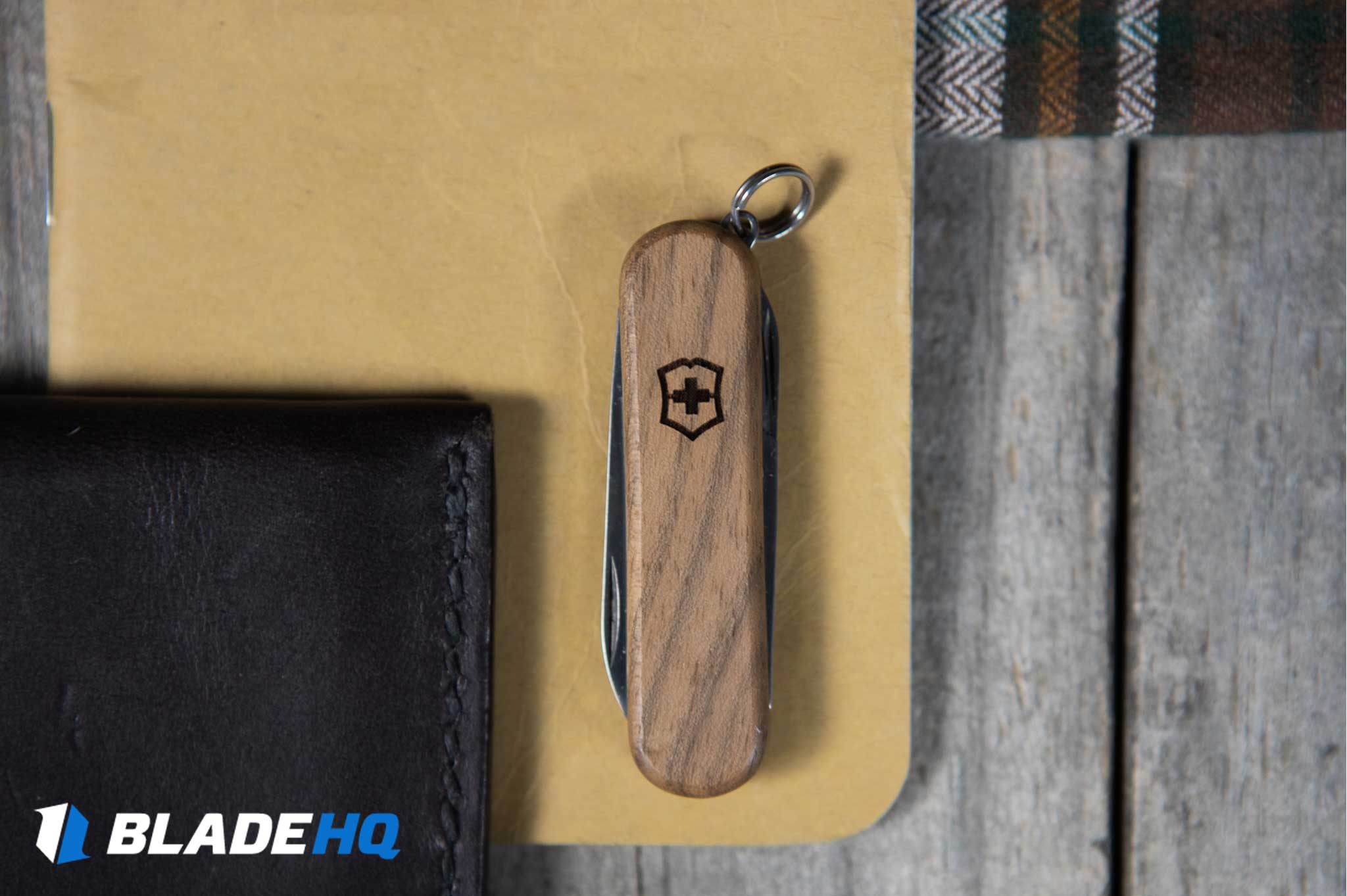 Knife Life is all about representing your personality and passion through the knife you carry in your pocket every day. Quality and performance are key. Tasteful design and ritzy details are also important. You can be confident carrying any knife with a high Knife Life Score. Each section is scored out of 10 with a grand total of 100.
UNIQUENESS / IMPORTANCE
Score: 10/10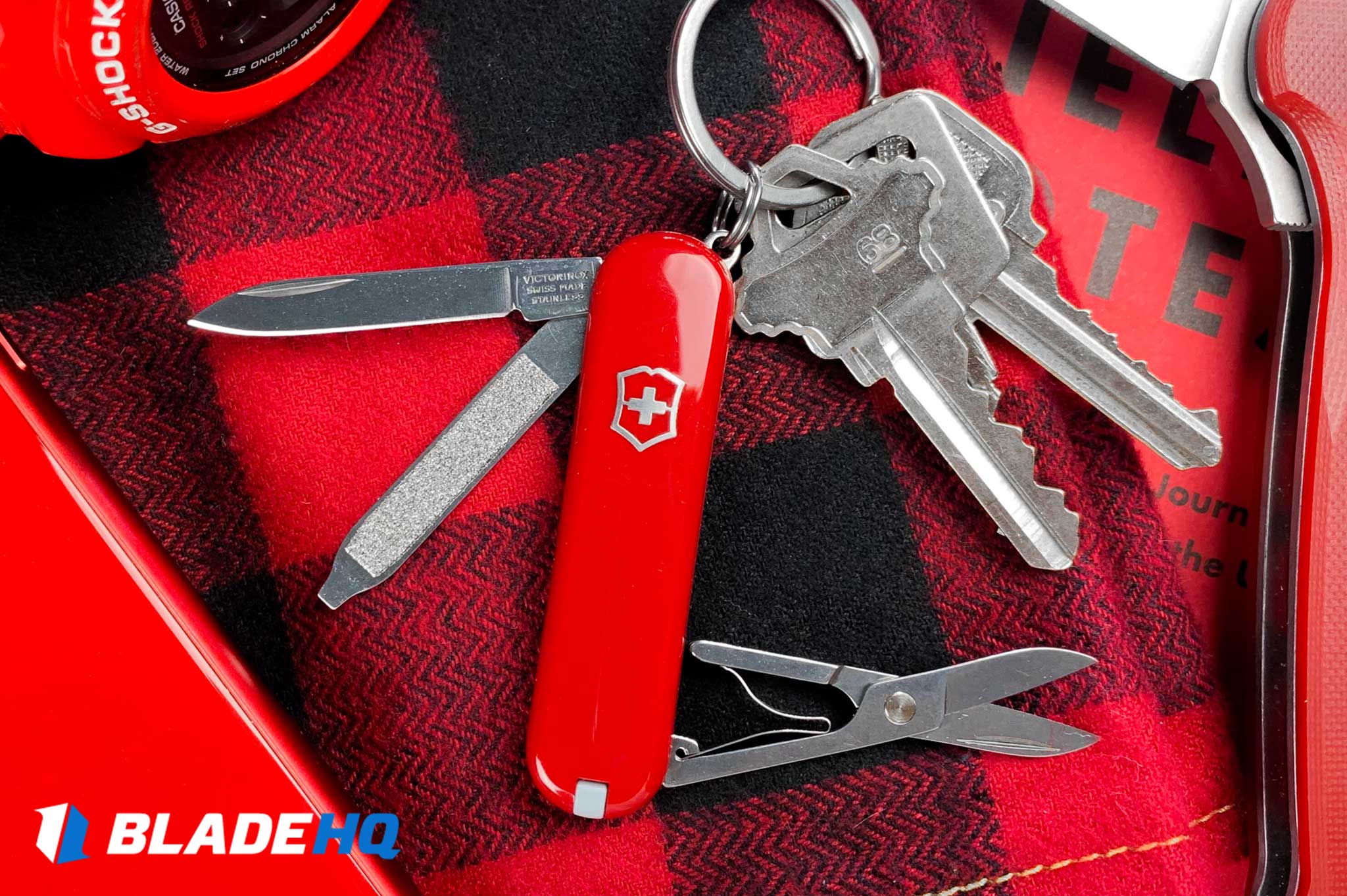 Victorinox is one of the oldest brands in the knife world. They've been making knives and pocket tools for over one-hundred years and few things have changed from the original design of the Swiss Army Knife. For some of us, the Victorinox Classic SD was our first knife. For others of us we've carried one on our keys for many years. There are two things about the Classic SD that make it important to the knife community. First, the Classic SD is extremely accessible. At around $15 for basic versions of the pocket tool, most people can afford to buy one or two. This accessibility makes them a popular item to collect and trade. Many custom and limited-edition versions of the Classic SD have been released over the last decade making it easy to find one to match your personality. The second reason this knife is important to the world of knives is that its design hasn't changed much throughout its lifespan. The Classic SD has received upgraded handle scales with materials like gold, silver, aluminum and wood, but the general function and design hasn't changed. This knife's simplicity and classic styling makes it an easy addition to any collection.
---
MATERIALS
Score: 8/10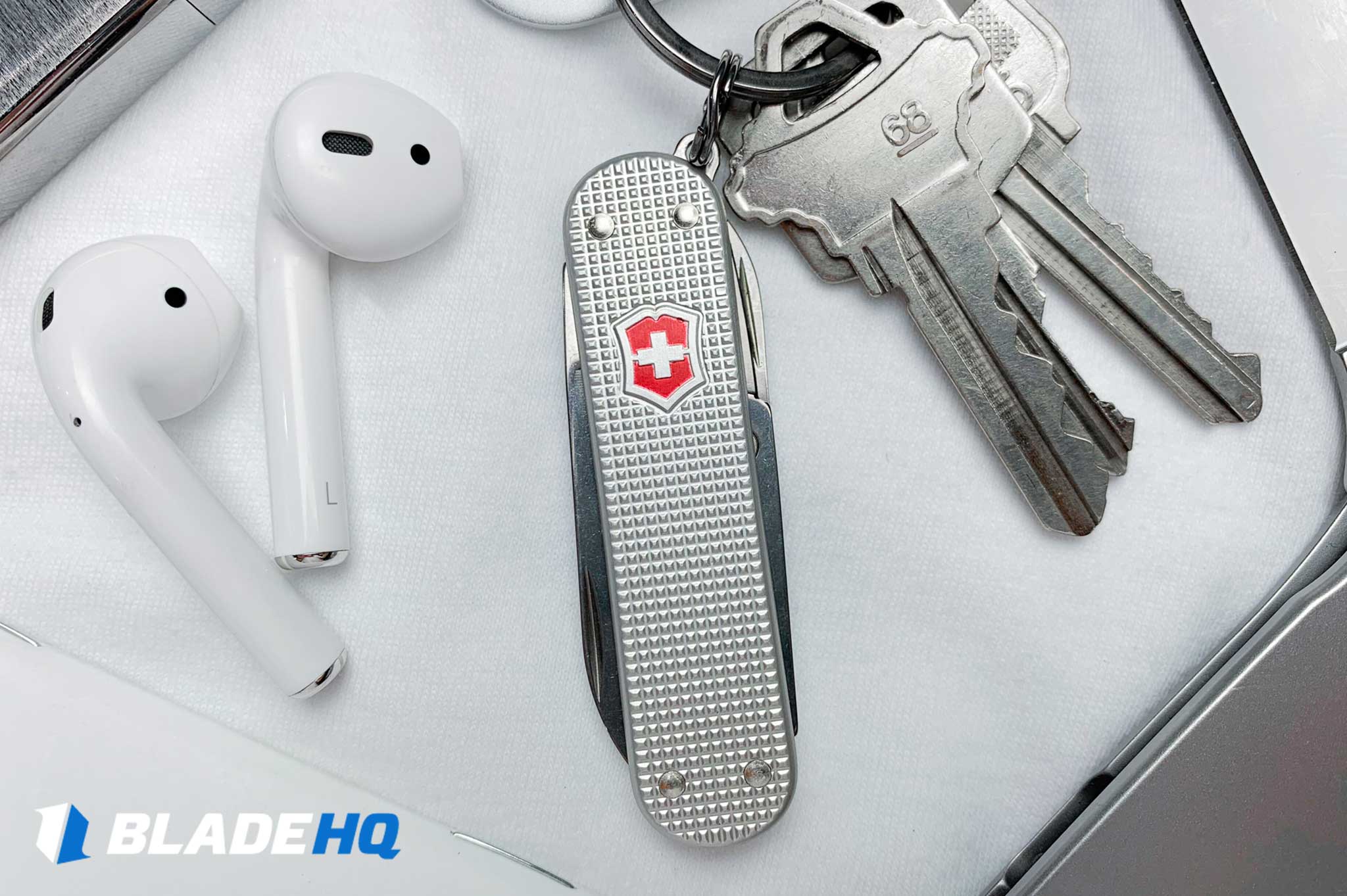 This budget friendly knife is made from the stuff that gets the job done. You won't find vibranium or unobtanium on the Classic SD, but instead stainless steel and plastic. Honestly, that's what makes it so great. The basic materials found on the Classic SD are perfect for a keychain knife. The Classic SD is made to last and designed to bounce around on keys without taking much damage.
---
LOOK / STYLING
Score: 9/10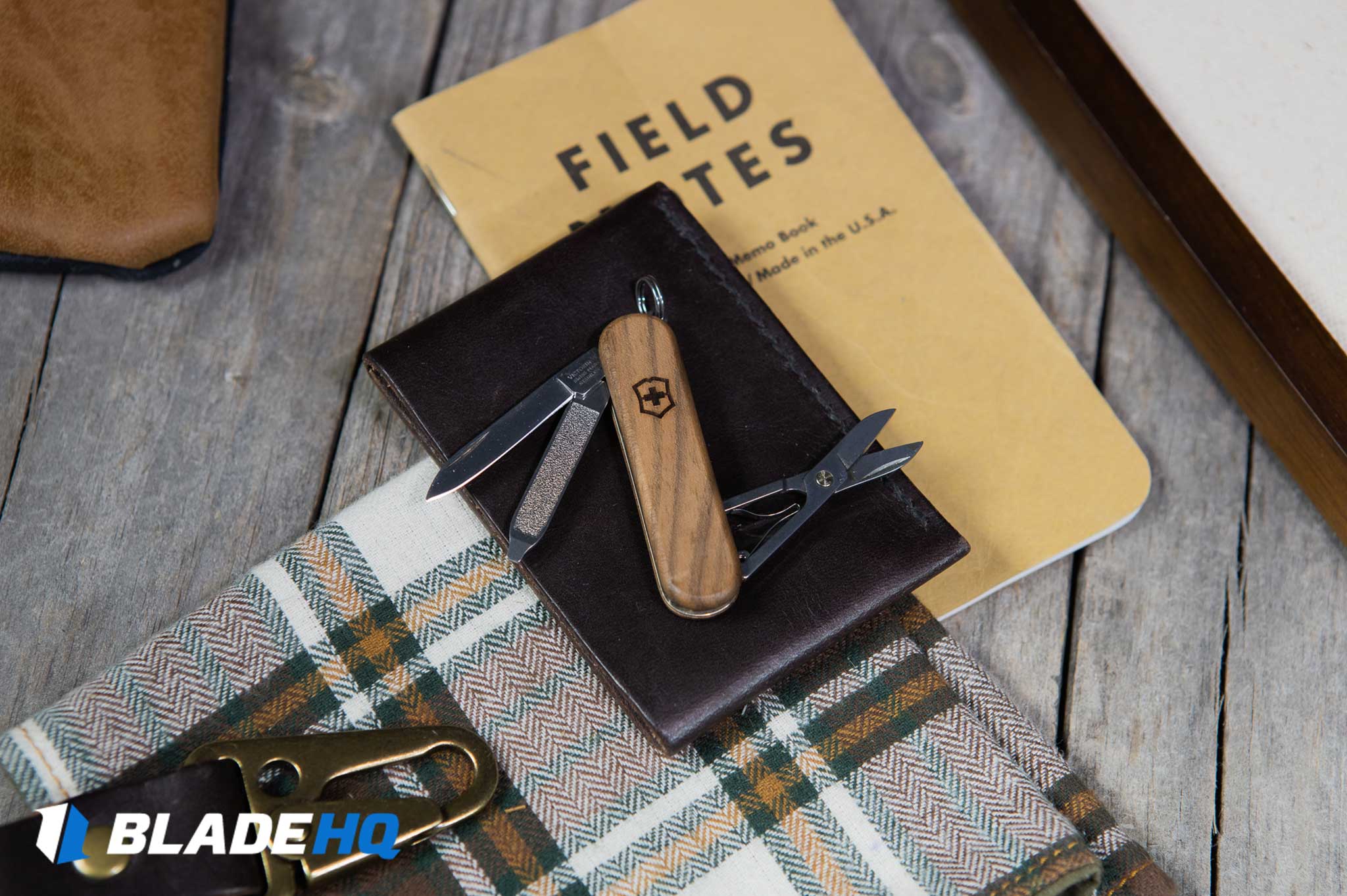 Not many knives have the same classic and iconic looks as the Swiss Army Knife. The original Victorinox Classic SD dons the Victorinox shield and the iconic Swiss red. Other variations come in many different colors, designs and materials. Victorinox's Alox models feature lightweight aluminum scales and a much slimmer profile than the original Classic SD. One of our favorite things offered by Victorinox is the ability to for retailers to design their own exclusive Victorinox Classic SD models. We have released some wild and fun designs over the last year further adding to the personalization factor of Classic SD pocketknives.
---
ERGONOMICS
Score: 6/10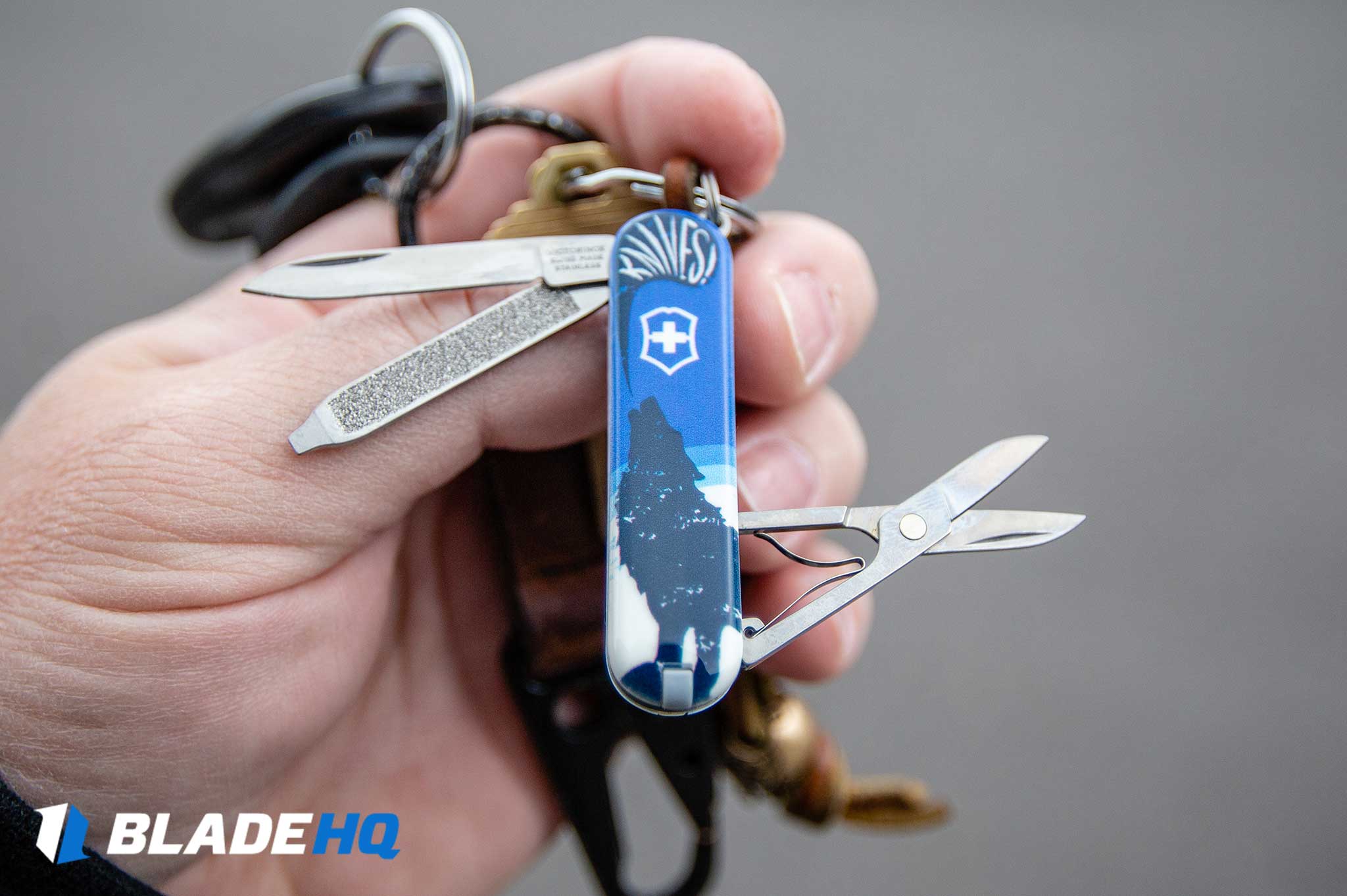 Being a keychain sized knife, the Victorinox Classic SD isn't necessarily the easiest knife to handle, but it is probably one of the most useful knives I have ever owned and used. Like other Victorinox knives, the Classic SD is round around the edges and offers easy access to its blade and tools. Nail nicks are used for opening the knife, nail file/screwdriver and scissors on the Classic SD and serve their purpose perfectly. When open, the scissors are easy to operate with one hand and make quick work of small cutting tasks. ALOX versions of the Classic SD offer added grip and lighter construction than plastic versions, both important aspects considering this knife tends to live on a set of keys.
---
Deployment / Lockup
Score: 8/10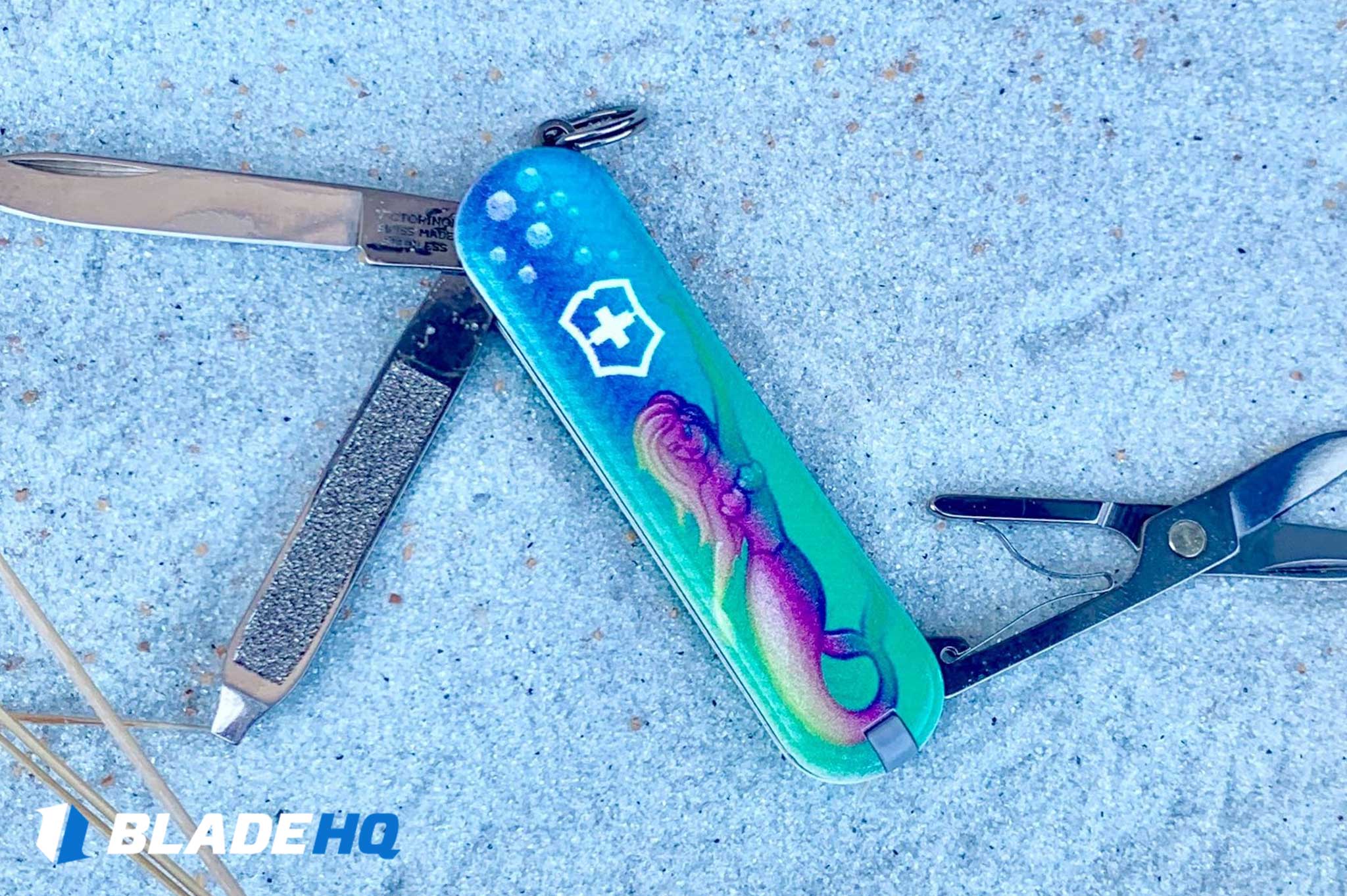 The deployment on the Classic SD is about as consistent as the sun coming up in the morning. By using the nail nick on the blade, one can open the knife with minimal effort. When it comes to lockup on the Victorinox Classic SD there's nothing too exciting or crazy to note. It's a slip joint knife and as such has considerable lock strength for its size. We don't suggest misusing or deliberately abusing your Classic SD, but don't be afraid to use it for some reasonably bigger tasks. It's a surprisingly strong little knife!
---
BLADE / SHARPENING
Score: 8/10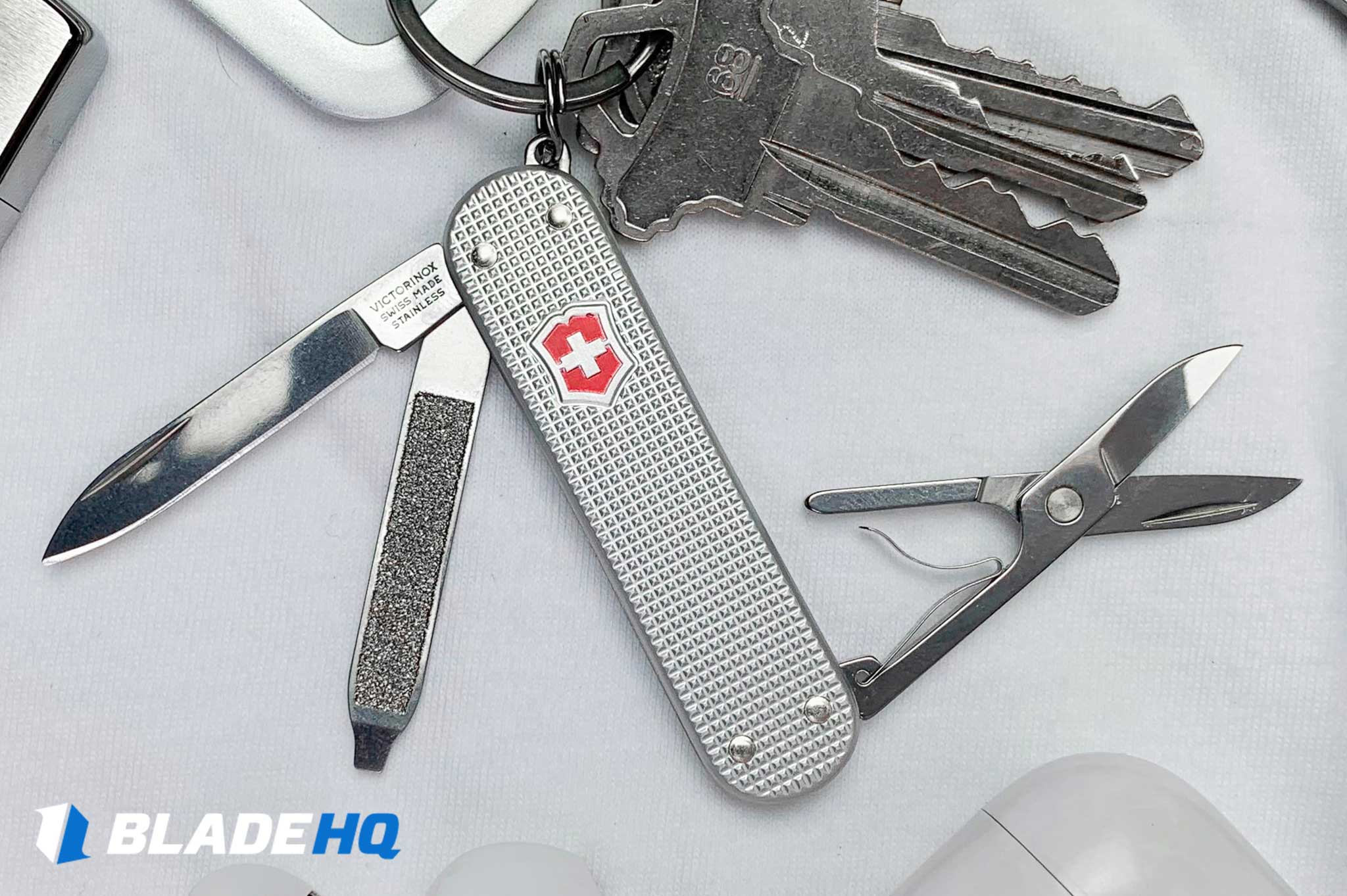 Let's face it, the blade on this little knife isn't the greatest in the world. It's made of simple stainless steel and that's about as good as it gets. The good and the bad of this blade really outweigh each other. On one hand the blade is fairly soft which makes it incredibly easy to sharpen but hurts edge retention. As a backup blade, the Classic SD performs well enough. You won't be seeing incredible slicing capabilities from the small blade on this knife, but its flat ground drop point blade does great until it's dull. Sharpening the Classic SD isn't entirely worth it. If you are really using it enough to dull the blade regularly, you probably need a bigger and more solid knife. If you do find yourself needing to sharpen the blade, it's honestly easy enough to just buy a new one and gift your old one to someone else (maybe someone younger).
---
FIT-AND-FINISH
Score: 9/10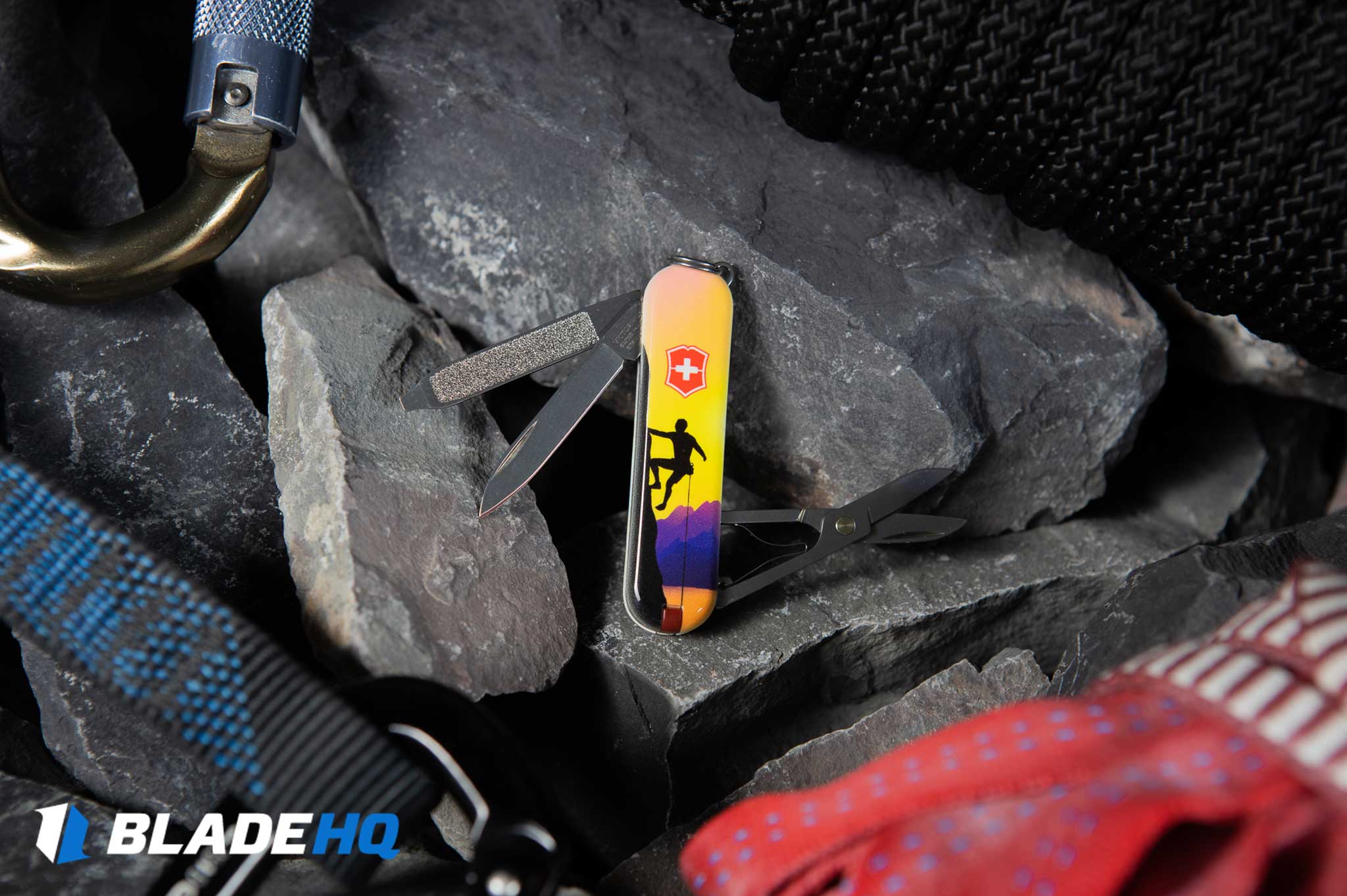 Like many things made by the Swiss, the Victorinox Classic SD is made precisely and consistently. Whether it's the mirror polished finish on the tools or the fitment of the handle scales the Classic SD is well built and looks great no matter how many you look at and handle. Alox versions of the Classic SD have a very nice texture and grip given to the handle scales. Those handle scales are riveted to the rest of the knife giving it both unique looks and structural rigidity. Over time, like all things, the Classic SD wears out some. The plastic handle scales will come loose with time and may fall off, but that's nothing a little super glue can't fix. Overall, we are extremely pleased with the build quality of the Victorinox Classic SD.
---
CUT TESTS
Score: 6/10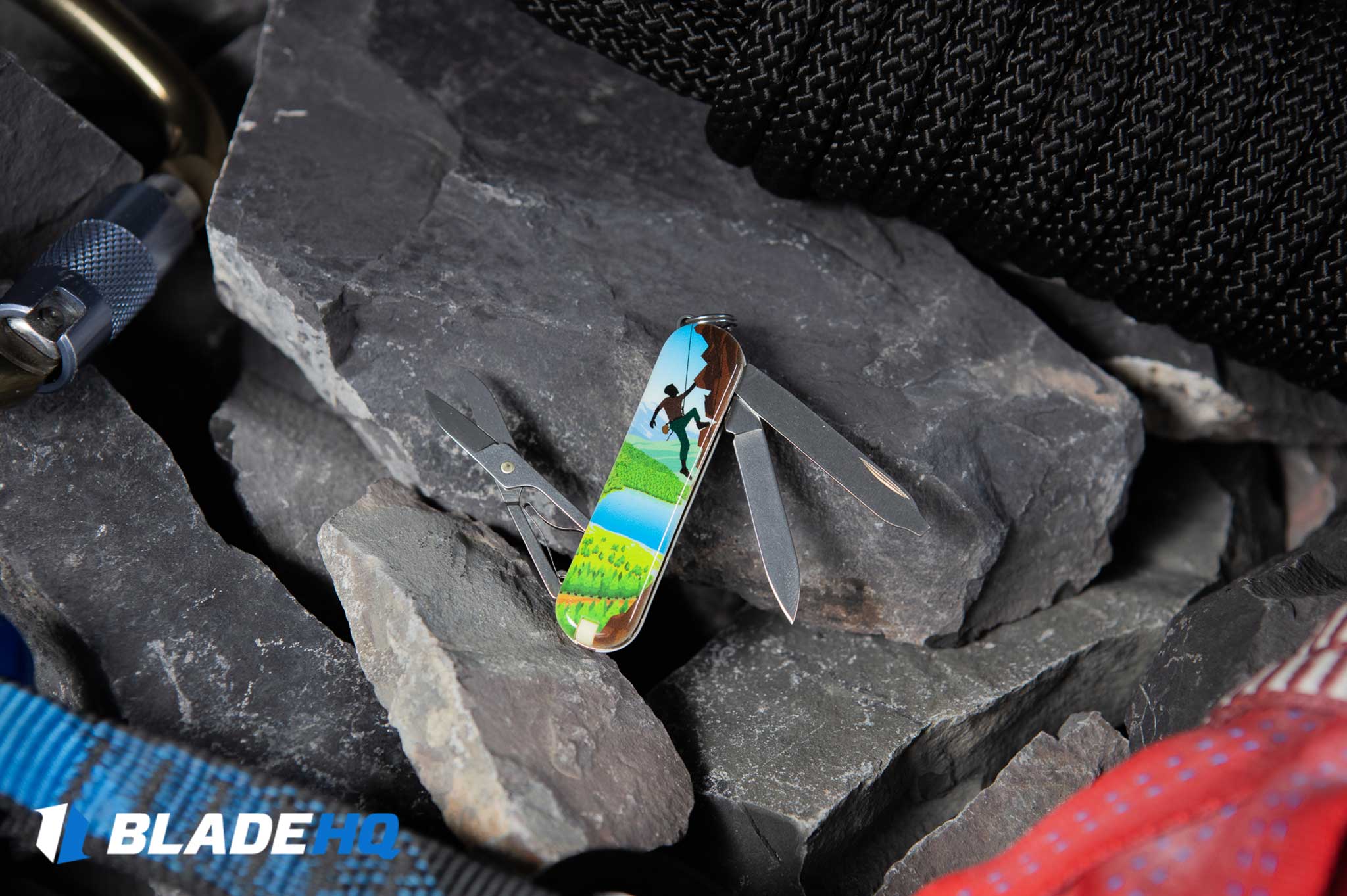 I was a bit surprised when I used the Classic SD for cut tests. Keeping in mind that this knife has an extremely small blade, the knife was great for light duty tasks. I used it to open mail and packages, to cut loose strings off clothing and to trim bandages on my recent hand injury (no, not knife related…). Stainless steel isn't typically the strongest blade steel, but this knife doesn't need super steel. It's designed to be used as a light-duty/backup blade. During our cut tests, the Victorinox Classic SD sliced comfortably through paper and other similar things. It was great for basic carving tasks, cutting paracord and cleaning the dirt from under my fingernails. Again, this is not a heavy-duty knife. Use it for practical tasks, and don't be dumb.
---
Ease of Carry / Pocket Clip
Score: 8/10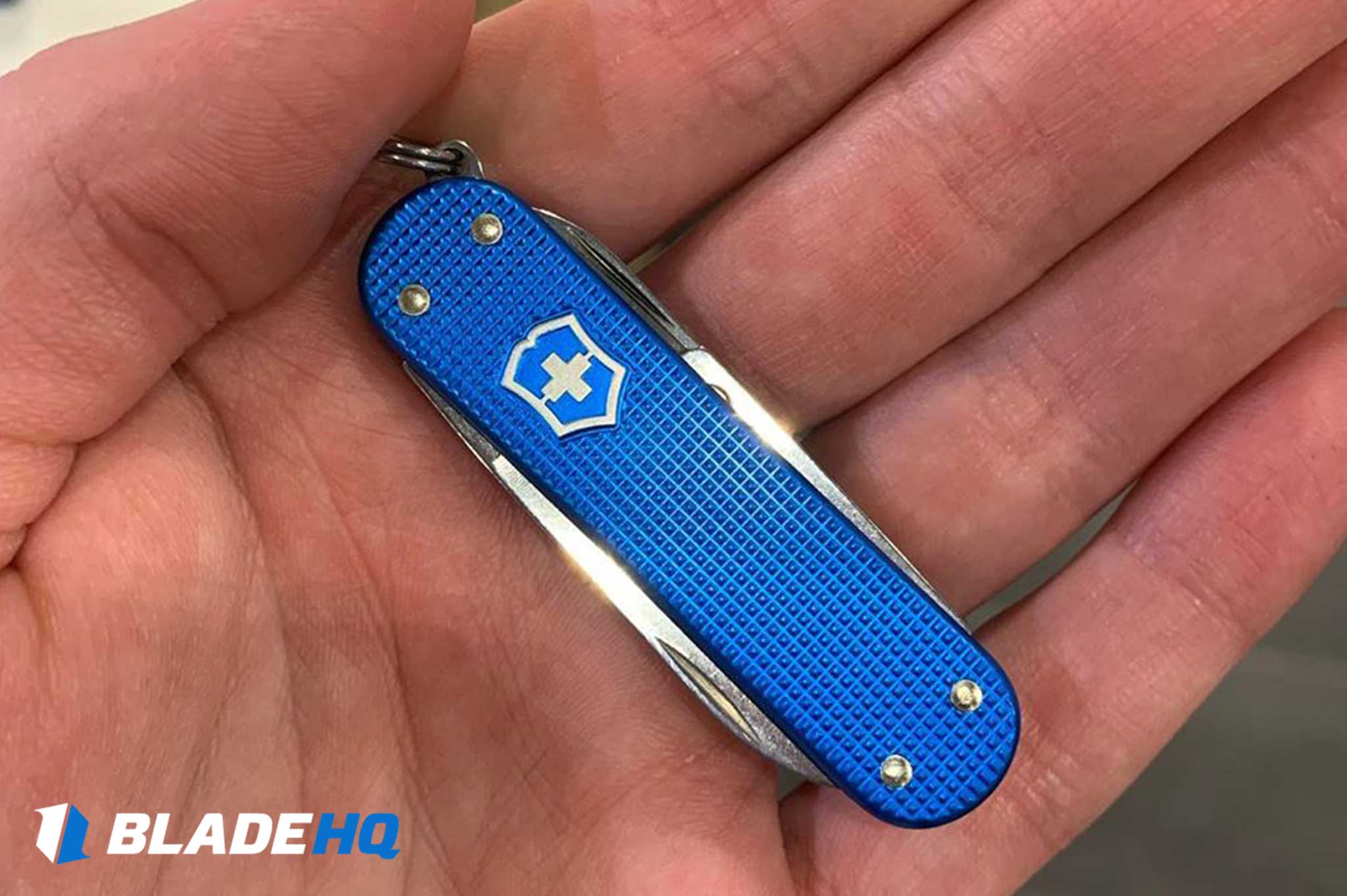 Pocket clip? What pocket clip? The Victorinox Classic SD, like almost all other Swiss army knives, doesn't have a pocket clip. Instead, the knife can be secured to a keychain or carabiner by using the included split ring. Other than the potential for breaking the split ring (not very likely) there are no complaints about how the Classic SD can be carried. It is lightweight, slim, and hardly there. Simply attach it to your keys and forget it's there until you want to use it.
---
POCKET JEWELRY
Score: 9/10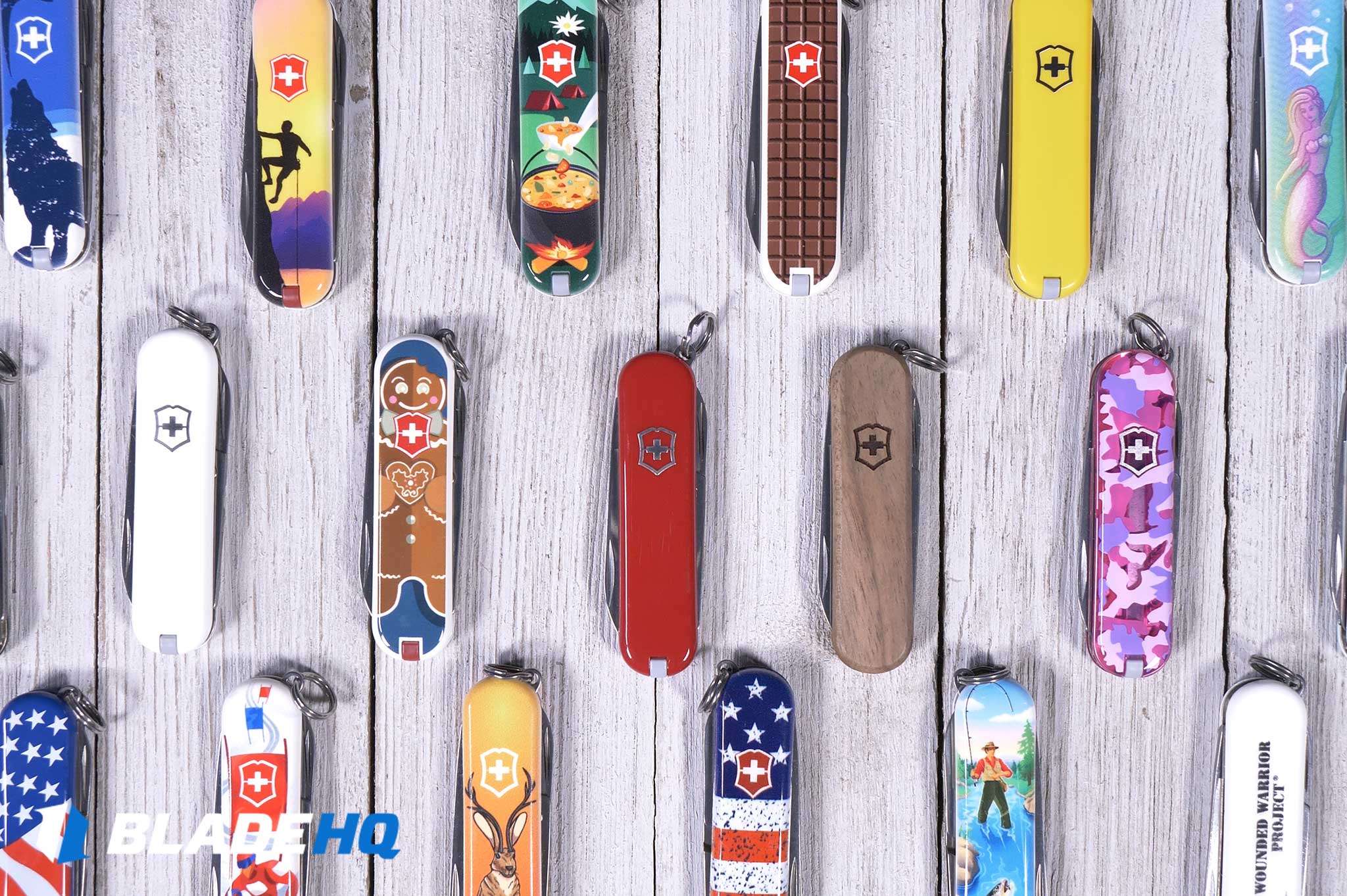 We give the Classic SD a higher pocket jewelry score not because it is the most incredible knife ever made, or the flashiest, or clad in gold and rubies, but because it is a classic. For all the time I have carried a Classic SD and other knives, nine times out of ten someone has said something about the Classic SD over the other knives. It doesn't typically draw excessive amounts of attention, but when it does people usually are excited about it. They talk about a Swiss Army Knife they've owned or a family member who loves SAKs. They ask where I got it and, for whatever reason, if I like MacGyver. The Victorinox Classic SD is a useful little knife. It has a lot of value for small tasks and doesn't cause stress when used around other people. This little Swiss Army Knife is more of a talking piece than anything and if you don't have one yet, you're really missing out.
---
TOTAL KNIFE LIFE SCORE:
80/100

Overall, the Victorinox Classic SD is a great pick for everyday carry and general utility. It's a great backup blade and features a couple useful tools to handle small tasks. The Classic SD is one of those pocket knives that finds its way onto you key ring and stays there. During my years carrying this small Swiss Army Knife, I have used it for everything from trimming strings and fingernails to pulling splinters and fixing bikes. It's a small, simple knife, but proves more useful than most regular size knives. With a huge assortment of colors and designs, there's a Classic SD for nearly any interest or personality. The great things about the Victorinox Classic SD certainly outweigh the bad and that's why it earned a solid 80/100 knife life score. Check out our full selection of Classic SDs by clicking below. If you'd like to see some of the other best Victorinox knives check out our Top 7 Swiss Army Knives article.
Other Great Victorinox SAKs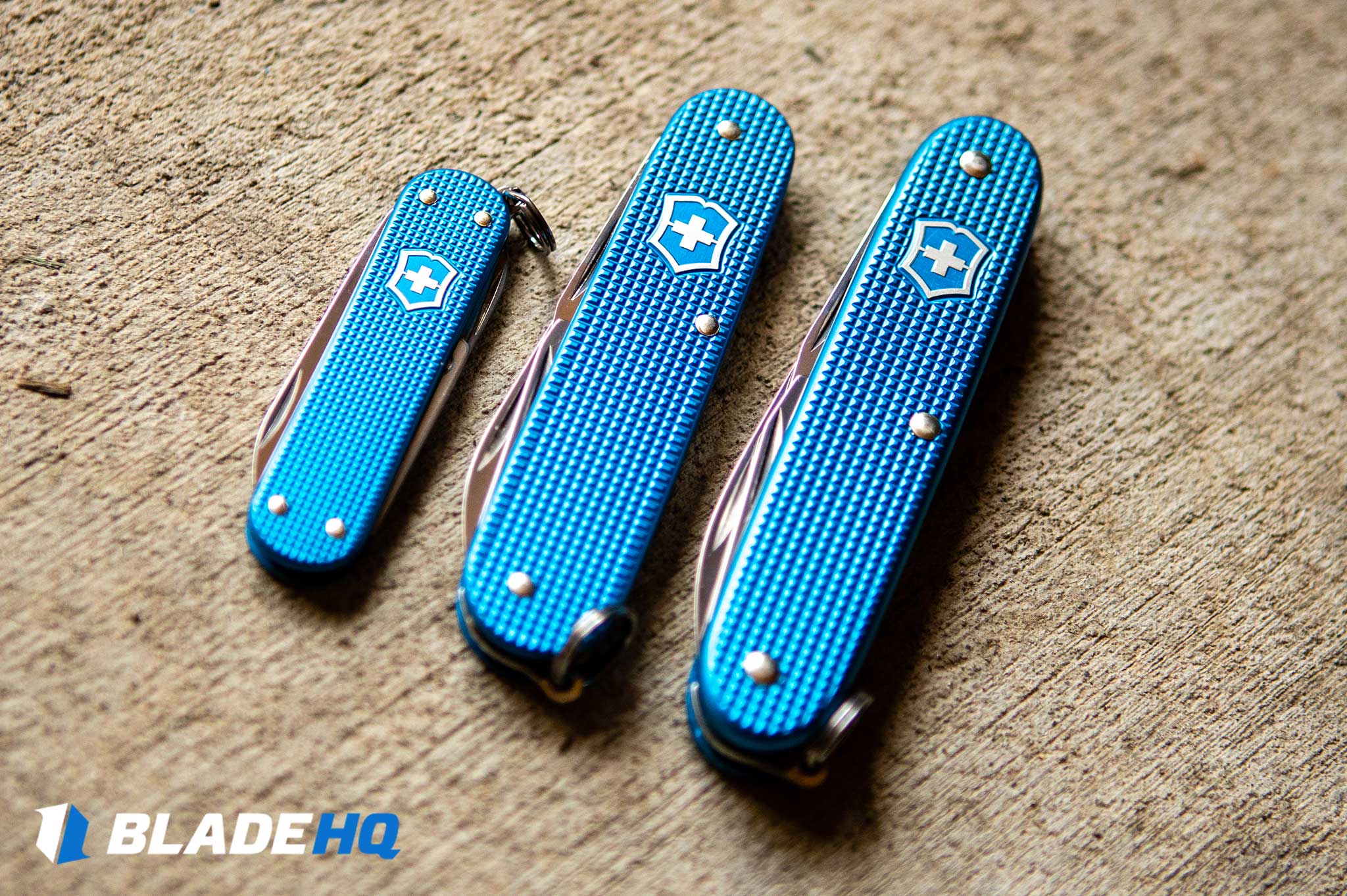 Victorinox Swiss Army Knives come in all sorts of shapes and sizes. As they get bigger, the number of tools available to use usually increases and as a result, the utility. If the Classic SD isn't your thing, we recommend checking out the Cadet or the Compact. These mid-sized Swiss Army Knives are a great way to add a bigger blade and a few tools to your edc rotation without taking up valuable pocket space. Check them out by clicking below. If you'd like to see some more of the best Victorinox knives check out our Top 7 Swiss Army Knives article.
YouTube
In this episode of Knife Banter Andrew and Zac take a look at the Top 5 Victorinox Swiss Army Knives, what makes each one unique and worth adding to your collection. Check it out below!
For a better look at the Victorinox Classic SD and even more stats, check out our full overview below!
OTHER KNIFE GUIDES