Many of you ask yourselves, "With so many LED flashlights available, which one is the right one for me?".  There are so many brands each with their own product lines that it makes your effort in searching for the right LED light, the right fit, seem exhaustive with no success of finding the "one". Having so many LED Flashlight options available can seem daunting, like finding a needle in a haystack . So, what do you do? Well, you can either "take the bulb by the horns" and search,  or just give up on searching and, on an impulse, purchase the first thing that pops up on Google, later wishing you had taken the time to search for the right flashlight specific to your needs. It's always better to purchase something that fits your needs rather than trying to force yourself to love and adjust your liking for that regretful purchase, whether it's an impulse buy or not.
I am here to help you simplify the process of finding the right LED flashlight for you. Let's begin.
First, the right questions:
What are the benefits of an LED Flashlight?
There are many benefits for an LED flashlight and here are two of the biggest: Economical and Longevity.
The biggest benefit of an LED flashlight is that you won't have to change the batteries and light bulbs as often. Flashlights with incandescent bulbs last for only a few hours, maybe 20 illumination hours total, where an LED flashlight could last hundreds of illumination hours. That means big savings on batteries.
In addition to not having to replace batteries, an LED light bulb last longer than regular incandescent bulbs. I think we've all been in a situation where a bulb goes out right when you need light the most, and changing the light bulb in the dark is difficult, if not impossible. In the past, incandescent light bulbs would last about 20 hours  but LED light bulbs will last hundreds maybe thousands of hours. This means even "MORE" savings for you over time.
An LED flashlight is also a great buy because it is more resilient. Most LED lights nowadays come encased in aluminum making it water resistant or waterproof, allowing more usability for the outdoors. I have a small Fenix PD10 and it's been with me on fishing, camping, and hiking trips. Never once – even with all the dirt, smoke, and rain – did it fail. That little guy has been good to me.
Another thing to mention is the resilience of an LED bulb. If you drop a flashlight with an incandescent bulb you run the risk of breaking it's filament – the part of an bulb that emits light. The LED bulb has a compact light source which are small reflectors or lenses, and this makes them less apt to break.
---
Now that you know what the benefits are for an LED flashlight, the next question to ask is, what types of LED flashlights are there? I listed them into three categories, Compact, Medium, and Large – and included an example for each. An added perk into categorizing these LED flashlights by size is that you'll be able to gauge what light to purchase that is specific to your needs.
Compact:
These compact LED flashlights range in length from 2 to 5 inches and come with up to 100 lumens of beam power. These little guys are perfect for a purse, car, office, and the outdoors. One little trick I learned while trout fishing is, by reversing the detachable light clip, you can slide it onto the brim of your hat and have an instant headlamp. Here's an example of a compact LED flashlight: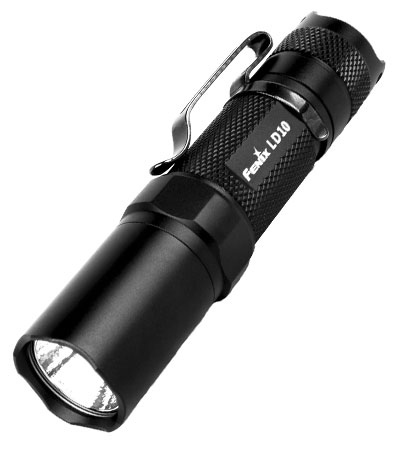 Features:
Two Modes: General and Turbo (General and Turbo combine for 6 types of output: General Mode: 3 Lumens, 13 Lumens, 45 Lumens; SOS Turbo Mode: 45 Lumens and 100 Lumens (Strobe feature).
Waterproof and Submersible: 2 meters
Beam Distance: 87 meters
4" (Length) x .85" (Diameter)
2 ounces (without battery)
Uses one 1.5V AA battery
This flashlight, the Fenix PD10, is a favorite amongst my friends and colleagues. If you're looking for something with the most features for the price, this is your light: Compact, Powerful, and Durable.
---
Medium:
The function of medium LED flashlights are the same as the compact lights but with one added perk, more strength to tackle extreme use. These lights, like the one listed below (TK15), are used to face the extreme conditions of the outdoors, law enforcement, and military use. They come in length from about  5 to 6.5 inches, diameter of about 1.5 inches, and up to 350 lumens of beam power. Those days of the D Battery Maglite that cops would carry are now being replaced with these medium sized LED lights that are many times lighter, brighter, tougher, and mobile.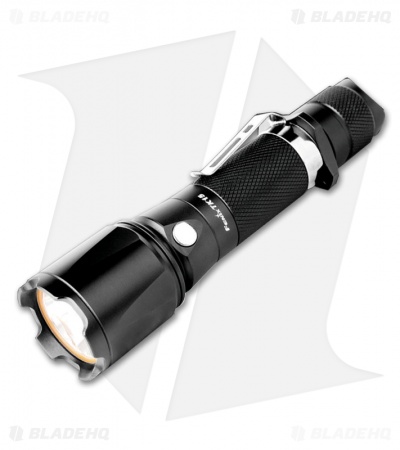 Features:
Five modes of output, selected by turning the bezel: Low: 5 Lumens; Mid: 47 Lumens; High: 143 Lumens; Turbo: 337 Lumens; Strobe: 337 Lumens.
Waterproof
Beam distance: 215 meters
5.75" (length) x 1.34" (diameter)
5.3 ounces (excluding batteries)
Uses two 3V CR123A Batteries or one 18650 Battery
---
Large:
Large LED lights are serious lights for serious people. People fond of expedition, adventure sports, and emergency rescue crews have good use for these extreme lights. They're still portable enough to carry with you – there are many models that come with an adjustable strap for carrying – but come with beams that will surpass any that have already been mentioned.
These lights range in length between about 7 to 10 inches and come with beam power ranging between 255 Lumens to 1500 Lumens (Romisen RC-T6). Yes, 1500 Lumens!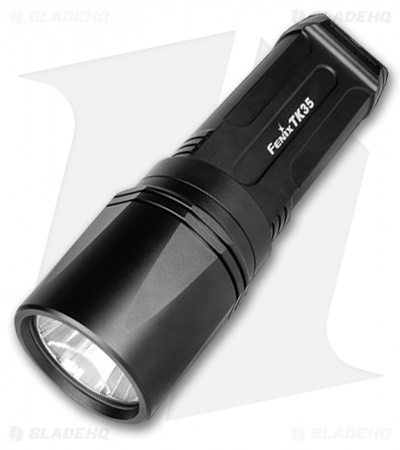 Features:
6 modes of output: Low: 12 Lumens; Mid: 109 Lumens; High: 346 Lumens; Turbo: 820 Lumens; Flashing: Strobe: 820 Lumens; SOS: 109 Lumens)
Waterproof and Submersible (2 meters)
Beam distance: 333 meters
6.45" (length) x 2.03 (Diameter: Head)
9.05 ounces (excluding batteries)
Uses four 3V CR123A or Two 18650 rechargeable batteries.