AUTOMATIC KNIFE BUYERS GUIDE
Welcome to the ultimate automatic knife buying guide! This buyers guide will walk through the necessities of automatic knives, from the best automatic knife examples and styles to what to look for and laws.
To prevent any confusion, keep in mind that a switchblade and automatic knife are the same. If you see these words interchanged throughout the guide, no need for head scratching.
---
Top 6 Automatic Knives
While there are two styles of automatics (see later section), this buying guide will focus on side opening automatics.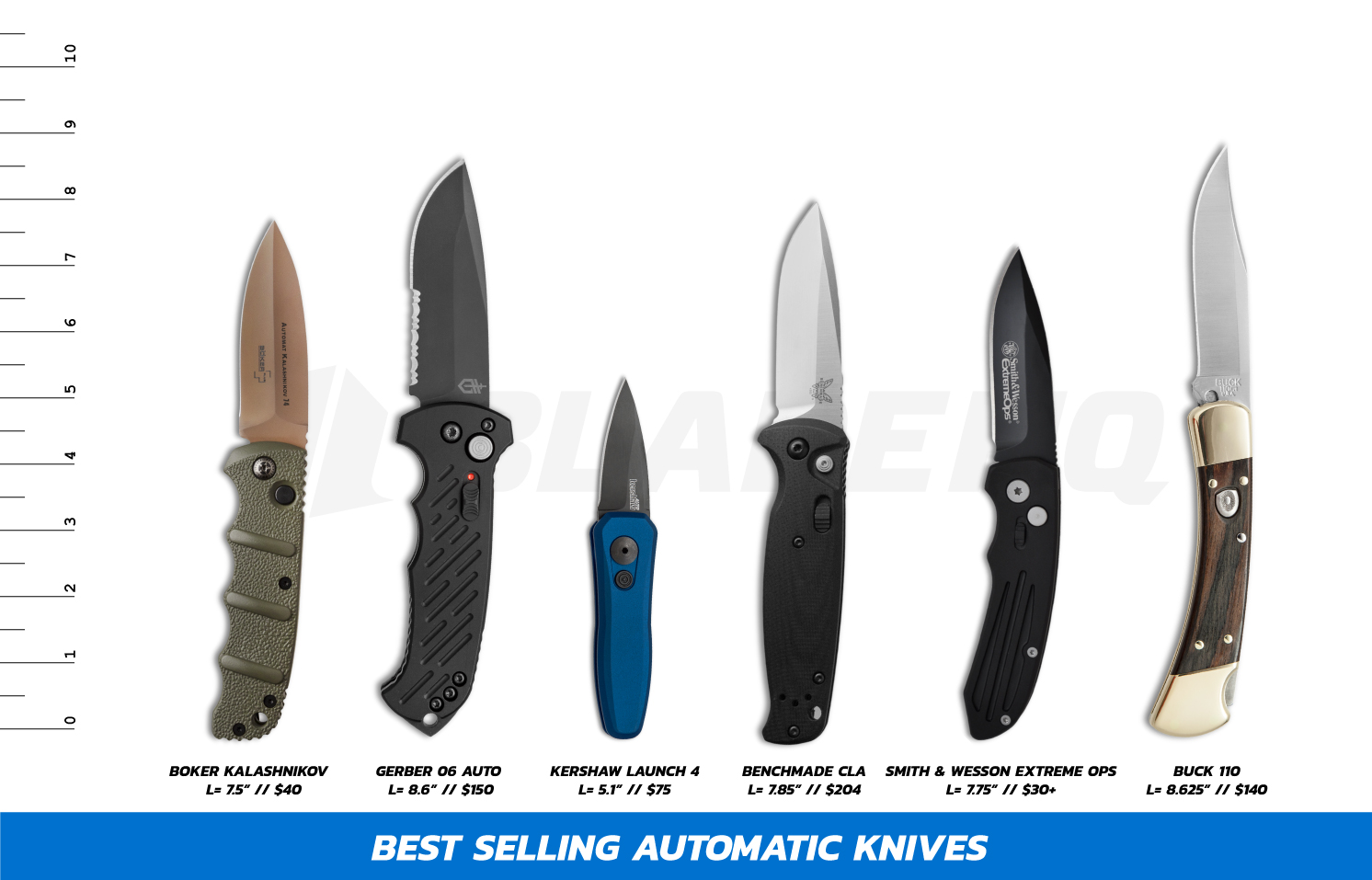 Boker Kalashnikov
The Boker Kalashnikov is an extremely popular knife at Blade HQ. There are distinctive styles of the Kalashnikov with many color options. The pictured tanto style features an AUS-8 stainless steel blade with a copper finish and aluminum handle. If you're looking for all the Kalashnikov in a smaller package, enter Mini Kalashnikov. Buy it here
Gerber 06 Auto
The Gerber 06 Auto is built for tactical uses and has a great history with the US military. Gerber automatic knives are known for their durability, toughness, and many uses. The oversized firing button and safety on the 06 auto make it a great knife for use with gloves. Buy it here
Kershaw Launch
The Kershaw Launch series is a popular line of automatic knives. The pictured Launch 4 has a blade that is just 1.90", making it California legal. The action on this knife is faster than Usain Bolt in a 1-yard dash. Yeah, it's quick. Buy it here
Benchmade CLA Automatic
The Benchmade CLA Automatic is a high-quality auto. This knife is very lightweight but strong. People love the comfort it brings in the hand and the deep carry pocket clip for concealment. The quality of each Benchmade automatic is real. Buy it here
Smith & Wesson Extreme OPS
The Extreme Ops line consists of dual action automatic conversions. Most of these knives open with a semi-covert firing button. Each knife in this series is excellent quality at a great price. Buy it here
Buck 110 Automatic
The Buck 110 is one of the most famous traditional knives in the knife industry. It has carried on its image for decades as a hard working knife that is great for any heavy cutting task. Although it was generally a manual folder, the 110 can now be found in an auto option. Buy it here
| | | | | | | |
| --- | --- | --- | --- | --- | --- | --- |
| | Boker Kalashnikov | Gerber 06 Auto | Kershaw Launch 4 | Benchmade CLA | Smith & Wesson Extreme OPS | Buck 110 Automatic |
| Overall Length | 7.50" | 8.60" | 5.10" | 7.85" | 7.75" | 8.625" |
| Blade Length | 3.25" | 3.70" | 1.90" | 3.40" | 3.25" | 3.75" |
| Handle Length | 4.375" | 5.00" | 3.20" | 4.45" | 4.50"+" | 4.875"" |
| Blade Material | AUS-8 | CPM-S30V | CPM-154 | 154CM | 440 | 420HC |
| Handle Material | Aluminum | G-10 | Aluminum | G-10 | Aluminum | Ebony Dymondwood |
| Pocket Clip | Tip-Up | Tip-Up | Tip-Up | Tip-Up | Tip-Down | NA |
| Weight | 3.50 oz. | 6.25 oz. | 1.98 oz. | 3.47 oz. | 4.00 oz. | 7.10 oz. |
| User | Right Hand | Right/Left Hand | Right Hand | Right/Left Hand | Right Hand | Right/Left Hand |
| Best Use | Everyday Carry | Tactical | Everyday Carry/Tactical | Tactical | Tactical | Everyday Carry/Hunting |
| General Price | $40 | $150 | $75 | $204 | $30+ | $140 |
---
Automatic Knife Styles
There are two styles of automatic knives to choose from.
Side Opening Automatic Knives
A side opening automatic does just that. The blade opens from the side of the handle when the release is pressed. These types of switchblades have a spring or torsion bar inside that propels the blade open.
OTF Automatic Knives
Out the Front (OTF) automatic knives have a blade that exits out the front of the handle. These switchblades are spring loaded and can be found in both double action (blade automatically opens and closes) and single action (blade automatically opens but requires manual retraction).
---
What to look for in an Automatic Knife
Keep the following in mind when searching for your new snappy-opening friend.
Types of Automatic Releases
Firing Button – This is by far the most common type of automatic knife. It is a simple button that releases the blade when pressed.
Hidden Release – There are different variations of the hidden release. A popular one can be found on the Protech Magic BR-1. It opens with a slide of the front bolster on the handle.
Lever – These knives open with a lever being pulled. Lever releases are popular in Italian stilettos.
AXIS Pull Release – Benchmade is known for their AXIS locks. These locks have a thumb stud on each side of the handle that acts as a locking mechanism. AXIS locks are generally found on manual folders, but the Benchmade Serum automatic sports it like a champ.
Size
Size is important in switchblades because some states restrict them if the blade is over a certain length.
Switchblades come in many shapes and sizes. You can even find some Italian Stilettos that are close to 20" in length! Now that's a knife.
If you want a compact carry option, go for a 2-3" blade. If you're looking for a more tactical blade that will do a lot of cutting, a larger blade would be the better option. Maybe you live in an area that allows any automatic and a 7" blade is in your wheelhouse. Point is, you do you.
Blade Steel
What's a good buyers guide without steel types? Let's get our feet wet without diving in too deep. Like other knives, automatics are made with a wide variety of materials. Factors that influence blade steel quality:
Edge retention and wear resistance
Toughness
Stain resistance
Sharpening ability
Popular types of steel in switchblades:
AUS-8 – AUS-8 is about 75% carbon and was made popular by Cold Steel. It is featured on the popular Boker Kalashnikov and is known to be tough and holds an edge well.
D2 – This steel has a high chromium content and can be found not only automatics, but many other types as well. It has excellent wear resistance and good edge retention. A downside is it can be difficult to sharpen.
CPM-S30V – This steel was designed to be used in knives. It offers high toughness and great wear resistance. This steel can be found in automatics from Gerber, Smith & Wesson, Benchmade, Buck, and more.
Damascus – Damascus is a popular steel because of its amazing design and rich history. It dates back to the crusades of the Europeans and is used in many different types of knives today. Some automatic knives that use it are Emerson, Boker, and AKC knives.
400 Series – This is a popular steel that ranges very much in quality. For example, 420 steel is very soft and at the lower end of the spectrum, while 440C is considered a higher-end stainless steel. 440C is wear resistant and very common in knives today.
Make no mistake, this is not the end-all, be-all list to steel types. It is just a start to steels many automatic knives contain. It is now up to you to decide what kind of price and steel will make the best automatic knife for you.
---
Best Selling Switchblade Brands
Benchmade has some of the highest quality automatics available. Benchmade has become known for their use of quality materials, patented mechanisms, and manufacturing process.
Boker is a German company that makes the famous Kalashnikov. These knives are converted to automatics at Blade HQ and fly off the shelf because of their quality and great price.
Gerber makes some very popular and heavy-duty automatic knives. Some knives, such as the Gerber 06 Auto, are battle tested with the US military and are great for tactical uses.
Kershaw is the mastermind behind the popular Launch series. Their knives are made in the USA and are always a great option for an auto.
Schrade switchblades are converted at Blade HQ by skilled craftsmen. They offer many color options at an affordable price.
Smith & Wesson makes a switchblade line that consists of dual action conversions. The price on all of them is hard to beat for what they offer.
---
Automatic Knife Laws
Now, for a word of caution to cap off this buying guide.
So, you've read every word of this switchblade knife buying guide and now you want one of your very own? We don't blame you, but first keep reading.
Because of their quick blade deployment, automatics/switchblades are illegal or restricted in many parts of the United States. Some of the laws date back to the rich Hollywood portrayal of urban street violence of the 1950's. Some states are lenient, some are not.
It is important to remember to look up the automatic knife/switchblade laws for your state and area.
---
Recap
This buyers guide is meant to be informative and give some popular examples and brands of switchblades. Keep in mind there are many different types, as well as different laws around the country.
If automatic knives are legal where you live, look at these things when buying:
Size
Locking mechanism
Materials
Brands
Build quality
Price
There are a ton of automatic knives out there. The trick is finding the best one for you and your needs.