Benchmade 51 Morpho Review
Written and Photographed by Blade HQ Staff Writer Logan Rainey on 11/13/2020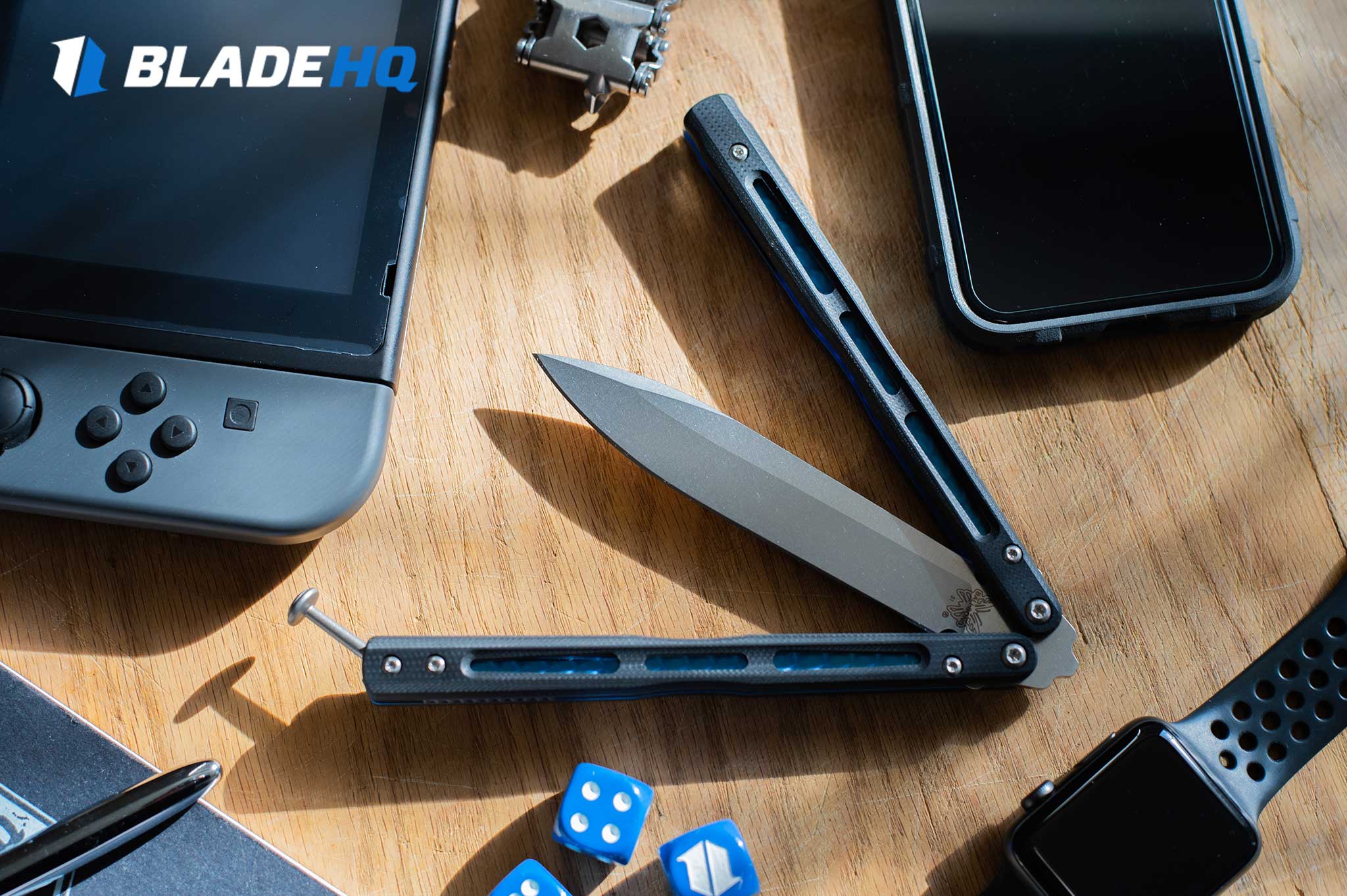 Here it is; the review some of you have been asking for! With the world in a crazy place right now, many people have picked up new hobbies and rekindled old passions. Weíve seen an increase in the number of people interested in learning to flip a balisong (or butterfly knife). In this article, we want to give you an overview of one of our most popular butterfly knives and what makes it great for bali-beginners and seasoned professionals alike. Weíll dive deep into the Benchmade 51 Morpho to see what all the hype is about and how this knife stacks up against legendary knives both made by Benchmade and by other brands. Letís get into it!
First let's run through the stats...
Overall Length: 9.25Ē
Blade Length: 4.25Ē
Blade Shape: Drop Point
Blade Steel: D2
Handle Material: G-10 Scales with Titanium Liners
Weight: 3.30 oz.
Lock Mechanism: Spring Latch
Made in USA
KNIFE LIFE SCORE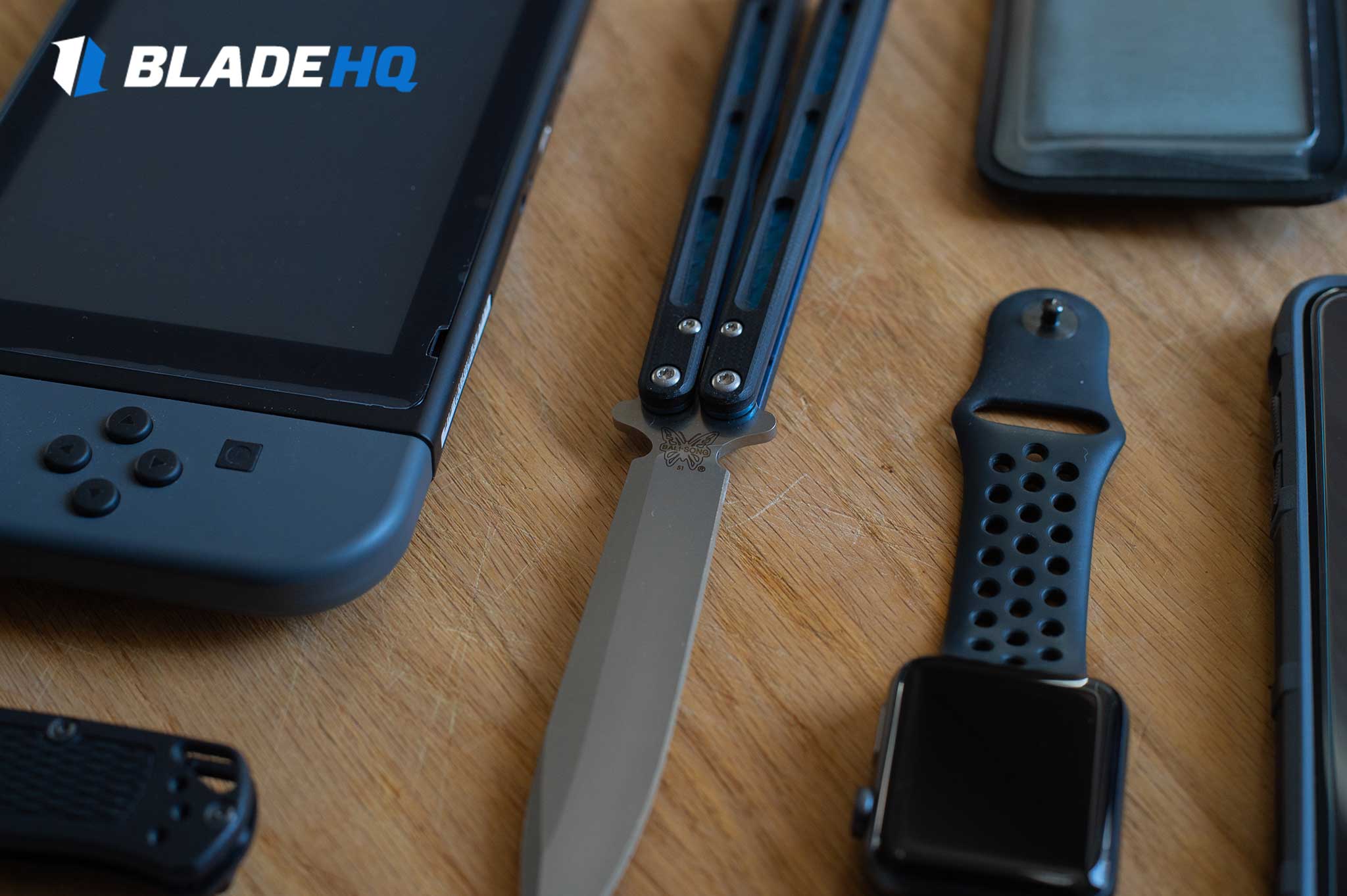 Knife Life is all about representing your personality and passion through the knife you carry in your pocket every day. Quality and performance are key. Tasteful design and ritzy details are also important. You can be confident carrying any knife with a high Knife Life Score. Each section is scored out of 10 with a grand total of 100.
UNIQUENESS / IMPORTANCE
Score: 8/10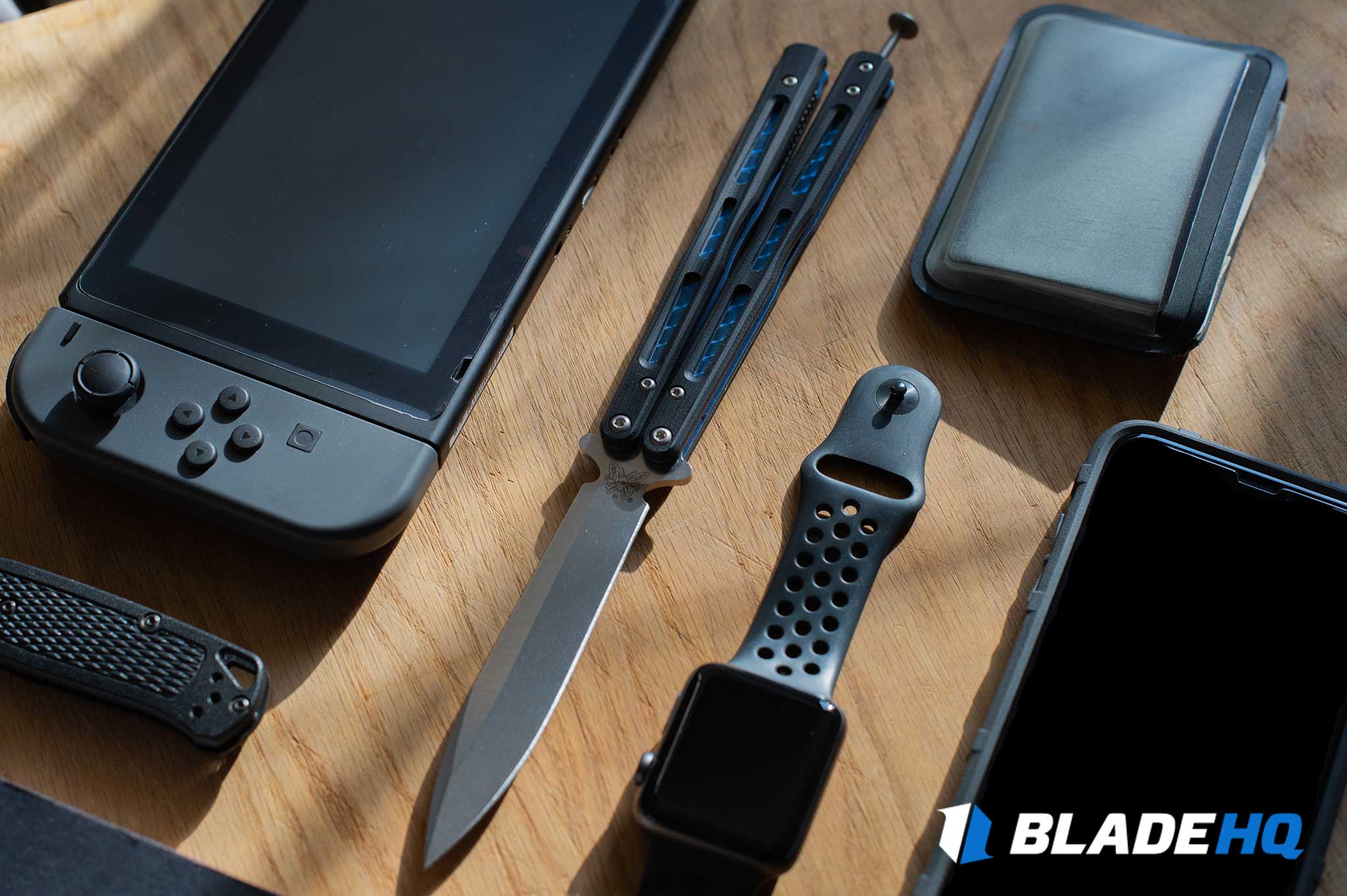 Benchmade was founded by Les de Asis in 1980 as Bali-Song, Inc. As the name implied, they made custom balisong knives which were later adapted into production models, namely The Model 68. Over the years things changed, the company grew into what it is now and Benchmade has been producing butterfly knives ever since. The Benchmade 51 Morpho comes in on the coat tails of some of the best balisong knives ever made and more exactly is modeled after the smaller Benchmade 32. This knife is one of the first Benchmade butterfly knives to feature modern materials and construction on a classic design.
COOL FACT: A Morpho is a type of butterfly. Check it out here.
---
MATERIALS
Score: 9/10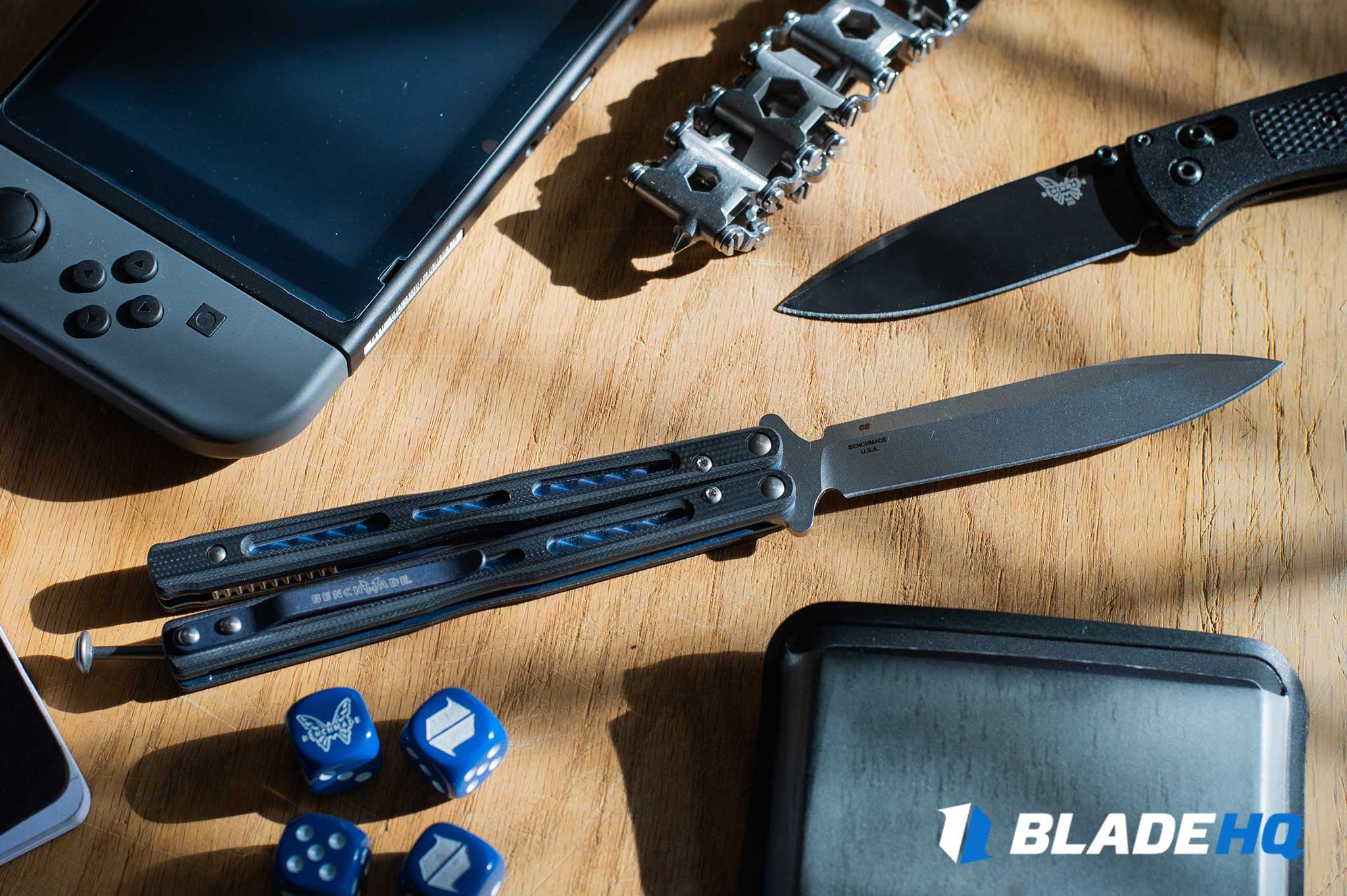 Like we mentioned before, the Benchmade 51 Morpho made with modern materials that offer both increased durability and improved styling. G-10 handle scales and lightweight titanium liners give this knife great looks, feel and strength when compared to other balisong knives. A D2 steel blade and titanium pocket clip round out this feature packed knife and continue the theme of durability and good looks.
---
LOOK / STYLING
Score: 9/10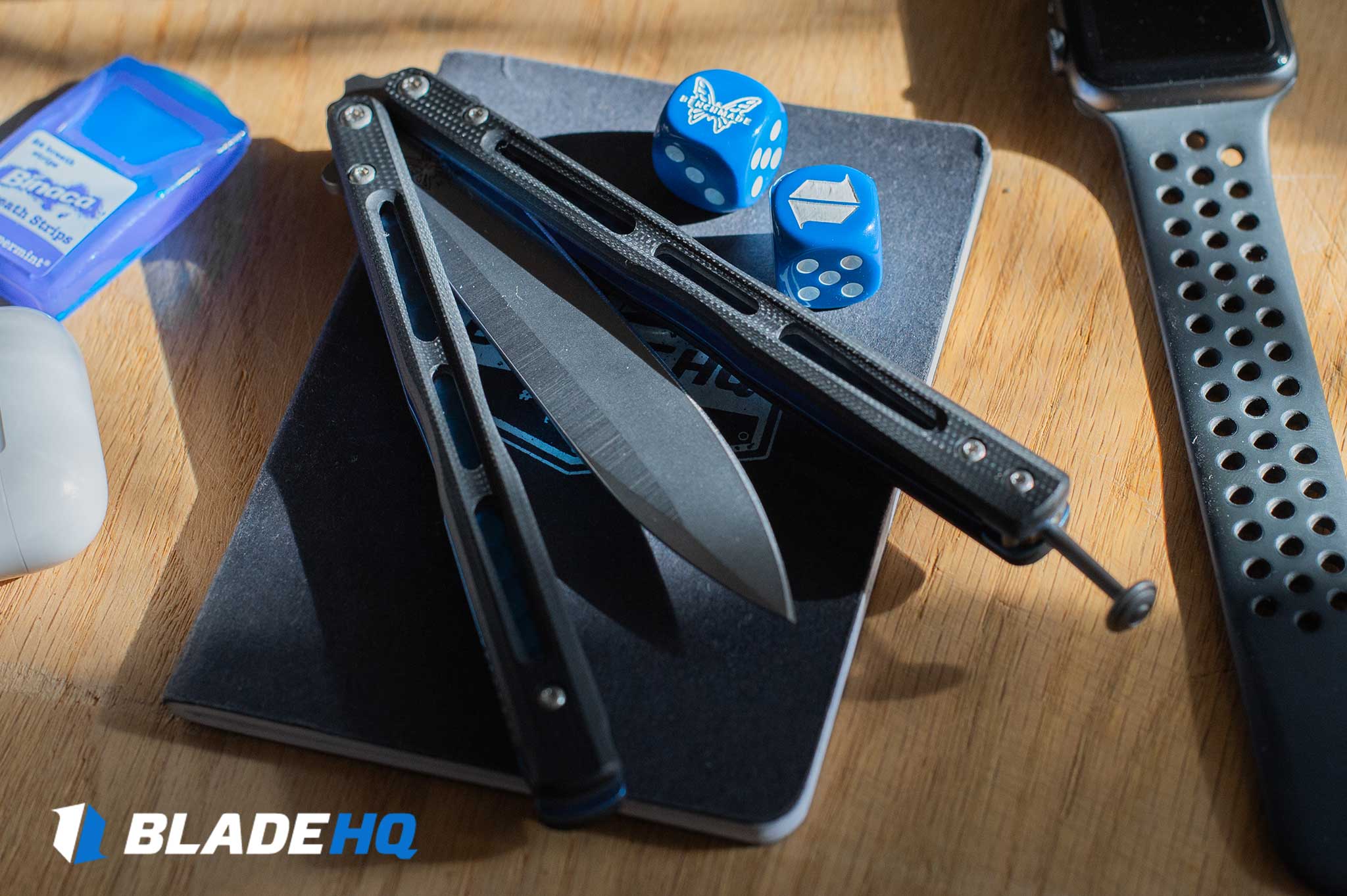 Speaking of looks, we have to say the Benchmade 51 Morpho is one of the better looking butterfly knives available at Blade HQ. Its titanium liners are blue anodized and feature a unique jeweled look that isnít seen on any other balisong (that we are aware ofÖ). Its titanium pocket clip has also been anodized blue and features minimal Benchmade branding. Overall, we are quite pleased with the appearance of the Benchmade 51 Morpho and feel that it compliments the Benchmade everyday carry line well.
---
ERGONOMICS
Score: 8/10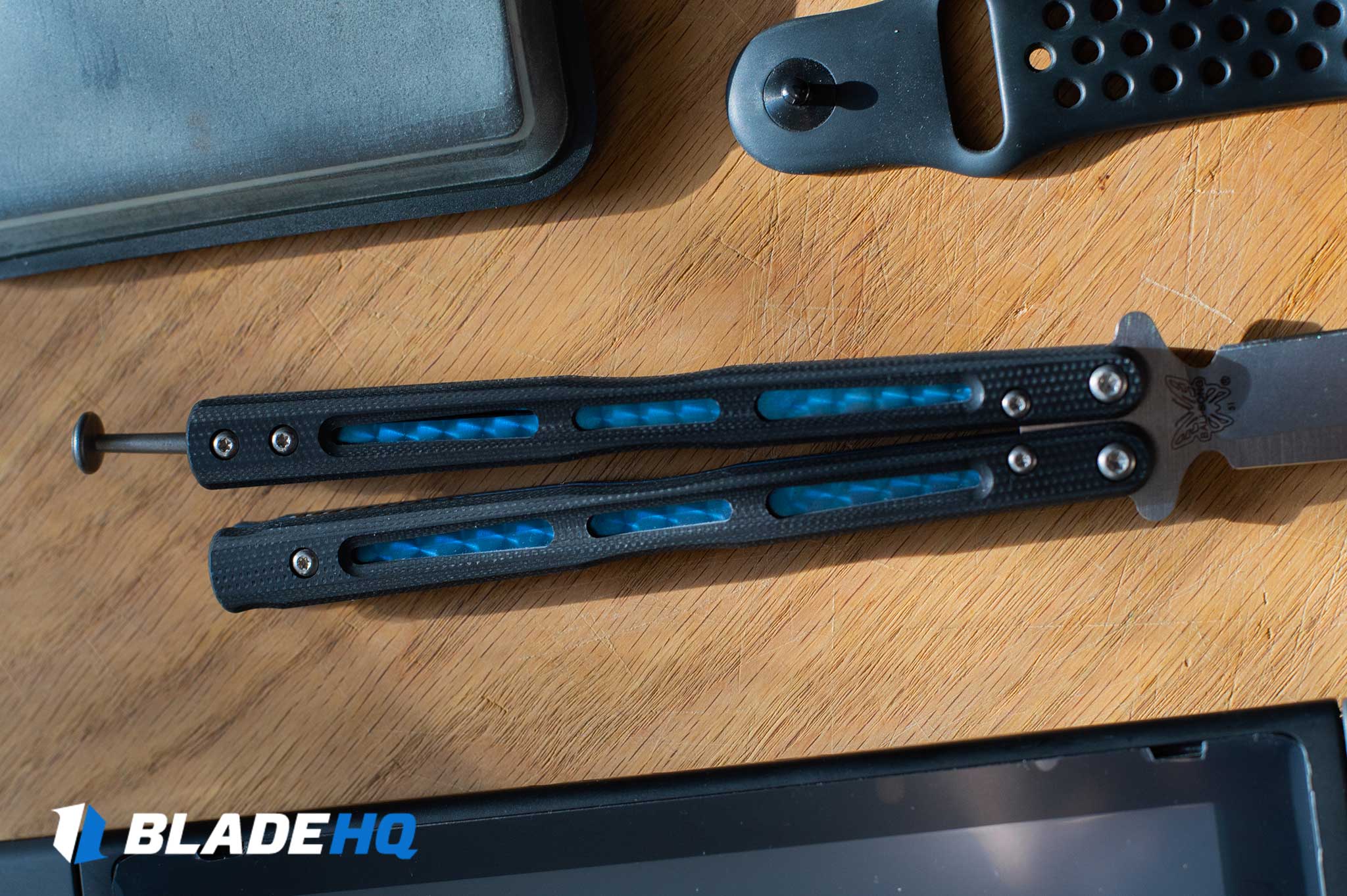 Butterfly knives generally have a different feel than a typical pocket knife. They have more moving parts and are extremely unique. That in mind, the ergonomics of the Benchmade 51 Morpho are great. Itís the right size to slip into a pocket but large enough to carry the momentum needed for technical balisong tricks. The handle fits well in hand, and has the right contours and grooves to provide ample grip and dexterity while flipped.
---
Deployment / Lockup
Score: 10/10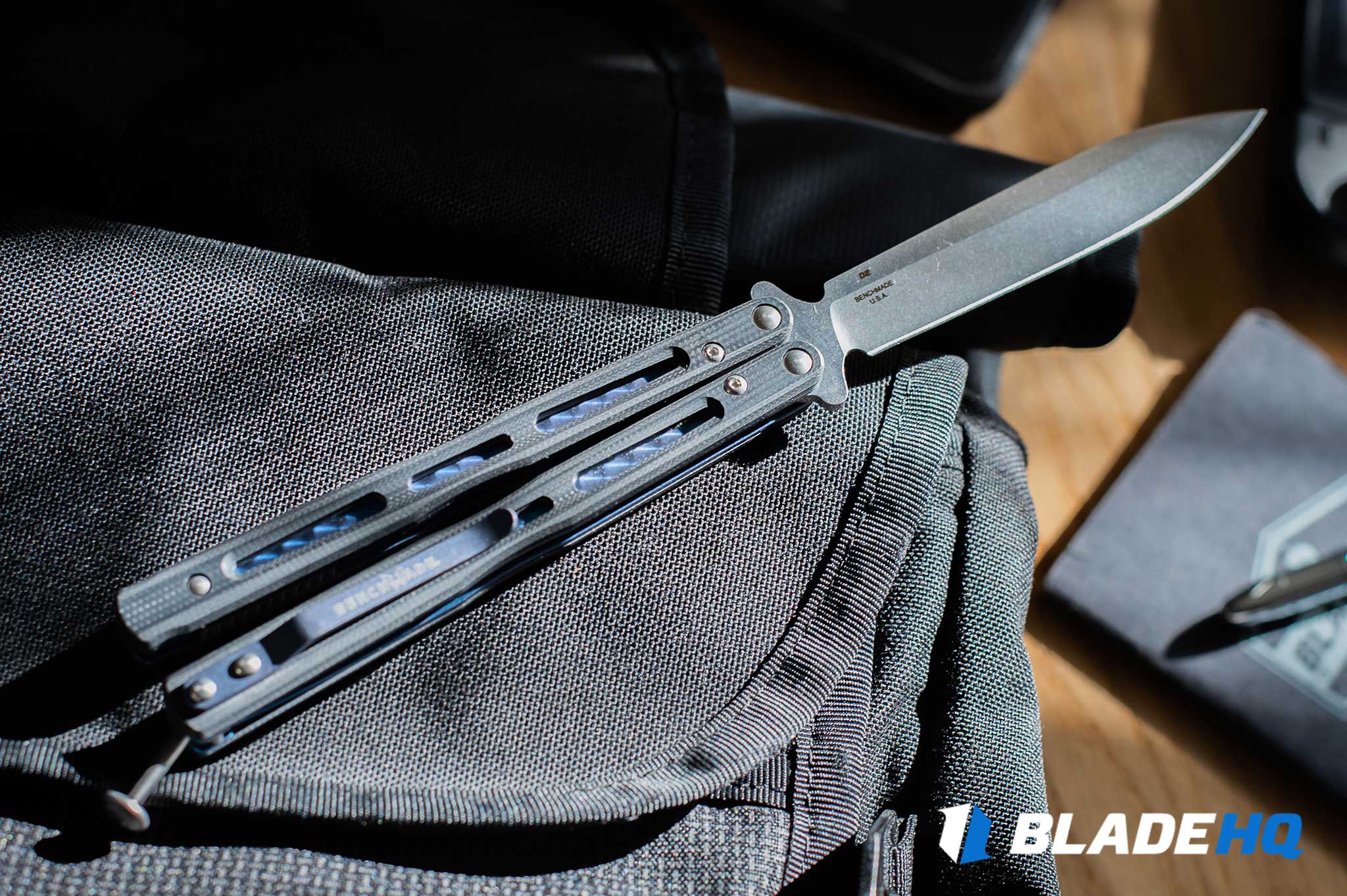 In this section, itís probably safe to say the deployment is up to you. What we can say though is that however you choose to open this knife, the action is smooth as silk thanks to phosphorus bronze washers. The lockup on the Benchmade 51 Morpho is incredible thanks to its spring latch mechanism which keeps both handles securely closed when you arenít using it.
---
BLADE / SHARPENING
Score: 8/10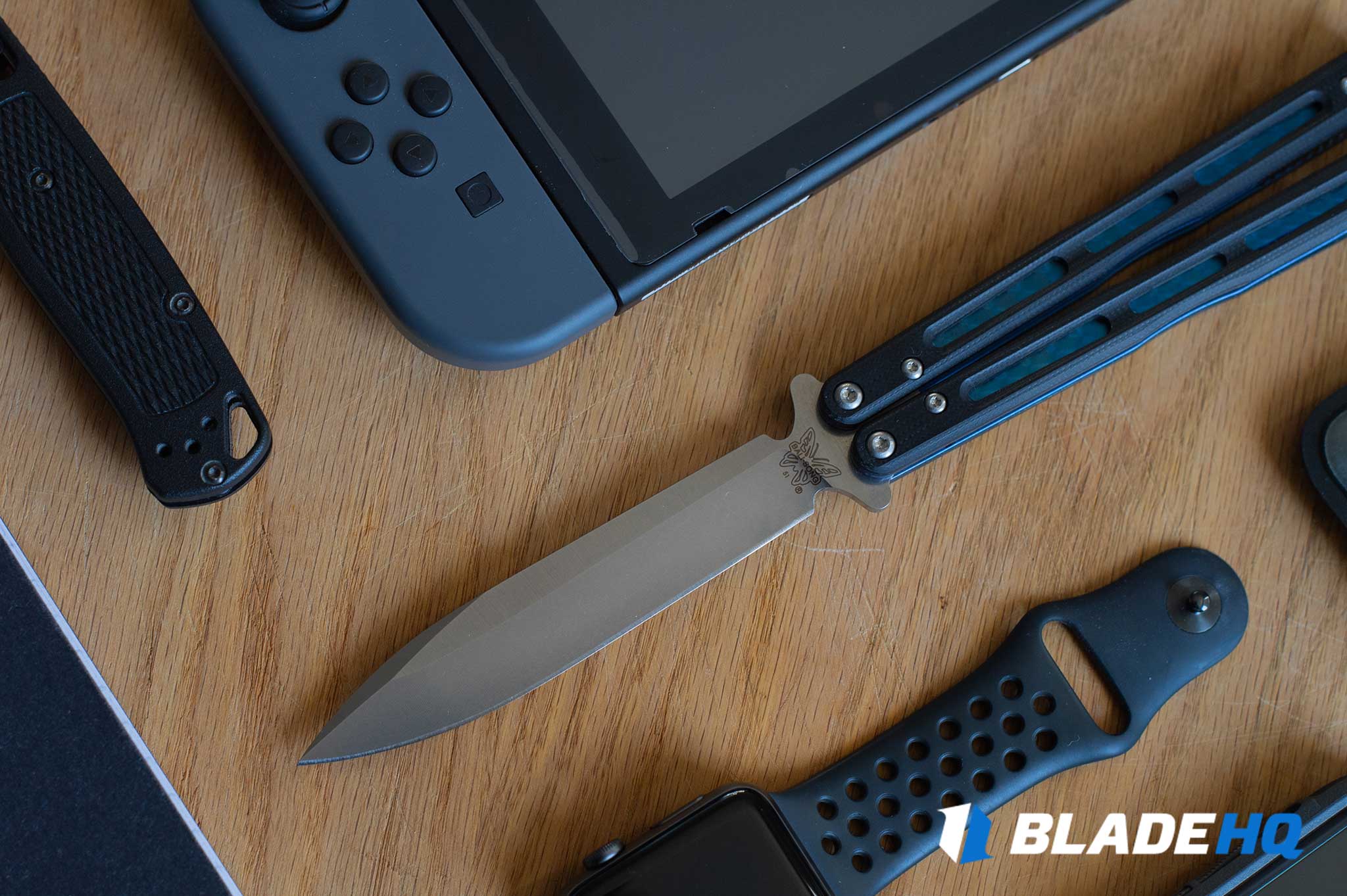 Weíve heard a lot of chatter about blade steel and why Benchmade would put D2 steel on a $300 butterfly knife. Our answer? Why not?! It actually makes a lot of sense considering the beating that balisongs take. D2 steel isnít necessarily the most glamorous, but it sure is tough. Its added durability and moderate hardness makes it less likely to chip and break when the knife is inevitably dropped. When it comes to sharpening this knife, it isnít too hard to freshen up with a ceramic stone and a leather strop. It likely wonít get as much use as a typical pocket knife.
---
FIT-AND-FINISH
Score: 10/10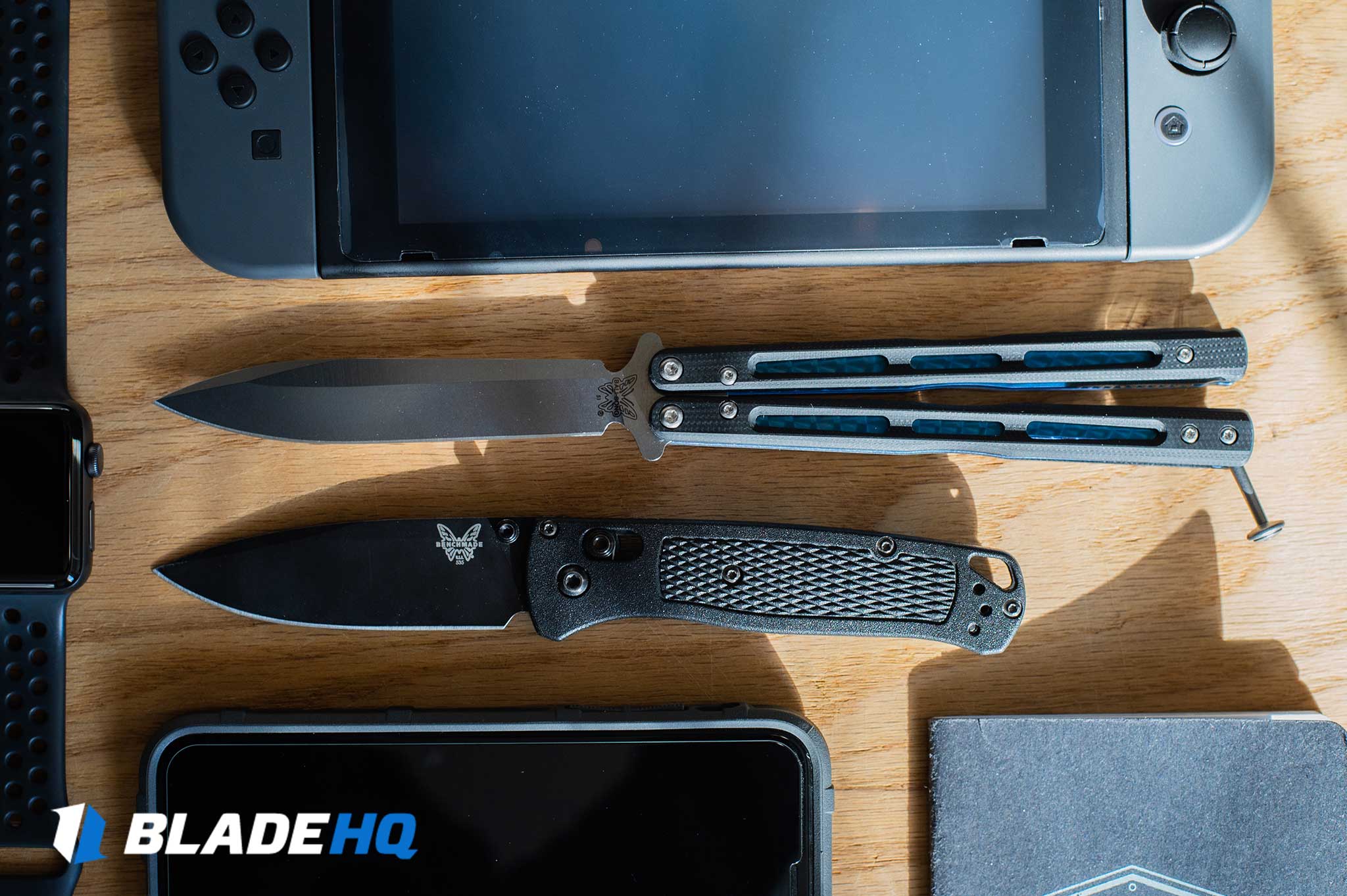 Most production knives are subject to the inconsistencies that come from machines making things at high volume. This knife, however, is amazing. The handle scales are smooth and contoured well, the liners are consistently anodized and jeweled, and the blade is ground exactly how it should be. The tolerances of all the screws both on the body and at the pivots are precise, and everything is how it should be.
---
CUT TESTS
Score: 8/10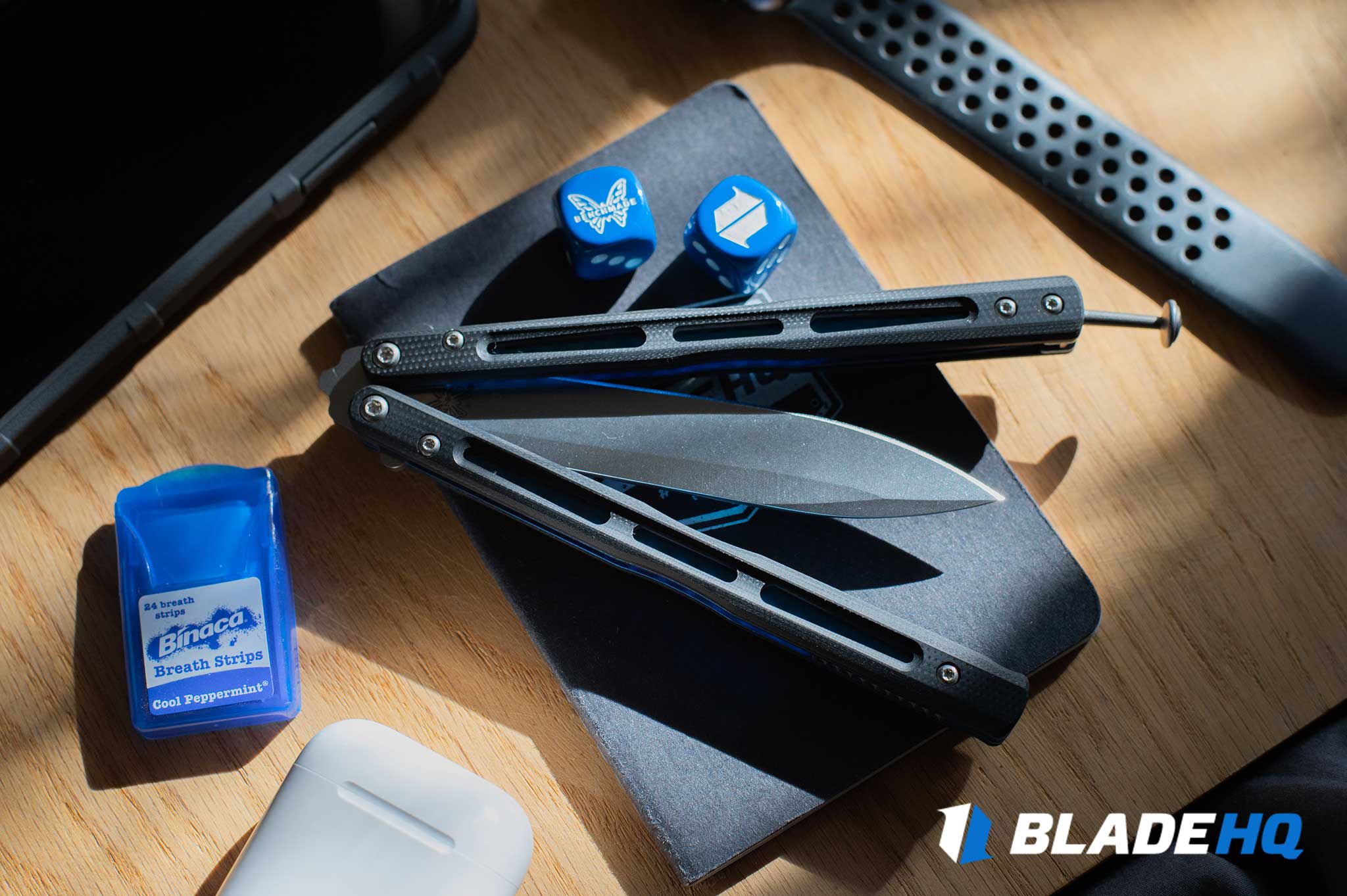 The drop point blade on the Benchmade 51 Morpho is actually decent for everyday cutting needs. It is wicked sharp (trust us on that oneÖ) from the factory and has enough thickness behind the edge to cut and slice with ease. WE DONíT ADVISE FLIPPING THIS KNIFE WITHOUT TAPING THE BLADE IF YOU ARE NEW TO FLIPPING!
---
Ease of Carry
Score: 8/10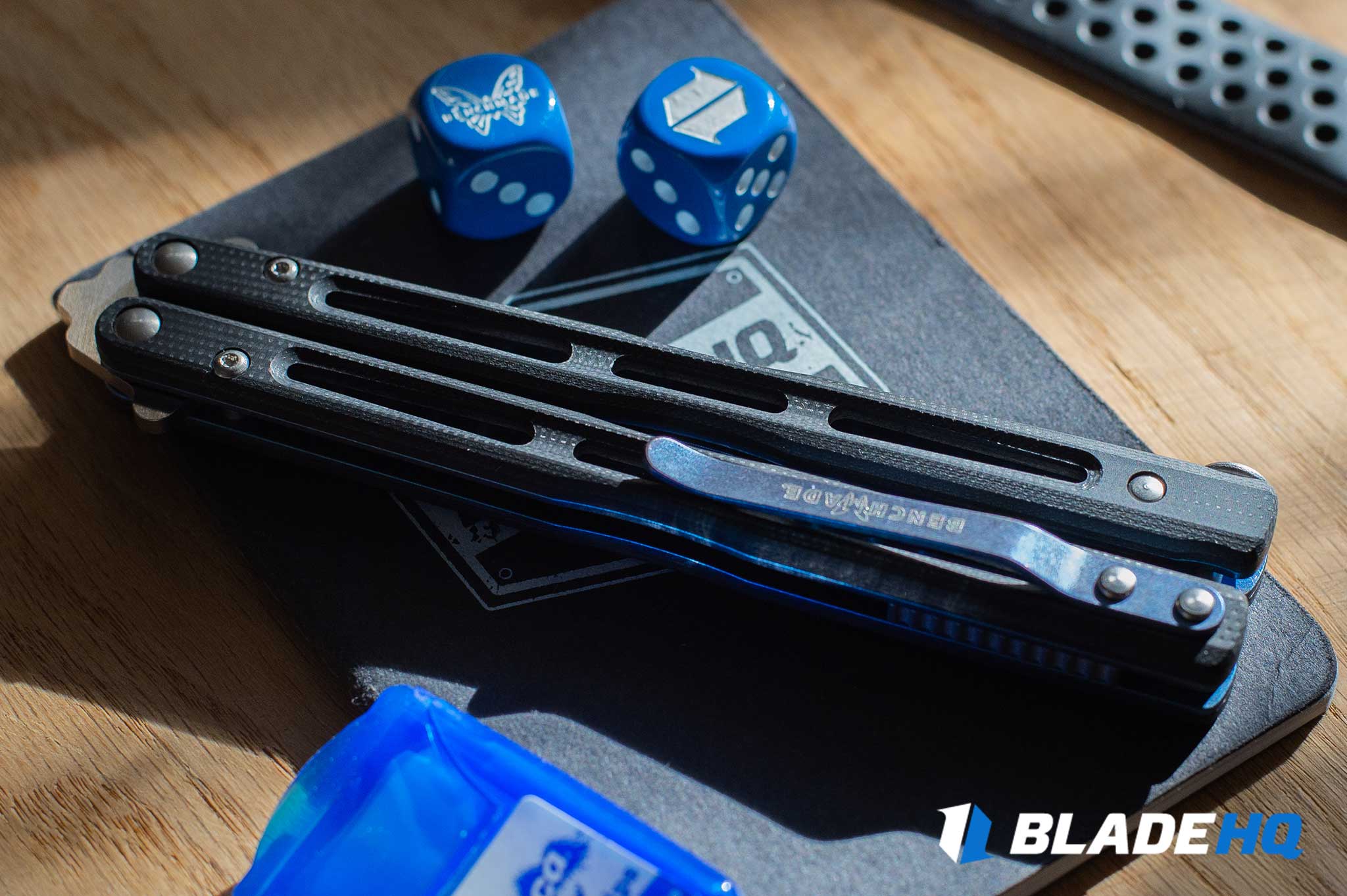 If we had to choose one thing this knife struggles with is how easy it is to carry. Yes, it has a pocket clip, but that pocket clip can get in the way and is, unfortunately, press fit to the body screws that hold it on the knife. The Benchmade 51 is also on the longer side of things and can be a little bulky in pocket. These things aside, the knife is lightweight and doesnít really take up that much space when compared to even bigger butterfly knives like the Barebones or the Lucha.
---
POCKET JEWELRY
Score: 10/10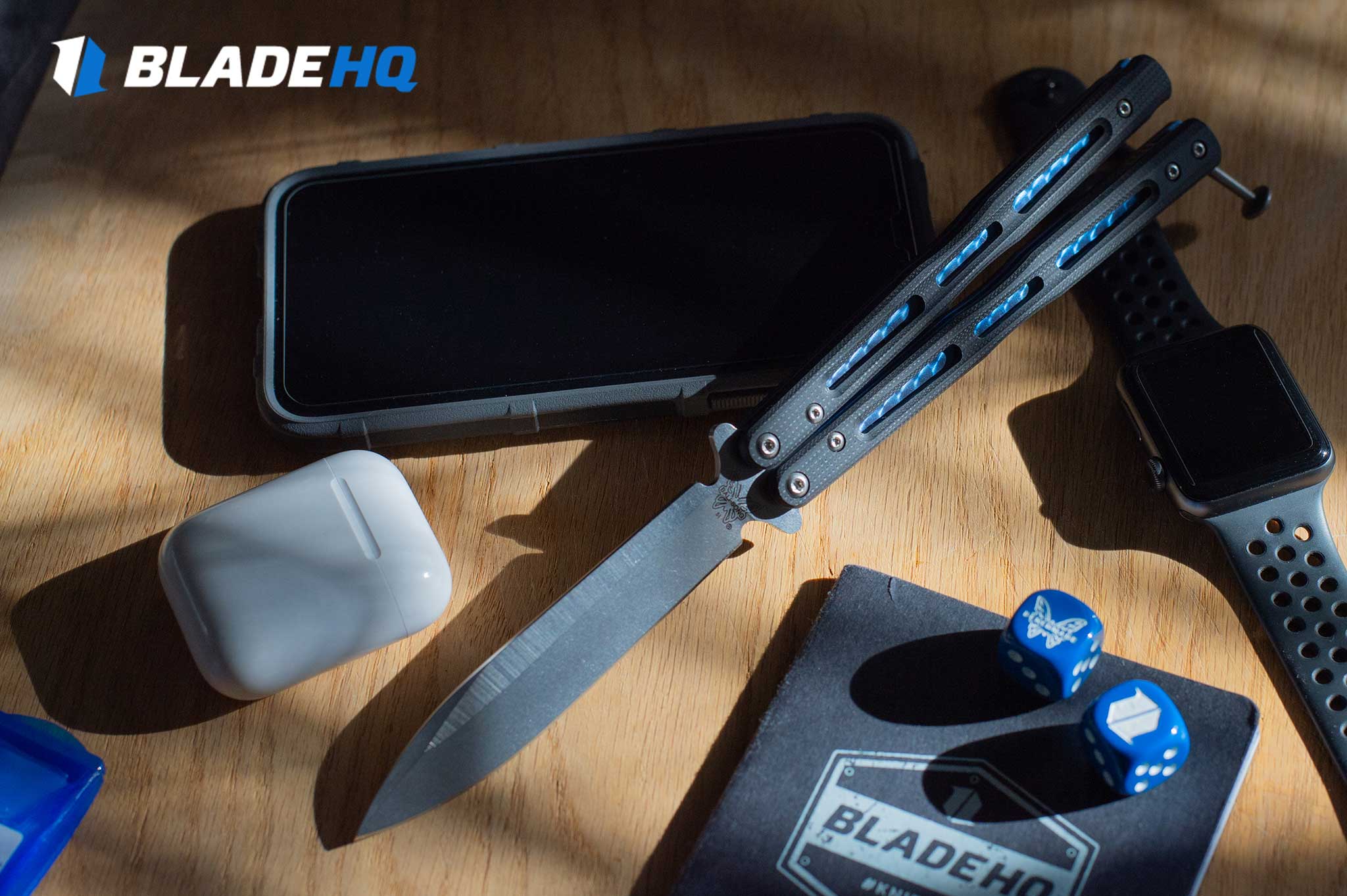 To say this thing is rad is a bit of an understatement. I have thoroughly enjoyed carrying the Benchmade 51 Morpho as it is both a knife and somewhat a fidget toy. Being used to regular pocket knives, especially the Benchmade Bugout, this knife is a huge change. It has great looks and a level of flare that is really only rivaled by some OTF knives. The Benchmade 51 really is a great knife if youíre looking to stand out or make a statement.
---
TOTAL KNIFE LIFE SCORE:
88/100

The Benchmade 51 Morpho is an excellent butterfly knife for the price. It's stylish, durable and easy to flip. Whether you're new to flipping or looking to expand your growing collection of balisong knife, the Benchmade 51 Morpho is a must-have. Click below to see more stats and to buy your own Benchmade 51 today!