BENCHMADE BUGOUT REVIEW
Updated by Blade HQ Staff Writer Logan Rainey on 08/10/2020
Written by Blade HQ Staff Writer Andrew Hamilton on 6/5/2019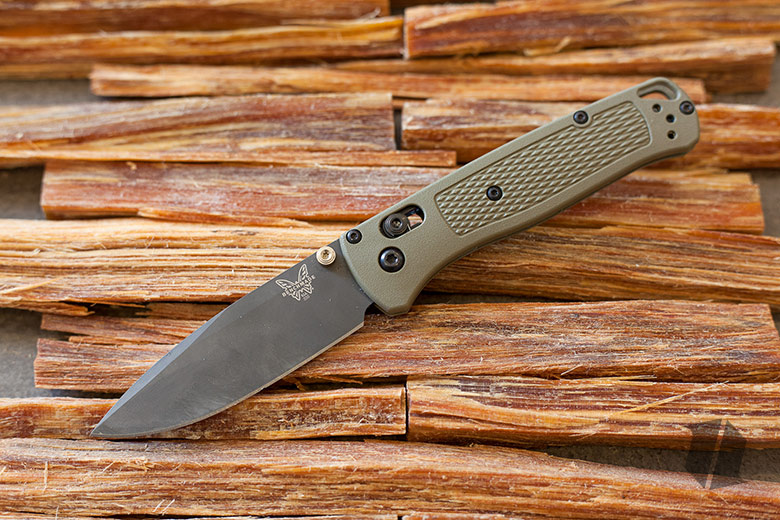 When the Benchmade Bugout dropped in early 2017, it's no exaggeration to say it took the world by storm. In a world where every ounce matters, the Bugout fits somewhere between a snack size bag of chips and a 2-pack of Twinkies from your local 7-11 at less than 2 oz.
Need a little bit more information about the Benchmade Bugout? Don't worry! This article is the fun and playful yet thorough deep dive you've been waiting for.
First let's run through the stats...
7.46" Overall Length
3.24" Blade Length
Drop Point Blade
CPM-S30V Steel
Polymer Handle
1.85 oz. Weight
AXIS Lock
Manual Action
Made in USA
KNIFE LIFE SCORE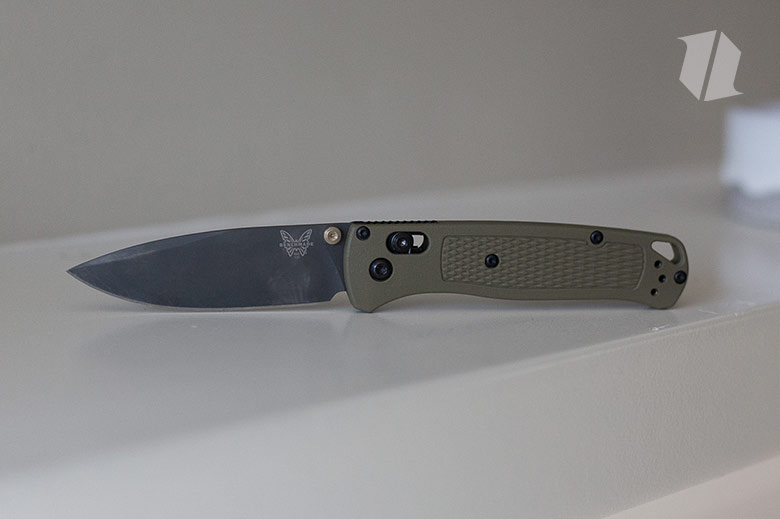 Knife Life is all about representing your personality and passion through the knife you carry in your pocket everyday. Quality and performance are key. Tasteful design and ritzy details are also important. You can be confident carrying any knife with a high Knife Life Score. Each section is scored out of 10 with a grand total of 100.
IMPORTANCE
Score: 10/10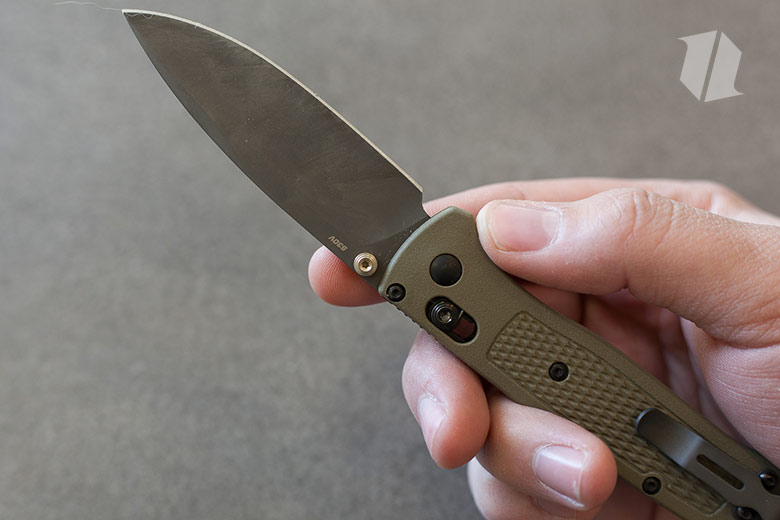 So just how unique and important is the Bugout? It's kind of a difficult question to answer. The Bugout makes hay as a refined, mid-sized EDC folder at an impossibly petite weight. Fundamentally, the Benchmade Bugout isn't doing anything new–at all.
What can't be denied is the impact of the Bugout on the knife community. Since its release, the Bugout has absolutely made its presence known. On internet forums and in chats amongst friends, the Bugout has joined the Griptilian and Paramilitary series as perhaps the 'Easiest to Recommend' knife for new knife guys.
Want something lightweight? Do they make it in 'Blade HQ Blue'? Good steel? Good warranty? Easy to carry? I really prefer OD Green… I need a knife with a strong aftermarket mod community. The Bugout has got you covered!
FIT AND FINISH
Score: 10/10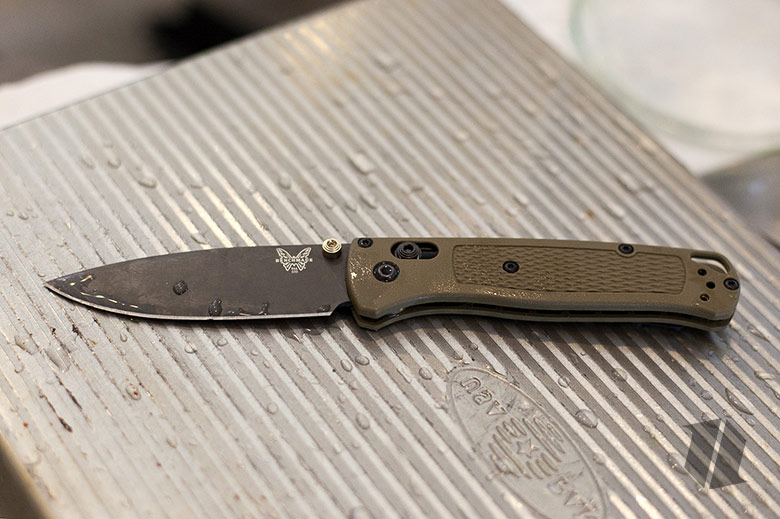 People on the forums love to trash Benchmade. From centering and action, to blade grind, and beyond, we've all heard it.
I'm here to smash that sentiment. Before doing this review, I looked at 50+ individual knives. Overall, the consistently and level of finish was at an extremely high standard comparable to any of the top 15 brands sold at Blade HQ.
Grinds are even. Centering is dead-on. Part fitment is excellent. It's time to stop the group think. Considering the amazing warranty, Benchmade offers an incredible value for quality.
DEPLOYMENT AND LOCKUP
Score: 10/10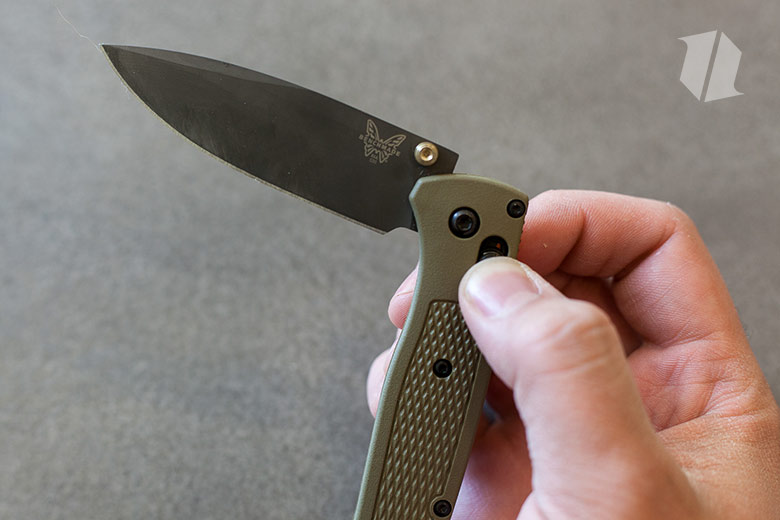 Axis Lock knives are basically cheating in this category. When testing deployment and lockup, I try to open and close a knife 30 times as quickly as I possibly can. Speed is important, but I also make note of if a knife ever fails to lock up. One cycle of opening and closing per second is easy to achieve with the Benchmade Bugout. That type of performance can only be matched by the Compression Lock on Spyderco knives.
STYLE
Score: 10/10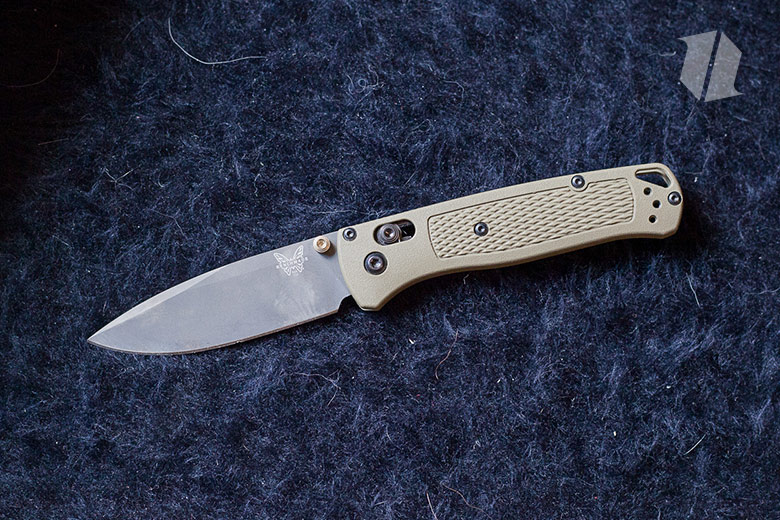 When it comes to simple, function-forward design, the Bugout isn't going to disappoint. The 3.24" drop point blade perfectly complements the dimensions of the handle for a near one to one blade/handle ratio. Available in Ranger Green or (what we call) Blade HQ Blue, the Bugout looks (and feels) like a purpose-built tool.
EASE OF CARRY
Score: 10/10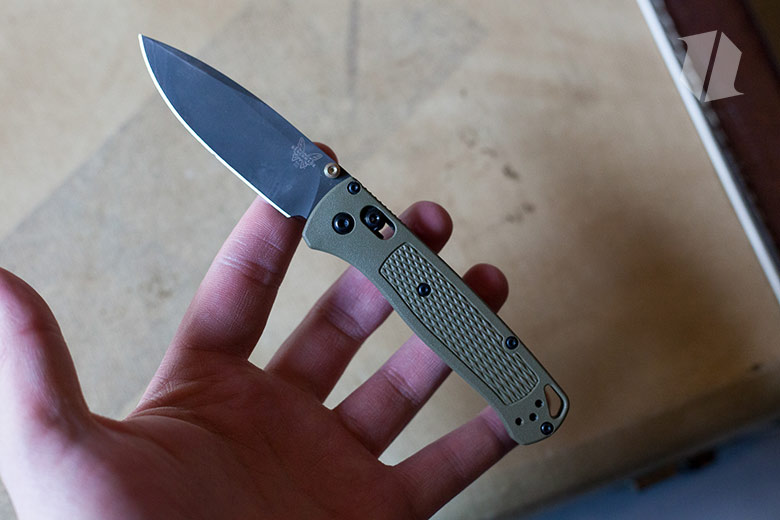 There was never any doubt how the Bugout would score on carryability. The mini deep carry clip is perfection in jeans, athletic shorts, and beyond. Slim and just 1.95 oz., you'll never even notice the Bugout in your pocket. The Bugout excels as an EDC folder, but it also makes for a perfect car or emergency bag carry.
BLADE AND SHARPENING
Score: 8/10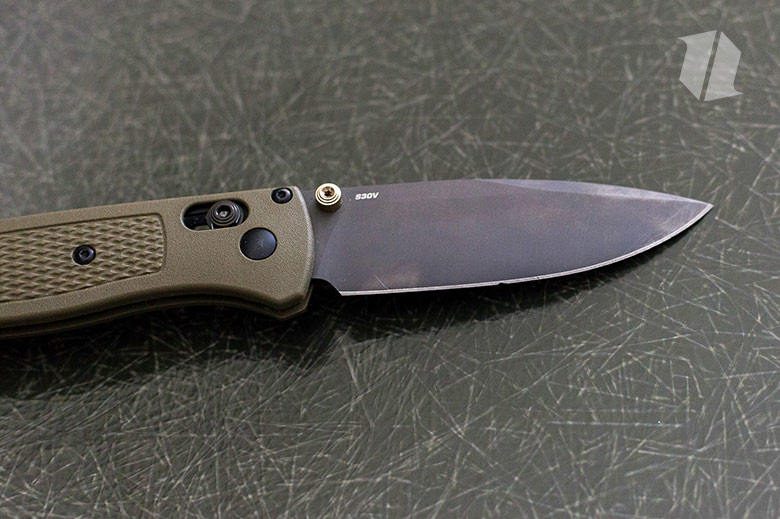 I love the drop point blade on the Bugout all the way from aesthetics to functionality. Utilitarian through and through, this knife is ready for action from the workshop to the campsite and beyond. I would have loved to see a slightly more premium steel here, but we'll discuss that at greater length down the line.
MATERIALS
Score: 8/10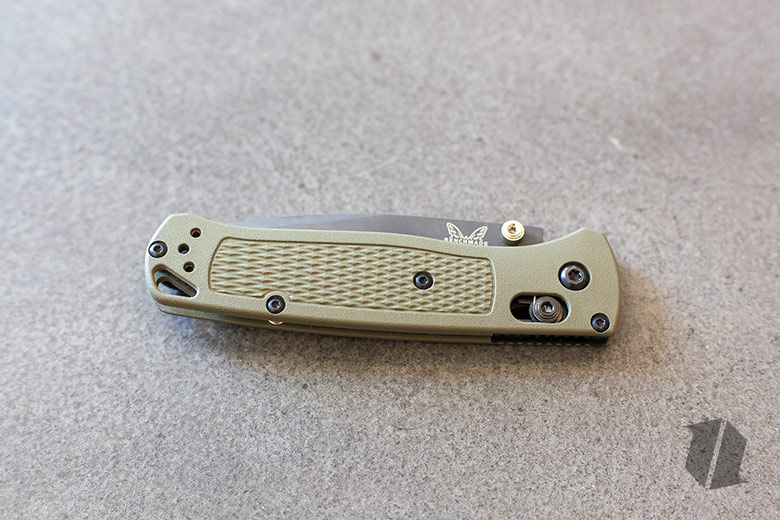 Carrying the Bugout, I was frequently surprised at how much knife you really get for such a small price. Polymer handle scales. S30V blade steel. What's so special? Like a ragtag baseball team or a really good movie with a great director and cast, the Bugout is truly greater than the sum of its parts.
The real reason for such a high score in this category, is the budding mod community for the Benchmade Bugout. Companies like Flytanium are producing incredible aftermarket scales and hardware to dial in your personal preferences.
Pro Tip: Go buy Bugout scales from Flytanium in both titanium and carbon fiber.
ERGONOMICS
Score: 7/10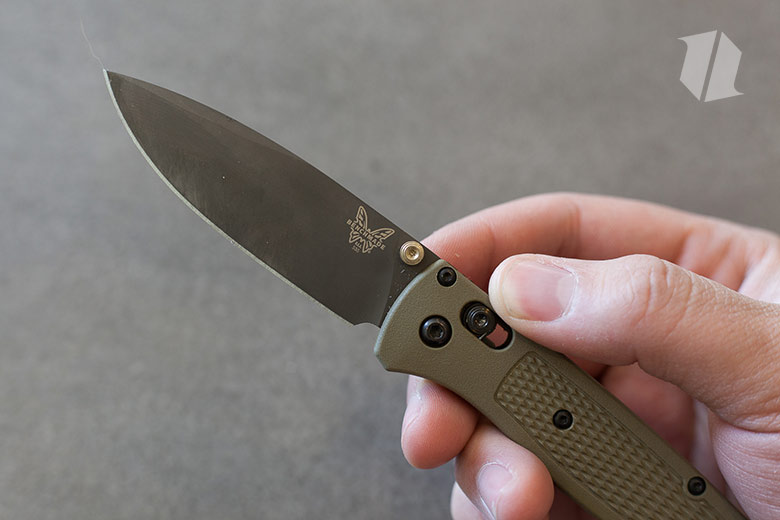 Overall, I really like the ergonomics on the Benchmade Bugout. I love how my fingers fall into the grip of the handle. The handle is extremely slim and there are no rough edges in need of refining.
The negatives aren't deal breakers, but I find the polymer handle to be a little slick. I'd be a little bit nervous whipping this knife out in the middle of a trout stream. Additionally, I find the pocket clip to dig into my hand a little bit. Over prolonged use in wet conditions, I think it could create a nasty hot spot.
CUT TESTS
Score: 6/10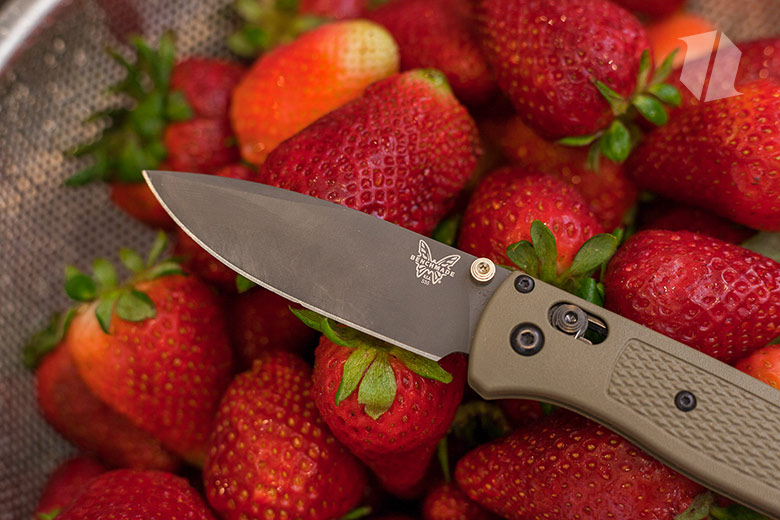 I've been singing praises of the Bugout this whole review, but here's where the real criticism begins.
For such a lightweight knife, I would expect the Bugout to be much better at slicing. Precision work at the tip feels clunky and the whole package feels too petite for hard use. The Bugout is great for EDC tasks like breaking down cardboard, opening mail, and utility cutting. I just wish they gave us a thinner grind and more premium steel.
POCKET JEWELRY
Score: 4/10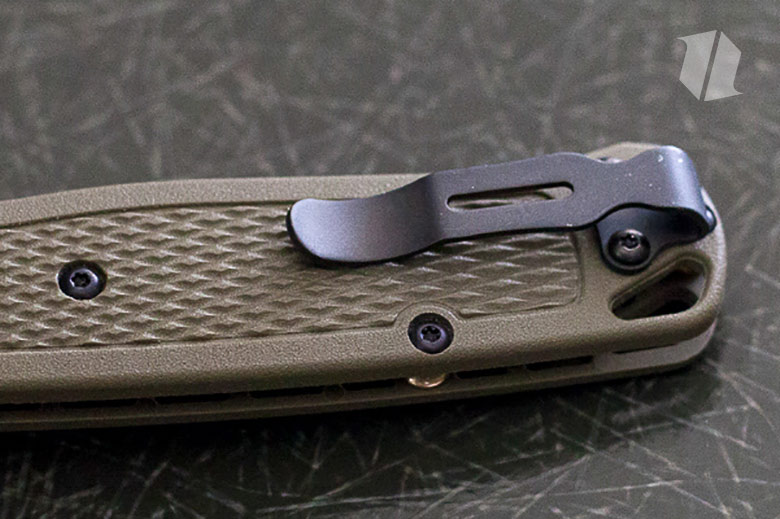 The Bugout is a really great knife, but pocket jewelry it ain't. The Benchmade Bugout is pure 100% utilitarian practicality, and there wasn't any room to pack on the flash. The fidget factor and aftermarket options bumped up the score a little bit, but this knife isn't trying to be a looker.
TOTAL KNIFE LIFE SCORE:
83/100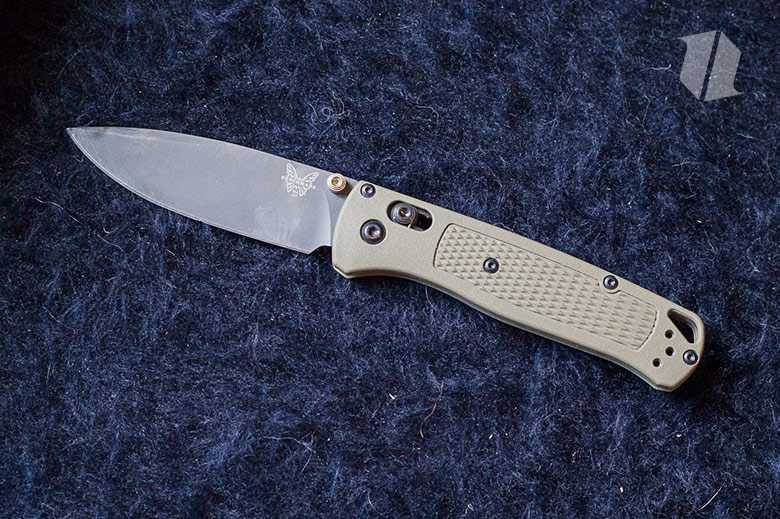 For a better look at the Benchmade Bugout check out our video overview where we take a close look at its materials, workmanship and action.
It's no secret Benchmade crafts some of the finest EDC knives available today. Check out our video below with Ben, Zac, and the infamous Hans as they analyze the best Benchmade EDC knives money can buy!
BUGOUT VARIANTS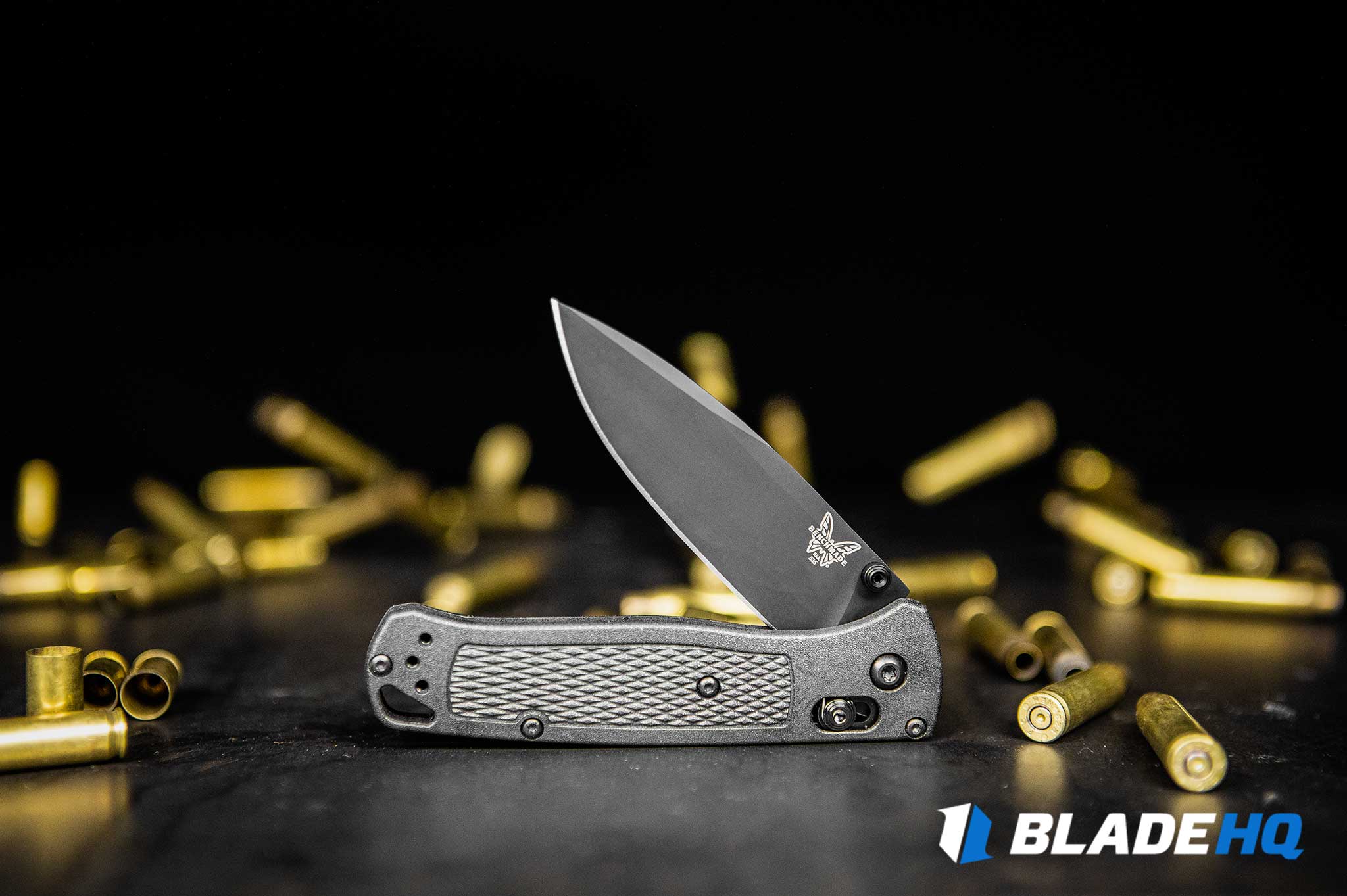 It goes without saying 2020 has been a wild year, and we've had a lot to be stressed about. Fortunately, we've had some amazing new knives land in our pockets thanks to our friends at Benchmade. Earlier this year, Benchmade announced and launched both the CF-Elite Bugout and Mini Bugout. The introduction of these two knives has brought new excitement to the Bugout line. The CF-Elite Bugout is a full-sized Bugout with upgraded handle scales made with a new carbon fiber infused polymer. The Mini Bugout is exactly how it sounds; a miniature version of the Bugout with a smaller blade and handle. Both knives feature the same drop point blade and AXIS lock mechanism, and both offer more unique options for everyday carry. Check out the CF-Elite and Mini Bugout here.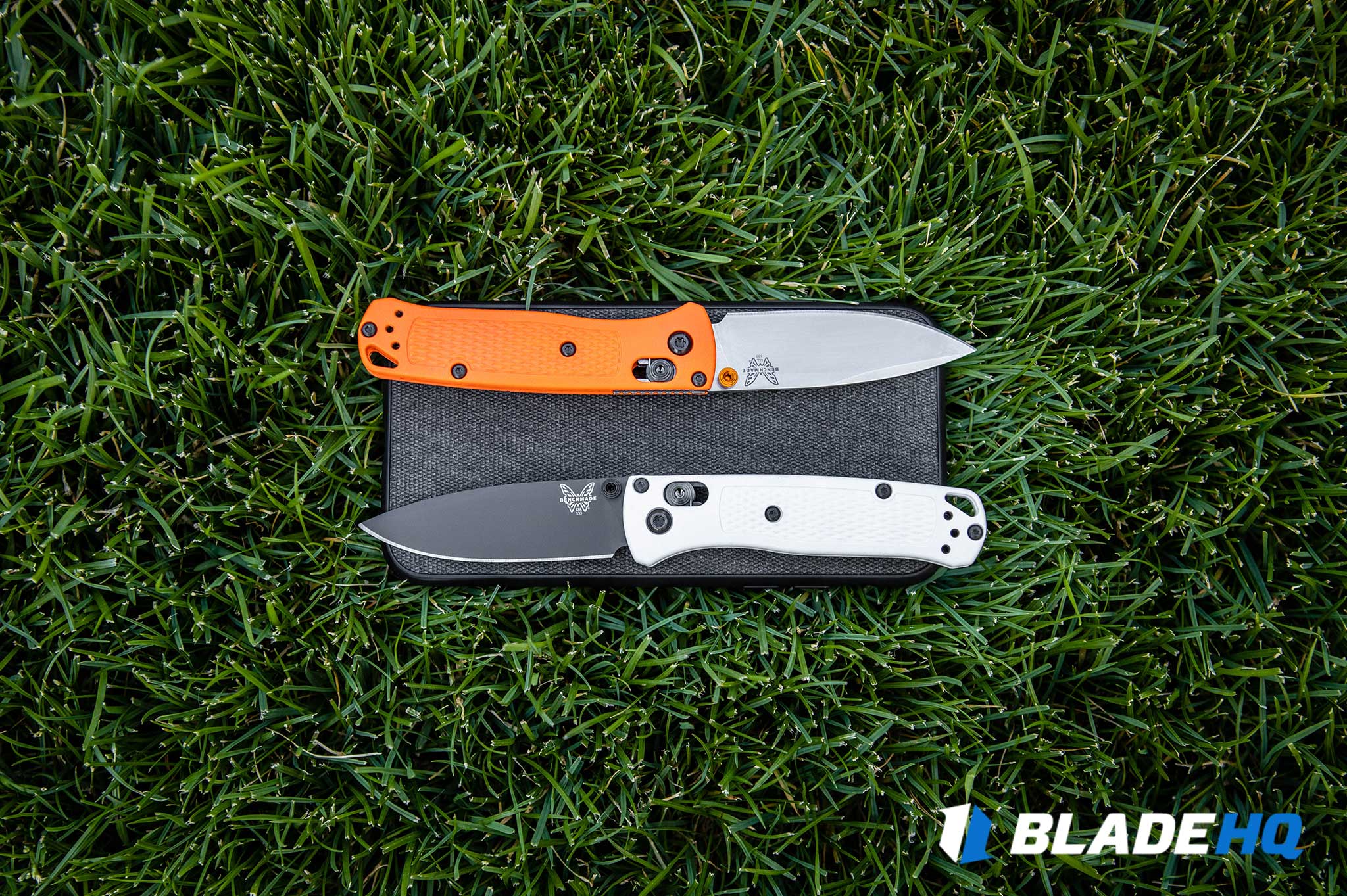 BUGOUT vs. 940 vs. MINI GRIPTILIAN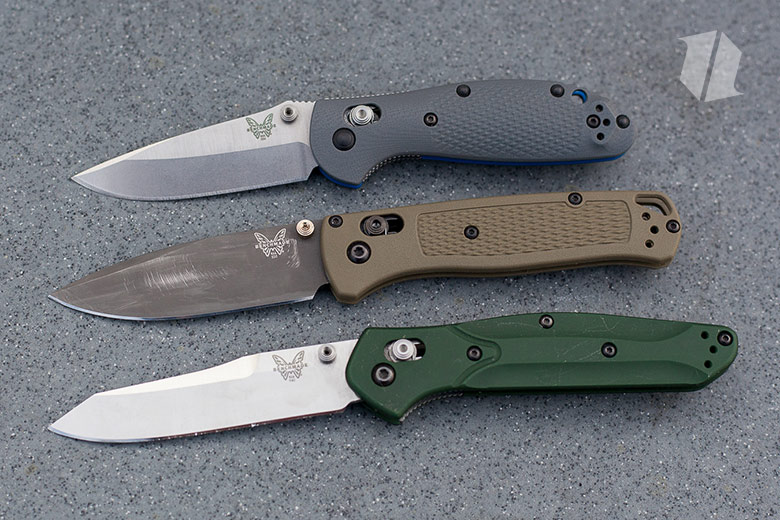 The Bugout is, without a doubt, a fresh look for Benchmade. How does it stack up to the classics like the 940 and Griptilian? Very well! The Bugout is smaller than the full size Griptilian and 940, but larger than the Mini Griptilian. The Bugout is extremely lightweight and slim, which makes it the easiest to carry of the bunch, in my opinion. All four knives have a different feel and design, along with pros and cons. The Bugout's downfall is the less sturdy design at the sacrifice of weight. That said, it's more than capable of handling any everyday task you throw at it.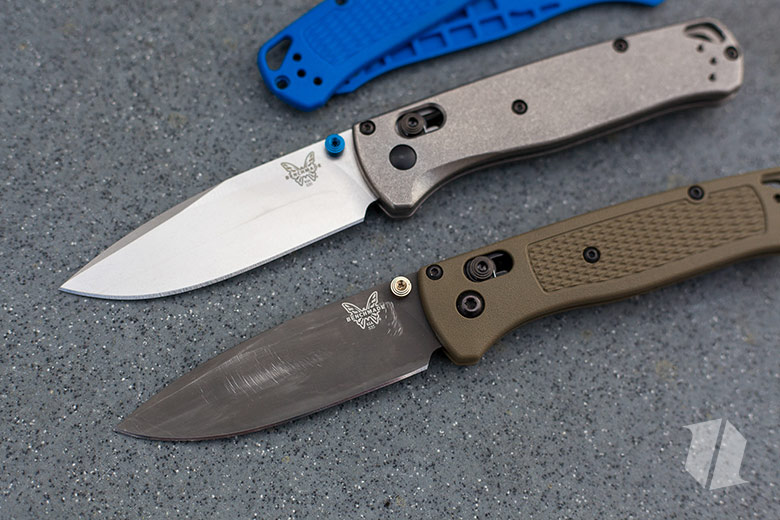 Like I mentioned above, with the rise in popularity of the Bugout, companies like Flytanium have caught on. You can now get scales in titanium, brass, copper, and carbon fiber! The downside to the Bugout to many people is the slightly flexible polymer handles. Flytanium has found a fix for this. The carbon fiber scales are beloved because they don't add much weight and do add a lot of strength to the knife.
CONCLUSION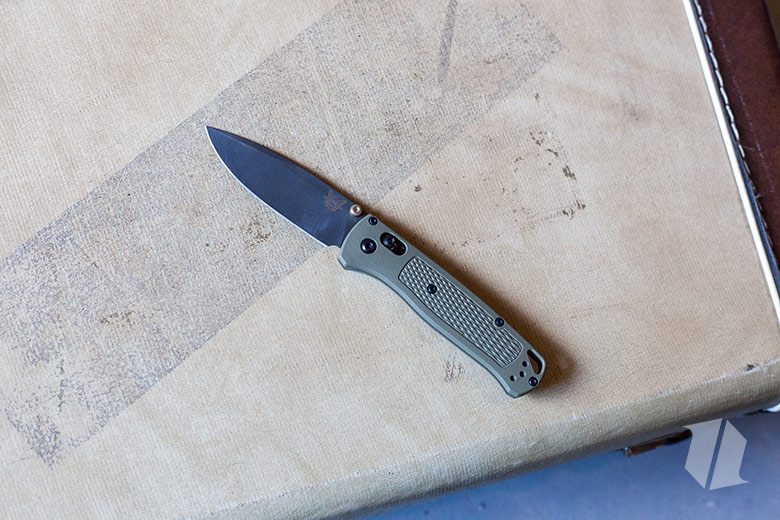 Going into my testing of the Bugout, I was honestly lacking excitement. A budget-friendly EDC knife from Benchmade? I've seen that before. I thought flexible scales and run of the mill steel would ruin the experience for me.
The truth is, this knife is incredible. Sitting stock, the Benchmade Bugout is an absolute home run. A future revamp with upgraded blade steel and titanium scales from Flytanium would put this knife in rare air.
So, what are you waiting for? I bet all your friends already own one. Join the cool kids club and get yourself a Bugout! Need more info? See how the Bugout fared in our Best American Made Knives article. Or browse the other top Benchmade folders in our sweet Best Benchmade Folding Knives article.