Best American Made Knives
Written by Blade HQ Staff Writer Logan Rainey on 07/02/2020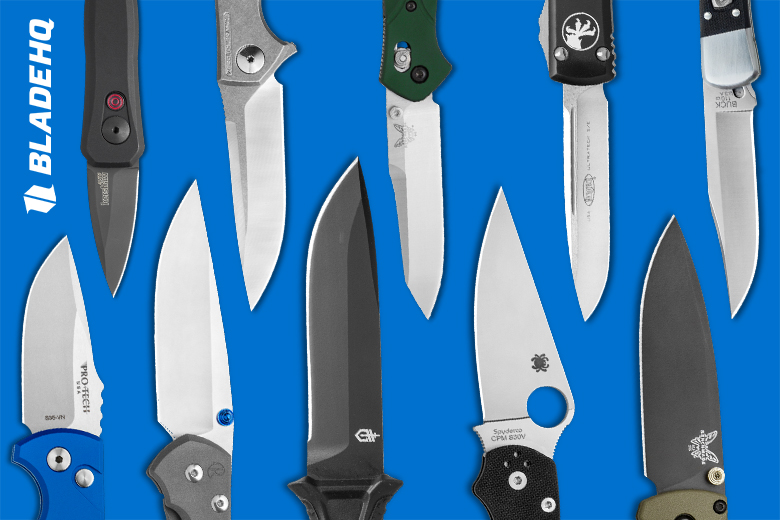 The United States of America: land of the free, home of the brave and birthplace of some of the most incredible knives ever made. Whether you're into snappy OTF knives, EDC folding knives or burley fixed blades, United States based knife makers have got you covered. This list features 10 of the Best American Made Knives and a long-term carry review for each. We'll look at what they're made of, how they work and what makes them great. The knives on this list may not come as a total surprise, but we are proud to say they are made right here in the USA. Read on to learn more!
In addition to our look at each of these great knives we feature a review from one of our beloved customers at the end of each breakdown!
---
1. Benchmade Bugout

The Benchmade Bugout offers a lightweight, ergonomic build designed with everyday carry and general outdoor use in mind. Its high-performance CPM-S30V blade sports a partial swedge to provide a finer point, and comes fitted with anodized dual thumb studs for easy one-handed operation. The comfortable Grivory or CF-Elite handle has been textured on either side for added grip without being abrasive. Comes complete with an oversized lanyard hole and reversible deep-carry clip for convenient EDC. The Benchmade Bugout is one of the absolute best everyday carry pocket knives and is available in a full size or a mini version. We put the Bugout to the test then reviewed it, check it out!
Overall Length: 7.46"
Blade Length: 3.24"
Blade Material: CPM-S30V
Handle Material: Grivory or CF-Elite
Locking Mechanism: AXIS Lock

Greg T. says...
"No knife meets every need perfectly. But when it comes to EDC and everyday cutting tasks, the Bugout checks every box for me. Extremely lightweight. Deep carry mini pocket clip is discreet. Perfect blade shape and length. Feels like quality in your hand. Not flimsy or cheap at all. S30V blade. Axis lock for easy one hand open and close. Comes very sharp from the factory. All around excellent EDC knife."
---
2. Benchmade 940 Osborne

The Warren Osborne designed Benchmade 940 is a popular knife for the last 20 years for good reason. It's a comfortable everyday carry knife with its slim design, great ergonomics and lightweight. The 940 has an S30V steel blade with a plain edge and a satin finish. The 6061-T6 aluminum handle is anodized green with 410 stainless steel liners and a purple titanium spacer on the handle back with custom ridges. The AXIS lock and reversible pocket clip make the knife usable for right and left handers. Check out our Benchmade 940 Osborne Review to see more.
Overall Length: 7.87"
Blade Length: 3.40"
Blade Material: CPM-S30V or CPM-S90V
Handle Material: Aluminum, G-10 or Carbon Fiber
Locking Mechanism: AXIS Lock

Danny F. says...
"The 940 has been a classic carry for most knife guys out there. And I've had mine for quite some time now, that the aluminum handle have worn down to a smooth finish. The blade lasts forever, and the reverse tanto shape is an awesome addition for everyday use. For me, this knife holds a special place in my collection, and it is a definite recommendation. If you need a premium blade without killing your bank account, this is your knife. I've loved this knife since the day I got it, and I know that if you need a working tool, you'll love it too."
---
3. ZT 0450

The Dmitry Sinkevich designed ZT 0450 knife is a compact version of the award-winning 0454 folder. It has an S35VN stainless steel blade, titanium frame and either a titanium or carbon fiber show scale. The 0450 opens wicked fast and buttery smooth thanks to its flipper and KVT ball-bearing pivot. Its sturdy frame lock and reversible tip-up carry pocket clip make this knife the total package. If you're looking for a top notch everyday carry knife, the ZT 0450 is an amazing choice. Read our long-term carry review to learn more.
Overall Length: 7.375"
Blade Length: 3.25"
Blade Material: CPM-S35VN
Handle Material: Titanium or Carbon Fiber
Locking Mechanism: Frame Lock

Marcello A. says...
"It's a GREAT Knife! Perfect size to carry anywhere. Some think it's too plain.I love the function, high quality AND the fact it's not a flashy in your face knife. It is a beautiful knife and feels good in the hand. The s35vn steel will hold up to heavy use. It will last a lifetime. Buy it! You will love it!"
---
4. Gerber StrongArm

Gerber has been making survival knives for the US Military since 1968. The StrongArm Fixed Blade carries on their legacy of dependable, hard-working fixed blade knives for survival and combat applications. This knife features a Plain/Fine cutting edge, full-tang 420HC steel blade with a black ceramic coating. The StrongArm Fixed Blade was designed around the fundamentals of military survival training. It utilizes a Black rubberized diamond texture grip and adds a striking pommel and lanyard hole at the base. We had the opportunity to try it out and were quite impressed. Click here to see our Gerber StrongArm review.
Overall Length: 9.75"
Blade Length: 4.875"
Blade Material: 420HC
Handle Material: Rubber
Locking Mechanism: Polymer Sheath

Sang K. says...
"My strongarm came scary sharp right out of the box. The sheath has solid lock and the handle feels very sturdy and has a great grip. I can't wait to try this knife on my next camping trip!!!"
---
5. Buck 110 Elite Auto

The Buck 110 Elite Automatic features built-in automatic action straight from the manufacturer. The 110 Automatic is quickly deployed with a simple press of the firing button. This knife is equipped with a premium CPM-S30V stainless steel blade in a satin finish. Its handle is made with either black G-10 or wood scales and sleek nickel silver or brass bolsters. Includes a genuine leather sheath designed to prevent deployment when removing the knife. This knife has quickly become an icon. Our Buck 110 Auto review breaks down everything we love about this great American made knife.
Overall Length: 8.625"
Blade Length: 3.75"
Blade Material: CPM-S30V
Handle Material: G-10
Locking Mechanism: Back Lock

Daniel D. says...
Buck took the already outstanding and time-tested design of the 110 and gave it some modern upgrades (G10 scales, nickel silver bolsters, S30V steel, and yes, AUTOMATIC). Absolutely solid build and perfect fit and finish with zero blade play in any direction. All seems and edges are perfectly flush. The blade was very sharp out of the box. I just gave some finishing touches on the strop to improve it more. The automatic opening mechanism is both snappy and smooth with rock solid lockup.
---
6. Microtech Ultratech

When it comes to out-the-front automatic knives, the Microtech Ultratech is simply one of the best. Tight tolerances, a wide array of blade shapes and colorways, and an incredible action give the Ultratech everything it needs to quickly become one of your favorite knives. Microtech equipped the ever popular Ultratech D/A OTF knife with a smooth, contoured handle design that promotes increased comfort during use. This updated model provides the same dimensions, hardware, and durability offered by the "Tri-Grip" variation, but goes easier on the hands and pockets. If you want to learn more about this awesome American made knife, check out our Microtech Ultratech Review.
Overall Length: 8.50"
Blade Length: 3.44"
Blade Material: CTS-204P
Handle Material: Aluminum
Locking Mechanism: Dual Action OTF Lock

Tyler K. says...
"This is another example of fine craftsmanship. The action is solid, blade came razor sharp, the knife feels great in the hands. The action was a little stiff initially but after the initial break in period, it feels amazing. Good job Microtech!"
---
7. Spyderco Paramilitary 2

The Spyderco Paramilitary 2 is one of the most popular knives on the market today, and it makes total sense. Great materials, comfortable ergonomics, reliable build quality, attractive aesthetics, and easy one-hand use all contribute to the astonishing popularity of the PM2. This icon of the knife industry has found its way into pockets of soldiers, builders, hunters, survivalists, and EDC-ers the world over. Any knife enthusiast worth his salt needs a PM2 in his collection. See more of the Spyderco Paramilitary 2 in our full review!
Overall Length: 8.28"
Blade Length: 3.44"
Blade Material: CPM-S30V
Handle Material: G-10
Locking Mechanism: Compression Lock

Douglas E. says...
"Although not as carry-able as my Para 3 lightweight, this is one tough EDC pocket knife. Given its size, it is almost too much to call it a pocket knife, and yet it nestles in like it has always been there. I love this knife, and have caught myself comparing it to the Para 3 for 5 or more minutes debating on which would end up in my pocket. Since this beauty is still new, it wins for now. It is, however, going to be tougher and tougher to make this decision in the future. If you don't have one, get one. If you don't have enough money for one, save up and then get one. You won't regret it."
---
8. Chris Reeve Sebenza

Chris Reeve Knives, the original Grail Knife makers, have improved the perfection of the Sebenza 21, and bring us the Sebenza 31, with some awesome improvements. It's built with even tighter tolerances than we've come to expect of Chris Reeve Knives, so you know that every single knife will be perfect. Someone with a sharp eye might notice there's no longer a hole in the presentation scale. That's because the hole was needed to hold the scale in the same position every time but advances in manufacturing technology made the hole unnecessary. Instead of a hardened titanium lockbar, the 31 has a ceramic ball insert, which will last longer and means an even smoother action. An adjustment to the pocket clip doesn't rest on the lockbar and a few tweaks to improve ergonomics finish off the updated Sebenza. We haven't had the opportunity to carry the Sebenza for a review so far, but stay tuned…
Overall Length: 8.335"
Blade Length: 3.625"
Blade Material: CPM-S35VN
Handle Material: Titanium
Locking Mechanism: Frame Lock

James L. says...
"Fantastic knife that stands the test of time. Top quality materials with the fit of a Colt revolver. A must have for any knife lover. Somehow the Sebenza far exceeds the sum of its parts into something really great. It's odd to describe but you become very involved with the Sebenza through disassembly, cleanings, and carefully greasing the pivot to get it just right. It might be the best case of industrial art in the knife world. I own several vintage, regular's, classics, 21's and 25's and love 'em all."
---
9. Kershaw Launch 4

The Launch 4 knife has a California-legal blade and ridiculously fast action. Its symmetry in design, both the 6061-T6 aluminum handle and spear point blade, adds distinction. Following the tradition of its predecessors, the Launch 4 has a bulls-eye pattern red firing button and a tip-up carry pocket clip. The simple design and quality action of the Kershaw Launch 4 are what make this pint-sized pocket rocket one of our picks for Best American Made Knives. We loved carrying this knife during our long-term review. Check it out here.
Overall Length: 5.10"
Blade Length: 1.90"
Blade Material: CPM-154
Handle Material: Aluminum
Locking Mechanism: Plunge Lock

Paul B. says...
"I great addition to any knife collection. Fantastic looking design. Very fast and snappy blade deployment make for a fun activity. Sharp out of the box and useful for many daily small tasks. It fits perfectly in the small extra pocket on a pair of jeans. It is a great gift idea for knife collectors and enthusiasts."
---
10. Pro-Tech SBR

The Pro-Tech SBR "Short Bladed Rockeye" is a stout Les George automatic design, that can be considered the little brother to the ever popular Rockeye Series. It's a short, snappy automatic knife with all the right features and no B.S. This features an anodized aluminum handle and a wicked drop point CPM-S35VN blade. Its recessed firing button and a deep carry tip-up pocket clip make everyday carry both convenient and comfortable. For more information check out our in-depth Pro-Tech SBR Review.
Overall Length: 6.50"
Blade Length: 2.625"
Blade Material: CPM-S35VN
Handle Material: Aluminum
Locking Mechanism: Plunge Lock

Johnathan H. says...
"The SBR is a real winner and a half. I truly believe this is the EDC auto I've long been searching for. Open or closed, the size is perfect, and it has a satisfying heft without being overly cumbersome. I can already tell I'm going to "everyday carry" the hell out of this blade. Buy two and enjoy it twice as much."
---
Conclusion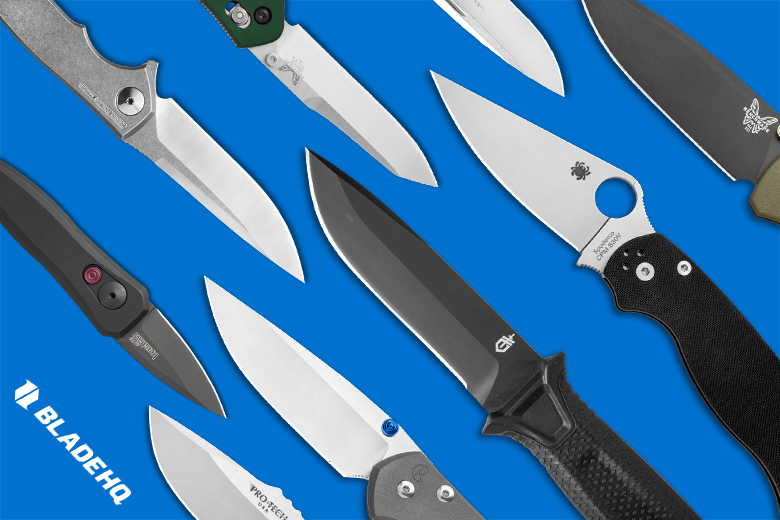 Well, this wraps up our list. It should come as no surprise that these knives made it to this list. They are all amazing and oddly enough, they are all made right here in the good ol' U.S of A. If you're after a new knife to add to your growing collection, you can't go wrong with any of these knives.
If these American made knives don't catch your eye or meet your needs, check out our full selection of American made knives by clicking below.
While these are our top American made knife recommendations, Blade HQ has way more knives than those featured here. Leave a review of your favorite and follow us on Instagram, Facebook, and Twitter for all your future knife updates.
Need more American made knives? Check out our American Made fixed blade knives Knife Banter video below for more knife goodness.
---
Learn More
The knives we listed in this article are some of the best American Made Knives, but did you know there are tons more amazing knives made in the USA? In this video Kurt and Zac break down some of the Best American Made Pocket Knives. Check it out!
---
Other Best Knife Guides
Still in that information gathering phase? We've got a whole bunch more lists of all the Best Knives! Happy hunting and may you find that one special knife of your dreams!
*Customer reviews may be condensed for clarity and edited for grammatical errors. You know we have to make our high school English teacher proud. Check product listings for current pricing.