best automatic switchblade knives
Written by Blade HQ Staff Writer Andrew Hamilton and Logan Rainey on 11/11/2019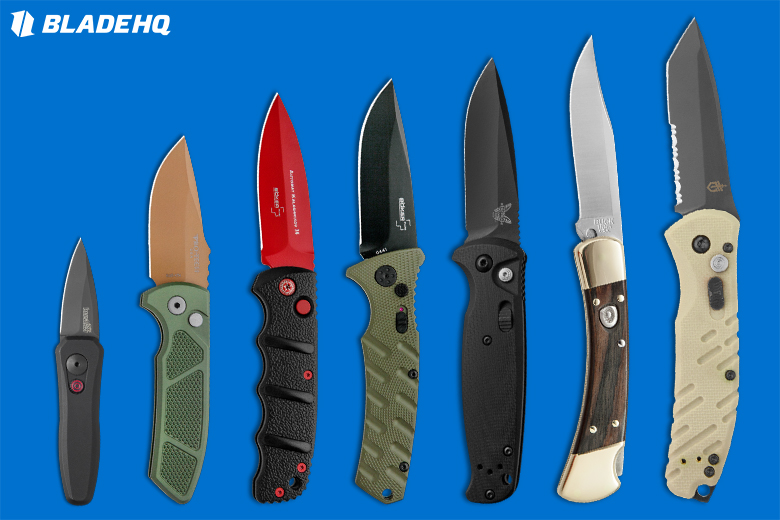 There's nothing like a dialed automatic knife. To make this list, these switchblades have to hit like a freight train and the quality has to be on point, too. We've compiled this list with the best auto knives from Kershaw, Boker, Benchmade, and more that are sure to tickle your fancy.
Find a review from one of our customers after the specs and details of each featured knife.
---
1. Kershaw Launch 4 Auto

The Kershaw Launch 4 may be diminutive, but it packs a big punch. It is a member of the famous Kershaw Launch Series and features a minimalist design and sleek aluminum handle scales. This knife is the perfect auto for your EDC rotation or bugout bag and is even California-legal. You won't regret picking up this little guy.
5.10" Overall Length
Cali Legal CPM-154 Drop Point Blade
6061-T6 Aluminum Handle Scales
1.98 oz. Weight
Made in USA

Rodney R. says…
"Exceeds my expectations. Of the many knives I have bought from Blade HQ, this one caught my eye. I just got it today, and it has already exceeded my expectations. While it is more expensive than my Shrade and Boker knives (which I love and use constantly), it is feather light, tight, has a fast action, and it is beautifully designed. In a word, the Launch 4 is elegant."
---
2. Buck 110 Automatic

For around 40 years, if a man needed to clean a fish, open an envelope, or slice an apple, the Buck 110 was the ultimate and only choice. Buck did the world a real solid by releasing the 110 Automatic. There's no better modern classic than this Idaho-made brute.
8.625" Overall Length
420HC Clip Point Blade
Ebony Dymondwood Handle Scales
7.10 oz. Weight
Made in USA

Jacob E. says…
"Like many people, I have a long history with the Buck 110 as I was gifted a well-used one by a relative when I was around 12. My taste in knives has moved on to more modern designs since then, but I am so glad that I picked this auto version up. I love the classic aesthetic with the modern mechanism. And the best part is, it is still a Buck 110 through and through. Overall great knife."
---
3. Boker Kalashnikov Automatic

The Boker Kalashnikov kicks like a stallion and its dependability is off the charts. You might be tempted to treat this affordable, bargain-basement switchblade like a beater, but this thing has got the feel and ergos of an automatic knife at least five times more expensive.
Check out our Boker Kalashnikov Review for a deep dive into this knife!
7.625" Overall Length
AUS-8 Dagger Point Blade
Aluminum Handle Scales
3.70 oz. Weight
Made in Taiwan

Mark G. says…
"This is another in a long line of autos I own and have owned, and it's hard to believe the quality of this knife for the price. Really hard to believe... Every aspect of this piece is spot on. The opening action is very strong, the lockup is solid as can be, and the edge does super fine paper ribbons right outta the box. I will indeed pick up a few more of these both for myself and probably as gifts. Grab at least one. You cannot go wrong and will not regret it."
---
4. Protech SBR Automatic

The Protech Les George SBR is a scaled down version of the popular Rockeye design. This sweet automatic knife features a razor-sharp CPM-S35VN blade and an ergonomic aluminum handle. Pictured is the Blade HQ exclusive SBR Desert Warrior with a copper finished blade and OD green knurled handle. Be sure to check out our Pro-Tech SBR Review for more information on this great automatic knife.
6.50" Overall Length
CPM-S35VN Drop Point Blade
Aluminum Handle
3.05 oz. Weight
Made in USA

Brad K. says…
"I love this knife...the way is looks and the functionality. Perfect size for EDC. Carry's small but plenty of knife to handle any tasks. Seems the copper coating may be different than the rose gold that I have on my Godfather but it's still nice. Noticed that there is a bit of friction when slicing through things because of the coating. Will see if that changes with age. Overall very happy with purchase."
---
5. Gerber Propel Auto
This fast and sleek automatic knife is built to handle the rigors of day-to-day life. Its slender design fits well in the pocket and leaves room for other EDC gear. The Propel Auto features a black oxide coated CPM-S30V blade (yes… that's for real!) and grippy G10 handle scales. The snappy push-button action features a unique plunge lock and safety switch. This American made bad boy makes a great addition to any collection!
8.52" Overall Length
CPM-S30V Tanto Blade
Aluminum Handle
4.70 oz. Weight
Made in USA

Ian B. says…
"I'm a land surveyor by trade and I won't go into the field without it. I have used it for cutting, prying, scraping, stabbing, and many other things I cannot think of at the moment. It always opens, stays sharp, and will not slip out of my hands. The easiest knife to open for me without taking off my gloves. 10/10 I want one of every blade style."
---
6. Benchmade 4300 CLA Automatic

A 'Best Knives' list is basically heretical if it doesn't include at least one Benchmade. Honestly, there were a bunch of awesome switchblade automatics to choose from… You could go with the Stimulus, AFO II, or the Presidio II and it's really only down to personal taste. The 4300 CLA is purpose built automatic knife made for everyday and tactical duty alike. It's the knife that does it all, and a must-have on this list. If you love Benchmade as much as we do, be sure to check out our Best Benchmade Automatic Knives article!
7.85" Overall Length
154CM Drop Point Blade
G-10 Handle
3.43 oz. Weight
Made in USA

Jason W. says…
"After carrying the Benchmade Mini Reflex everyday for several years, I decided it was time for a new EDC and boy did I choose the right one for me! The CLA is perfect in size, weight, action and just a beautiful piece of work. If your looking for a new EDC, this one is JUST RIGHT."
---
7. Boker Plus Strike D2 Automatic

If you like the Kalashnikov but prefer your switchblades with a little more belly and a safety slide, this Boker Plus Strike is an incredible option. Textured aluminum handle scales and a prominent finger choil keep your locked in place. Dollar for dollar, these Boker Strikes automatic knives punch way above their weight and now come with a D2 blade.
7.875" Overall Length
D2 Drop Point Blade
Aluminum Handle
4.79 oz. Weight
Made in Taiwan

Jared S. says…
"The quality of the Bowie D2 Boker is great. I have a few Boker AKs and all are great except for the paint on the blade will drag if you cut something substantial but this stonewash finish is really nice. Love D2 and ordered the strike on day one and am very satisfied."
---
Conclusion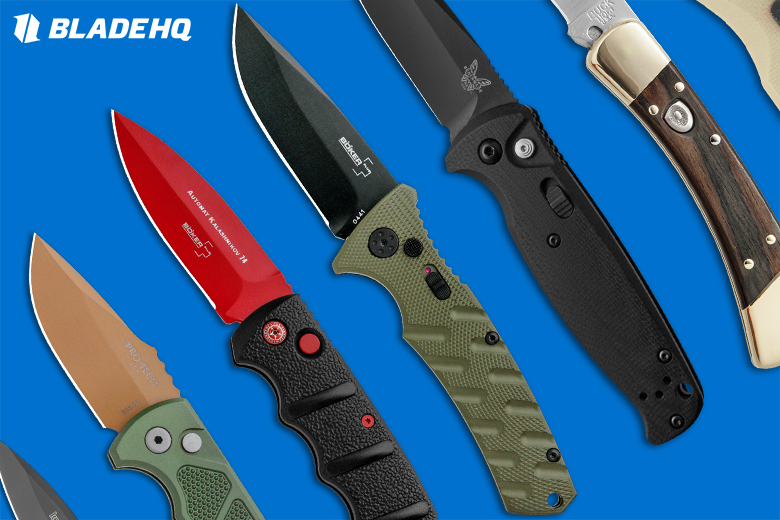 automatic knives overview
With so many amazing manual knives on the market today, it can be easy to overlook automatic switchblade knives. In situations that require wearing gloves, do you really want to be fiddling around with that thumb stud or flipper tab? I didn't think so. Any knife lover can find the utility they need with our best automatic knives picks above. Buy with confidence. These knives are primed and ready to put in work.
Don't delay. The time is now. We've got some epic deals on all the automatic knives that fill your dreams every night. Make it happen; unbox your new EDC! For all Blade HQ updates, follow us on Instagram, Facebook, and Twitter.
Learn More
Whether it's the snappy sound, tactical use, or collectible appeal, automatic knives are great for countless reasons. If you went through each knife above and are yearning for more switchblade action, check out our Knife Banter video below. We highlight many more autos that are loved far and wide in the knife industry.
Click the knife of your choosing below to see the specs.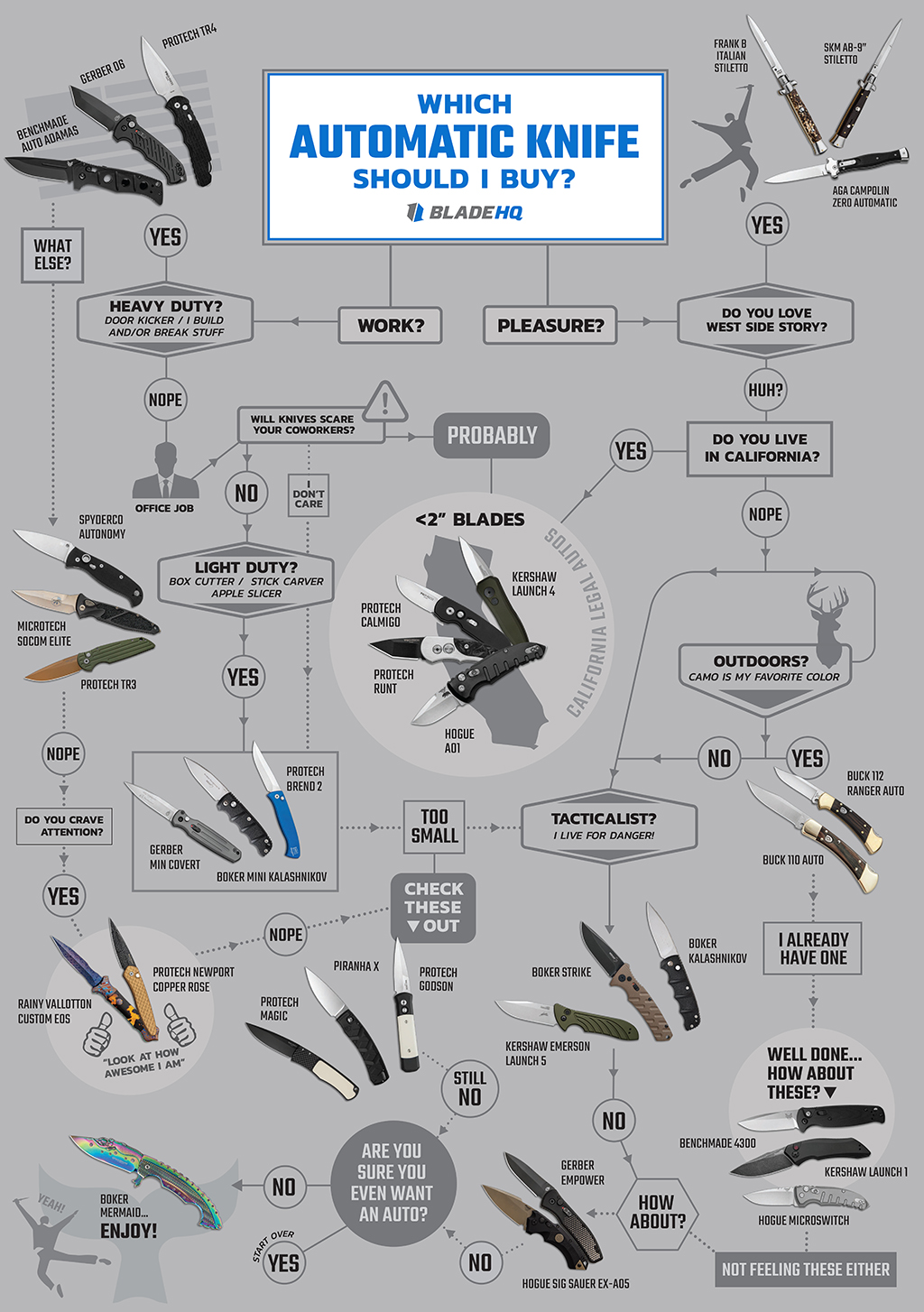 ---
Other Best Knife Guides
Still in that information gathering phase? We've got a whole bunch more lists of all the Best Knives! Happy hunting and may you find that one special knife of your dreams!
*Customer reviews may be condensed for clarity and edited for grammatical errors. You know we have to make our high school English teacher proud. Check product listings for current pricing.