Best BRS Knives
Written by Blade HQ Staff Writer Logan Rainey on 07/29/2020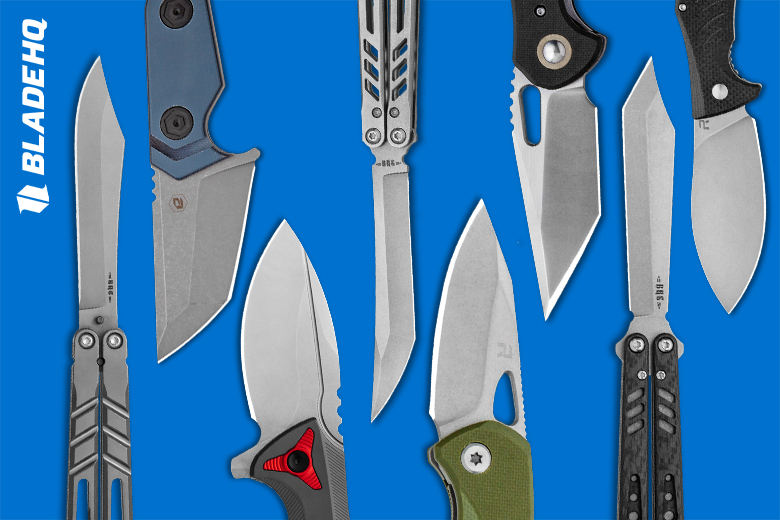 BladeRunnerS Systems (-=BRS=-) has its roots deep in the balisong community and has set the standard for balisong performance and engineering. Described as the "Rolls Royce" of balisongs, these knives are known for their precision milling, high attention to detail and incredible quality. In recent years, BRS has grown considerably and has introduced both folding and fixed blade knives to their product line-up. These knives follow suit with other BRS models featuring titanium construction, durable blade materials and eye-catching looks. Whether you're a competition flipper or a budding knife nut, BRS knives are well worth the price tag. Check out the Best BladeRunnerS Systems (BRS) Knives below!
In addition to an overview of the specs and details of each knife, I'll also be featuring a review of each knife left by one of our customers.
---
Alpha Beast Series
The Alpha Beast is the OG BRS knife. Over the years, this knife has seen many updates and iterations, but the overall look, feel and performance has stayed the same. Originally developed with sandwich style construction, the AlphaBeast offered a performance focused option to butterfly knife enthusiasts. It featured chamfered edges, milled grips and a 154CM blade meant to stand up to the rigors of flipping. With time, the Channel Alpha Beast was introduced offering flippers a more balanced and consistent feeling balisong. With its channel (one-piece milled) construction, maintaining the knife is easier and flipping the knife is smoother. Premium and ALT versions The Alpha Beast is truly the crème de la crème of balisong knives, and absolutely worth the investment.
Alpha Beast 3.0

The Alpha Beast is not only the flagship model for BRS, but possibly the front runner for the balisong flipper community. This precision machined butterfly knife features perfectly balanced titanium handles with robust pivots tuned for easy manipulation. It comes equipped with a Bead Blast 154CM clip point blade with dual tang pins and a crowned spine.
Specs:
Overall Length: 9.875"
Blade Length: 4.50"
Blade Material: 154CM
Handle Material: Titanium
Weight: 5.10 oz.
Country of Origin: USA

Colin S. says...
"The AB 3.0 is defiantly one of the best flipping balisongs on the market, the weight is perfect for a full ti balisong. The bushings make it so smooth and ideal for flipping. I'd recommend anyone who is interested in flipping to get this bali because even if you don't end up flipping it all that much its still great for EDC."
---
Replicant Series
As BRS grew, they recognized that some bali flippers preferred knives with slightly different ergonomics than the Alpha Beast. By utilizing scale-on-frame construction BRS was able to provide the balisong community a knife which offered a taller stack and different ergonomics than other balisongs at that time. The Replicant features G-10 scales over titanium liners giving it a look and feel that rivals many other butterfly knives on the market. This knife features the same tight tolerances and attention to detail found on other BRS knives, but has rounder lines and a grippy handle texture for a different feel. The BRS Replicant (Rep for short) is available with g-10 or titanium scales and comes in a wide array of colors.
Replicant

The BRS Replicant is designed by and for flippers, and it is as devout to the sport as you are. Featuring titanium liners with lightly textured carbon fiber scales for better grip. The recognizable Scorpion Tip Tanto blade rounds out the knife, making the Replicant a truly refined tool. Much like its predecessor the Alpha Beast, the Replicant has been bioengineered for superior agility, dynamics and performance.
Specs:
Overall Length: 10.00"
Blade Length: 4.50"
Blade Material: 154CM
Handle Material: Carbon Fiber
Weight: 4.72 oz.
Country of Origin: USA

Matthew B. says...
"This knife really sings to me. It swings and pivots in the hand with ease, almost as though its begging to be flipped. The balance on this knife lends itself to tricks seamlessly and leaves you craving that "just five more minutes of practice" any time you have to put it down. Its as much an adult toy as a tool or a knife. Short the price I'd almost call it a must try."
---
Barebones Series
True to its name, the BRS Barebones is all of the quality and none of the fluff found on other BRS knives. Don't let that steer you away though. This knife means business. Its skeletonized stainless steel construction makes it light weight and nimble, and gives it the balance needed for both expert level arial tricks and beginner flipping. Available in both trainer and live blade variants, this knife is well worth picking up no matter what level you're at.
Barebones v2.0

The Barebones v2.0 is an impressive evolution of the original, and takes the design in a new direction with a mean tanto blade profile and modified weight. Its skeletonized stainless steel handles offer superb balance for a wide variety of flipping styles. The blade is made from durable 154CM stainless steel with a crowned spine and stonewashed finish. The Barebones v2.0 proves itself as another must-have for balisong enthusiasts everywhere.
Specs:
Overall Length: 10.00"
Blade Length: 4.375"
Blade Material: 154CM
Handle Material: Stainless Steel
Weight: 5.25 oz.
Country of Origin: USA

Henry T. says...
"There's a reason BRS is so popular. This knife proves it! This is the perfect introductory balisong to the higher end market. Premium materials, zen pins, bounce latch, PERFECT balance, the list goes on and on! I would highly recommend the BRS Barebones 2.0"
---
E-Volve Series
BRS is known for breaking the mold and they've done it again with the E-Volve series. These knives bring the premium materials and designs to market without the premium price tag. From radically designed folders to beefy fixed blades, the E-Volve series is a group of knives made for people who love carrying knives that look good and perform just as well. Check out a couple of our favorites below.
E-Volve Apache

BRS has added some EDC gold to their E-Volve series of knives with the Apache flipper. This model sports a gray titanium handle and a stonewashed blade. The Apache has been streamlined for everyday carry comfort, with just enough heft to get the job done. Machine textured titanium offers a secure grip, backed up by thumb-rest jimping on the spine of the blade. The high performance drop point blade sports a sleek blood groove and a smooth flipper opener. A stylish red triangular pivot collar adds a unique finishing touch to the design.
Specs:
Overall Length: 7.00"
Blade Length: 2.78"
Blade Material: CPM-S35VN
Handle Material: Titanium
Weight: 4.42 oz.
Country of Origin: China

Lars O. says...
"I like this knife and it has become my new daily carry knife. The knife is light weight, there is no blade play up/down or side to side. The blade is center and there is a firm detent that I like. The knife cannot be shaken open, The fit and finish are flawless. The only issue that I have is that the blade could have been sharper. this is a common issue with new knives these days and easily remedied. i will be purchasing another one."
E-Volve IMP

The BRS E-Volve IMP (In My Pocket) was an original design of Geoff Blauvelt from Tuffknives. Based on one of his early custom knives, the IMP was designed be be a fixed blade knife that could easily be carried in your pocket. It features a unique modified tanto blade and the minimalistic G-10 handle is comfortable to hold. It comes with a kydex sheath with a rotating clip, allowing for vertical or horizontal carry.
Specs:
Overall Length: 5.625"
Blade Length: 2.625"
Blade Material: AUS-8
Handle Material: G-10
Weight: 4.36 oz.
Country of Origin: China

No reviews yet!
Be the first to write a review!
E-Volve Nomad

The BRS E-Volve Nomad was made in collaboration with custom knife maker Steve Dumchus at NovaBlades. This chunky liner lock folder is outfitted with a CPM-S35VN stainless steel modified tanto blade. A ball-bearing pivot system ensures that the blade pops open quickly and reliably. The steel liners have been heavily skeletonized, reducing the weight significantly. A 3D milled titanium pocket clip is included and set for tip-up carry.
Specs:
Overall Length: 8.125"
Blade Length: 2.875"
Blade Material: CPM-S35VN
Handle Material: G-10
Weight: 5.17 oz.
Country of Origin: China

Ivan C. says...
"Absolute gem. This baby is a lot of knife in a compact package, the handle is beefy and comfortable, zero hotspots, deployment and lock action are both smooth, and despite being thick at the spine the tanto blade still slices beautifully. Razor sharp out the box. Pocket clip is a bit stiff for my taste, but it's not enough to dock a point."
---
REVO Series
The REVO Series was introduced to bridge the gaps between reliability, design, performance and value. Each knife in this series is built with quality construction and solid materials. REVO knives are made for everyday carry and priced to be both affordable and easy to add to your rotation. Check out our favorites below.
REVO Ness

The REVO Ness is an all around EDC performer that offers a modern update to the classic Nessmuk blade style. This Ness model is outfitted with a black G-10 handle and a stonewashed blade. Textured and grooved handle scales offer a solid grip backed up by stainless steel liners. A bent stainless steel pocket clip completes the package.
Specs:
Overall Length: 8.00"
Blade Length: 3.375"
Blade Material: D2
Handle Material: G-10
Weight: 4.96 oz.
Country of Origin: China

No reviews yet!
Be the first to write a review!
REVO Vipera

The REVO Vipera is a bite-sized EDC knife with some great capability. The blade has a gentle clip point design that is strong and good for piercing. The handle is made of textured G-10. The knife really shines with the thumb hole opener, and a deep-carry pocket clip.
Specs:
Overall Length: 4.375"
Blade Length: 2.125"
Blade Material: 9Cr18MoV
Handle Material: G-10
Weight: 1.84 oz.
Country of Origin: China

No reviews yet!
Be the first to write a review!
REVO Recoil

The REVO Recoil is a unique knife with perhaps the largest thumb stud on the market. When open, the blade sits at a slightly forward angle for ease of use with utility tasks and even self defense. It locks tight with the steel frame lock, and includes a long lanyard hole in the backspacer.
Specs:
Overall Length: 7.125"
Blade Length: 2.75"
Blade Material: 9Cr18MoV
Handle Material: G-10
Weight: 4.50 oz.
Country of Origin: China

No reviews yet!
Be the first to write a review!
---
Conclusion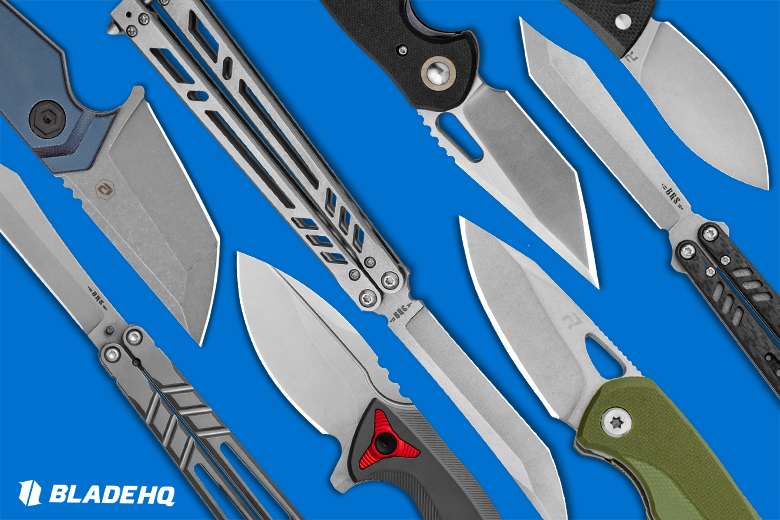 BladeRunnerS Systems has set the standard for precision balisong knives. Their dedication to performance and durability has taken their products right to the top, and solidified their reputation with the balisong community. With the introduction of the E-Volve and REVO series, BRS has extended their product offering giving the knife world more amazing knives to choose from. Whether you love balisongs or folding knives, there's bound to be a BRS knife for you. Check them out the full line by clicking below.
Learn More
In this video, Ben had the opportunity to sit down with Lawrence from BRS to learn more about their butterfly knives and how they got to where they are today. Watch it below to find out how Microsoft Paint and napkin sketches turned into some of the best balisongs ever made!
A couple years back, Ben sat down with Lawrence from BRS again to take a look at BRS folding knives. Check out this great Blade Show 2018 video to learn more.
---
Other Best Knife Guides
Still in that information gathering phase? We've got a whole bunch more lists of all the best knives! Happy hunting and may you find the knives of your dreams!
*Customer reviews may be condensed for clarity and edited for grammatical errors. You know we have to make our high school English teacher proud. Check product listings for current pricing.