Best Benchmade Knives
Updated by Blade HQ Staff Writer George Muhlestein on 4/15/2022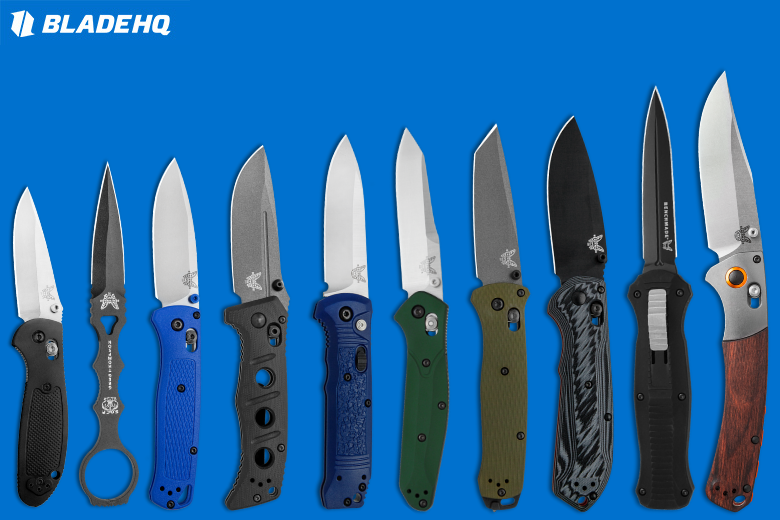 If youíre in the market for a new Benchmade knife, you might be overwhelmed by options. There are so many steels, blade shapes, lock types, and other factors to consider! To help you out, this article contains the best (by sales data) Benchmade knives, as well as some reasons why itís so great!
---
1. BENCHMADE BUGOUT

By no small margin, weíve sold more Bugouts than any other knife, and once you get one in your hand, the reason becomes clear. Its clean design, super-light build, and easy operation make it an easy choice for EDC. Over the years, variations on the design have come out, including models with G-10, carbon fiber, and aluminum scales, a handful of steel types, and even a 533 Mini Bugout! If you want to make it your own, companies like Flytanium make tons of aftermarket parts and accessories!
Drop Point Blade
AXIS Lock
1.85 oz.
Made in USA
---

Not many knives have remained relevant for as long as the Osborne series. It looks like a simple everyday folder, but it can take a walloping thanks to its extended steel liners and stout blade stock. The 940 uses a reverse tanto blade with a little extra belly near the tip, giving you all the cutting performance of a drop point with the tip strength of a tanto. If you like the design, check out the 945 Mini Osborne and the 9400 Osborne Automatic!
Reverse Tanto Blade
AXIS Lock
2.60 oz.
Made in USA
---

Built for the battlefield, the Infidel is a bombproof OTF that can be easily operated no matter what. This knife is covered in jimping, allowing the user to wear gloves and still run the action. Thanks to its symmetrical design and double-edged blade, the Infidel is also 100% ambidextrous. If tactical isnít your game, this double-action has an unrivaled fidget factor, and there's even an EDC-friendly Mini Infidel! Benchmade makes a selection of OTFs, but this one is the granddaddy of them all!
Double-edged Dagger Blade
Double-Action OTF Mechanism
4.90 oz.
Made in USA
---

The Freek lands somewhere between everyday and outdoor. Even though itís got everything youíd want in an EDC, like a foxy design and a pop of color, itís overbuilt enough to be your daily driver in the field. The blade has a tall flat grind that slices like a dream, but donít be fooled! The blade is still thick enough to inspire confidence and can get some hard work done. Itís a little bigger than most folders, but there is a Mini Freek if that bothers you.
Drop Point Blade
AXIS Lock
4.30 oz.
Made in USA
---

If you ask around the knife community about any folder, thereís a good chance that you will hear ďbut how does it compare to the Griptilian?Ē multiple times. Itís the least expensive AXIS Lock knife you can buy but still uses top-quality materials and build, and with its extra wide and contoured handle scales, it is second to none in ergonomics. Benchmade applied this design to both the Griptilian, the Mini Griptilian, and several blade styles. If you're a modder, the Griptilian platform has a large and thriving aftermarket!!
AXIS Lock
3.82 oz.
Made in USA
---

If things get hairy, the last thing you want to be is unprepared, and thatís where the SOCP has you covered. This little fixed blade, and its innovative sheath, can fit almost anywhere, and since itís so light, youíll forget it until you need it. The sheath was designed to fit inside MOLLE webbing, offering not only easy attachment, but a low profile as well. Even if you donít work in military or law enforcement, would your rather have it and not need it or need it and not have it?
440C Dagger Blade
Polymer Sheath
Made in USA
---

Itís been described as a ďTactical BugoutĒ. Who wouldnít be honored by such a distinction? The Bailout certainly lives up to the title, using a similar handle and lock design and maintaining a light weight, but thatís where the similarities end. It differs with its tanto blade, backspacer and pommel, and blade steel optimized for toughness instead of corrosion resistance. Itís incredibly light, but it do hard things and keep coming back for more.
Tanto Blade
AXIS Lock
2.70 oz.
Made in USA
---

Benchmade has a knack for making simple, useful, and aesthetically pleasing knives, and the Casbah is no exception. Many autos tend to wax ďtacticalĒ, using tons of jimping, overpowered springs, blocky metal handles, coloring everything black, and more, but this one takes a different approach. Using a Grivory handle, the Casbah is as strong as you need it to be, but itís way lighter than its contemporaries. This no-frills design is perfect for anything, from everyday carry to doomsday carry!
CPM S30V Drop Point Blade
Push-Button Automatic Action
3.43 oz.
Made in USA
---

Itís big, itís bad, and if can dish it out, the Adamas can take it. This tactical folder is overbuilt to the extreme, with full steel liners, the rugged AXIS Lock, and one of the toughest blade steels out there. Make no mistake, this knife is big and heavy, but thanks to its contoured handle scales and thoughtful design, itís a joy to use. Is it a little too big for you? Check out the Mini Adamas! Not big enough? Check out the Adamas Fixed Blade! Need it faster? Thereís an Automatic Adamas too! Any of these options will probably outlast you!
CPM CRU-WEAR Blade
AXIS Lock
6.17 oz.
Made in USA
---

The Crooked River looks much like your grandpaís folder, to which many whitetails have lost their skin, but itís made with the best in materials and mechanisms weíve got! The classic design certainly isnít broken. Itís proven to be ergonomic and convenient for years, so instead of changing it, Benchmade decided to update it a bit! Featuring more premium blade steel and lock, itís not just for hunting, but makes a great EDC as well! If its size bothers you, thereís a Mini Crooked River too!
CPM S30V Blade
AXIS Lock
5.41 oz.
Made in USA
---
Conclusion
Benchmade makes a ton of awesome knives, and this is just a sampling of what we carry. Theyíve been on the leading edge of knife design for decades, making them one of the biggest names in knives. No collection (including yours) is complete without a few Benchmade knives in it!