BEST BENCHMADE KNIVES
Written by Blade HQ Staff Writer Andrew Hamilton on 11/5/2018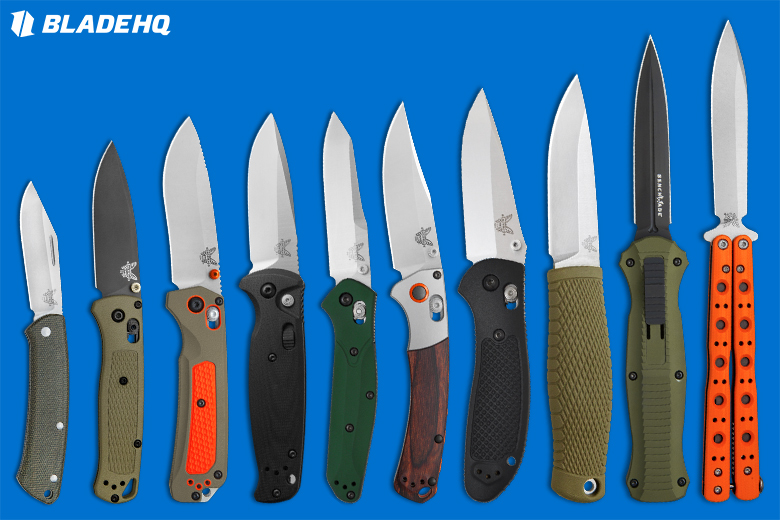 Are you interested in picking up a new Benchmade knife? It's nearly impossible to pick just one when there are so many amazing options. With no further ado, here's our pick of the 10 best knives from Benchmade in Fall 2018.
After we break down the specs and details of each knife, I'll include a review from one of our beloved customers.

---
1. Benchmade Bugout: $136

The Benchmade 535 Bugout is lightweight, capable, and universally lusted after by both backpackers and the EDC crowd. This knife melts away in the hand and disappears in a pocket. When it comes time to cut, this blade makes its presence known. You can't go wrong with this epic cutting tool.
3.24" CPM-S30V Drop Point Blade
Polymer Handle Scales
1.85 oz. Weight
Made in USA

Christopher I. says…
"I've been meaning to pick the Bugout up since its release. When I heard the weight, 1.85 oz, I had to see it for myself. Benchmade accomplishes this by losing the liners in the handles. I have to say, I absolutely love it. I've been looking for a good EDC for basketball shorts or running and this fits the bill perfectly. Wearing basketball shorts, the knife disappears with its light weight and deep carry clip. If you're thinking about this knife, stop and get it. You won't be sorry."

---
2. Benchmade 51 Morpho Balisong: $268
Would you be surprised if I told you that Benchmade invented the game when it comes to made-in-USA butterfly knives (also known as balisongs)? That heritage extends to every Benchmade knife today in the form of their butterfly logo. Don't sleep on the 51 Morpho. This BHQ Exclusive butterfly knife is a true performance, competition-ready flipper.
4.25" D2 Spear Point Blade
G-10 Handle Scales
3.48 oz. Weight
Made in USA

Paul G. says…
"I don't know where to start with this knife! I absolutely love the color of the G-10 scales!! The scales have the perfect texture for flipping. The blade is super sharp and the stonewash is gorgeous! I love the lack of tang pins. I never thought I'd replace my Tachyon III as my EDC, but this knife has done it."

---
3. Benchmade 940: $187
Ask any guy what Benchmade to buy, and for close to 20 years the easy answer has been "Grab an Osborne 940!" You still can't go wrong with durable, grippy aluminum handle scales, premium blade steel, and near one to one ratio of handle to blade. It also comes dressed in carbon fiber if that suits your style better. If you still need some convincing to the worthiness of this knife, check out our field test and comprehensive Review of the 940.
3.40" CPM-S30V Reverse Tanto Blade
6061-T6 Aluminum Handle Scales
2.60 oz. Weight
Made in USA

Shea P. says…
"This is my second Benchmade knife and I like this one more than the first. It came razor sharp out of the box and it was centered perfectly. I love the slim profile of the knife, it disappears in my pocket. I cut a lot of cardboard at work and it goes through it like a hot knife through butter."

---
4. Benchmade Mini Crooked River: $192
If you're looking for a gentlemanly folding knife that can stand up to hard use, you're going to love the Hunt Series of knives from Benchmade. The Mini Crooked River shines as a game processing tool and as an EDC. Tasteful styling and materials are elevated by excellent ergonomics and a beast of a blade.
3.40" CPM-S30V Clip Point Blade
Dymondwood Handle Scales
3.29 oz. Weight
Made in USA

Mike F. says…
"Aside from the fact that it's a great knife with an awesome blade shape and great steel, I find myself just looking at this knife a lot. I love the combination of materials Benchmade chose here. It's a pocket knife you should be able to carry for many years, and it looks the part. Although this could be a great knife for EDC, I generally carry smaller knives unless I know I will have some use for the larger blade. I use this one for projects around the house, camping, food prep, etc."

---
5. Benchmade Griptilian: $120
Among hikers and backpackers, there may not be a more beloved knife than the Benchmade 550 Griptilian. Also available in a Mini version, this knife is lightweight, durable, and sports a utilitarian blade shape ideal for a diverse and wide-ranging assortment of cutting tasks.
3.45" 154CM Blade
Polymer Handle Scales
3.82 oz. Weight
Made in USA

Bob C. says…
"This is my go-to EDC. It can really take a beating, and still be sharp. I love the axis lock, which has never let me down. It feels good in the hand and is just really an all around great knife. If you are looking for a reliable EDC you can count on, it's the 551. And if you don't like the clip, you can email Benchmade and they will send you a deep carry clip for free. And they have a great warranty."
---
6. Benchmade Infidel OTF Knife: $438
There's two main reasons to carry an OTF knife. 1. Out The Front knives easily deploy and retract with one hand. Your fingers never cross in front of the path of the blade, and they operate well with gloves or greasy hands. 2. They look really, really cool and are super fun to play with. All jokes aside, the Benchmade Infidel 3300 OTF is a real marvel of engineering. If you value a bit of fun with your function, the Benchmade Infidel (or Mini Infidel) may be for you.
3.91" CPM-S30V Dagger Blade
6061-T6 Aluminum Handle Scales
4.90 oz. Weight
Made in USA

Donald M. says…
"As the old saying goes, "you get what you pay for." I have been carrying an Infidel for over a year now and it has never, not even once, failed to properly extend or retract the blade. Pricey? Yes! Worth it? Definitely! Update: Over two years of carry now and the knife has never malfunctioned. It works perfectly every time."

---
7. Benchmade 4300 CLA Automatic: $213
We can't make a list of the best Benchmade knives without including a side-opening automatic knife. The 4300 CLA (Composite Lite Auto) fits right into the kit of law enforcement and military, but if you're not about that operator life, don't worry—you can still carry this tactical treasure.
3.40" 154CM Drop Point Blade
G-10 Handle Scales
3.47 oz. Weight
Made in USA

Cody W. says…
"I've owned many Benchmade knives over the years and still do. I am a heavy researcher and know what I want. The CLA is clearly my new favorite. It is perfectly sized, balanced, and it opens strong. The G-10 handle is exceptional. The CLA is rock solid and ready to work. Another fine product by fine craftsmen.

---
8. Benchmade Proper: $119
The 318/319 Proper is a modern take on the traditional slip joint. Torx screw construction is the fresh take on a classic we always wanted. The Proper is a perfect piece for those times that you'd rather not carry a beefier knife.
2.82" CPM-S30V Clip Point Blade
Micarta Handle Scales
2.28 oz. Weight
Made in USA

Dylan B. says…
"This knife reminded me of the folder my grandfather used to carry. I received it as a gift from my wife and I love it. From the feel of the micarta to the shape of the blade—an incredible tool that sits discretely in the bottom of your pocket."

---
9. Benchmade Grizzly Ridge: $128
Another instant classic from the Benchmade Hunt Series, the Grizzly Ridge may possibly be the grippiest knife in the world. When it comes to game processing and hunting, you definitely don't want to lose purchase on your handle. The orange inlay makes for an excellent contrast in the event that you ever drop your knife into a big pile of leaves.
3.50" CPM-S30V Drop Point Blade
Polymer Handle Scales
3.77 oz. Weight
Made in USA

Robert G. says…
"This knife is the best blade for the money. It has a really smooth action and the blade is centered. The drop point with slight recurve is amazing. This is one I will definitely keep. I ordered a second one a day later to give to my best friend. I want a fixed blade with this same blade profile in CPM154 from Benchmade.

---
10. Benchmade 200 Puukko Fixed Blade: $128
The 200 Puukko represents a new fixed blade on offer for Benchmade, but I can tell you already that this knife is an absolute slam dunk. The Scandinavian Puukko design is tailor-made for general camp tasks, bushcraft, and survival. 3V is the perfect steel for the job with excellent toughness and edge retention.
3.75" CPM-3V Drop Point Blade
Santoprene Handle Scales
4.54 oz. Weight
Made in USA


---
CONCLUSION
BENCHMADE OVERVIEW
Benchmade was born in 1979 as Balisong Inc. What began as 100 butterfly knives produced out of a California garage has grown into what can only be described as a knife empire. Benchmade's rich heritage is built on USA-based manufacturing and a craftsmanlike mentality. When you purchase any Benchmade, you'll get innovative product design and a tireless approach to the refinement of cutting tools.
So what are you waiting for? When you buy a Benchmade from Blade HQ you're supporting an Authorized Premium+ Dealer. That means we get to offer the widest selection of products to tempt your trigger finger. Once you've got that new knife, email me a picture and a few words about what went into your decision (AHamilton at BladeHQ.com). We'll feature submissions on our Instagram, Facebook, and Twitter.
LEARN MORE
TLDR? Video more your speed? We've got you covered as we sit down with Benchmade Product Line Manager, Hans Albing, to discuss some of the best Benchmade EDC knives.

---
OTHER BEST KNIFE GUIDES
Still in that information gathering phase? We've got a whole bunch more lists of all the Best Knives! Happy hunting and may you find that one special knife of your dreams!
*Customer reviews may be condensed for clarity and edited for grammatical errors. You know we have to make our high school English teacher proud. Check product listings for current pricing.