Best Boker Knives
Written by Blade HQ Staff Writer Logan Rainey on 12/12/2019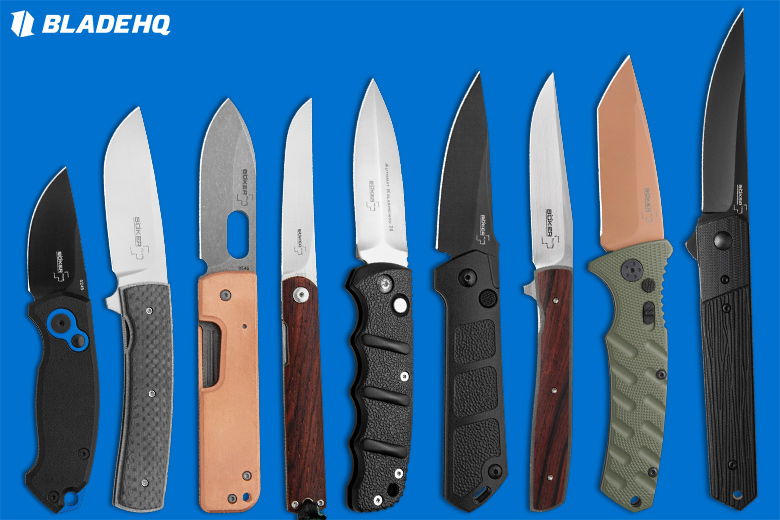 From simple slip joint knives to snappy automatics, Boker is a brand known for its quality and history in the knife industry. Boker knives are known for being affordable, well made and great looking. Whether you prefer knives that are simple yet beautiful, or knives that are modern and complex, Boker has a great variety and a little something for any knife enthusiast. Read on to learn more about some of the best Boker Knives.
---
1. Kompakt

Boker produces some of the best budget friendly automatic folding pocket knives on the market. The Boker Kompakt is the newest automatic offering from Boker. This Jesper Voxnaes designed knife is California legal and perfect for everyday carry. It features a snappy automatic action and an ergonomic aluminum handle that looks great.
1.875" AUS-8 Drop Point Blade
Aluminum Handle
5.25" Overall Length
2.11 oz. Weight
Plunge Lock

William C. says...
"Wonderful pocket auto. I found the pocket clip to stiff to be useful. Otherwise it has has a properly sized handle which encourages using it often."
---
2. Lancer

At first glance, the Serge Panchenko designed Boker Lancer may be easy to overlook. But this knife is amazing. Thanks to its slim profile, it fits well in the pocket better than other full-size pocket knives. A titanium liner gives this knife great strength and lockup. The stonewashed finish and copper handle look great and offer any everyday carry setup a unique look.
3.00" CPM-S35VN Drop Point Blade
Copper Handle
7.00" Overall Length
4.80 oz. Weight
Liner Lock

Steven J. says...
"Got it today and I am very happy. The knife is very light and makes a great pocket companion. The action is light, one hand operation is easy, lock up is solid and the blade is sharp. Love the design and look. I haven't purchased a folder that I like more in years."
---
3. Kihon Auto

Inspired by the greatness of the Burnley Kihon, the Boker Kihon automatic is a fresh take on an original design. Its lightweight construction lends it to be an amazing automatic knife for everyday carry. Additionally, this knife features a snappy push button automatic action making it easy to open the knife quickly with one hand. Kihon's textured aluminum handle provides great grip and control while using the knife.
3.25" AUS-8 Drop Point Blade
Aluminum Handle
7.75" Overall Length
3.24 oz. Weight
Plunge Lock

Perry S. says...
"Had this knife for about a week now and I gotta say it's great all around! The aluminum scales are sturdy and grippy with the texturing. I love the snappy action on it as well. The blade has been put to good use as well, and I can see myself getting a lot of mileage out of this Boker."
---
4. Urban Trapper

The Brad Zinker designed Urban Trapper is beautifully designed. It was inspired by classic Trapper knives and meant to be a gentleman's everyday carry knife. The slim build and high-quality materials give the Urban Trapper amazing pocket-ability that also feels great in hand. This knife features a sturdy titanium frame and wood handle that give it great looks. IKBS pivot bearings help the VG-10 blade float effortlessly when flipped opened.
3.50" VG-10 Clip Point Blade
Cocobolo Wood Handle
7.75" Overall Length
1.84 oz. Weight
Liner Lock

Matt P. says...
"I only carry this knife if I'm dressing up (which isn't often for me). But whenever I do, it turns heads. Multiple people have figuratively drooled over it. The action is butter smooth and the fit and finish is perfect."
---
5. Strike

This budget automatic tactical folder has the build quality and the action needed to perform during both high-risk situations and simple, everyday tasks. The Boker Strike features an ergonomically designed aluminum handle meant for optimal grip with gloved or bare hands. A robust coil spring gives this knife its swift, hard-hitting action. Finally, the Boker Strike features a safety slide to prevent accidental firing.
3.25" AUS-8 Drop Point Blade
Aluminum Handle
7.875" Overall Length
4.75 oz. Weight
Plunge Lock with Safety Switch

Scott W. says…
"Great knife for the price! Opens smoothly with the push of a button. Seems well built, almost no noticeable play in the blade when in the open locked position. Also this thing comes hair popping sharp. No complaints."
---
6. Kansei Nori
The Boker Kansei Nori is a folding knife inspired by traditional Japanese design. Its slender profile and quality workmanship make it a perfect candidate for everyday carry. This knife features beautiful wood handle scales and a long drop point blade. A stainless-steel liner lock provides solid blade lock up and gives this knife a touch of contrast from the wood handle.
3.125" VG-10 Blade
Cocobolo Wood Handle
7.00" Overall Length
1.52 oz. Weight
Liner Lock

Reece M. says...
"The action on the knife is so quick and smooth! This knife easily became one of my favorite fidget knives. The wood on it is gorgeous! The only thing is the little black lanyard on the end. Not a big deal but it came kinda worn out. Great knife!"
---
7. Kalashnikov

Arguably the OG of budget automatic folding knives, the Boker Kalashnikov has been an everyday carry staple for years. Its simple design and wide array of color combos and designs makes it an easy choice for any knife enthusiast new or old. This knife is known for its reliable construction and bulletproof action. It's a snappy auto that is easy to carry and handle. Few knives are that good for that price. The Kalashnikov will go down in history as a classic.
3.25" AUS-8 Dagger Blade
Aluminum Handle
7.625" Overall Length
3.70 oz. Weight
Plunge Lock

Jeff C. says...
"I own several Boker's, this one is my favorite. The workmanship is top notch, and the satin finish blade looks great. The knife deploys quickly and smoothly. No blade wobble, and the blade is centered perfectly. The best forty bucks I've spent in awhile."
---
8. Kwaiken Flipper

In all its various forms, the Lucas Burnley designed Boker Kwaiken is an amazing knife to handle and own. Its Japanese inspired design is both beautiful and practical. Kwaiken features a grippy G-10 handle, a durable VG-10 blade and a strong stainless-steel liner. When it comes to everyday carry knives, the Boker Kwaiken is a great size, is made of the right stuff and has all the right looks. This is a knife worth adding to your collection!
3.50" VG-10 Blade
G-10 Handle
8.375" Overall Length
4.45 oz. Weight
Liner Lock

Matthew B. says...
"My second Boker Kwaiken, and third Boker overall. Can't say enough about the quality, smoothness, and overall design of this blade. Perfectly discrete, but ready for business at the flip of a switch."
---
9. Zinker FR

Add some of that sexy carbon fiber style to your collection with the Boker Brad Zinker FR. Its titanium construction and carbon fiber handle scales give this knife its unique look. The FR's drop point VG-10 blade is made for slicing and performs well when used for daily tasks. Its ball-bearing pivot is buttery smooth and gives this knife a satisfying feel when opened and closed. If you are after a quality folder that won't break your bank, this is one worth checking out!
2.875" VG-10 Drop Point Blade
Carbon Fiber Handle
6.50" Overall Length
2.09 oz. Weight
Frame Lock

David J. says...
"Love this knife! Looks great, feels great. Showed it a couple of my friends and they all want one."
---
Conclusion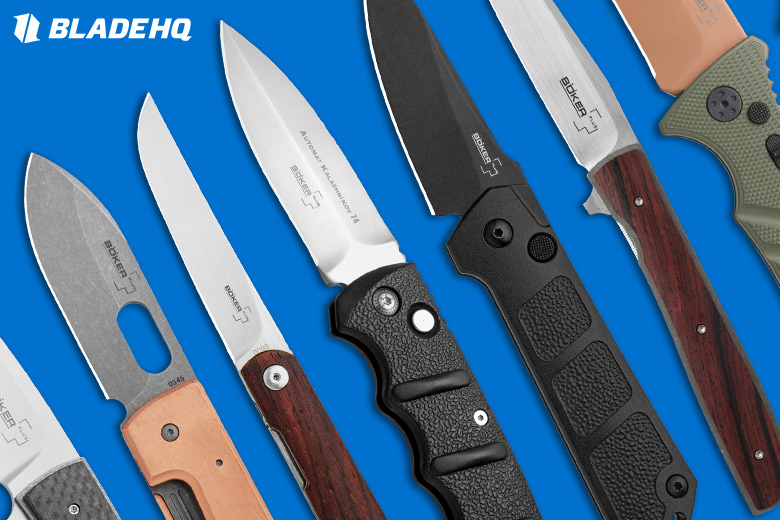 Boker's rich history in the knife industry contributes greatly to the quality of the products they produce, and make Boker knives some of the best you can get. Boker has been at the forefront of knife design and construction. Their knives are known for being everything from simple and affordable to complex and valuable. Plus, they produce knives for anything and everything. Though not a comprehensive list, the knives above are a solid sample of what Boker has to offer.
While these are our top recommendations, Blade HQ has got way more knives than just the 9 featured here. Find the perfect piece and leave a review! Follow us on Instagram, Facebook, and Twitter for all your knife updates.
Learn More
Still deciding which Boker knife deserves your love? Check out this recent episode of Knife Banter where Jamie sits down with Boker Germany CEO, Karsten to discuss their new line-up for 2021!
---
Other Best Knife Guides
Still in that information gathering phase? We've got a whole bunch more lists of all the Best Knives! Happy hunting and may you find that one special knife of your dreams!
*Customer reviews may be condensed for clarity and edited for grammatical errors. You know we have to make our high school English teacher proud. Check product listings for current pricing.