Best Bowie Knives
Written by Blade HQ Staff Writer Andrew Hamilton on 2/27/2019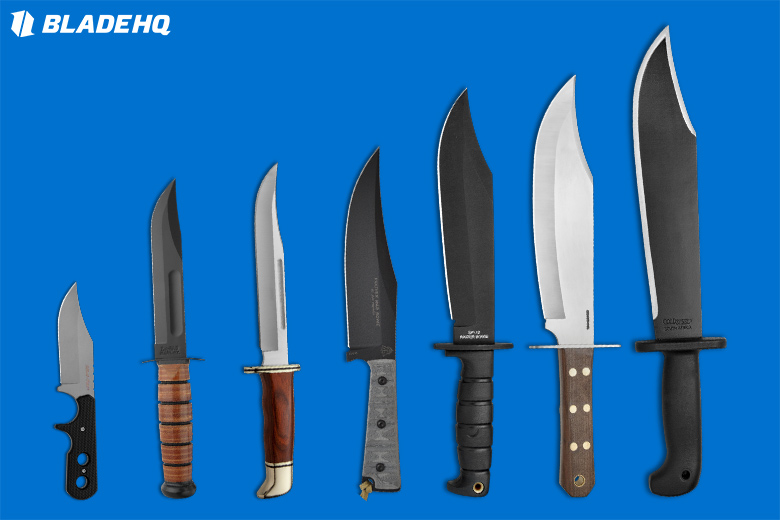 The heritage of the Bowie knife stretches back nearly as far as America itself. Born in the time of Abraham Lincoln and predating Levi's jeans, the Bowie carries with it a world of history. The first and only choice of hunters, trappers, and outdoorsmen, the knives featured in this buyer's guide are versatile and rugged tools made for any adventure.
"It must be long enough to use as a sword, sharp enough to use as a razor, wide enough to use as a paddle, and heavy enough to use as a hatchet."
-Russell T. Johnson
These knives are the cream of the crop for what you can get with your money. Dependable, rugged, and attractive, choose the Best Bowie knife for your adventure.
---
1. Condor Undertaker Bowie

The Condor Undertaker is a classic Bowie design that even ol' Crocodile Dundee would be proud to carry. With a high-quality leather sheath and field sharpenable 1075 blade steel, your Condor Bowie knife can be a trusted ally for any adventure. This Joe Flowers designed beast is a steal for under $100. Check out our video below to see it in action.
10.125" 1075 Bowie Blade
Walnut Handle
1 lb. 8 oz. Weight
Made in El Salvador

Binh P. says...
"My first condor bushcraft knife, come very sharp out of the box. Fulltang construction with a sturdy wood handle with three brass pins and a brass landyard hole. This knife is fully function and ready for bushcraft, edc , or even use in the kitchen."
*Review taken from the similar Condor Tavian due to lack of reviews on the Undertaker.
---
2. Cold Steel Mini Tac Bowie

The smallest (and most easy to carry) Bowie knife on our list is the Cold Steel Mini Tac. Wear this fixed blade around your neck in its Kray-Ex sheath, tuck it into a pocket, or stash it away in your bag. Compact, lightweight, and ergonomic, the Mini Tac packs a lot of punch into a tiny package.
3.625" 8Cr13MoV Bowie Blade
G-10 Handle Scales
2.60 oz. Weight
Made in Taiwan

John J. says...
"This knife is great knife. It comes nearly razor sharp. It is so light it's like holding a straight razor. This thing can performs awesome when using for everyday stuff. Ive used mine for cooking in the field. It minces an onion no problem. It fits very securely in sheath"
*Review taken from the similar Cold Steel Kobun due to lack of reviews on the Mini Tac.
---
3. Ka-Bar USMC Fixed Blade

First introduced over 50 years ago, the Ka-Bar USMC is the prototypical Bowie knife in the mind of Americans. Durable, affordable, and USA-made, the USMC won't let you down even under the most hardcore use. A grooved leather handle, 1095 blade steel, and full tang construction ensure this knife will still be kicking long after your bushcrafting days are done.
7.00" 1095 Cro_Van Bowie Blade
Leather Handle
11.20 oz. Weight
Made in USA

Will B. says...
"If you want a combat/survival knife, this is the classic. You cannot go wrong with the Ka-Bar 1217. It's a sturdy and reliable knife that will last even the most abusive tasks. 1095 Cro-Van steel is a great choice too. Keeps an edge well and is easy to touch up. And lastly, support the Marines with the Ka-Bar 1217. Classic knife. Classic choice."
---
4. Buck 120 General Bowie

Buck may be known for their 110 Folding Hunter above all their other models, but they make a worthy fixed blade too. The 120 General Bowie knife is made in their Post Falls, Idaho factory. A heavy-duty leather sheath compliments 420HC steel and a brass pommel and guard to make for a rad battle-ready blade.
7.375" 420HC Bowie Blade
Dymondwood Handle
8.30 oz. Weight
Made in USA

Alec P. says...
"The ergonomics are amazing, was really comfortable to use when carving jack-o-lanterns. It also came ridiculously sharp and is easy to get a great edge on. I have no complaints with this knife, it is an American legacy!"
*Review taken from the similar Buck Special 0119BKS due to lack of reviews on the 120 General.
---
5. Ontario SPEC PLUS SP10 Marine Raider

Most Bowie-style knives come with lots of brass and leather. A traditional aesthetic, if you will. All that is really thrown out the window with the Ontario SP10 Marine Raider Bowie knife. This beast is blacked out. Makers of the RAT 1 and RAT 2 knives, Ontario really knows how to make tough cutlery.
9.75" 1075 Bowie Blade
Kraton Handle
1 lb. 6.40 oz. Weight
Made in USA

Connor G. says...
"Great sharp knife out of the box. Solid, durable, and very well balanced. I was even happier when I pulled my knife out of the box and noticed "Made in USA" engraved on the side of the blade. Full tang. Amazingly cheap for such a quality knife made in America. The nylon sheath was okay, there are better ones out there but it works just fine. The sheath fits the knife well and the leather belt loop makes noise while you walk. This knife is a total tank."
---
6. TOPS Knives Prather War Bowie

The TOPS Knives Prather War Bowie has got a really distinctive blade shape with a dramatic clip point blade. This Bowie would be ideal for detail type work at the tip and stabbing strikes. An ultra-grippy micarta handle ensures you'll never lose grip of your knife even when you're cleaning fish in a stream or chopping with a slick, wet hand. This design would make ol' Jim Bowie proud.
7.80" 1095 Bowie Blade
Micarta Handle
15.90 oz. Weight
Made in USA

Eric B. says...
"I bought this knife to open up coconuts in Florida and it more than excels at that task. I have also used this blade to trim palm branches around the pool area. I have also used it to cut down mangos, avocados, and oranges that are too high up in the tree by simply securely attaching a pole to the knife by using the holes on the guard..."
*Review taken from the similar TOPS SXB Skullcrusher's Xtreme Blade Warrior due to lack of reviews on the Prather War Bowie.
---
7. Cold Steel Black Bear Bowie

We already gave you a Bowie option from Cold Steel. Where the Mini Tac above was small and portable, the Black Bear Bowie is a big and burly. Half machete and half camp knife, the Black Bear is ready for action from the deciduous forests of the Appalachian to the rain forests of Thailand.
12.00" 1055 Bowie Blade
Polypropylene Handle
1 lb. 2.10 oz. Weight
Made in South Africa

Mike P. says...
"Just a beast. Tough as nails. Can do anything you need and won't break the bank! Great knife!"
*Review taken from the similar G.I. Tanto Fixed Blade due to lack of reviews on the Black Bear Bowie.
---
Conclusion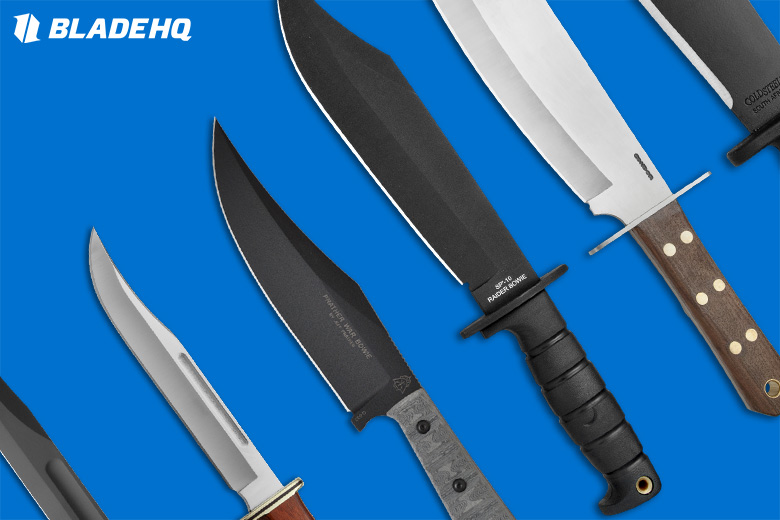 Bowie Knife History
What sets the Bowie knife apart? These blades perform no matter what you throw at them. Camping for the weekend, hunting from a treestand, or honing your bushcraft skills, the Bowie offers a lot of knife in a compact package.
Born in the 1830s and carried by famed pioneer Jim Bowie, the Bowie knife has long been an important piece of American history. Ka-Bar's WWII issued design launched the Bowie into the 20th century and films like Rambo and Crocodile Dundee are nostalgic for all the right reasons.
In our modern, trend-based world, everyone wears the same sneakers and carries the same cellphone. A Bowie knife is a rebellion against boring. The distinctiveness and variation of Bowie designs puts you in control of your own style.
With a place in the Smithsonian's National Museum of American History and every schoolkid's history textbook, the Bowie knife may be the most important tool in American history. Bold and burly, any Bowie from this Buyer's Guide will deliver on versatility and function. Pick one up, throw it in your kit, and feel a bucket of pride knowing your knife helped build America!
So now you've got all our recommendations, but Blade HQ has got way more knives than just the 7 featured here. Give our wares a browse, and find the perfect Bowie knife for yourself. Once you've got your Bowie situation dialed in, email me a picture and few words about your choice at [email protected]eHQ.com. We'll feature the best submissions on our Instagram, Facebook, and Twitter.
Learn More
Remember that super-awesome Condor Undertaker that was in the number one spot? If you're still unsure about it being the knife for you, check out the video below. Some of the top names in survival put it to the test and show exactly why it's sitting in our spot for the best Bowie knife.
---
Other Best Knife Guides
Still in that information gathering phase? We've got a whole bunch more lists of all the Best Knives! Happy hunting and may you find that one special knife of your dreams!
*Customer reviews may be condensed for clarity and edited for grammatical errors. You know we have to make our high school English teacher proud. Check product listings for current pricing.