Best Buck Knives
Written by Blade HQ Staff Writer Logan Rainey on 10/9/2019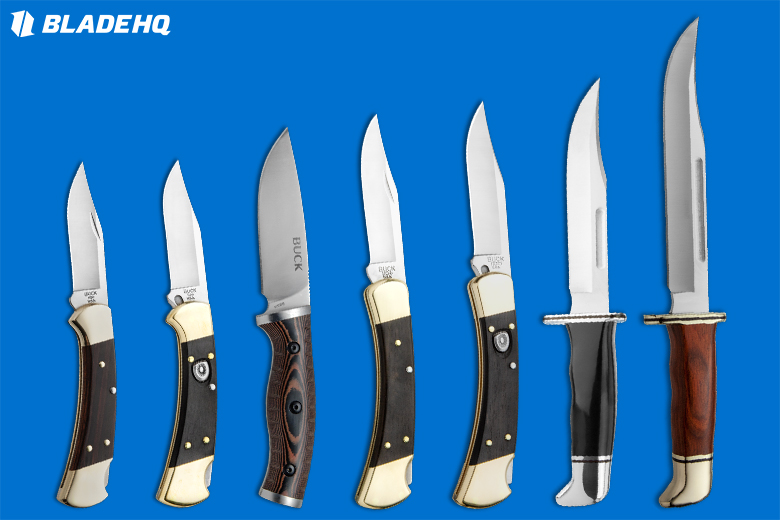 Very few knives are as iconic as Buck knives. Their traditional construction and design have stood the test of time making them some of the longest running knives in production. Whether you love traditional knives, prefer knives that are built to last, or live to hunt, there's bound to be a Buck for you. Check out our top 7 Buck knives below!
Find a review from one of our beloved customers after each break down.
---
1. Buck 110 Automatic Knife

The Buck 110 Auto has quickly become a favorite for hunters and knife collectors alike. It combines the looks of the original 110 Folder with modern automatic action, and a little less weight. The 110 Auto is reliable, sports an awesome look, and offers the truly original Buck 110 feel. This knife features an easy-to-sharpen 420HC blade and genuine ebony handle scales.
3.75" 420HC Blade
Ebony Handle
7.10 oz. Weight
Made in USA

Kevin H. says…
"These knives are built like a tank! There's nothing delicate or fragile about them! I've always loved the look and feel of the 110 since I was an early teenager and am now 53. When I realized Buck had introduced this great classic knife in an automatic, I knew I had to have one. This knife just exudes pure quality and being automatic now just puts the icing on the cake!!! And thank you Buck for bringing back the genuine ebony wood handles again!!!! This knife is just flat out beautiful!!!!"
---
2. Buck 112 Ranger Automatic Knife

Following in the footsteps of its older brother, the Buck 112 Auto offers all the same great features as the 110 Auto in a slimmer package. Its built-in automatic action is fast and reliable, providing a consistent one-handed opening. Ebony wood handle scales are perfectly paired with polished brass bolsters giving this knife an incredible look that maintains classic simplicity. The 112 Auto features a cryogenically treated blade adding strength, sharpness and edge retention.
3.00" 420HC Blade
Wood Handle
5.90 oz. Weight
Made in USA

Lynn M. says…
"Went to Buck knife factory and bought the 110 Auto and liked it so well, that I bought the Ranger 112 Auto when it came out. Both great knives. I like the size of the Ranger for everyday use. Easy to carry. Quality product. Buck has a great guarantee too."
---
3. Buck 110 Ebony Manual Folding Knife

When it comes to traditional folders, there are few knives that have the history or reputation of the Buck 110. Released in 1964, it has set the standard for lock back folding knives and gives inspiration to knife makers all over the world. Polished brass bolsters and ebony wood handle scales give this knife the look and feel you expect when holding a Buck. If you don't have one in your collection, you're really missing out.
3.75" 420HC Blade
Ebony Handle
7.50 oz. Weight
Made in USA

John P. says…
"Fantastic, classic knife. Just one of those knives that everyone should own at some point in their life. It's great quality, recognizable, and beautiful."
---
4. Buck 119 Special Hunting Knife Fixed Blade

The Buck 119 has been the knife of choice for hunters nearly 50 years running. Its traditional clip point 420HC blade gives this knife its iconic look and makes cutting tasks much easier. This knife features a black polymer handle that lines up perfectly with the knife's polished guard and pommel. The Buck 119 comes standard with a premium leather sheath.
6.00" 420HC Blade
Polymer Handle
7.50 oz. Weight
Made in USA

Alec P. says…
"The ergonomics are amazing, was really comfortable to use when carving jack-o-lanterns. It also came ridiculously sharp and is easy to get a great edge on. I have no complaints with this knife, it is an American legacy!"
---
5. Buck 112 Ranger Lockback

Plain and simple, some knives are just too good for their own good. The Buck 112 Ranger is one of our favorite mid-sized traditional folders. This knife is essentially a slimmed down version of the ever-popular Buck 110 folder. Equipped with premium polished brass bolsters and Macassar Ebony wood scales, this beautiful knife is an eye-catching addition to any collection.
3.00" 420HC Blade
Wood Handle
6.19 oz. Weight
Made in USA

Mark W. says…
"I have been carrying a Buck similar to this one for 41 years! I got it when I was 11. It has been my EDC for most of those years! I have always loved it. So much, I never lost it in all those years!"
---
6. Buck 120 General Bowie Knife

The beautiful Buck 120 General is hands down one of the coolest traditional fixed blade knives on the market. Like other knives on our list, this knife is built to last and look great for generations to come. The 120 features a 12-inch 420HC clip point blade and an amazing Cocobolo Dymondwood and polished brass handle. If you're after a fixed blade that looks as great as it performs, this is it.
7.375" 420HC Blade
Dymondwood Handle
8.30 oz. Weight
Made in USA

Richard S. says…
"Beautiful knife, very sharp edge, would definitely recommend. Good price and came to my house very quickly. Would highly suggest this versatile knife for anyone."
---
7. Buck Small Selkirk Fixed Blade

Given Buck's history and their knack for amazing hunting knives, it comes as no surprise that the Small Selkirk has become one of the most popular Buck knives. Its compact size gives it more versatility than its bigger brother. This knife features a premium red and black layered micarta handle with a beefy guard and pommel. Like most other Buck knives of this caliber, it features a 420HC blade giving it the ability to sharpen easy and hold an incredible edge. Whether you hunt or just like carrying a fixed blade knife, the Small Selkirk is worth adding to your knife collection.
3.875" 420HC Blade
Micarta Handle
5.32 oz. Weight
Made in China

Merlin K. says…
"If all your gear MUST be made in the USA, then skip this knife. If you must have a guarantee like Buck's, plus have a knife that is well built and no- nonsense gorgeous, this compact baby is for you. It's a Buck! And it's a bargain!"
---
Conclusion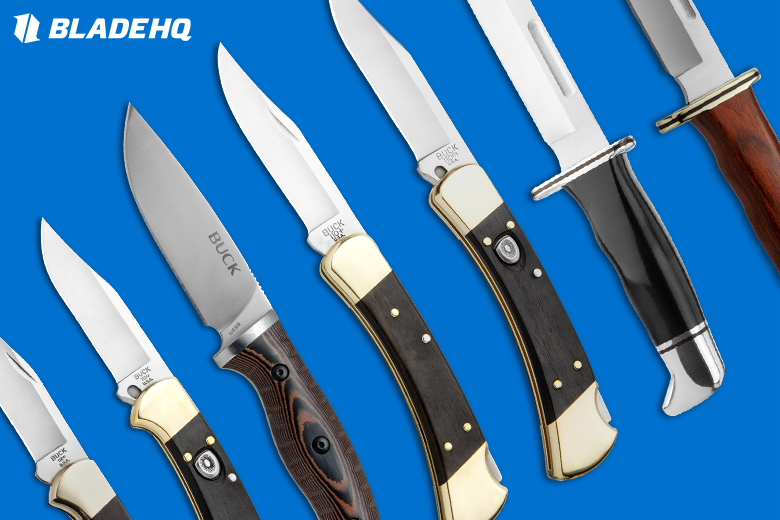 Buck is known for producing high-quality, affordable knives. These knives are built to last and look great no matter how much time passes. If traditional knives are your thing (if they aren't, they should be) Buck has the right mix of folding and fixed blade knives for any occasion. Not to mention, these knives have Buck's incredible 'Forever Warranty'. If you want that rugged fixed blade to go along with your worn denim or a classy folder to slip in a suit coat pocket, there's bound to be a Buck for you!
Steel quality is only as good as the heat treating applied to the blade. For Buck, they pride themselves on the way they make and manufacture their blades. Many Buck knives (all on our list) are made with 420HC steel which is a stainless steel that offers great corrosion resistance, better re-sharpening and solid edge retention. When heat treated to Buck's specific hardness and quality standards, these characteristics are enhanced even further. Buck's knives have been used and abused for nearly half a century. Without a quality heat treating, the knives wouldn't hold up as well as they do. Read more about Buck's heat treating process here.
Learn More
We've got you covered on updates and best knives from your favorite brands. Follow Blade HQ on Instagram, Facebook, and Twitter.
---
Other Best Knife Guides
Still in that information gathering phase? We've got a whole bunch more lists of all the Best Knives! Happy hunting and may you find that one special knife of your dreams!
*Customer reviews may be condensed for clarity and edited for grammatical errors. You know we have to make our high school English teacher proud. Check product listings for current pricing.