Best Budget Pocket Knives
Updated by Blade HQ Staff Writer George Muhlestein on 5/12/2020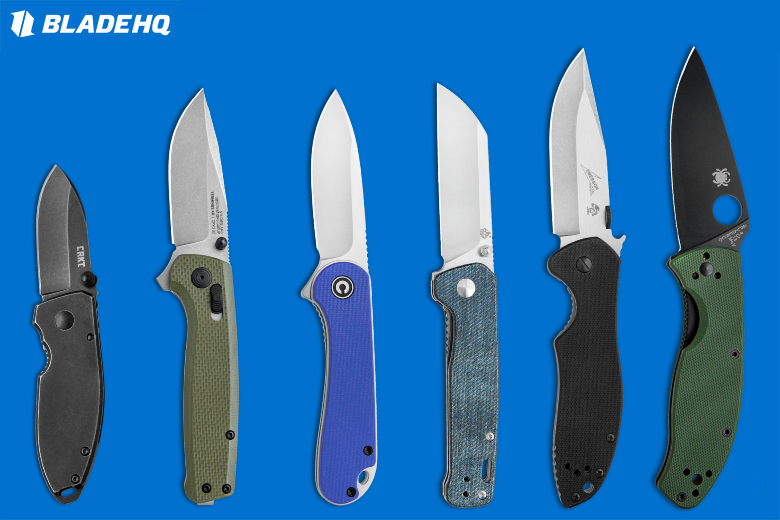 The good old United States Dollar doesn't go as far as it once did, but that doesn't mean you can't find some great knives on a budget. We've compiled some of the best pocket knives we carry that can be yours for around $50. Whether you're trying out a new lock, choosing a beater, picking out a gift, or getting your first knife, everyone can use a budget folder. You'll find some solid options here, but we have so many more options than we could ever fit in one article!
---
1. CIVIVI Elementum

Since its 2019 release, the Elementum has become the gold standard of what a budget knife should be. It's got everything you could want in a knife: a smooth and reliable action, a quality blade steel, a clean and simple design, and enough handle/finish options to suit any style. It's fairly thin and light, so it might not be the best choice for hard use, but its thin blade and slicey hollow grind make it a real performer with packaging, food, and other EDC cutting tasks.
Overall Length: 7.00"
Blade Length: 3.00"
Locking Mechanism: Liner Lock
---
2. Spyderco Tenacious

It may not have the super-steels and proprietary locks of its USA-made brethren, but at its core, the Tenacious is a true Spyderco. With the patented round hole opener, it can be opened using either the thumb or the famous "spydie flick". The knife is a great size, large enough to get a solid grip and do some real cutting, but not so big it crowds your pocket. With its four-position pocket clip, the Tenacious can be carried in any pocket, so it's great for righties and lefties alike. Don't pass up this steal of a deal on a Spyderco!
Overall Length: 7.75"
Blade Length: 3.375"
Blade Material: 8Cr13MoV
Handle Material: Wood
Locking Mechanism: Liner Lock
---
3. SOG Terminus XR

Like all the knives on this list, the SOG Terminus XR makes us wonder how they packed so many great features into a knife for such a great price. If you're left-handed, this is the knife for you. It features the XR lock, dual thumb studs, and a reversible pocket clip, so it's easy to open and close, whether you're right- or left-handed. Add a solid blade steel, a slick-as-butter ball-bearing pivot, and a comfortably contoured handle, and you've got yourself a real winner.
Overall Length: 7.00"
Blade Length: 3.00"
Blade Material: D2
Locking Mechanism: Bar Lock
---
4. QSP Penguin

Armed with robust materials and a stout Sheepsfoot blade, the Penguin is the hard user on this list. It's also a great first knife thanks to its simple construction and easy-to-sharpen straight edge. Where the Penguin shines is variety; it comes in dozens of varieties in handle material, blade steel and finish, and even lock type. It's a knife for everyone!
Overall Length: 7.125"
Blade Length: 3.125"
Locking Mechanism: Liner Lock
---
5. CRKT Squid

For years, the Squid was a Lucas Burnley custom, but he shared his design with CRKT, and now you can get this legend of a knife without straining your wallet. This folder is small, but its design makes it easy to grip, even with big hands. It's available with several handle materials and blade finishes. If a manual is a little slow for you, check out the Squid XM Spring-Assisted Flipper!
Overall Length: 5.75"
Blade Length: 2.25"
Locking Mechanism: Frame Lock
---
6. Kershaw CQC-6K

Few names in tactical knives are bigger than Ernest Emerson. His military experience and decades of knifemaking made his designs what they are. The Kershaw CQC-6K is a budget-friendly version of his iconic CQC-6. One of the knife's crowning features is the Emerson Wave Opener. Just snag the hook on your pocket as you pull the knife out, and the blade will open as you draw it. It's fast, it's rugged, and it's ready for anything.
Overall Length: 6.99"
Blade Length: 2.96"
Blade Material: D2
Handle Material: G-10
Locking Mechanism: Frame Lock
---
Conclusion
It's easy to fall into the trap of thinking that quality is always expensive, but this list proves that wrong! You can get a whole lot of knife for not a lot of money. Most knife nut's collections began with knives much like these and grew from there. And if you find out that knives aren't your thing, knives like these won't set you back too much. Give budget knives a chance! You might be surprised how great they are!
---