Best Budget Spyderco Knives
Written by Blade HQ Staff Writer Logan Rainey on 10/27/2020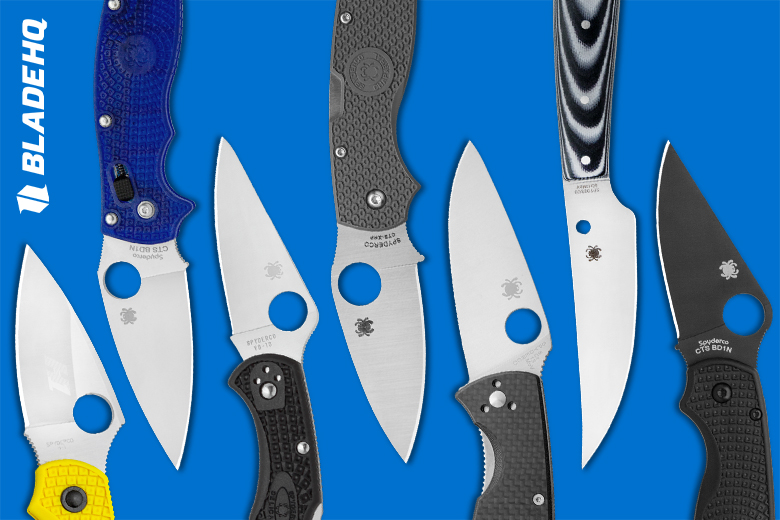 Spyderco is known for their iconic thumb hole and innovative designs. With so many knives to choose from, it can be hard to narrow down which knives to buy, especially when you're on a budget. In this best of, we look at the Best Budget Spyderco Knives. We've got a fixed blade, some awesome lock-backs and a couple cult classics. Read on to check them all out!
In addition to an overview of the specs and details of each knife, I'll also be featuring a review of each knife left by one of our customers.
---
1. Spyderco Para 3 LW

We're kicking things of with arguably one of the best Spyderco knives ever made. Patterned after the original Spyderco Para 3, the Para 3 Lightweight (LW) features the same great blade shape, and handle design with lighter materials and a deep-carry, wire pocket clip. This knife comes standard with textured FRN handle scales, CTS-BD1N blade steel and that sweet, one-handed-opening compression lock. This knife is sure to find its way into many pockets as it continues to see more variants and styles over time. Get yours today by clicking below!
Overall Length: 7.27"
Blade Length: 3.00"
Blade Material: CTS-BD1N
Handle Material: FRN
Weight: 2.50 oz.
Country of Origin: USA

Matt S. says...
"To me this is a must have knife. It is my all-time favorite EDC. Great to carry, lightweight but hardy. I love the wire clip. The knife feels great in my hand whether open or closed. I think the all blacked out color looks awesome."
---
2. Spyderco Bow River

When we talk about Spyderco knives, it's easy to overlook their fixed blade offerings as many of their popular knives are purpose built, tactical or utility folding knives meant for hard use and everyday carry. The Bow River is a Spyderco knife through and through, but diverges from the typical Spyderco knives we've come to know and love. This slim fixed blade knife was designed with hunting and fishing in mind. It's slender, flat-ground 8Cr13MoV blade helps it slice and skin with laser like precision and proves easy to maintain in the field. It features an ergonomically designed G10 handle giving it a comfortable feel and handsome look, and comes standard with a rugged leather sheath for convenient carry on a belt or in a pack. Best of all, this knife is priced well. Learn more about the Spyderco Bow River by clicking below.
Overall Length: 8.14"
Blade Length: 4.40"
Blade Material: 8Cr13MoV
Handle Material: G-10
Weight: 3.90 oz.
Country of Origin: China

Jay C. says...
"I didn't know what to expect when I purchased this Spyderco fixed blade for under $40.00 but I took a chance and it was well worth the price. It looks like it is more than capable of handling most all everyday light to medium tasks with no problem and has a nice leather sheath as well!"
---
3. Spyderco Tenacious

The Spyderco Tenacious is a solid everyday carry knife featuring a great balance of Spyderco quality and affordable materials. This knife features a 3.4", flat-ground 8Cr13MoV blade made for whatever you have to throw at it. A generous handle and intuitive liner lock give the Tenacious a great feel in hand and make it easy to open and close with one hand. Available in several variants including coated and satin blades, G-10 and FRN handles, the Tenacious is an affordable knife to collect and customize. Check it out by clicking below.
Overall Length: 7.76"
Blade Length: 3.39"
Blade Material: 8Cr13MoV
Handle Material: Varies
Weight: 4.10 oz.
Country of Origin: China

Matthew H. says...
"I love the Spyderco Tenacious. As with every new knife, it needs to be broken in a bit but with the Tenacious that break in period was relatively nonexistent. Smooth opening for two hand and excellent flicking motion for single hand opening (Love it for fidgeting). The grip on this is sturdy and the handle fits well in my hand. Overall, an outstanding knife to have."
---
4. Spyderco Dragonfly 2 Salt

Spyderco Salt series knives are known for being some of the best knives for anyone working on or near water. The Dragonfly 2 Salt features a rust-proof H-1 stainless steel blade and an ergonomically minded handle that gives this knife the same feel as bigger knives. Its steel frame, back lock construction ensure secure lock up and solid performance. This knife is a great option for anyone looking to add a seemingly bomb-proof Spyderco knife to their rotation without breaking the bank.
Overall Length: 5.56"
Blade Length: 2.25"
Blade Material: H1
Handle Material: FRN
Weight: 1.20 oz.
Country of Origin: Japan

Ethan B. says...
"This thing is amazing! always loved the Dragonfly, but this version is so cool because it will never rust. Already went surfing with it in my pocket and there is not a single sign of corrosion! Would highly recommend!"
---
5. Spyderco Manix 2 LW

The Spyderco Manix 2 LW is another fan favorite and is right in the sweet spot for performance and value. This lightweight variant features a CTS-BD1N blade and FRCP handles to help keep the price low while giving it great cutting power and efficiency. The Manix 2 is known for its unique, ball-bearing lock mechanism designed to allow users to open the knife easily with one hand while also giving the knife rock-solid lockup and security. The Manix 2 LW features a wire pocket clip and is available in a wide range of variants. Learn more about the Spyderco Manix 2 by clicking the button below.
Overall Length: 8.00"
Blade Length: 3.37"
Blade Material: CTS-BD1N
Handle Material: FRCP
Weight: 3.00 oz.
Country of Origin: USA

David H. says...
"This is the first high quality knife I've purchased and was undecided at first, however this knife is everything I hoped it would be, it is extremely light for a fairly large knife, and fits in my pocket very nicely. The blade was perfectly centered and extremely sharp and locks up tight with no blade play in either direction. In my opinion, money well spent."
---
6. Spyderco Delica 4

The lightweight, high-performing Spyderco Delica is one of the most popular lock back knives sold at Blade HQ. It features a slender drop point blade made from Japanese VG-10 blade steel, and features comfortable FRN handles that provide durability and rigidity to this small knife. The Delica's silky smooth action is made possible by phosphor bronze pivot washers that reduce friction thanks to their natural lubricating properties. Skeletonized liners and a strong lock back mechanism round out this feature packed knife. Get yours today!
Overall Length: 7.125"
Blade Length: 2.875"
Blade Material: VG-10
Handle Material: FRN
Weight: 2.50 oz.
Country of Origin: Japan

Mark B. says...
"What can I say about The Spyderco Delica that hasn't already been said? I could mention the great size, easy in the pocket - yet still a big cut. Lightweight. Razor-sharp right out of the box. Easy to sharpen. If you have never owned a Spyderco Delica, you owe it to yourself to pick one up. Or two. Maybe 3..."
---
7. Spyderco Chaparral LW

Last but not least is the Spyderco Chaparral LW (lightweight). This gentleman's knife from our friends at Spyderco got the lightweight treatment with the introduction of sporty FRN scales and skeletonized stainless steel liners. A full-flat ground CTS-XHP blade gives the Chaparral excellent cutting efficiency and slicing capability while helping it retain a sharp edge. The Chaparral LW features a wire, deep carry pocket clip and a sturdy back lock mechanism for added security in pocket and during use. Check out the Chaparral LW by clicking below.
Overall Length: 6.40"
Blade Length: 2.80"
Blade Material: CTS-XHP
Handle Material: FRN
Weight: 2.00 oz.
Country of Origin: Taiwan

Bruce H. says...
"I love the size of the Chaparral. It's big enough for general tasks, but so thin and light it practically disappears in your pocket. Amazing fit and finish for the price. Super sharp and slicey! I was worried about the stiff backlock but it's not a problem as I use the side knuckle of my thumb to open it. For me, it's the perfect EDC knife!"
---
Final Thoughts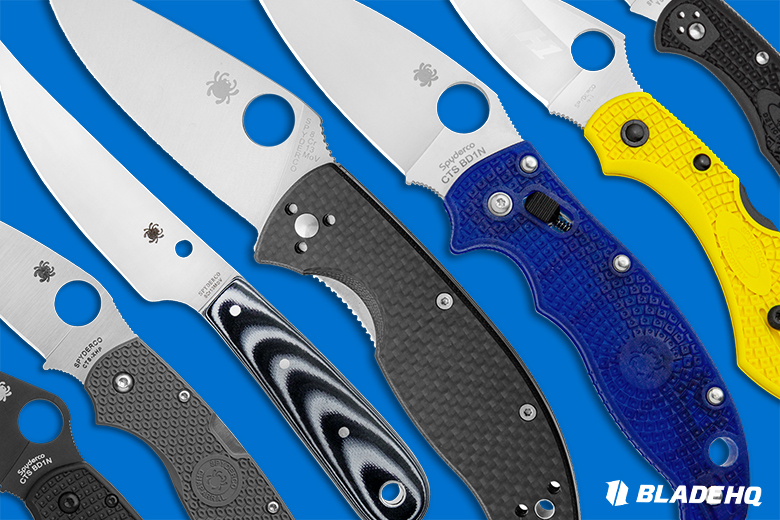 Budget knives from Spyderco rival some of the best knives other brands have to offer. The attention to design, material choice, and quality construction of these knives make them well worth the money spent and leave extra room for knife nuts to buy more than one. These knives are built to last, great for everyday carry and hard use, and come standard with the features you recognize from more expensive Spyderco knives. Add one or two of these awesome Budget Spyderco Knives to your collection today!
Now you've got all our recommendations, but Blade HQ has got way more knives than those featured here. Give our wares a browse, and find the perfect knife to suit your needs!
---
Learn More
In this episode of Knife Banter we take a look at the latest new releases from Spyderco Knives for 2021, including a very special exclusive version of the Paramilitary 2 Tanto.
With tons of things in life competing for your money, it can seem like there's not enough to go around, especially when so many cool knives are constantly coming out. In this episode of Knife Banter, we look at the Best Bang for Your Buck Knives. These knives are the right combination of quality, construction and price. Watch it below.
---
Other Best Knife Guides
Still in that information gathering phase? We've got a whole bunch more lists of all the best knives! Happy hunting and may you find the knives of your dreams!
*Customer reviews may be condensed for clarity and edited for grammatical errors. You know we have to make our high school English teacher proud. Check product listings for current pricing.