Best CIVIVI Knives
Written by Blade HQ Staff Writer Logan Rainey on 02/11/2020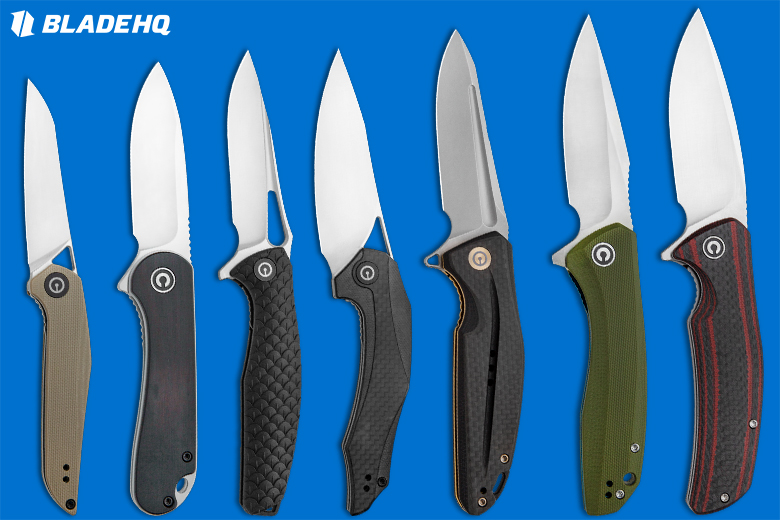 CIVIVI's reputation for producing well-made, affordable and great looking knives has helped the brand become what it is today. Being a sub-brand of WE Knives, CIVIVI offers some of the same great workmanship and materials found in WE knives at a fraction of the cost. In this article, we look at some of the Best CIVIVI Knives and what makes them stand out from the rest of the bunch.
Check out our top 7 CIVIVI knives below. Catch a review from one of our beloved customers at the end of each knife synopsis.
---
1. Elementum

Let's start things off with one of the most surprising knives in the CIVIVI lineup. The CIVIVI Elementum is built with the same precision and quality materials you would expect to see in knives three times the price. It features super smooth ball-bearing pivot washers and a sturdy D2 steel blade. This knife comes standard with a subtle deep carry pocket clip and grippy G-10 or beautiful wood handle scales.
Overall Length: 6.99"
Blade Length: 2.96"
Blade Material: D2
Handle Material: G-10 or Wood
Locking Mechanism: Liner Lock

David E. says...
"I've been carrying as my EDC for about a week! The black ebony and black pocket clip provide a discreet appearance for work setting (office work mainly). Gave it to co-worker to open a box and they were impressed by build quality and feel, while not being intimidated with a "knife" in their place of work. The D2 blade has been tough and has been making short work of breaking down boxes for recycling. Overall very pleased and thinking of other CIVIVI's in the future."
---
2. Wyvern

The CIVIVI Wyvern's slim and lightweight design make it an amazing option for everyday carry. This knife features an FRN handle with a unique fish scale texture for added grip and control. Its D2 steel blade is easy to sharpen and maintain. Wyvern's stainless-steel ball bearing pivot gives it a satisfying action when actuated using its flipper tab. If you're looking for a slicey knife with the right balance of quality and price, the Wyvern is a great option.
Overall Length: 7.90"
Blade Length: 3.45"
Blade Material: D2
Handle Material: FRN
Locking Mechanism: Liner Lock

Troy K. says...
"Overall this knife is fantastic! Really nice smooth action, jimping where it's supposed to be especially on the flipper tab. I love D2 steel, I live in the desert so rust isn't an issue and what you get from D2 compared to the price is great. The blade is good looking as well as functional. To be honest, I'm not a huge fan of the plastic scales. It's a very small thing to complain about but the light weight combined with the plastic scales does cheapen the feel of the knife a bit. But for $50, all the pros waybout weight that one little con. Buy it and be happy!"
---
3. Statera

This is one of those knives that commands a lot of attention. The CIVIVI Statera is a beautiful everyday carry knife with the right combination of materials and feel. It opens with ease thanks to its ergonomic flipper tab and a stainless-steel ball bearing pivot. Statera's handle is made from G-10 with carbon fiber inlay and feels amazing in hand. This knife is bound to be a favorite in your EDC rotation.
Overall Length: 8.00"
Blade Length: 3.50"
Blade Material: D2
Handle Material: Carbon Fiber
Locking Mechanism: Liner Lock

Eugene B. says...
"This knife is beautiful. The construction, fit, and finish are perfect. It flips smooth and easy. For the price I really don't think you could get a better EDC knife. I missed out on getting one last year and waited this whole time for them to come back in stock. If you see these in stock BUY ONE, they are totally worth it."
---
4. Incite

The CIVIVI Incite is a big and burly knife that's perfect for EDC or hard use. This knife's unique design and quality construction give this knife the ability to take on bigger tasks. You probably won't want to split logs with it, but you will be able to use it for things like cutting rope and breaking down boxes. This knife is easy to maintain thanks to its rugged D2 steel blade. Incite's carbon fiber handle is ergonomically shaped to provide the right ratio of comfort and weight. This affordable folding knife is built to be a user.
Overall Length: 8.46"
Blade Length: 3.70"
Blade Material: D2
Handle Material: Carbon Fiber
Locking Mechanism: Liner Lock

William N. says...
"This is an amazing knife! It's got smooth action, strong lock up, no hot spots, smooth but grippy handles. No need to mention how beautiful it is. This is a phenomenal knife at a great price. In my opinion, this is CIVIVI's best model yet. I hope they stay on this path."
---
5. Baklash

The CIVIVI Baklash is another great EDC knife in the CIVIVI lineup. Its slim profile and striking appearance make it easy to carry and great to look at. This knife features a textured G-10 handle with excellent contouring for ample grip and control during use. Additionally, this knife comes standard with skeletonized liners and a deep carry pocket clip all at an amazing price.
Overall Length: 8.10"
Blade Length: 3.50"
Blade Material: 9Cr18MoV
Handle Material: G-10
Locking Mechanism: Liner Lock

Rebecca H. says…
"I picked up a Baklash for a gift and wound up keeping it for myself. It's just great knife and far succeeds the price point. Been using it a bit for every day use and it holds a edge real well! I highly recommend CIVIVI products!"
---
6. Mckenna

Unique design and amazing ergonomics make the Elijah Isham designed CIVIVI Mckenna a top choice for everyday carry. This beautiful blade features a slender sheepsfoot style blade that tackles simple tasks with ease. It features textured G-10 scales for solid grip and optimal comfort during use. The CIVIVI Mckenna is one of those knives that looks great and gets the job done without any nonsense.
Overall Length: 6.75"
Blade Length: 2.875"
Blade Material: D2
Handle Material: G-10
Locking Mechanism: Liner Lock

Ray V. says...
"I can not find anything wrong with this knife. Solid lock up, centered perfectly, very sharp, no hot spots, front flipper is the best of the ones I have and overall fit and finish is very good. At this price I don't think you can go wrong. So, now I want another one."
---
7. Plethiros

This radical Isham designed knife features premium materials and a buttery-smooth action at a fraction of the cost of similar knives. Pethiros by CIVIVI is built like a rock with curved G-10 and carbon fiber handles that provide both structural rigidity and comfortable grip. This knife's D2 blade features a full flat grind for precision slicing and cutting. This knife sports a unique look that, combined with quality materials, make the CIVIVI Plethiros a must have for any collection.
Overall Length: 7.90"
Blade Length: 3.45"
Blade Material: D2
Handle Material: G-10 & Carbon Fiber
Locking Mechanism: Liner Lock

Edward D. says...
"First off, this knife is awesome. It holds a working edge extremely well with its full flat grind. D2 is a decent blade steel but there is better to be had out there in this price range. What you will not get, however, is a Isham design that screams functionality with futuristic styling. CIVIVI and We Knife did an excellent job bringing these knives to the market at an affordable price. I highly recommend purchasing one yourself so you can experience Elijah Isham's unique design language and Civivi's build quality."
---
Conclusion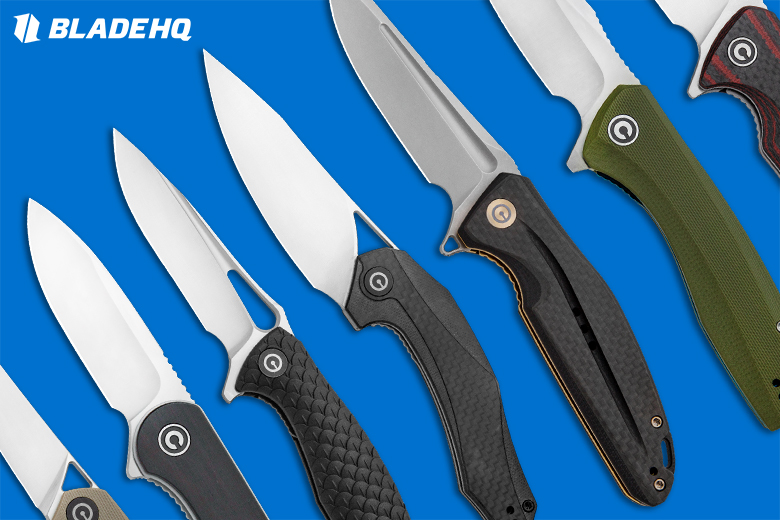 CIVIVI knives are some of the highest-quality budget folding knives money can buy. Unlike other knives in the same price range, CIVIVI knives offer better materials, more consistent fit and finish, and a better overall experience than some other brands can offer. CIVIVI knives has made amazing knives that are essentially accessible to everyone. Whether you are looking for a budget EDC folding knife to add to your growing collection, or one knife that is built to do it all, CIVIVI knives is worth taking a hard look at. To see more CIVIVI knives, click the button below.
While these are our top CIVIVI recommendations, Blade HQ has got way more knives than the ones featured here. Leave a review of your favorite and follow us on Instagram, Facebook, and Twitter for all your future knife updates.
Learn More
Still deciding on a CIVIVI? Check out our recent episode of Knife Banter we discuss the latest 2021 knife releases from CIVIVI Knives.
---
Other Best Knife Guides
Still in that information gathering phase? We've got a whole bunch more lists of all the Best Knives! Happy hunting and may you find that one special knife of your dreams!
*Customer reviews may be condensed for clarity and edited for grammatical errors. You know we have to make our high school English teacher proud. Check product listings for current pricing.