Best California Legal Knives
Written by Blade HQ Staff Writer Logan Rainey on 02/12/2020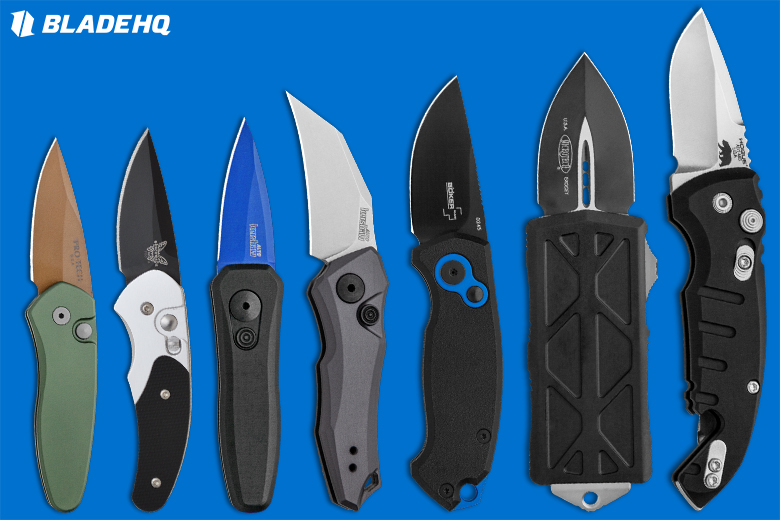 When it comes to automatic knives, there are some places that are much easier to own and use one than others. Here in Utah, there are few if any laws regarding automatic knives giving us the privilege of owning and using many great knives. California, however, is one of those places where carrying automatic folding knives is met with restrictions and laws governing what can and can't be in your pocket. This list covers a few of our favorite, and arguably the best, California Legal Automatic Knives.
Check out our top 7 California Legal Autos below. Catch a review from one of our beloved customers at the end of each breakdown.
---
1. Kershaw Launch 4

When it comes to short blade knives, there are few as fun to use and easy to carry as the Kershaw Launch 4. Its overall size, aluminum construction and snappy push-button automatic action make it a perfect everyday carry knife. These little guys are available in many different color combos so you can find one that fits your needs and style. Check out our comprehensive Launch 4 review to see what makes this series so great.
Overall Length: 5.10"
Blade Length: 1.90"
Blade Material: CPM-154
Handle Material: Aluminum
Locking Mechanism: Plunge Lock

Ricardo A. says...
"This is the closest you'll get to a legal switchblade in CA! You could get a OFT, but personally I think this design is a lot better than any other OTF I've seen. Amazing action good steel overall amazing knife."
---
2. Boker Kompakt

If you've been looking to add a short blade automatic knife to your EDC rotation or collection, it doesn't get much better than the Boker Kompakt designed by Jesper Voxnaes. This knife has amazing ergonomics and feels great in the hand. Its 1.875" California legal, drop-point blade is easy to control and maintain. This knife features a durable aluminum handle with unique blue inlays and a blue back spacer. A deep carry pocket clip rounds out this feature rich little knife.
Overall Length: 5.25"
Blade Length: 1.875"
Blade Material: AUS-8
Handle Material: Aluminum
Locking Mechanism: Plunge Lock

David K. says...
"This is a very nice little knife. Perfect size to fit in the little pocket in my jeans pocket. Action works very smooth and snaps open quickly. Highly recommend."
---
3. Kershaw Launch 10

Riding on the coattails of the Kershaw Launch 4, the Kershaw Launch 10 brings modern styling and unique design to Kershaw's Launch Series. The Kershaw Launch 10 features a California legal hawkbill blade with a snappy push-button automatic action. Its compact design makes it great for everyday carry and suitable for common tasks. A deep carry pocket clip helps keep the knife secure and discreet in pocket.
Overall Length: 5.20"
Blade Length: 1.90"
Blade Material: CPM-154
Handle Material: Aluminum
Locking Mechanism: Plunge Lock

Thomas B. says...
"I own over 100 knives and always carry a small auto, and from now on this is it. It is very light,opens quick and is wicked sharp.I really like the hawkbill it reminds me of my Dad's old hawkbill that he used everyday. This little knife cuts like a Big Boy. Buy it you won't regret it!"
---
4. Protech Sprint

The Sprint from Protech is a snappy, California Legal automatic knife that looks as great as it performs! This awesome short blade knife features a lightweight aluminum handle, snazzy mother of pearl inlay button, and a crazy sharp CPM-S35VN blade. It's the perfect size for everyday carry and feels great in hand.
Overall Length: 5.00"
Blade Length: 1.95"
Blade Material: CPM-S35VN
Handle Material: Aluminum
Locking Mechanism: Plunge Lock

Garrison E. says...
"Awesome knife! It was perfect for a California legal auto knife! Action was smooth and fast, and blade came very sharp. I would highly recommend this knife."
---
5. Hogue CA Legal AO1 Microswitch

The Hogue A01 Microswitch California legal automatic is a tough, durable and comfortable EDC knife. It combines a satisfying automatic action with a sturdy plunge lock for secure blade lock up making it both reliable and easy to use. A stainless-steel pocket clip and stylized back spacer finish off the outstanding design. This California legal automatic knife is an amazing option if you like rugged and well-built knives.
Overall Length: 5.875"
Blade Length: 1.875"
Blade Material: CPM-154
Handle Material: Aluminum
Locking Mechanism: Plunge Lock w/ Safety Switch

William A. says…
"This little knife is amazing and it will grow on you. It might look a little odd but get it in your hands and you won't put it down. Also has a bottle opener, glass breaker and comes in a nice pouch."
---
6. Benchmade Impel

The Lerch designed Benchmade Impel 3150BK is an incredible gentleman's automatic folding knife. This push button, California legal automatic features a sleek aluminum handle with G-10 inlays, sturdy pocket clip and a safety switch for extra security. The clip-point blade is made from premium S30V stainless-steel giving it both durability and excellent edge retention. Impel is an amazing California legal automatic for anyone looking for a beautiful knife that won't break the bank.
Overall Length: 5.03"
Blade Length: 1.98"
Blade Material: CPM-S30V
Handle Material: Aluminum/G-10
Locking Mechanism: Plunge Lock w/ Safety Switch

David B. says...
"Love this knife. Perfect for the everyday pocket use. Quality is top notch. Automatic works like a dream."
---
7. Microtech Exocet

Chances are you probably carry a wallet and a knife every day. The Microtech Exocet was designed with utility and convenience in mind by combining a double-action OTF knife with a money clip. The Exocet's unique design makes it one of the best ways to minimize how much stuff you need to carry while maintaining the ability to take care of all your cutting and slicing needs when they arise.
Overall Length: 5.625"
Blade Length: 1.98"
Blade Material: CTS-204P
Handle Material: Aluminum
Locking Mechanism: D/A OTF

Henry T. says...
"High quality blade that's Cali legal. I use it as a money clip and is perfect for that. Sharp blade that's great for basic utilitarian tasks. Highly recommend this for high-end money clip with Microtech attitude."
---
Conclusion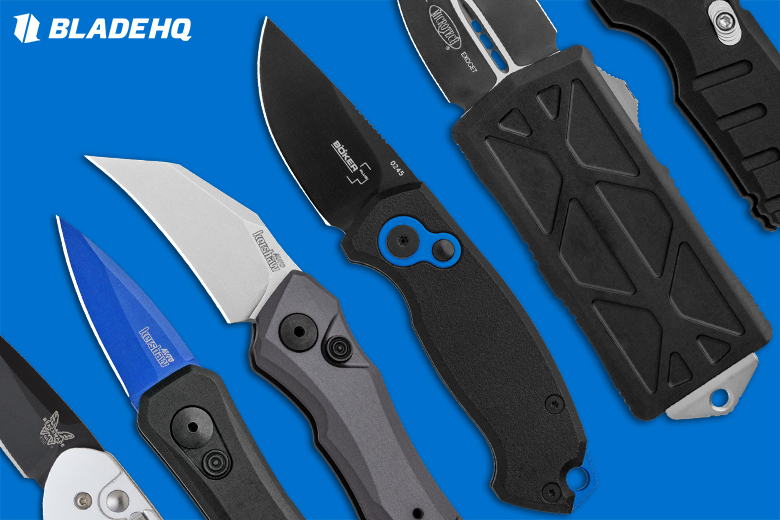 If you live in the beautiful state of California and you love knives, this list might be just what you need to get into automatic knives without putting yourself at risk of legal trouble. Any of these knives is a great addition to any collection whether you live in California or not. They are all well made and ready for anything you throw at them.
While these are our top California Legal Auto recommendations, Blade HQ has got way more knives than the ones featured here. Leave a review of your favorite and follow us on Instagram, Facebook, and Twitter for all your future knife updates.
Learn More
Still deciding? Catch an overview of one of the most popular California Legal Autos out there: the Kershaw Launch 4. Watch it below!
---
Other Best Knife Guides
Still in that information gathering phase? We've got a whole bunch more lists of all the Best Knives! Happy hunting and may you find that one special knife of your dreams!
*Customer reviews may be condensed for clarity and edited for grammatical errors. You know we have to make our high school English teacher proud. Check product listings for current pricing.