Best Camping Knives
Written by Blade HQ Staff Writer Logan Rainey on 6/27/2019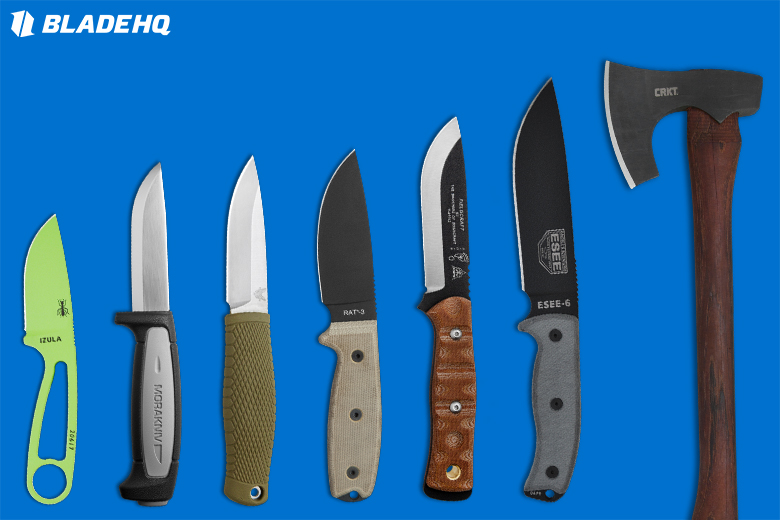 Whether you camp occasionally or live in the wild, a great camping knife can make all the difference. We've compiled this list of the best camping knives that are perfect for any camping trip and have given a brief summary of what makes them awesome. Some are perfect for small tasks. Others have more heft for doing big jobs. All are great to take on your next adventure.
In addition to an overview of the specs and details of each knife, I'll also be featuring a review of each knife left by one of our customers.
---
1. Morakniv Robust

This might not be the most beautiful knife in this lineup, but it doesn't need to be. The Robust by Morakniv is designed with purpose in mind. The updated version of Robust features a more grippy, noticeably more comfortable TPE rubber handle. Its razor sharp Scandi grind carbon steel blade helps make quick work of feathering kindling or prepping materials for a bushcraft shelter.
3.625" Clip Point High Carbon Blade
Rubber Handle
3.56 oz. Weight
Made in Sweden

Long N. says...
"This knife is probably the best bang you'll ever get for your $15. The spine of the knife is purposely left unfinished because of the intended use for construction. A finished spine is not required for it's intended purpose (not a bushcrafting knife). This probably cuts costs to this lovely $15 price point. The sheath is excellently fitted and is quite versatile for how simply designed it is. This handle design is my favorite out of all the Moras. This is an excellent all around fixed blade. I use this for any task a small folding knife can't handle. Very thick well constructed knife that comes with a scary sharp scandi grind out of the box..."
---
2. Benchmade Puukko

The Puukko is Benchmade's take on a traditional Scandinavian bushcraft knife. Its high-performance CPM-3v steel blade and rubberized santoprene handle make the Puukko a strong and durable option for anyone looking for a versatile fixed blade camping knife to take hiking, bushcrafting, and camping. The Puukko comes standard with a leather sheath, making the knife easy to stow away or carry on your side.
3.75" CPM-3V Blade
Santoprene Handle
4.54 oz. Weight
Made in USA

Walter R. says...
"I really like puukko knives. I ordered this the second BHQ had inventory. This is a solid knife, and one that just begs to be used heavily. It feels great in hand, and the blade is sharp and functional."
---
3. ESEE Izula

Use it as a backup knife or carry it every day. The ESEE Izula is the perfect size for accomplishing small tasks in and around your campsite. Its lightweight design makes it easy to take anywhere as it can be worn as a neck knife or tossed in a backpack pocket for when you need it most. The Izula comes in many different colors to suit your style and needs, but we especially love the green featured and our exclusive Fire Ant Red variation because it is easy to see if you drop it or set it down.
2.875" 1095 Drop Point Blade
Steel Handle
1.90 oz. Weight
Made in USA

Connor W. says...
"This is an excellent knife that gives you versatility and toughness in an EDC blade. However, it is very thick for how short it is. This makes it more difficult to slice through things, but is better for battoning and prying. Blade HQ has a good vid on how to wrap the handle."
---
4. TOPS BOB Fieldcraft

The Brothers of Bushcraft (BOB) Fieldcraft knife by TOPS is a great midsize knife to add to your camping gear. Its heavy-duty construction makes it great for the day-to-day tasks of camping and bushcrafting. The 1095 blade touts a 56-58 RC hardness rating and features a modified Scandi grind for easy skinning, carving and woodwork. This knife was designed with comfortable ergonomics and features an extended choil and top side jimping for maintaining a consistent grip. A canvas micarta handle rounds out the comfort features and provides heaps of grip even in a gloved hand. If you're looking for a rough and rugged camping knife built to stand up to the rigors of camp life for generations to come, this is the knife for you.
You can find the BOB Fieldcraft in both folding and fixed blade camping styles.
4.625" 1095 Drop Point Blade
Micarta Handle Scales
9.73 oz. Weight
Made in USA

Ricardo A. says...
"This knife is just incredible; the sheath, the handle, the spin. Everything you could want in a bushcraft knife!"
---
5. Ontario RAT-3
This burly knife sits on the smaller end of the spectrum in our camp knives lineup, but don't let its size deter you. Its 1095 carbon steel blade is built to take a beating (literally). This knife features a 3" cutting edge and a blade thickness of .13" giving you enough room to work while you build shelters and prep fire materials. Its canvas micarta scales provide optimal grip, even in gloved hands. The Ontario RAT-3 comes standard with a MOLLE compatible nylon sheath.
3.625" 1095 Drop Point Blade
Micarta Handle
4.80 oz. Weight
Made in USA

Be the first to write a review!
---
6. ESEE 6

A knife that would make Rambo proud! The ESEE 6 is a hefty knife built for the toughest camping tasks. This knife features a coated, 3/16" thick, 1095 blade and comfortable micarta handle scales. At just under one foot long, this knife is great for prepping firewood and chopping small trees for shelters, but don't let its size fool you, it can still be used for tasks that require more precision (one has seen some birthday cake-cutting action around our office). And don't forget! ESEE has an incredible warranty if you ever have a problem with it.
6.50" 1095 Drop Point Blade
Micarta Handle Scales
11.80 oz. Weight
Made in USA

Dutch A. says...
"1095 is perfect for a survival knife because it can get super sharp, it's extremely tough, and it's easy to sharpen in the field. Most people go for the ESEE 4 or 5 because they are a more manageable size which allows more control in cuts. I like the 6 because the extra length makes it better at chopping and batonning. Maybe pair this knife with the Izula."
---
7. CRKT Freyr Axe

This thing is bad-axe! Ba-dum-tissssss... The Freyr by CRKT is a Norse inspired axe designed by Elmer Roush. Its Tennessee Hickory wood handle provides stable grip for chopping and cutting tasks. Its durable, hot forged 1055 carbon steel blade helps make light work of clearing small trees and constructing bushcraft shelters. This axe is the perfect size for attaching to the outside of a pack on a backpacking trip or stowing it away under the back seat of your truck.
5.50" Head Width
Hickory Handle
1 lb. 14 oz. Weight
Made in Taiwan

Brad W. says...
"Got this as a going away gift for a troop. He loved it. The handle look great and was tight to the axe head. I'm ordering one for myself now."
---
Conclusion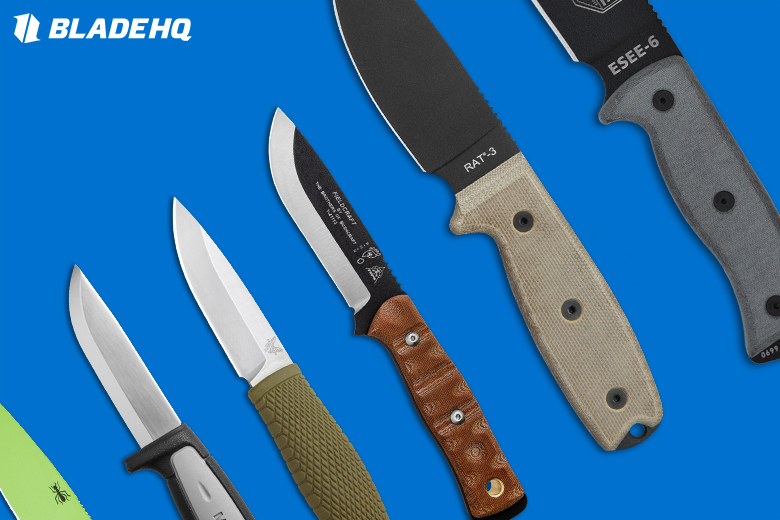 Though not a comprehensive list, these knives (and axe) are a good start for anyone looking to spice up their next camping trip. Each has its own unique flavor, but all are designed to make camping and bushcraft easier. Whether you are looking for a small knife to use as a spare or an axe to accompany you on your next adventure in the woods, you know we have you covered.
So now you've got all our recommendations, but Blade HQ has got way more knives than just the seven featured here. Give our wares a browse, and find the perfect camping knife to suit your needs out in the sticks!
Learn More
If none of the knives above whisper sweet nothings in your ear, check out the video below as Zac and Andrew put more camping knives to the test.
---
Other Best Knife Guides
Still in that information gathering phase? We've got a whole bunch more lists of all the best knives! Happy hunting and may you find that one special knife of your dreams!
*Customer reviews may be condensed for clarity and edited for grammatical errors. You know we have to make our high school English teacher proud. Check product listings for current pricing.