Best Camping Knives
Updated by Blade HQ Staff Writer Logan Rainey on 07/09/2020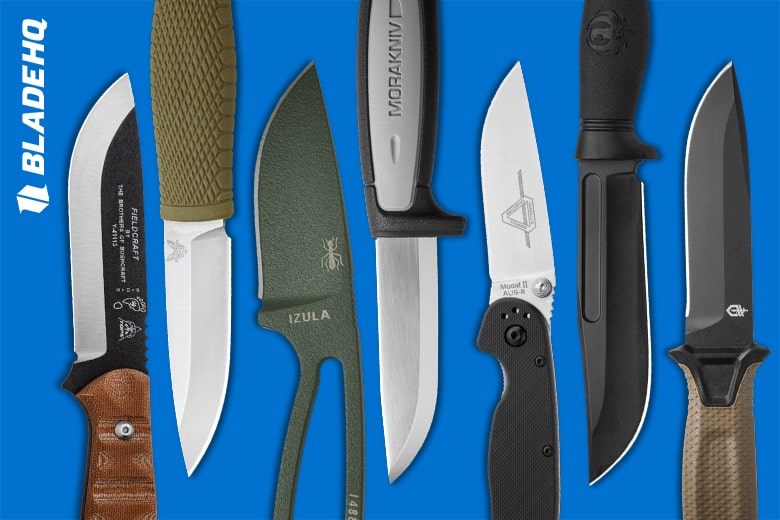 Whether you camp occasionally or live in the wild, a great camping knife can make all the difference. We've compiled this list of the best camping knives that are perfect for any camping trip and have given a brief summary of what makes them awesome. Some are perfect for small tasks. Others have more heft for doing big jobs, and all are great to take on your next adventure.
In addition to an overview of the specs and details of each knife, I'll also be featuring a review of each knife left by one of our customers.
---
1. Gerber StrongArm

If you're a soldier or just want to own the most rugged and overbuilt fixed blade, the Gerber StrongArm has everything going for it. Grippy as all get-out rubberized handles complement a full tang construction and the bonus striking pommel at the butt of the knife. If you previously owned the Gerber Infantry, this knife feels like the refinement of that already successful formula. Check out our awesome Gerber StrongArm Review where we put it through the wringer and give it a Knife Life Score.
4.875" 420HC Drop Point Blade
Rubber Handle Grip
7.10 oz. Weight
Made in USA

Baldemar G. says...
"My main camping knife. This is the only knife I take with me when I go camping, and I've never felt like I need anything else. It's strong, sharp, and it carries awesome because of its well thought out sheath. Love this knife."
---
2. Benchmade Puukko

The Puukko is Benchmade's take on a traditional Scandinavian bushcraft knife. Its high-performance CPM-3v steel blade and rubberized santoprene handle make the Puukko a strong and durable option for anyone looking for a versatile fixed blade camping knife to take hiking, bushcrafting, and camping. The Puukko comes standard with a leather sheath, making the knife easy to stow away or carry on your side. New for 2020, Benchmade has introduced a larger version of the Puukko called the Leuku. This knife serves as an even more robust version of the Puukko, allowing for harder hits when batoning and more grip during bushcraft. Check both out today!
3.75" CPM-3V Blade
Santoprene Handle
4.54 oz. Weight
Made in USA

Walter R. says...
"I really like puukko knives. I ordered this the second BHQ had inventory. This is a solid knife, and one that just begs to be used heavily. It feels great in hand, and the blade is sharp and functional."
---
3. Morakniv Robust

This might not be the most beautiful knife in this lineup, but it doesn't need to be. The Robust by Morakniv is designed with purpose in mind. The updated version of Robust features a more grippy, noticeably more comfortable TPE rubber handle. Its razor sharp Scandi grind carbon steel blade helps make quick work of feathering kindling or prepping materials for a bushcraft shelter.
3.625" Clip Point High Carbon Blade
Rubber Handle
3.56 oz. Weight
Made in Sweden

Long N. says...
"This knife is probably the best bang you'll ever get for your $15. The spine of the knife is purposely left unfinished because of the intended use for construction. A finished spine is not required for it's intended purpose (not a bushcrafting knife). This probably cuts costs to this lovely $15 price point. The sheath is excellently fitted and is quite versatile for how simply designed it is. This handle design is my favorite out of all the Moras. This is an excellent all around fixed blade. I use this for any task a small folding knife can't handle. Very thick well constructed knife that comes with a scary sharp scandi grind out of the box..."
---
4. ESEE Izula

Use it as a backup knife or carry it every day. The ESEE Izula is the perfect size for accomplishing small tasks in and around your campsite. Its lightweight design makes it easy to take anywhere as it can be worn as a neck knife or tossed in a backpack pocket for when you need it most. The Izula comes in many different colors to suit your style and needs, but we especially love the green featured and our exclusive Fire Ant Red variation because it is easy to see if you drop it or set it down. If you love ESEE as much as we do, be sure to check out Best ESEE Knives article.
2.875" 1095 Drop Point Blade
Steel Handle
1.90 oz. Weight
Made in USA

Connor W. says...
"This is an excellent knife that gives you versatility and toughness in an EDC blade. However, it is very thick for how short it is. This makes it more difficult to slice through things, but is better for battoning and prying. Blade HQ has a good vid on how to wrap the handle."
---
5. TOPS BOB Fieldcraft

The Brothers of Bushcraft (BOB) Fieldcraft knife by TOPS is a great midsize knife to add to your camping gear. Its heavy-duty construction makes it great for the day-to-day tasks of camping and bushcrafting. The 1095 blade touts a 56-58 RC hardness rating and features a modified Scandi grind for easy skinning, carving and woodwork. This knife was designed with comfortable ergonomics and features an extended choil and top side jimping for maintaining a consistent grip. A canvas micarta handle rounds out the comfort features and provides heaps of grip even in a gloved hand. If you're looking for a rough and rugged camping knife built to stand up to the rigors of camp life for generations to come, this is the knife for you.
You can find the BOB Fieldcraft in both folding and fixed blade camping styles.
4.625" 1095 Drop Point Blade
Micarta Handle Scales
9.73 oz. Weight
Made in USA

Ricardo A. says...
"This knife is just incredible; the sheath, the handle, the spin. Everything you could want in a bushcraft knife!"
---
6. Ontario RAT II

The Ontario RAT II is based on the popular Model I, it's smaller, but retains the same great shape and performance of the original. This knife is designed for comfort and performance with an index finger groove on the handle to keep your hand where it should be and jimping on the spine of the blade for controlled cutting. The handle features textured black nylon 6 scales with an open-built steel liner lock frame. The AUS-8 stainless steel drop point blade has a satin finish and a plain cutting edge. The RAT Model 2 is fully ambidextrous with dual thumb studs and a 4-way reversible pocket clip.
3.00" Drop Point AUS-8 Blade
Nylon Handle
2.75 oz. Weight
Made in Taiwan

Mathew H. says...
This is by far my favorite beater knife. It is super sharp and the action is really smooth. The open back design makes it easy to clean without taking the knife apart. I can't recommend this knife enough!!
---
7. CRKT Muzzle-Brake

Ken Onion designed the Muzzle-Brake fixed blade using elements from a traditional bowie knife, and infused it with the construction techniques of today. Its stout full-tang blade is made from 8Cr13MoV stainless steel with a durable black powder coat. The GFN handle features a texture that matches the Ruger American Rifle stock texture for a sure grip surface, and has Ruger eagles embossed on both sides. Includes an injection molded nylon sheath and Tek-Lok attachment for secure carry.
7.00" Clip Point 8Cr13MoV Blade
GFN Handle
11.08 oz. Weight
Made in China

Be the first to write a review!
---
Conclusion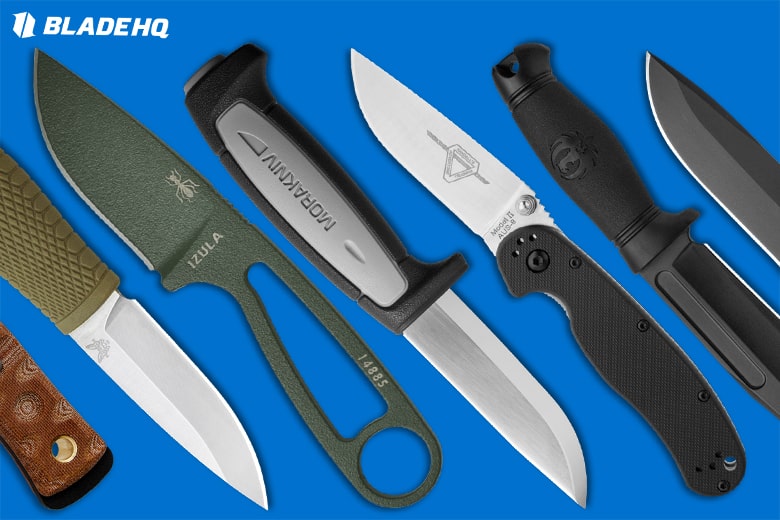 Though not a comprehensive list, these knives are a good start for anyone looking to make the most of their next camping trip. Each has its own unique flavor, but all are designed to make camping and bushcraft easier. Whether you are looking for a small knife to use as a spare or a burly bushcraft knife to accompany you on your next adventure in the woods, you know we have you covered.
Now you've got all our recommendations, but Blade HQ has got way more knives than just the seven featured here. Give our wares a browse, and find the perfect camping knife to suit your needs out in the sticks!
If you enjoyed this article be sure to check out this awesome Knife Banter for all things CAMPING KNIVES!
Learn More
Few things are more relaxing than watching someone build a bushcraft shelter while listening to nothing but the sounds of nature. Get inspired for your next camping trip and check out this video of Jamie using the Benchmade Bugout, Benchmade Leuku and Hults Bruk Tibro out in the wild.
---
Other Best Knife Guides
Still in that information gathering phase? We've got a whole bunch more lists of all the best knives! Happy hunting and may you find the knives of your dreams!
*Customer reviews may be condensed for clarity and edited for grammatical errors. You know we have to make our high school English teacher proud. Check product listings for current pricing.