Best Cold Steel Knives
Written by Blade HQ Staff Writer Logan Rainey on 12/23/2019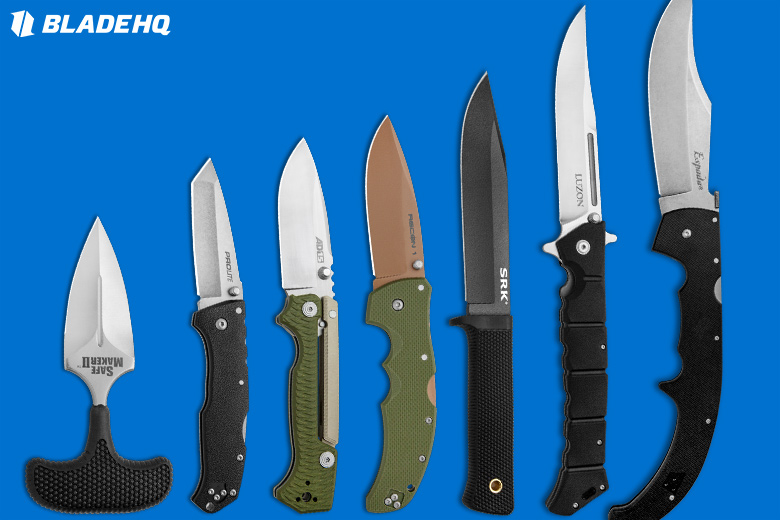 Cold Steel knives are built to be ready for anything – anytime, anywhere. Founded by Mr. Lynn Thompson, Cold Steel knives are known for their rugged designs and undeniable strength. From tactical fixed blade knives to burley folding swords, read on to see our list of Best Cold Steel Knives!
---
1. Pro Lite Tanto

The Cold Steel Pro Lite Tanto is a heavy-duty tactical folding knife. Its 4116 cryo quenched blade is built to hold up to whatever you put it through. This rugged folder features a grippy G-10 handle that has been ergonomically shaped and given an amazing texture. The Pro Lite's lock back construction gives it strength during heavy use ensuring a solid and safe lockup.
3.50" 4116 Tanto Blade
GFN Handle
8.00" Overall Length
3.20 oz. Weight
Tri-Ad Lock

Adam H. says...
"Tough, capable and reliable. All of the qualities that you expect from Cold Steel at a price that will make you want to buy 4 or 5 of them because you know this good of a deal won't be around forever. And if you've never owned a Cold Steel before, get this entry level folder and put it to work to see why their quality is top notch."
---
2. Safe Maker II

Self defense and Cold Steel knives tend to go hand in hand. The Cold Steel Safe Maker II may not be the most versatile knife, but if you are someone who regularly finds themselves in high risk situations, it is a great backup knife. Safe Maker II comes standard with a Secure-Ex Sheath designed for belt carry or neck carry on a chain. This awesome push dagger features a 'T' shaped handle for added grip and control.
3.25" AUS-8 Dagger Blade
Kraton Handle
5.00" Overall Length
2.50 oz. Weight
Secure-Ex Sheath

Stephen C. says...
"Great knife sharp right out of the box, multiple mounting options, and my favorite part is that the grip is very comfortable in my hand. Most push knives I tried before are not comfortable in the hand, but on the case with this one."
---
3. Luzon

Inspired by some of Lynn Thompson's favorite balisongs, the Cold Steel Large Luzon was designed as a versatile folding knife for both self-defense and working tasks. Its flipper tab makes it easy to open this knife precisely. Luzon's G-10 handle is modeled after bamboo offering amazing grip and control during use. The knife features a rock solid 8Cr13MoV blade built for heavy use and abuse. This knife has an incredible leaf spring locking mechanism with an additional safety switch ensuring secure lockup and retention during use.
6.00" 8Cr13MoV Clip Point Blade
GFN Handle
13.50" Overall Length
9.80 oz. Weight
Leaf-Spring Lock

David A. says...
"This knife is awesome for no other reason than it's over the top size & appearance. Has a very easy opening flipper & tight lock up. So if you want a pocket sword just because you can this is a solid choice along with great price."
---
4. Recon 1

This high-performance folder is just one example of what makes Cold Steel knives so great! The Cold Steel Recon 1 is a purpose-built tactical folding knife that boasts a durable, and comfortable G-10 handle and the rock-solid Tri-Ad Lock system. Recon 1's premium CPM-S35VN steel blade gives this knife amazing edge retention, sharpness and toughness.
4.00" CPM-S35VN Spear Point Blade
G-10 Handle
9.375" Overall Length
5.06 oz. Weight
Tri-Ad Lock

Brett P. says...
"This is a solid and beefy knife. The triad lock is awesome, and not nearly as stiff and hard to operate as a lot of people say. The G10 is very rough but that's actually a feature that I like about the knife. Very grippy with wet hands. S35vn steel...a great purchase!"
---
5. SRK Fixed Blade

This budget automatic tactical folder has the build quality and the action needed to perform during both high-risk situations and everyday tasks. The Boker Strike features an ergonomically designed aluminum handle meant for optimal grip with gloved or bare hands. A robust coil spring gives this knife its swift, hard-hitting action. Finally, the Boker Strike features a safety slide to prevent accidental firing.
3.25" AUS-8 Drop Point Blade
Aluminum Handle
7.875" Overall Length
4.75 oz. Weight
Plunge Lock with Safety Switch

Jay R. says…
"The handle is rough but has a really nice grip. The blade steel has been holding up great, and the sheath is good holds the blade in nicely. You really can't go wrong for only 40 bucks. Really good value."
---
6. Demko AD-15

This Cold Steel rendition of the Andrew Demko AD-15 features the same great Scorpion Lock technology and innovative design as the original but at a more affordable price. This exciting knife comes standard with a CPM-S35VN blade and textured G-10 handle. The AD-15's unique Scorpion Lock is a modified take on a traditional lock back, instead integrating the lock mechanism into the handle and adding strength with a stop pin.
3.625" CPM-S35VN Drop Point Blade
G-10 Handle
8.50" Overall Length
6.57 oz. Weight
Scorpion Lock

Waylon W. says...
"Cool action. Great blade. But its a BIG knife. If you're on the smaller side, you may have a hard time manipulating this knife, or finding it pocket friendly. I Love it!"
---
7. Espada XL

It should come as no surprise that the Cold Steel Espada XL is on this list of Best Cold Steel Knives. This folding sword is an absolute tank! Upon first glance, the knife may look bulky and cumbersome, but it is actually one of the most versatile Cold Steel knives. The knife's unique design combines the utility of a fixed blade with the convenience of a pocket knife. The Espada XL is surprisingly easy to carry in pocket and great for heavy use.
7.50" AUS-10A Trailing Point Blade
G-10 Handle
16.75" Overall Length
15.01 oz. Weight
Lock Back

Thomas D. says...
"This is a huge knife and videos and pictures do not compare to seeing it in person. When I opened the box, it was comical at the size of this knife. I would never try to open this knife with one hand. It is too scary, use your pants or two hands. It's like a guillotine, one drop and your fingers are gone. I love this knife so much I bought the cheaper solid black one to use. This knife just comes out to impress people. It does a great job at that too."
---
Conclusion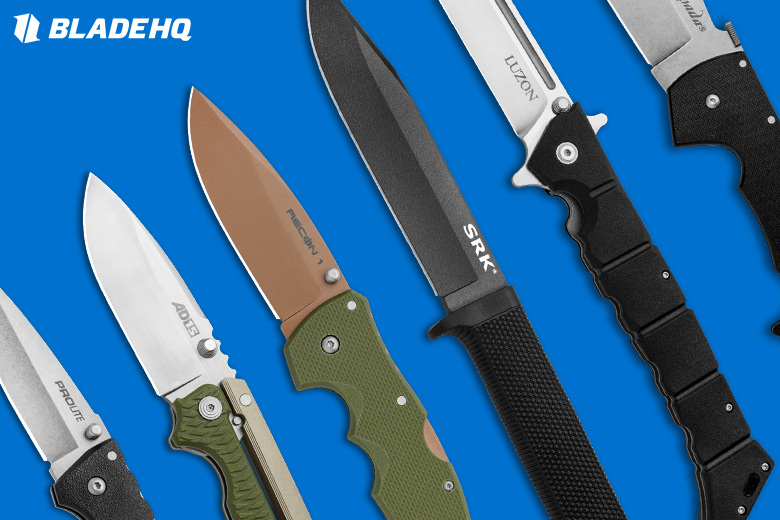 Cold Steel knives come in all shapes and sizes. From pint sized fixed blade knives to tactical folding swords, there's bound to be a Cold Steel knife for whatever you need. If you're after a high-quality knife that's built to take a beating, look no further than Cold Steel knives.
While these are our top Cold Steel recommendations, Blade HQ has got way more knives than the ones featured here. Leave a review of your favorite Cold Steel. Follow us on Instagram, Facebook, and Twitter for all your knife updates.
Learn More
Still deciding which Cold Steel knife deserves your love? No sweat. Check out Lynn Thompson's top 7 Cold Steel Knives below. Or watch Zac and the crew head to Cold Steel Headquarters to experience their intense quality control process in the following video.
---
Other Best Knife Guides
Still in that information gathering phase? We've got a whole bunch more lists of all the Best Knives! Happy hunting and may you find that one special knife of your dreams!
*Customer reviews may be condensed for clarity and edited for grammatical errors. You know we have to make our high school English teacher proud. Check product listings for current pricing.