Best Fishing Knives
Written by Blade HQ Staff Writer Logan Rainey on 08/03/2020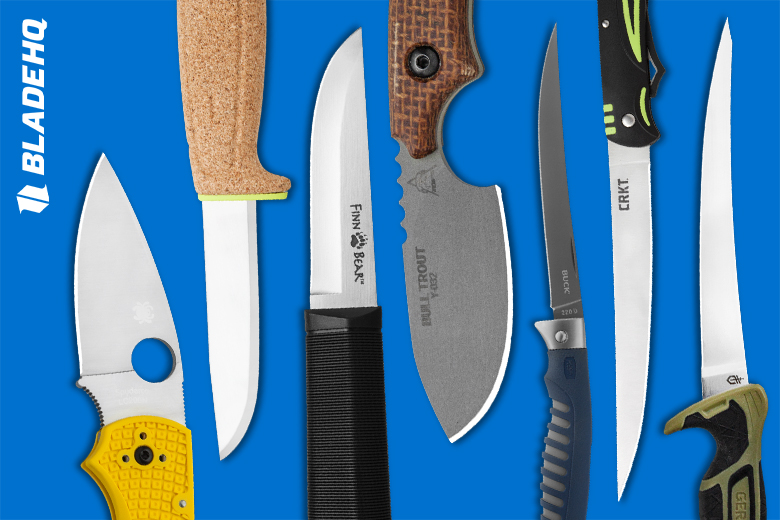 The right fishing knife makes a huge difference both out on the water and at back at home or camp. This list breaks down some of our top picks for Best Fishing Knives. Some are great companions for anyone who spends a lot of time on or near water. Others are great for cleaning and prepping your day's catch. However you slice it, no tackle box is complete without a great knife. Read on to learn more!
In addition to an overview of the specs and details of each knife, I'll also be featuring a review of each knife left by one of our customers.
---
1. Spyderco Native Salt

The Spyderco Native 5 Salt infuses the best-selling Native 5 design with extraordinary rustproof qualities. Its blade is made from full-flat ground LC200N, a martensitic steel that is immune to corrosion. The blade is paired with a lightweight, yellow FRN handle with bi-directional texturing for a positive grip in or out of the water. A four-position pocket clip allows secure everyday carry.
Overall Length: 6.875"
Blade Length: 3.00"
Blade Material: LC200N
Handle Material: FRN
Weight: 2.50 oz.
Country of Origin: USA

Kevin B. says...
"If you are looking for a knife that you can carry and not have to worry about getting wet and rusting look no further. LC200N steel is amazing, it holds an edge quite well and sharpens easily."
---
2. Morakniv Floating Knife

The Mora Floating Knife features a cork handle with bright green accents. This makes the knife easy to find, and ensures that it won't sink if dropped in water. The blade is made from stainless steel and features the Scandi grind Mora is famous for. It's a great knife for trimming line, setting nets or cleaning your catch. The Morakniv Floating Knife comes with a green sheath with a belt clip for easy and convenient carry. Check it out!
Overall Length: 8.875"
Blade Length: 3.75"
Blade Material: Stainless Steel
Handle Material: Cork
Weight: 1.70 oz.
Country of Origin: Sweden

No reviews yet!
Be the first to write a review!
---
3. Cold Steel Finn Bear

The Finn Bear fixed blade knife is an extremely affordable version of Cold Steel's popular Sisu. It's ideal for hunting, fishing or camping trips, and makes an efficient utility knife as well! The Finn Bear features a German 4116 Stainless blade heat treated to a Rc hardness of 56-57 and has a hollow grind; it will hold a good edge and is easy to re-sharpen. The blade has a sturdy, durable point for piercing and a long belly for skinning, cutting and carving. It features a straight slightly ribbed texture handle for added traction. Its modified diamond cross section will fit your hand like a glove and accommodate a wide variety of gripping methods. It's made of tough Polypropylene, so it's impervious to the elements and won't swell, shrink, rot or crack. Comes with a Cod-Ex sheath and belt clip so it can be worn on the waist or tossed into a duffle bag or tackle box.
Overall Length: 8.50"
Blade Length: 4.00"
Blade Material: 4116
Handle Material: Polypropylene
Weight: 2.80 oz.
Country of Origin: Taiwan

Will F. says...
"I Just got this knife and couldn't be happier! It was razor sharp out of the box and completely destroyed the cardboard and spare leather I had laying around. The bone beater works great and sheesh is good. One thing I would improve is a little more thumb grip but that's it. It is also very light and you will forget it's there. Overall couldn't ask for a better little work knife!"
---
4. TOPS Knives Bull Trout

The TOPS Bull Trout is a compact EDC fixed blade that was designed for fishermen by a fisherman. It is the result of TOPS 3rd annual employee design challenge. Shipping manager and avid fisherman Martin Murillo won the EDC category with this stout and versatile fixed blade knife. It features a deep bellied, drop point 154CM blade, a large finger choil and grippy micarta handle scales. The TOPS Bull Trout was designed for fishing and that's really its strongsuit. The knife is slicey and easy to handle. Whether you're looking for a small but capable edc fixed blade or a great knife to throw in your tackle box, the TOPS Bulltrout is a great choice!
Overall Length: 6.125"
Blade Length: 2.75"
Blade Material: 154CM
Handle Material: Micarta
Weight: 3.01 oz.
Country of Origin: USA

Ian D. says...
"Just a great lil fixed blade. I have used it to clean fish, baton tinder, break down boxes, and it just keeps going. the ergos rock, and it fits perfectly in my hand. I want to invest in a horizontal sheath, and that will be the icing on the cake."
---
5. Buck Silver Creek Folding Fillet Knife

Safe, reliable and durable, the Buck Silver Creek folding fillet knife has a titanium coated blade designed for added flexibility and corrosion resistance, a rubberized anti-slip grip and a stainless steel safety guard. The convenient size when folded makes this knife convenient to carry on any fishing trip! Its slim blade profile helps it slice and cut with precision. Whether you're prepping a fresh caught fish, or trimming poultry from the grocery store, the Silver Creek is worth picking up. Check it out below.
Overall Length: 13.75"
Blade Length: 6.50"
Blade Material: 420J2
Handle Material: Thermoplastic
Weight: 6.00 oz.
Country of Origin: China

No reviews yet!
Be the first to write a review!
---
6. CRKT Clark Fork Fillet Folding Knife

Life is better with a knife that is suited to the task at hand, which is why the Clark Fork Fillet Knife is an easy choice for fishers everywhere. This Ken Steigerwalt design benefits from a long flexible stainless steel blade and glass-reinforced nylon handle for easy cleaning. The Clark Fork features a tail that folds into the handle to lock the blade open and folds out to cover the long blade tip. Includes a black nylon sheath for storage.
Overall Length: 11.00"
Blade Length: 5.94"
Blade Material: 5Cr13MoV
Handle Material: GFN
Weight: 1.80 oz.
Country of Origin: China

No reviews yet!
Be the first to write a review!
---
7. Gerber Controller 8" Fillet Knife

Safely manage your messiest fish cleaning jobs with the Gerber Controller. This 8" model is built with a corrosion resistant stainless steel blade and an innovative handle design that sets this fishing knife apart from the competition. A deep finger choil is backed up by Gerber's raised HydroTread Grip™ and GuideFins™ on the spine for safe and secure use in any conditions. Item includes a rinse-able molded polymer sheath with a built in sharpener. Upgrade your tackle box with the Gerber Controller.
Overall Length: 13.50"
Blade Length: 8.00"
Blade Material: 9Cr18MoV
Handle Material: GFN
Weight: 4.24 oz.
Country of Origin: China

No reviews yet!
Be the first to write a review!
---
Conclusion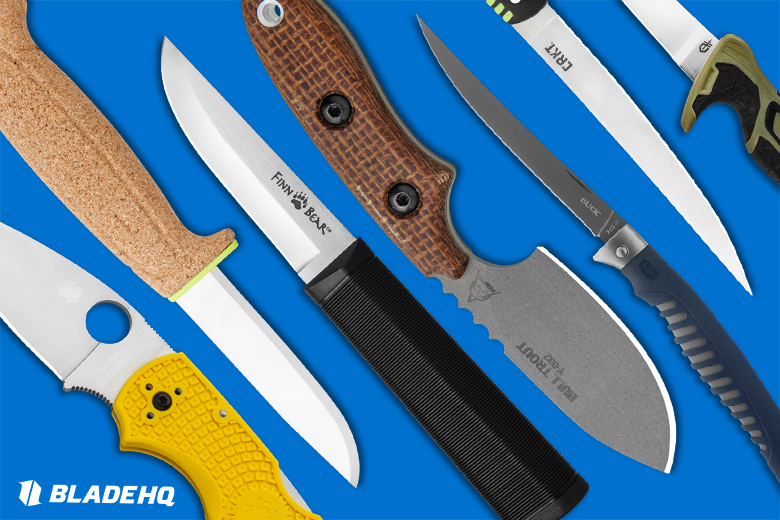 There you have it. Did our picks for Best Fishing Knives hit the mark? These knives are only the start when it comes to setting up your fishing carry. Some fishermen prefer knives that are easy to pack as they hike along mountain streams. Others prefer knives that can withstand the wear and tear of salt water. To sum things up, a great fishing knife is mostly personal preference and what you plan on using the knife for, but finding one that has the right combination of ergonomics, rust resistance and usability makes a world of a difference.
Now you've got all our recommendations, but Blade HQ has got way more knives than those featured here. Give our wares a browse, and find the perfect knife to suit your needs!
Learn More
In this video we take a look at some popular dive knives. Being that many fishing knives meet the same criteria and conditions as dive knives, these are well worth a look. Check out the video below!
---
Other Best Knife Guides
Still in that information gathering phase? We've got a whole bunch more lists of all the best knives! Happy hunting and may you find the knives of your dreams!
*Customer reviews may be condensed for clarity and edited for grammatical errors. You know we have to make our high school English teacher proud. Check product listings for current pricing.