Best Fixed Blade Knives
Written by Blade HQ Staff Writer Andrew Hamilton on 11/14/2018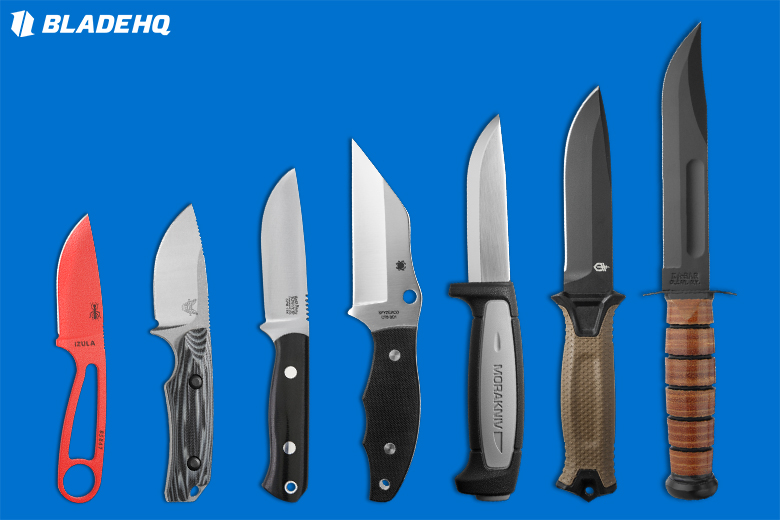 Fixed blades are more durable than folding knives. There's no lock to fail. That's pretty simple stuff. If you're camping, hunting, or tend to abuse your blades, you MUST have a fixed blade in your collection. Which one makes the best fixed blade knife? We're going to break down the top 7 fixed blades with options from ESEE, Ka-Bar, Bark River, and more.
After we break down the specs and details of each knife, catch a review from one of our genius customers.
---
1. ESEE Izula

The ESEE Izula is the perfect choice for your survival kit, hiking pack, or bugout bag. This Fire Ant Izula is high-vis and made from coated 1095 steel, a steel known for toughness, durability, and field sharpenability. When you choose ESEE, you're buying into a network of survival training headed up by Mike Perrin and Patrick Rollins. It's one thing to design and manufacture cool knives. It's another thing entirely to push every blade to its limits in life or death survival situations. Slap on some aftermarket scales, wrap it in paracord, or carry it as is. You can't go wrong with the Izula.

Alexander K. says…
"You should give into the knife urges already. This thing was startlingly bright out of the package. Just what I wanted though. The knife came quickly from BHQ. Service was excellent as they even threw in a sticker since I asked for one haha. The knife came hair popping sharp and I'm sure will perform well. Knife comes with a bunch of stickers and information from ESEE as well as a belt clip with hardware. You can orient the knife vertically or horizontally. The knife felt small in my extra-large size hands, but a paracord wrap really helped a lot. It now feels really nice and I think I found myself a new EDC fixed blade. 10/10 Thanks BHQ and ESEE."
---
2. Benchmade Hidden Canyon Hunter

The Benchmade Hidden Canyon Hunter is a rugged, lightweight fixed blade knife capable of taking on anything from general EDC to that big trophy hunt. A friend of mine recently tagged out on a nice deer here in Utah. When it came time to process the animal, he wasn't lucky enough to have a Hidden Canyon Hunter as part of his kit. Benchmade's Hunt Series of knives feature premium blade steel that glides through even the toughest, wiriest coats. Don't be like my buddy… Get yourself a proper hunting fixed blade the next time you pull a tag.
2.67" CPM-S30V Drop Point Blade
G-10 Handle Scales
3.52 oz. Weight
Made in USA

Ryan S. says…
"Very nice. I only have a few fixed blade knives under 3", but this is by far my go-to for light task. holds a great edge, not too hard to sharpen, and feels awesome in your hand. Very light and small knife you can belt or neck carry, and almost forget it's there."
---
3. KA-BAR USMC Bowie Fixed Blade

Introduced in the 1940s, the Ka-Bar USMC marked a move away from dagger-like trench knives and a move towards more utilitarian designs. The Ka-Bar USMC fixed blade bowie is one of the most widely used knives in history with regular issue to soldiers still taking place to this day. It's up to you if you add this piece to your display case or put it to work.
7.00" 1095 Cro-Van Clip Point Blade
Leather Handle
11.20 oz. Weight
Made in USA

Will B. says…
"If you want a combat/survival knife, this is the classic. You cannot go wrong with the Ka-Bar 1217. It's a sturdy and reliable knife that will last even the most abusive tasks. 1095 Cro-Van steel is a great choice too. Keeps an edge well and is easy to touch up. And lastly, support the Marines with the Ka-Bar 1217. Classic knife. Classic choice."
---
4. Bark River Bravo Necker II Fixed Blade

Bark River Knives out of Escanaba, MI makes some of the finest fixed blade knives in the world. As a company, anyone would be impressed by their seemingly limitless design options, material finishing, and function-first brand philosophy. If you want to learn a little more about Bark River, check out the Dutch Bushcraft Knives YouTube. Then come back to BHQ to buy your knife!
3.50" CPM-154 Drop Point Blade
Micarta Handle Scales
2.45 oz. Weight
Made in USA

Colin B. says…
"I bought this knife because the blade shape and size looked great for EDC. This knife is perfect for me. It is my favorite fixed blade. The handle is shaped perfectly. Fit and finish is outstanding. Do not hesitate."
*Review was for the Bark River Kalahari Bushman, which is a very similar knife.
---
5. Morakniv Robust Fixed Blade

It's a crazy world we live in when you can get a bombproof fixed blade for less than cost of a date night at Chili's (No hate. I'm still all about that Skillet Queso and those Southwestern Eggrolls). Anyway… the Mora Robust is an amazing knife. Keep one in your car toolkit, take it camping, or give one to junior as his first blade. You can't go wrong adding one of these on with your next order.
3.625" High Carbon Clip Point Blade
Rubber Handle Scales
3.56 oz. Weight
Made in Sweden

Liam G. says…
"Highest value fixed blade. You'll be hard pressed to find any brand that offers the same value for the money as Morakniv, and this is no exception. While this installment is marketed to a craftsman, it can be easily used for the outdoors. You will need to file the spine for fire-starting though, since it will not be optimal for that usage. Just watch the Dutch Bushcraft Knives review on this to see how truly ROBUST this knife is!"
---
6. Gerber StrongArm Fixed Blade

If you're a soldier or just want to own the most rugged and overbuilt fixed blade, the Gerber StrongArm has everything going for it. Grippy as all get-out rubberized handles complement a full tang construction and the bonus striking pommel at the butt of the knife. If you previously owned the Gerber Infantry, this knife feels like the refinement of that already successful formula.
4.875" 420HC Drop Point Blade
Rubber Handle Scales
7.10 oz. Weight
Made in USA

Baldemar G. says…
"My main camping knife. This is the only knife I take with me when I go camping, and I've never felt like I need anything else. It's strong, sharp, and it carries awesome because of its well thought out sheath. Love this knife."
---
7. Spyderco Ronin Fixed Blade

If you're looking for something lightweight and distinctly tactical, Michael Janich has cooked up the knife for you. With a background in knife combat dating back to the 80s, Janich knows his stuff. The wharncliffe blade shape comes to enough of a point for stabbing strikes and also delivers maximum cutting efficiency during slicing. If you're a fan of the Yojimbo 2, this knife will feel like an old friend in your hand.
4.125" CTS-BD1 Wharncliffe Blade
G-10 Handle Scales
3.90 oz. Weight
Made in Taiwan

Jason C. says…
"Watch your fingers. And other tenders. This is a superb slicer, just ask my palm. Great balance, fit and finish is great, very thin and would disappear if it wasn't a bigger blade. Lastly, the hollow grind is a bit delicate for hard use EDC. Aside from those two things, for the price this is quality all around."
---
Conclusion
Fixed Blade Overview
When it's time to get outdoors, you need to have a fixed blade on your hip. Good luck trying to baton with a folding knife… It didn't work out so well for us on our camping adventure. Get the right tool for the job, and you'll spend more time having fun and less time hating your life.
You already know Blade HQ has got all the knives. Make it happen, unbox your new EDC, and then email me a picture and a few words about what went into your decision (AHamilton at BladeHQ.com). We'll feature submissions on our Instagram, Facebook, and Twitter.
Learn More
TLDR? If the seven fixed blades above don't impress you much, check out our knife banter below. We highlight more of the most popular models.
---
Other Best Knife Guides
Still in that information gathering phase? We've got a bunch more lists of all the Best Knives! Happy hunting and may you find that one special knife of your dreams.
*Customer reviews may be condensed for clarity and edited for grammatical errors. You know we have to make our high school English teacher proud. Check product listings for current pricing.