Best Folding Knives
Written by Blade HQ Staff Writer Andrew Hamilton on 3/11/2019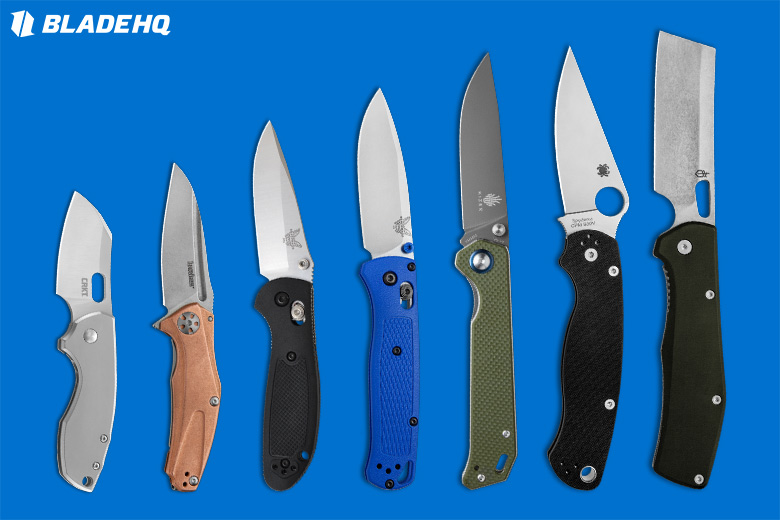 Looking for the best folding knife? Not just any old thing, but the best-of-the-best, creme de la creme folding knife? You've found the right place!
It can be hard to narrow down the options with the thousands of different knives available at any time. From the budget friendly to the high-class, here are the top 7 folding knives available on Blade HQ in 2019!
---
1. Benchmade Bugout

When the Benchmade Bugout dropped it's no exaggeration to say it took the world by storm. Budget-friendly, ultralight, and perfectly sized, the Bugout has certainly made its mark. It certainly helps that this instant classic comes in CPM-S30V blade steel with the widely beloved Axis lock. The Benchmade Bugout is our recommendation for the best folding knife.
3.24" CPM-S30V Drop Point Blade
Polymer Handle Scales
1.85 oz. Weight
Made in USA

Kenneth V. says…
"I carried a Delica 4 for years and continue to carry my trusted orange friend, but in my other pocket is a new knife. The Benchmade Bugout. It's a delight to carry such a slim and lite pocket knife. Pure one handed operation. Deep carry clip, open frame design, S30V steel and Axis lock make this knife "The Total Package"."
---
2. Spyderco Paramilitary 2

No knife collection is complete without a PM2. Spyderco fans have been singing praises for this folding knife for over a decade and there's no indication that's going to change any time soon. The Spyderco Compression Lock makes one-handed opening and closing effortless while perfectly grippy G-10 handle scales lock into any sized hand.
3.44" CPM-S30V Clip Point Blade
G-10 Handle Scales
3.75 oz. Weight
Made in USA

Jared S. says…
"I've owned this knife for almost a year now and it's been in my pocket ever since. I've taken it on many backpacking trips and this knife has held up. After a year of everyday use, there is still no blade play, and I can still shave hair and I haven't even sharpened the edge. This was the best $140 I've ever spent. No regrets!"
---
3. Kershaw Mini Natrix

Kershaw's Natrix model lives within their lineup of folding knives as the slightly smaller little brother to the Zero Tolerance 0770. That smaller form-factor comes with a smaller sized price and makes this folding knife the perfect size for EDC. The copper-clad Natrix makes for a perfect gift or collection folder.
2.75" D2 Drop Point Blade
Copper Handle Scales
3.70 oz. Weight
Made in China

Gordon R. says…
"My ZT0770CF is gonna get grumpy giving up pocket space to this jewel. Perfectly centered, great snap upon opening,(even though it is just a flipper) sharp, classy looking knife. My knives are in and out of my pocket multiple times a day and this knife got looked at by just about everybody that was around it yesterday. I think BHQ will run out quick..."
---
4. Kizer Begleiter

The Kizer Begleiter is one of the best bargains when it comes to folding knives. For just over $50 you get a million dollar deployment and a drop-shut action when it comes time to put your folding knife away. Pick one of these up and use it hard or just throw it in your car glove box for emergency situations. At this type of price point there's no reason not to!
3.50" VG-10 Drop Point Blade
G-10 Handle Scales
3.80 oz. Weight
Made in China

Travis C. says…
"I really thought this would be a four star purchase as I pretty much just wanted a Kizer to add to my collection since I didn't have one. It has surprisingly made it into my regular rotation. I have XXL hands and it fits me well without taking up too much pocket real estate at all. The G-10 is the perfect level of checkerboard-like grip for me too. It also has that gentlemanly aspect to it due to its profile. It's easy to get it to the scary sharp level. You'll have no issue getting it razor sharp without much effort at all. I had my name put on the blade and this looks great too. Thx Blade HQ."
---
5. CRKT Pilar

The Voxnaes designed CRKT Pilar is about as popular as it is distinctive. When I tell you the ergos on this guy are out the yinyang, it's not an exaggeration. From the tiniest to the biggest of hands - the large forward finger choil somehow just works. If you happen to live or work around people that fear your folding knife no matter the size, the Pilar seems to scare that type of person just a little bit...less.
See our CRKT Pilar Review for a closer look at this knife.
2.40" 8Cr13MoV Sheepsfoot Blade
Stainless Steel Handle Scales
4.20 oz. Weight
Made in China

Tyler K. says…
"This little knife is a tank. It fits securely in your hand and has a sturdy feel to it. This is definitely a knife that's made to be used. Our can opener broke recently and this has become its temporary replacement. Just a quick touch up on the edge and it's good to go again after opening multiple cans. This is a sweet little go-to knife if you don't know what you'll need it for but want to be sure you're ready."
---
6. Benchmade Mini Griptilian

This article of best folding knives is filled with classics, but perhaps no knife is as canonized as the Benchmade Mini Griptilian. Small, lightweight, and unobtrusive, the Mini Grip hits the three tenets of a folding knife to a tee. Pick one up and you'll no doubt find yourself toting it along on hikes and camping trips - even those where weight is really a concern.
2.91" CPM-S30V Drop Point Blade
Polymer Handle Scales
2.56 oz. Weight
Made in USA

Andrew R. says…
"Sturdy, American-made. Benchmade is one of the best when it comes to pocket knives, and this one is no different. The locking system takes some getting used to, but you'll find that it has no equal. Edge retention is great as well."
---
7. Gerber Flatiron

Gerber is one of my favorite brands for the new knife guy. With inventive designs and blade shapes, and a brand philosophy that seems both ultra dialed in while also being unafraid to innovate, Gerber has a catalog of folding knives that consistently hits the mark. With both USA-made and imported offerings, Gerber excels at offering folding knives of quality at any price point. The Gerber Flatiron might just be the best affordable camp knife available today with a blade that loves both ingredient prep for fireside meals and more hardcore survival duty.
3.50" 7Cr17MoV Cleaver Blade
Aluminum Handle Scales
5.61 oz. Weight
Made in China

Hunter G. says…
"Some nice design touches and a strong figure with great ergonomics to boot. Good design done well. Blade steel could be a bit better but the price reflects that so I can't rag on it for that too much. Just a consideration for the future. I have taken mine hiking and camping and it's great for food prep and feather sticking."
---
Conclusion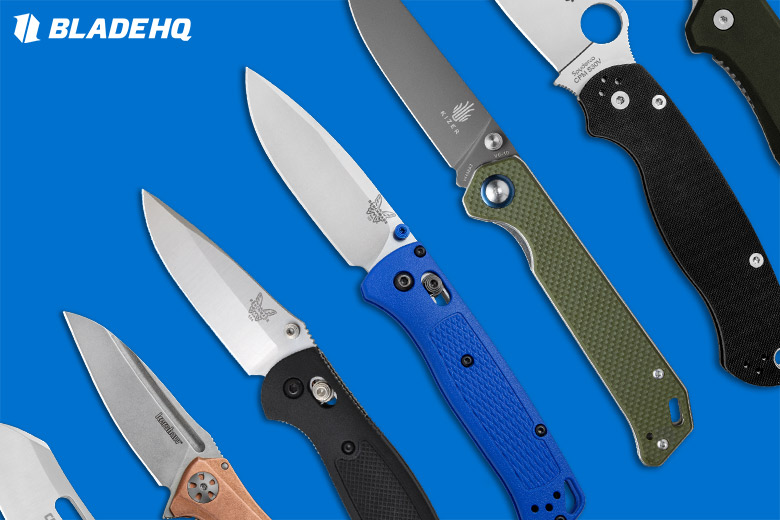 Best Folding Knives Overview
You can't go wrong with any of the folding knives on this list. Follow your heart and pick up the one that speaks to you. We've put all these folding knives to the test and they are ready for absolutely anything!
You can't afford to wait any longer. We've got all the best folding knives ready to ship at the best prices, right here at Blade HQ. Once you've got that new knife, email me a picture and a few words about what went into your decision (AHamilton at BladeHQ.com). We'll feature submissions on our Instagram, Facebook, and Twitter.
Learn More
Check out our video below of the best folding knives of 2018 if you're thirsty for more.
---
Other Best Knife Guides
Still in that information gathering phase? We've got a whole bunch more lists of all the Best Knives! Happy hunting and may you find that one special knife of your dreams!
*Customer reviews may be condensed for clarity and edited for grammatical errors. You know we have to make our high school English teacher proud. Check product listings for current pricing.