Best Kershaw Knives
Written by Blade HQ Staff Writer Logan Rainey on 12/27/2019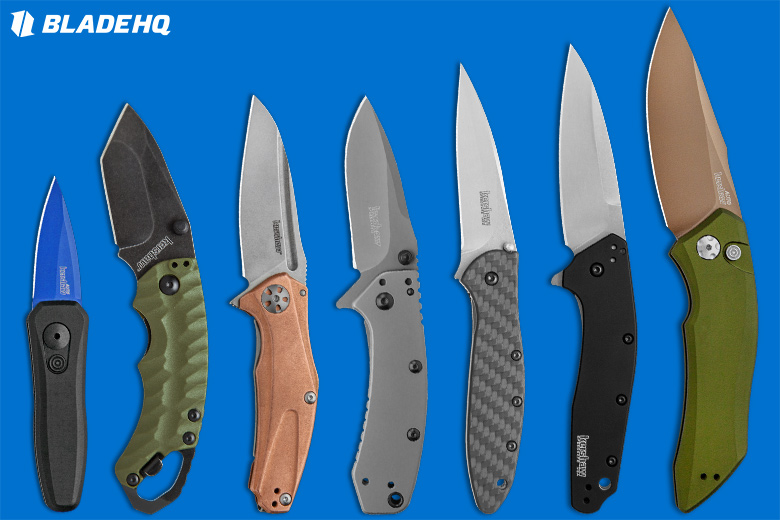 Whether you're looking for an innovative EDC knife or a battle-born tactical blade, Kershaw offers a wide range of products for any need. Kershaw knives are known for being both affordable and well built.
Check out our top 7 Kershaw knives below and read a review from one of our beloved customers after each break down.
---
1. Launch 4

The Kershaw Launch 4 is a California Legal automatic knife perfect for everyday carry and simple cutting tasks. Its slim profile makes it great for big and small pockets alike. This knife features an amazing push-button automatic action that gives a satisfying snap when opened. The Kershaw Launch 4 is a must-have knife for anyone looking to add a small automatic folder to their rotation. Check out the review.
5.10" Overall Length
1.90" Blade Length
CPM-154 Blade
Aluminum Handle
Plunge Lock

Ben Q. says...
"Hard action, good in hand, and looks great! It is not a knife for big jobs but is there for you when you want to cut down boxes and open mail. It really is a great knife!"
---
2. Leek

The Ken Onion designed Kershaw Leek has been an everyday carry staple for years. This knife's unique design looks and feels great in hand and in pocket. The Leek features patented SpeedSafe opening technology that gives this knife a lightning fast action without the same challenges posed by automatic knives. Leek's slender CPM-154 blade is great for daily tasks and simple cutting needs.
7.00" Overall Length
3.00" Blade Length
CPM-154 Blade
Carbon Fiber Handle
Liner Lock

Chris B. says...
"It's awesome to see these materials from Kershaw. The design is great, looks great, feels great, works great. Detent is a little stiff for my taste but functions as intended. Love the copper and D2. Great knife Kershaw!"
---
3. Mini Natrix

Mini Natrix feels great in hand. Its size makes it great for everyday carry. The Mini Natrix features a reversible deep carry pocket clip, ball bearing washers and a durable D2 blade. This affordable folding knife features beautiful copper handle scales that patina with time and use.
6.50" Overall Length
2.75" Blade Length
D2 Blade
Copper Handle
Frame Lock

Steve O. says...
"I read all the reviews before purchasing this knife, and knew it was going to be a beautiful knife, but was not sure it would be a smooth flipper. Well now that I have the knife in hand, I can assure you that the action on this knife is smooth. What a treasure! I just hope that Kershaw makes a larger version of the Natrix Copper."
---
4. Cryo

The Kershaw Cryo is an amazing knife for the price! This knife features durable stainless-steel construction with amazing ergonomics and a buttery smooth action. The Cryo was awarded "Best Buy of the Year" at 2012 Blade Show because of its simple design and quality build. It features a rock-solid frame lock with a Hinderer lockbar stabilizer.
6.50" Overall Length
2.75" Blade Length
8Cr13MoV Blade
Stainless Steel Handle
Frame Lock

Triston P. says...
"The knife has a bit of weight to it, but I don't mind. Having all four options for the pocket clip positions is very convenient. And the slimmer profile and deep carry pocket clip fit nicely in almost any pocket."
---
5. Dividend

The Kershaw Dividend M390 is arguably one of the best knives for the money one can buy. A slimmed down version of the popular Kershaw Link, the Dividend is great for in-pocket carry and regular use. It features SpeedSafe technology and a convenient reversible deep carry clip. The highlight of this particular knife is upgraded Bohler M390 blade steel.
7.25" Overall Length
3.00" Blade Length
M390 Blade
Aluminum Handle
Liner Lock

Levi R. says…
"You would have a tough time finding a better knife in M390 for under $200, let alone under $100. FAST action, very snappy, light, and great lockup. The aluminum handles have a great feel. This was the perfect upgrade to my Leek."
---
6. Shuffle II

When it comes to everyday carry knives and tools, it can be hard to find the balance between easy to carry and maximum utility. The Kershaw Shuffle II is a great blend of function and form. Its compact design lends itself to being easy to carry regularly while also maximizing utility. The Shuffle II features a built-in bottle opener, flat head screwdriver and a prybar.
6.25" Overall Length
2.50" Blade Length
8Cr13MoV Blade
GFN Handle
Liner Lock

Peter B. says...
"I bought this as a budget edc and I couldn't be more pleased! For the price, this is a great knife. I highly recommend this piece for every day light duty tasks. Takes a sharp edge and holds very well."
---
7. Launch 1

Last but certainly not least, the Kershaw Launch 1 rounds out our list of Best Kershaw knives. This amazing automatic knife is the newest knife in the Kershaw Launch series. Its aluminum construction is durable and lightweight making it easy to carry and use daily. The Launch 1 has a reliable push-button auto action and an easy-to-maintain CPM-154 steel blade.
8.00" Overall Length
3.375" Blade Length
CPM-154 Blade
Aluminum Handle
Plunge Lock

Edward D. says...
"I have wanted a Kershaw Launch for a while now and I was ecstatic when it finally arrived. The action is really smooth and it came out of the box razor sharp."
---
Conclusion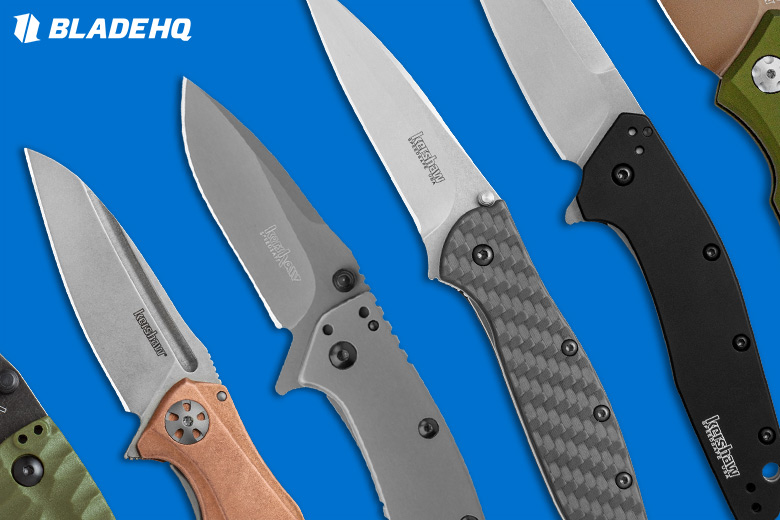 Innovative designs and amazing construction have elevated Kershaw to a high level in the knife industry. If you are new to knives, an avid knife nut or someone looking to switch things up, Kershaw knives are an amazing choice. Kershaw is known for making high-quality and affordable pocket knives. If you haven't added a Kershaw to your collection, you should!
While these are our top Kershaw recommendations, Blade HQ has got way more knives than the ones featured here. Leave a review of your favorite Kershaw knife. Follow us on Instagram, Facebook, and Twitter for all your knife updates.
Learn More
Still deciding on a Kershaw? Check out the latest 2021 new releases from Kershaw in the video below.
---
Other Best Knife Guides
Still in that information gathering phase? We've got a whole bunch more lists of all the Best Knives! Happy hunting and may you find that one special knife of your dreams!
*Customer reviews may be condensed for clarity and edited for grammatical errors. You know we have to make our high school English teacher proud. Check product listings for current pricing.