Best Kitchen Knives
Written by Blade HQ Staff Writer Logan Rainey on 11/27/2020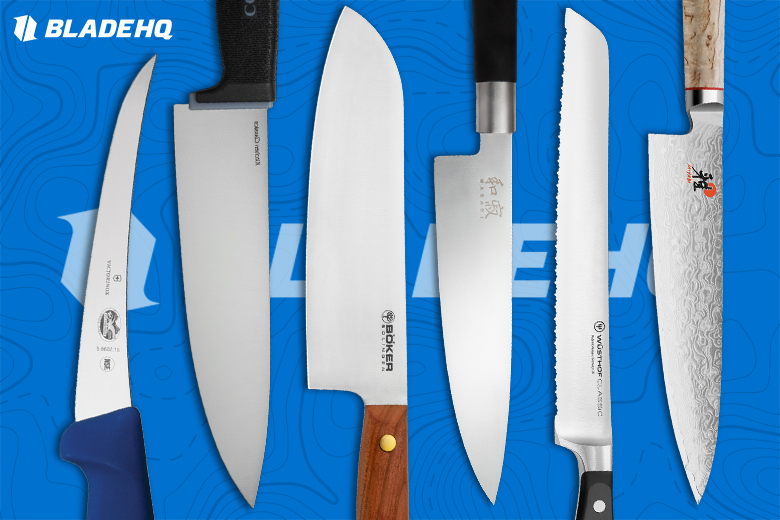 With the holidays right at our doorstep, we're all going to spend a lot of time in the kitchen either cooking or stealing a bite of whatever is being thoughtfully prepared. No kitchen is complete without a great knife or two and boy do we have just the stuff to help your holidays go off without a hitch. Whether you're carving up roast beast or putting together a veggie tray you're going to need a knife to do it. Here's our list of the Best Kitchen Knives of 2020. Let's get to it!
---
1. Cold Steel Kitchen Classics 8" Chef Knife

If you were to pick only one knife to put in your kitchen, a chef knife is the knife to get. The Cold Steel Kitchen Classics 8" Chef Knife is a robust, versatile, and affordable chef knife with all the right features and no nonsense. It features a durable 4116 cryo-quenched steel blade with a healthy belly and a thin spine. This combined with a comfortable, reinforced polymer handle makes using the knife a breeze whether making a quick snack or prepping ingredients for the day's meals at a restaurant. Check it out by clicking below.
---
2. Boker Cottage-Craft 6.75" Santoku Knife

The Blade HQ exclusive Boker Cottage-Craft 6.75" Santoku Knife is the stuff of kitchen knife dreams. Gorgeous lines, quality materials and a price that leaves money for more bread on the table make this knife great for starters and seasoned chefs alike. It features a beautifully hand-crafted C75 handle and a plum wood handle. Over time these materials will allow this knife to achieve a handsome patina and old-world look. Give your kitchen a serious upgrade by clicking below.
---
3. KAI Wasabi 6.5" Chef Knife

Far East flare and great materials make the KAI Wasabi 6.5" Chef Knife an amazing do-it-all kitchen knife. Its slender Daido 1K6 steel blade makes slicing and chopping a breeze while its bamboo-infused polypropylene handle keeps things germ free and easy to maintain. This knife is well balanced, has a large belly made for rocking and a comfortable handle. What more could you ask for in a chef knife. Pick up the KAI Wasabi 6.5" Chef Knife by clicking below.
---
4. Victorinox Fibrox 6" Flexible Boning Kitchen Knife

Victorinox Fibrox series knives are known for their incredible durability and comfort. They feature a unique polymer handle that's slip resistant and NSF-approved for use in hospitals, school kitchens and restaurants. This dishwasher safe boning knife comes standard with a high-carbon stainless steel blade made to handle the use and abuse of professional kitchens. It sharpens easily and can be honed with a honing steel if need be. Learn more by clicking below.
---
5. Wusthof Classic 9" Bread Knife

The bread knife is one of the most important pieces of cutlery in the kitchen. Though it only has one real purpose, having a bread knife is the difference between perfectly sliced homemade bread and a crumby mess you're better off throwing away. The Wusthof Classic 9" Bread Knife is the crème de la crème of bread knives. Its blade is precision forged from high carbon steel and given the PEtec treatment for a 20% sharper blade with twice the edge retention, and its comfortable POM handle features traditional styling and incredible durability. This is an amazing knife and whether you buy it by itself or as part of the complete Wusthof Classic kitchen knife set, it's an amazing knife to add to your collection.
---
6. Miyabi 8" Chef's Knife

Sometimes I have a difficult time finding the words to describe certain knives I write about. The only word I can really use to express how I feel about this incredible chef knife is an emphatic "WOW!" From tip to tang, the Miyabi 8" Chef's Knife is clad in some of the best materials found on knives. Its blade is skillfully crafted from premium Damascus steel with an SG2 core then ice hardened to 63 HRC. It also features a gorgeous raw birchwood handle with burls and knots that offer both unique grip and character. This chef knife is truly a statement piece and part of a mind-boggling set of kitchen knives. Feast your eyes on all its glory by clicking below.
---
7. Zwilling Twin Signature 19-piece Kitchen Knife Set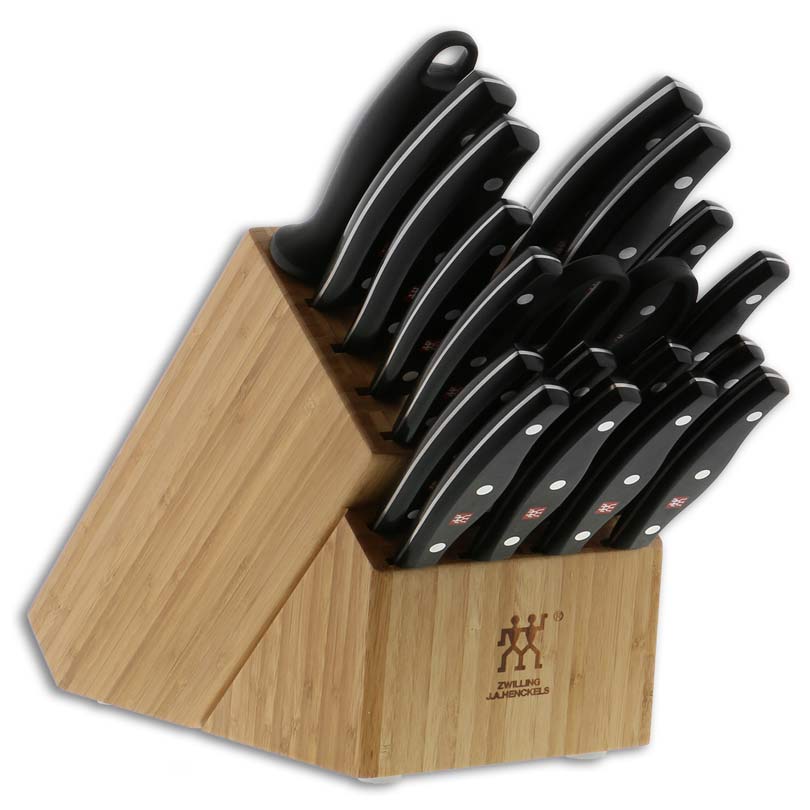 The Zwilling Twin Signature 19-Piece Kitchen Knife Set is one of the best sets of kitchen knives we've had the opportunity to handle and use. Its classic design and premium construction make it a great investment and addition to any kitchen. This set of knives features high carbon NO STAIN steel and comfortable polymer handles. Get yours today by clicking below.
---
Final Thoughts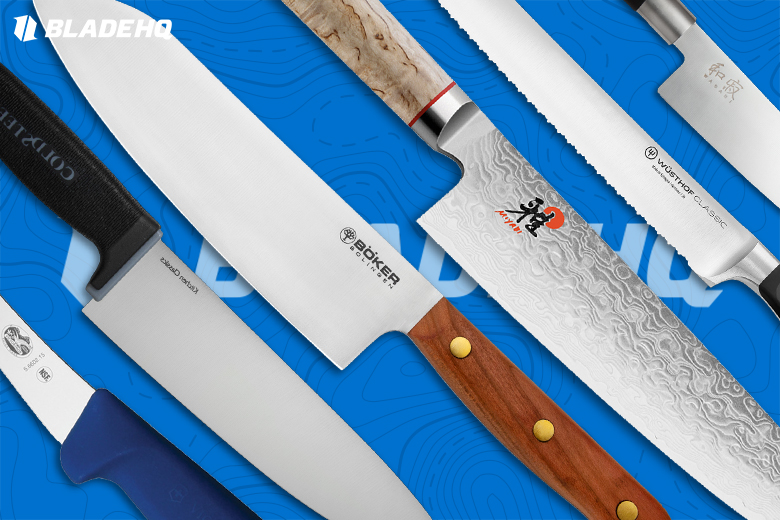 Whether you add a showpiece chef knife to your knife block or buy an entire knife set, the right kitchen knives make all the difference when prepping food and cooking. These knives are only a taste of what we have to offer at Blade HQ. They are some of our favorites and some of the best in terms of quality and construction. As we head into the holidays during this crazy year, we hope you find some enjoyment in cooking food and celebrating safely. Check out our full selection of kitchen knives by clicking below. Until next time, thanks for reading!
Blade HQ has way more knives than those featured here! There's bound to be another knife you need for your growing collection. Give our wares a browse, and find the perfect knife to suit your needs!
---
Learn More
Check out our Learn Knives section for more great Kitchen Knife articles including, Best Chef Knives, Best Kitchen Knife Sets, and even a How to Sharpen a Kitchen Knife tutorial. Still unsure about kitchen knives and where to begin? No sweat. This video breaks down some of the best kitchen knives for knife guys. Whether you're a well-seasoned chef or someone who cooks just to eat, there are tons of great kitchen knives to choose from. Watch and enjoy.
---
Other Best Knife Guides
Still in that information gathering phase? We've got a whole bunch more lists of all the best knives! Happy hunting and may you find the knives of your dreams!
*As our inventory fluctuates regularly, the availability of some products may change. Sign up for our wishlists and check back regularly for current pricing and availability.